Zoom fatigue. Burn out. Total exhaustion.
If you've experienced any of these, chances are you're hosting, joining, or leading too many meetings.
While the right meeting can do wonders for your organization (you can align ideas, brainstorm solutions, and even plan out the upcoming fiscal year) some meetings could be replaced with a video or an email.
We've all had those, and when we have too many meetings on our calendar, the odds of having more than one pointless or a waste of time meeting a day goes up.
Thankfully, there's something you can do it about. And with Fellow here to help, you'll soon be spending time on more productive tasks.
Why you're having too many meetings
First things first, let's dive into the why.
How come your workday is completely loaded with back-to-back phone calls, Zoom meetings, and quick huddles? There are likely a few core reasons why you just can't seem to get anything done and are always in a meeting.
We've gotten into the habit of inviting anyone and everyone to our meetings. If you think they may need to be looped in, or the topic may touch something they have on their plate, you're going to invite them. The same can be said for meetings in which you aren't the host. We often think we're just being polite and covering all of our bases, but you're not helping anyone — or yourself — if you're wasting time by having too many cooks in the kitchen, or too many attendees in the meeting.
If you're getting invited to a virtual meeting and the first thing you think is "I don't need to be in this", it's okay to RSVP "no". Follow up the meeting decline with a message to the host explaining your decision and ask if there will be a "roundup" of talking points sent out afterward. If there are, ask to be sent the meeting notes just to be safe.
Another reason you could be having too many meetings per day is that the meeting you're having should have been something else. Yes, I mean maybe it should have been an email, a short and sweet phone call, or an instant message conversation. Whatever the case may be, too many team members within your organization are wasting their time in poorly organized or just straight-up bad meetings that could have worked better in a different medium.
How many meetings a day is too many?
We know that, depending on your title or role within the company, the number of meetings you have within a day is going to fluctuate. For instance, managers or team leads have numerous one-on-ones and project syncs that could last anywhere between 30 minutes to an hour.
Regardless, no matter who you are, it's in your best interest not to exceed 3-4 meetings a day. It's also recommended to think about your productivity levels. For this, ask yourself if you're more productive in the afternoons or the mornings. Try not to schedule the bulk of your meetings during the time slots in which you're the most productive.
5 quick tips to avoid too many meetings
If you look at your calendar every morning and feel overwhelmed by how many meetings on your schedule and think about how you could be spending time doing more productive tasks, follow these five tips to avoid attending what feels like a million meetings a day.
1. Cancel meetings that don't have an agenda
2. Block out no meeting times
3. Embrace asynchronous communication
4. Schedule shorter meetings
5. Use the RACI framework for decision-making
1 Cancel meetings that don't have an agenda
The perfect meeting agenda doesn't exist.
Wrong.
Before you RSVP "yes" to that Monday morning meeting, find out if there's an agenda. If there isn't, feel free to click "no".
A meeting agenda should be created at least a few days before a meeting takes place. Once it's fully built-out, it needs to be shared with the meeting participants so they can come prepared with talking points, questions, and situations to discuss. It should also outline a clear meeting objective.
Without an agenda, and knowing what needs to be accomplished, chances are the meeting doesn't need to take place. Feel free to remove it from your calendar.
---
Fellow's easy-to-use meeting agenda builder ensures that your meetings start with clarity and everyone feels inspired to contribute.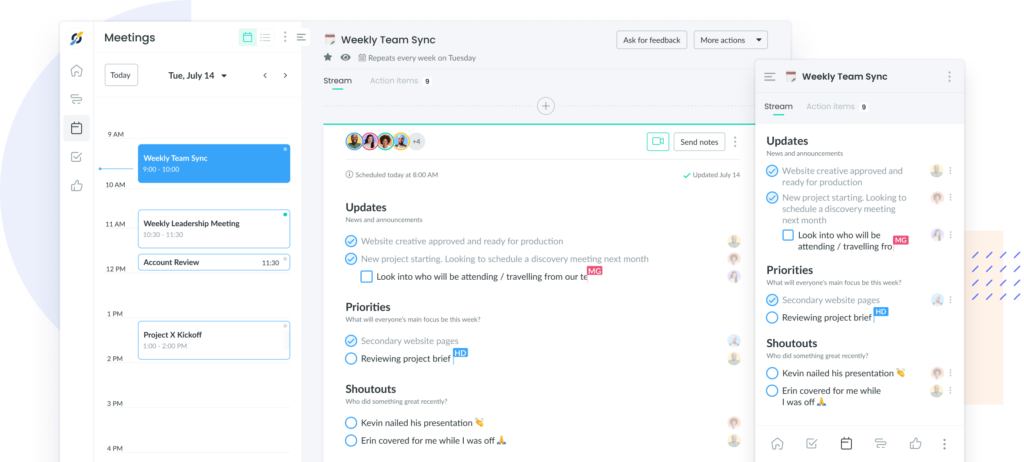 ---
2 Block out "no meeting" times
As we previously mentioned, chances are there's a certain time of day that you're at your most productive.
For me, I get the majority of my work done in the morning hours between 8 am and noon. Because of this, I know it's in my best interest, and the interest of my to-do list, to block out a "no meeting" time for at least an hour or two in the morning before I break for lunch.
You don't have to be too specific about this time block. Simply name the task "Busy" on your calendar and other team members will know they can't throw time on your calendar during that particular time slot.
Another method for this tip is to try and designate one day a week as your meeting day. Let those who are organizing various meetings know that you only attend meetings on Tuesdays or Wednesdays, for example. Doing so frees up all other days of the week for you to be as productive as possible.
3 Embrace asynchronous communication
When you think about how you communicate with others in a meeting setting, consider embracing asynchronous communication instead of synchronous communication.
There's no denying that communication remotely can be challenging, but knowing the difference can result in a boost in productivity. The difference between these two communication systems is that synchronous is all about communicating here, now, and in the moment, like in an in-person meeting, a Zoom call, or a phone call. Whereas asynchronous is communication over a period of time, typically over an email, direct messaging application, or within a project management tool.
The benefit of the latter is that there isn't a need to schedule anything and block up more time. Communication can go at the pace you want it to and you won't have to be interrupted. This method is especially beneficial if your team members are in a different timezone than you are. As Marissa Goldberg, Founder of Remote Work Prep, recommended during our ManagerChats on productivity:
"I say no to most meetings and encourage a lot of asynchronous communication. If I do have a meeting: There is a clear agenda with expectations, only necessary people are invited, and decisions and action items are sent following the meeting."
4 Schedule shorter meetings
Not every meeting needs to take up the full hour. In fact, not every meeting even needs to be 30 minutes. And, when a meeting is scheduled for a full hour and all of the talking points are complete and meeting action items are assigned in 45 minutes, there's no need to sit around and make small talk. End the meeting and utilize those extra 15 minutes to get something accomplished. Chances are most people are more than happy to leave a meeting earlier than expected.
To give yourself more time back in the day, schedule shorter meetings. Something and short and sweet as a 15-minute call or virtual meeting often can suffice. Plus, it ensures that as soon as the meeting starts, attendees get tiring to the point.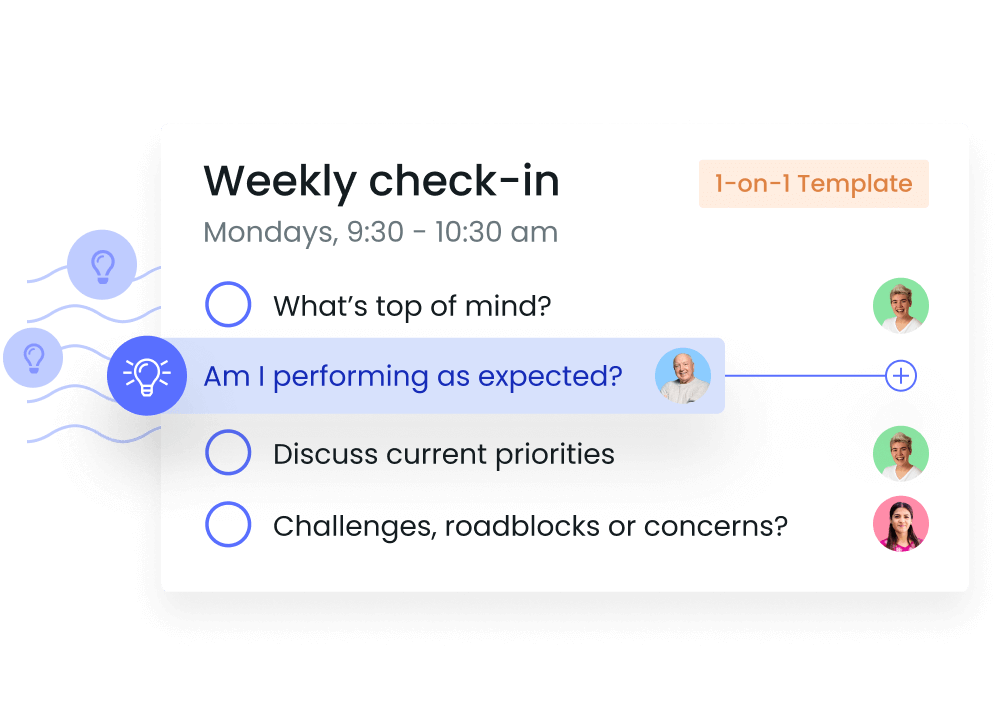 5 Use the RACI framework for decision-making
If the meetings you're attending or hosting tend to be geared toward coming to specific decisions, it's best that you use the RACI framework to do so as efficiently as possible.
If you're unfamiliar with this method, RACI stands for:
– Responsible
– Accountable
– Consulted
– Informed
Essentially, this method is a simple, yet effective, way for project managers to lead meetings and come to specific decisions. Sometimes also referred to as the RACI Matrix, this is a great way for you and other meeting attendees to fully map out every task, action item, or key decision that's involved in successfully finishing a project.
With this method, you'll always know who is responsible for which task, who specifically needs to be held accountable, and once it's all said and done, who needs to be consulted with and informed.
At the end of the day, the RACI method allows you to pinpoint exactly who the key stakeholders are within any project, which saves time when you're meeting.
Meeting adjourned
Suffering from having too many meetings on your schedule can make it seem like it takes forever to accomplish even the most minor of tasks. No matter who you are or what role you have within an organization, remember that it's okay to RSVP no, end meetings once the discussion has finished, and send an email instead.
Your calendar, and your productivity level, will thank you.