Mobile & Desktop Apps
Plan and run productive meetings with Fellow… wherever you work best
With Fellow's desktop and mobile apps, you can untether from your browser (or your desk!) to have productive one-on-ones and team meetings anytime, anywhere.
Trusted and loved by the world's best teams
Fellow for macOS and Windows
Take everything you love about Fellow and imagine it in a lightweight desktop app.

Fellow's desktop app will make it easy for you to plan and organize your meetings, take notes in real-time, and assign action items to your meeting attendees.

Download for Mac
Download for Windows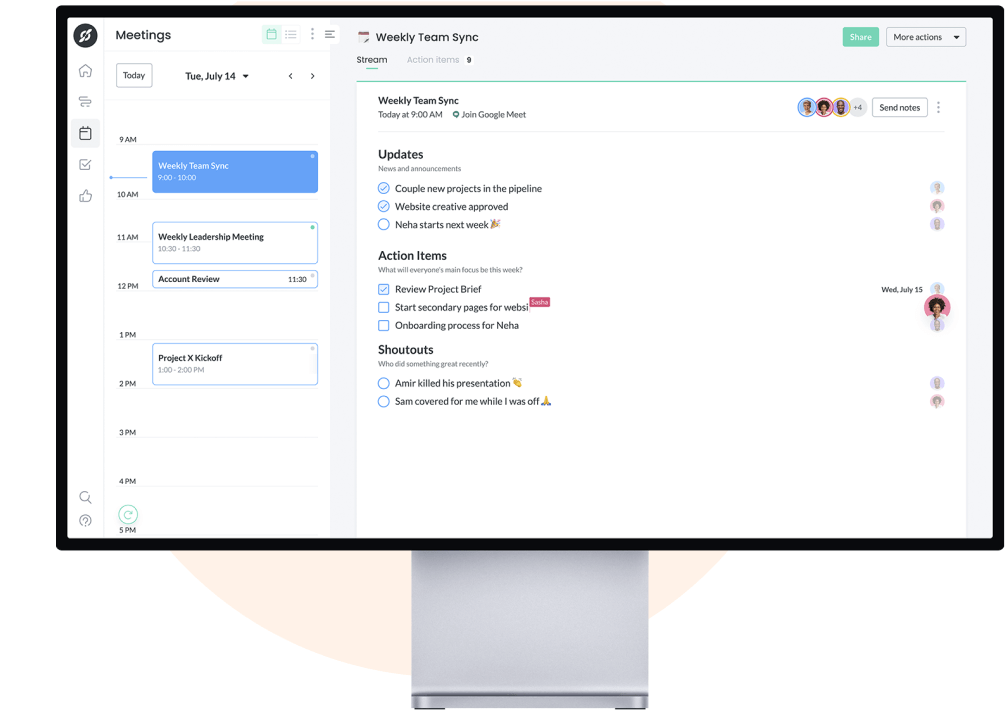 Pro Tip
Your brain is not a storage system. Downloading the Fellow desktop and mobile apps will allow you to add talking points to agendas instantly so that you never forget to discuss something important with your team.
Fellow for iOS
We know that work needs to meet you where you are so we've built an iOS app that is lightweight and feature-rich.

Add talking points to your meetings, review agendas in advance, check-off to-dos, provide feedback, and more… right from your iPhone or iPad.
Download now
Fellow for Android
Whether you're on the train or simply moving between meetings, Fellow's Android app will ensure that you're always prepared to have productive conversations.

Record talking points, assign action items, look over upcoming meeting agendas, and more… on the go.
Download now
"Fellow solves three key problems around running meetings. First, creating the agenda. Then, with the ability to take notes, meeting management becomes much simpler. And finally, tracking the action items that come out of every meeting. Having everything in Fellow means we can track it and follow up on it."

Mychelle Mollot

Chief Marketing Officer
Run delightful meetings with Fellow
See why leaders in 100+ countries are using it today.
Log in