Fellow.app
Meeting notes app
Meeting notes that keep your team productive and accountable. Fellow is the top-rated meeting notes software with all the features you need to have collaborative meetings without interrupting your workflow.
Trusted and loved by the world's best teams for their meeting notes
Rated #1 meeting management software on G2
Sync your work calendar and notes

Fellow seamlessly connects with your calendar, keeping notes linked to events.

Get access to expert-approved meeting templates

Fellow has a curated library of 100+ meeting templates.

Create & collaborate on agendas in advance

Fellow helps teams run productive meetings that your team can be proud of.

Easily track action items and send meeting notes

Every meeting in Fellow ends with clear next steps and a record of what was discussed.
The most productive way to organize your meeting notes
Agendas written on a Google Doc or a piece of paper are hard to find and organize. With Fellow, all your meeting notes are linked to calendar events – making it a breeze to find your meeting notes from 1-on-1s, client, and team meetings.
Try Fellow for free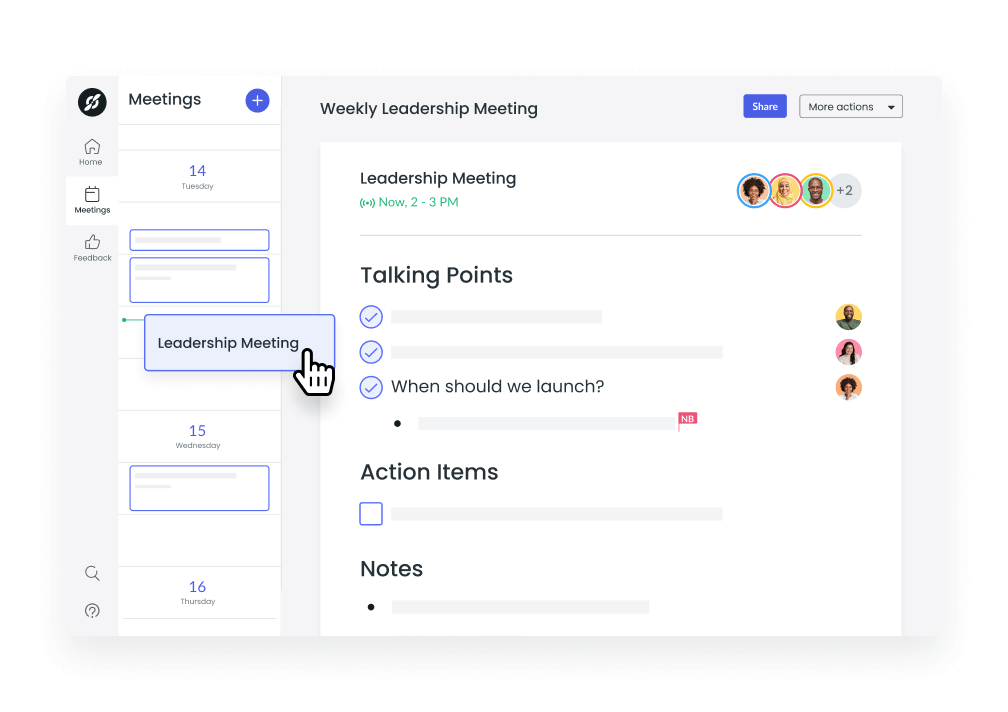 Write meeting notes right within your meeting agenda
The most efficient way to track meeting notes is to write what was discussed and decided right within the meeting agenda. With Fellow, your team is empowered to collaborate on meeting agendas in advance and track key decisions and takeaways with tags!
Try Fellow for free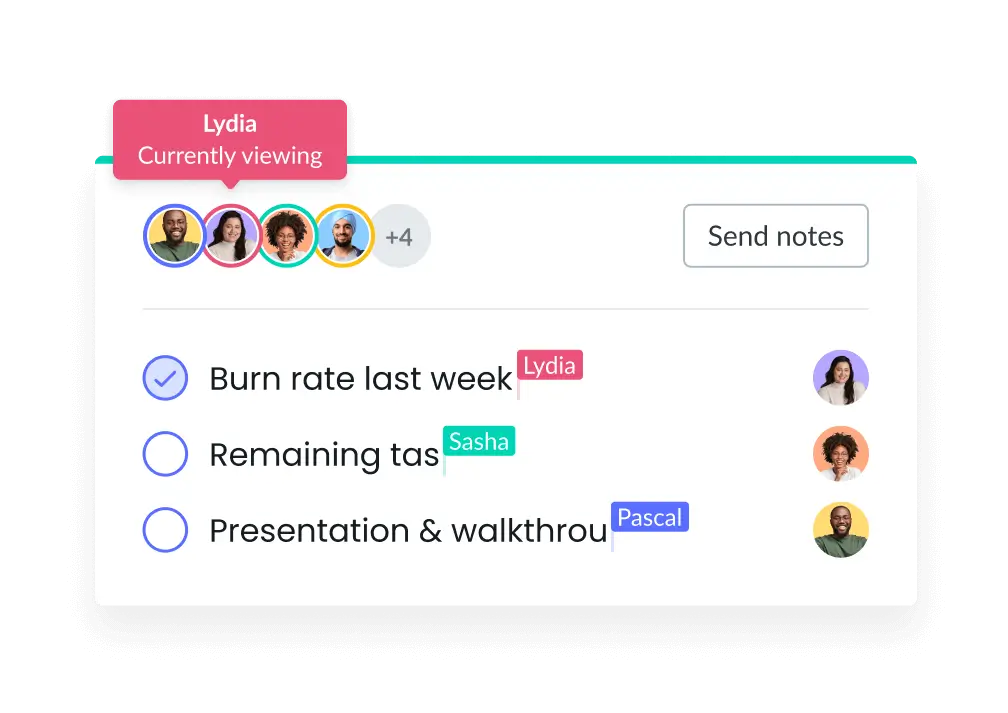 Integrate meeting notes with all your workflow tools
Sync your meeting notes and action items between your meeting notes app and all your other tools seamlessly.
Get started with Fellow
Track meeting notes and action items in one central place
Effective meeting notes always include clear next steps. In Fellow, it's easy! Action items can be assigned with due dates to keep everyone accountable.

Then easily share your meeting notes to review takeaways, decisions made, and what was discussed
Try Fellow for free
Automate reminders and follow-ups
The best meetings happen when everyone has had a chance to contribute and collaborate. But this can't happen if participants forget!

Set up Fellow automations that can remind people to contribute to the agenda, send out post meeting recaps, or even cancel meetings with no agenda.
Try Fellow for Free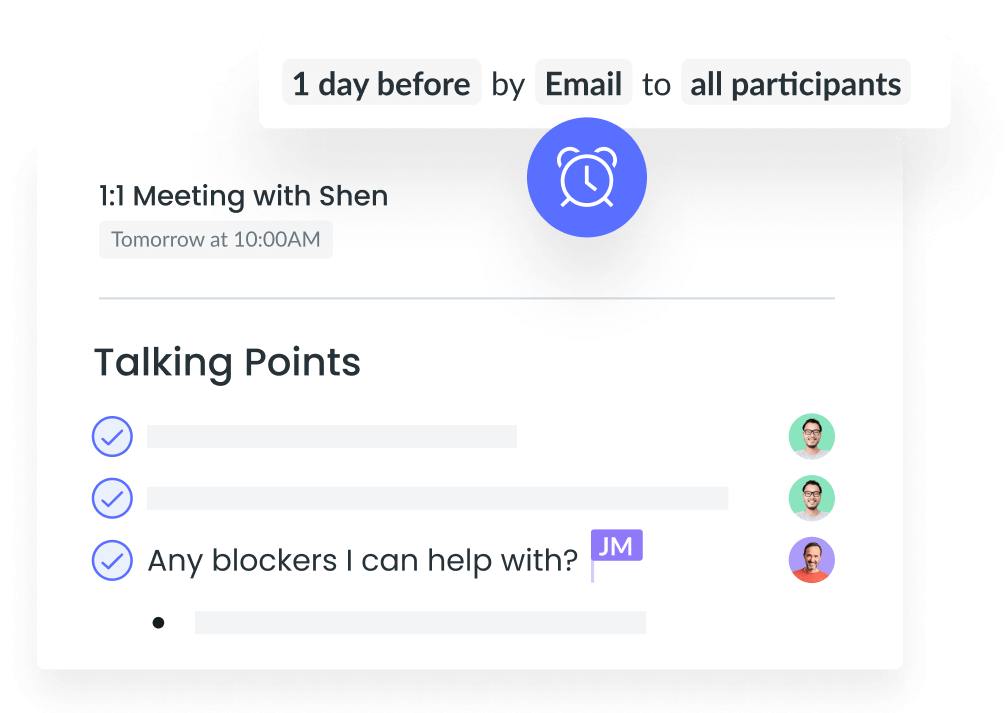 Gain inspiration from other leaders in the space
Get access to hundreds of expert-approved meeting templates for all types of meeting notes, including:

✔︎ Team Check-ins

✔︎ 1-on-1 Meetings

✔︎ Client-facing meetings

✔︎ 100+ other templates to choose from

Try Fellow for free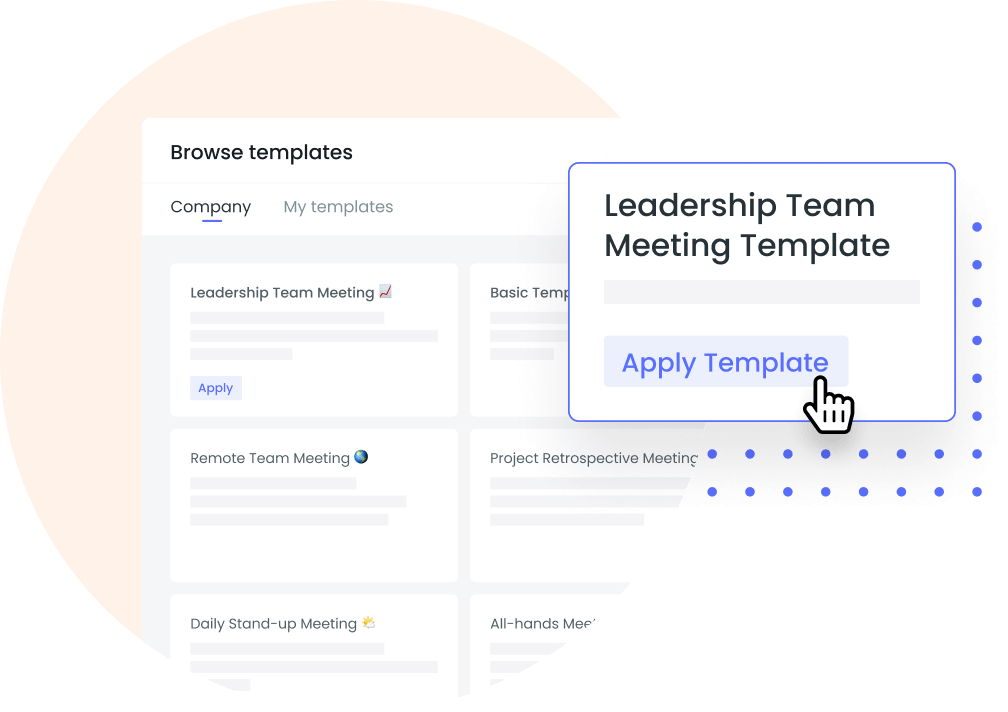 Run delightful meetings with Fellow
See why organizations in 100+ countries are using Fellow as their meeting notes software.
"Fellow solves three key problems around running meetings. First, creating the agenda. Then, with the ability to take notes, meeting management becomes much simpler. And finally, tracking the action items that come out of every meeting. Having everything in Fellow means we can track it and follow up on it."

Mychelle Mollot

Chief Marketing Officer