Following up after a meeting can be forgotten when you get caught up in ensuring your meeting runs smoothly from beginning to end on top of working through your to-do lists.
However, sending a follow-up post-meeting can be the difference between signing a potential client and not, or having your employees complete their action items.
So, let's learn what a follow-up meeting email is, its importance, and how to send one!
What is a meeting follow-up email?
A follow-up email is an email sent to your meeting attendees after the meeting ends. This may be your team members, your boss, or simply anyone you interacted with during a meeting.
The purpose of this is to show your appreciation for the people who took time out of their day to meet with you and to briefly summarize what was said during the meeting – think of it like a briefer version of your meeting notes!
Why is it important to follow up?
It is important to follow up after a meeting for many reasons. First, showing appreciation for your meeting attendees will foster a positive environment and relationship. Remember, they're taking time out of their day for you!
Furthermore, the last thing that your attendees will remember is the last thing they see. Therefore, sending a follow-up email will help remind your attendees of the key points discussed during the meeting.
"There are a number of reasons why the productive conversations in a meeting seemingly go nowhere. Attendees are often immediately running to another meeting where their attention shifts to a new set of issues. Or people leave the meeting without clarity about what was agreed upon."

– Paul Axtell
5 things to include in a meeting follow up email
Now that you know the importance of sending a follow-up email post-meeting, it's time to learn how to send one…
1 Show appreciation
Taking time out of your day to attend a meeting isn't always easy. Instead of getting important work done, you are using your valuable time to be at a meeting. Therefore, it is important to show your appreciation and thank your meeting attendees.
It is also important to show appreciation for your team members because it helps build trust and fosters a good relationship between you and your coworkers.
A study done by the Workhuman Research Institute found that "When workers agreed 'I feel appreciated for the work I do,' they are 47 percent more likely to agree that leaders cared about building a human workplace."
2 Recap the meeting
Nothing is worse than ending a meeting and not remembering what was said. Your brain was so focused on the last topic discussed that every prior decision has gone in one ear and out the other. Therefore, in your follow-up email, it is important to include a recap of the meeting.
Now, you may be asking yourself how to write a follow-up meeting recap. So, let's see what important information you should include:
A list of everything discussed during the meeting
A list of the action items and who were assigned to them
Any reference documents used during the meeting
A reminder for the next meeting

Pro tip
Use a meeting management tool like Fellow to document important information in one place and easily send a recap with the click of a button!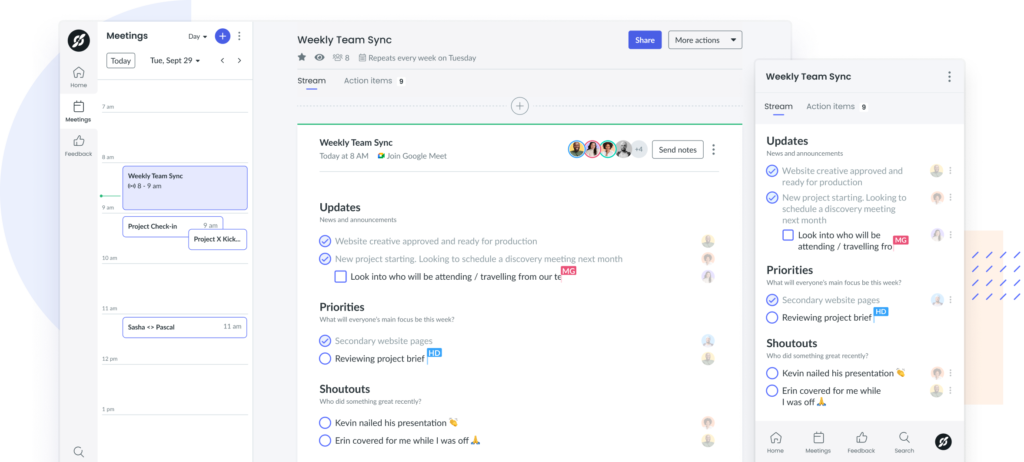 "As the Chinese proverb goes, 'The palest ink is better than the best memory.' If you don't capture the conversation and put it into a form that can be easily retrieved later, the thinking and the agreements can be lost."

– Paul Axtell
3 Summarize key decisions
Summarizing your key decisions in your follow-up meeting email is important because it will ensure that your meeting attendees know the main takeaways of the meeting. Having pointless meetings is a waste of everyone's time. Therefore, summarizing the key decisions outlined in your meeting will remind attendees that the meeting had a purpose – and what that purpose was!
Furthermore, not everyone can always attend a meeting. It may be their day off, they may be stuck in another meeting, or they may just have too much work to complete. Whatever the case may be, sending out a meeting follow-up email summarizing the key decisions will ensure that people who could not attend the meeting are still informed on the important stuff.
4 Add next steps
When you are writing your follow-up meeting email, it is important to include the call to action/next steps. Again, this will remind attendees what their next steps are in case they forgot. This will also hold everyone accountable for their next steps by having it down in writing to retrieve whenever they may need it.
Again, this is also important for those who were unable to attend the meeting. Even if somebody could not attend, they most likely were still assigned an action item/next step. Therefore, this will ensure that whoever was not at the meeting still knows what their responsibilities are.
5 Include the next meeting date
At the end of your follow-up email, it is important to include when the next meeting is. Nothing is worse than frantically searching through hundreds of emails to find when your meetings are. Therefore, instead of sending a separate email with the next meeting date, just add it to the bottom of your follow-up meeting email.
This will create a routine so that your attendees know where they can easily find when the next meeting is. This will also create a routine for you so you are not stuck trying to remind yourself to send out meeting reminder emails later during the week.
3 Follow-up email examples
Here are some examples of meeting follow-up emails to help guide you through how to create the perfect follow-up email templates:
1 After a team meeting
Dear [marketing/sales/engineering] team,
Thank you for taking time out of your busy schedule to meet today. I appreciate all of the hard work you put into [company name].
Following up on our meeting, I would like to reiterate the key decisions discussed today:
[list key decisions discussed]
As a reminder, here is a summary of the action items and next steps:
[list call to action items and next steps + who is assigned to them]
Attached are the documents referenced during the meeting should you need more information.
I'm looking forward to seeing you all on [date of next meeting] for our next team meeting. Enjoy the rest of your week.
Sincerely,
[name]
2 After a meeting with a prospect / potential client
Dear [clients name],
I enjoyed meeting with you and would like to thank you for your valuable time. I appreciated learning more about your role at [their company] and all the great things your company does. We would be thrilled to partner with you and your team to accomplish the goals we have discussed.

The goals we are most excited to collaborate with are the following:
Achieve X amount in revenue
Hit a target audience of X
Grow our team to X people
I'd love to schedule a follow-up conversation with both of our teams so we can dive into the specifics and begin our work together!

Please let me know a date that works best and we can arrange the details.

Thank you again for your time,
[name]
3 After a networking event
Dear [name],
It was a pleasure meeting you at the [name of the event] networking event on [day of the week you met them]. I really enjoyed our conversation about [what you discussed] and hearing your insights.
Following up, I have attached a document from [company name] outlining what we discussed. I would love the opportunity to speak with you further about this and a possible [partnership/collaboration].
If you'd like to continue the conversation, please let me know when we can plan a time to meet for lunch and discuss. I have included a link to my calendar and I will follow up with you in the coming days. I hope to chat again soon!
Sincerely,
[name]
Tips to write great follow-up emails
Use these tips when you're drafting your next follow-up email:
1 Send it within 24 hours of the meeting
It is important to send your follow-up meeting email within 24 hours. This is important so that if attendees want to look back on anything discussed during the meeting, they do not need to wait more than a day to do so.
This is also important because it outlines what attendees' responsibilities are and urges them to get started on their next steps.
Finally, this will reflect your good meeting etiquette onto potential clients, showing them that you are proactive in getting things done.
2 Keep it short and to the point
The ugly truth is that when emails are overly long, we simply just don't read them. We scroll through, skim the topics, and never give it a second thought. Therefore, if you want your attendees to read your follow-up emails (and you do!), you need to keep your emails short and to the point.
"Research shows that between 75 and 100 words is ideal, yielding the highest response rate at 51%."

– Rebecca Zucker
3 Clarify and assign action items
Picture this… you are in your meeting, your boss asks for an update on last week's action items. Everyone looks around as nobody speaks up. Then you all realize… NOBODY DID THEM! What happened was Manuela thought Kamela was doing it, and Kamela thought Hannah was doing it, and Hannah thought Nicole was doing it, annnnnd… nobody did it.
So, clarifying what the action items are and who is responsible for them is very important to include in your follow-up emails to avoid things not being done. By clearly assigning each person a task, the responsibility is not on the whole team but rather on each individual to get their work done.
4 End on a positive note
The final tip to writing a good follow-up email is to end on a positive note. Ending on a positive note will send employees off to do their work feeling empowered and ready to work. This will also foster a healthy work environment and promote psychological safety with team members.
Parting advice
Learning how to send an effective follow-up meeting email is so important. Whether it is after a team meeting, an interview, or a networking event, following up will make you stand out. If you are a manager, your employees will thank you, if you are an interviewee, the company will appreciate your efforts, and if you are reaching out to somebody you met via social media or in person at a networking event, it will showcase your great meeting etiquette.
If you follow these tips for how to write a successful follow-up meeting email, you will become a pro in no time. And trust me, your next meeting attendees will thank you!