Sending a summary or a recap to your team after a meeting is going to be an effective way for everyone to recall the meeting action items, decisions, and most important points discussed. It's also a great way to summarize important details for employees who weren't able to make the meeting.
An effective meeting recap will keep your entire team up to date with the most important information from your meetings, holding each team member accountable for their responsibilities and making sure that everyone is up to date with the latest news on your projects and progress. 
Whether you're meeting today, tomorrow, or next week, we've got you covered with everything you need to know about sending effective meeting recaps to your team.
In this article, we discuss what a meeting recap is, why a quick recap is necessary, how to write an impactful recap.
Finally, we've included a template of a meeting recap so that you can try it out for yourself!
What is a meeting recap?
A meeting recap is often an email summary of the most important points discussed in a meeting. It gives a basic overview of the meeting, reviews the agenda items, highlights the action items and links them to the appropriate participants with due dates, in order to promote accountability.
A recent article by the Harvard Business Review recommends sending your meeting recap immediately after the meeting is over:
"To make sure productivity doesn't slow after you walk out of the room, do two things after and in between meetings: Quickly send out clear and concise meeting notes and follow up on the commitments made."
Sending an effective meeting recap means using meeting notes to highlight the key points of the meeting and to assign individuals to the tasks that need to be completed. Note that HBR suggests to send your meeting notes in a timely manner- this is something we'll take a closer look at as you continue to scroll. 
Who should send the meeting recap?
Your meeting recap should be an assigned task to a member of your team who assumes responsibility for sending it out to the appropriate individuals.
This can be an Executive Assistant, Head of the project, a Manager, or a member of your team.
No matter who takes on this responsibility, it's important that the person sending the recap understands the topics discussed throughout the meeting and is able to interpret the decisions that have been made as well as the next steps that need to be taken in order to achieve collective success. 
If you use a meeting productivity tool like Fellow, sending a meeting recap will take less than a minute with the "send notes" feature.
Who should receive the meeting recap?
A good rule of thumb is to send your meeting recap to the list of attendees from your meeting invite. This way, you don't have to manually add each person, and if someone has missed the meeting, they won't be left out of the picture.
You should also consider sending your meeting recap to any other employees who are involved in the project, clients you're working with, and anyone else the discussion may be useful to.
If you don't already check attendees off as they enter the meeting, create a system to do so effectively so that you are aware of the individuals who weren't able to attend. This is especially important if there are action items assigned to them!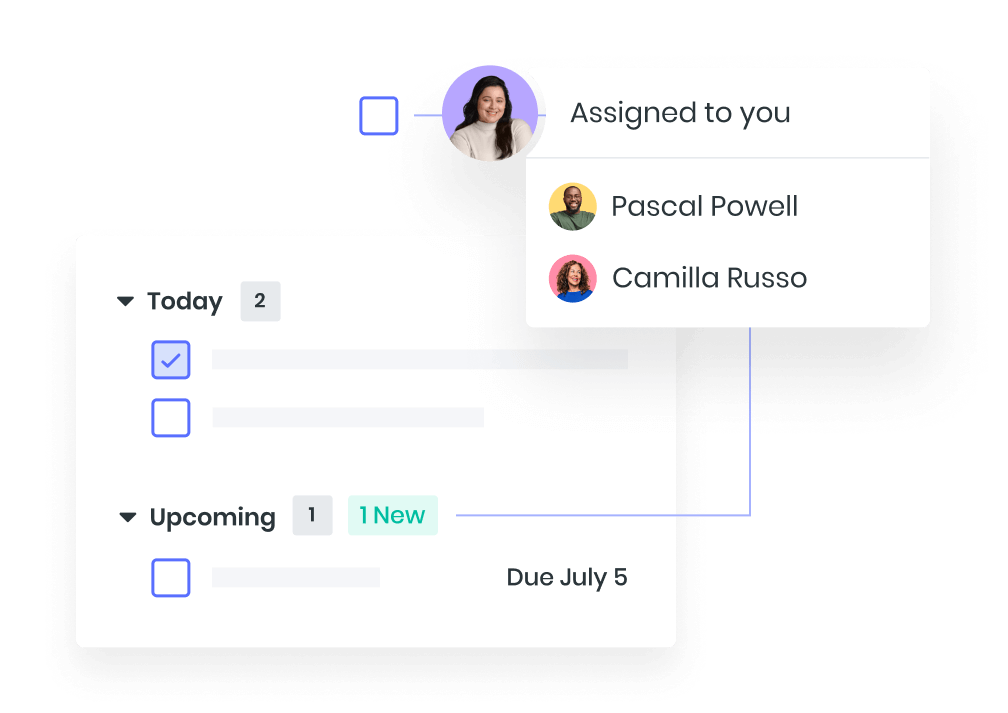 When should the meeting recap go out?
ASAP! You've got to find some balance though, because the quality of this message is important, meaning it shouldn't be too rushed. You do want to put it together as soon as possible, preferably, right after the meeting so that the discussions are fresh in your memory. Give yourself some time to go through and proofread a couple of times before you press the send button.
After you've done that, get the recap out as quickly as you can so that your team can make sure they've noted their action items and can get started on what needs to be completed before the next time you meet again.
It's so important to take detailed meeting notes so that you can use these as a reference for an effective meeting recap.
---
Why do you need a summary email?
A summary email establishes accountability for action items that come out of the meeting. By having the ability to see what your team members responsibilities are, you also gain a stronger understanding of what is required to make the project successful.
Moreover, if you're able to work through your tasks and notice a teammate has a heavy task list, you can lend a hand and expect the same support in return when roles are reversed.
An effective meeting recap also acts as a historical record of meetings to reference at any point. This is going to highlight progress and areas for improvement so that you and your team can continue to learn and grow together.
Of course, it's also really helpful for new team members who may not be familiar with a project or for individuals who weren't able to attend.
In the book Resilient Management, Lara Hogan argues that sending out a recap email after each meeting is a great way to reinforce decisions, clarify company messages, and address your teammates' frustrations:
"I love the practice of repeating decisions or actions after a meeting with a recap email," says Hogan. "This communication method harnesses all of email's power for good: it helps set the record straight, disseminates information to lots of people at once, and opens up conversation internally.
Repetition never fails to help us to remember things more clearly and an effective meeting recap does exactly this: reminds of our objective, our responsibilities and when to touch base next.
---
How to write an effective meeting recap
Before we get into what you need to include in an effective meeting recap, it's essential that you define a clear objective for your meeting.
What we're saying is, if you want to send an effective meeting recap, you need to also have had an effective meeting beforehand. In another interesting article by the Harvard Business Review, they discuss the importance of being organized in order to conduct a successful meeting:
"Before you hold a meeting, force yourself to make deliberate choices. First, know exactly why you're convening and define your goals to set the stage for achieving them. This process may include asking others to suggest agenda items, which not only promotes relevance but also increases ownership and engagement. If you don't have a clear mission or a list of agenda items, you should probably cancel."
Now that we've made it clear how important it is to organize yourself before a meeting, let's take a look at the things that should be included in your meeting recap:
Things to include in your meeting recap:
1 Give a quick thanks
It's good meeting recap etiquette to thank all of the attendees for taking some time out of their day and to have focused their attention on the meeting.
2 List what was discussed during the meeting
You can use your agenda items and meeting notes to do this and organize them into bullet points that are quick to read and straight to the point. Make sure to write them out in chronological order from the opening of them meeting to the decisions made and next steps.
3 List action items and assign them
After you've summarized the key points of the meeting, in a separate paragraph or table, list all of the action items with the date it was assigned (the day of the meeting), the deadline and the person who has been assigned to complete it. This is going to foster accountability within the team and also keep everyone up to speed on what their teammates are working on. 
Pro Tip
If you use Fellow, you can simply use the "send notes" functionality and the meeting recap (with action items and notes) will be sent automatically to all attendees!
4 Include any kinds of reference documentation
It's a good idea to include any kinds of reference documents from the meeting. These can be anything from project guidelines, project timelines, budgets, etc. This is especially helpful when many projects are progressing simultaneously. Including relevant resources is going to eliminate confusion at the onset and give you and your team more time to work towards your goals, without too many explanations or clarifications required.
5 Include a reminder of the next meeting
Make sure that everyone is clear on when the next meeting is and what needs to be completed before that date.
---
Example of a meeting recap
Hey team!
Thanks for attending [meeting name] today. I hope the meeting was helpful and inspiring.
Here are the main talking points we discussed, for those who couldn't attend:
1. Talking point A
2. Talking point B
3. Talking point C
Finally, these were the action items that came out of the meeting:
1. [name] will do [task] by [date]
2. [name] will do [task] by [date]
You can always review the action items tab in Fellow to see when these action items are completed!
---
Before you go…
You've got nothing to lose and everything to gain by sending a meeting recap to your team. It may take some time and some adjustments to find how to most effectively write out and send your meeting recap, but with some practice, you'll find what works for you and your team.
The best part is, once you're happy with it, you can use your most up-to-date version as a template so that you're optimizing both time and productivity. Having these reference documents to look back at as you tackle your tasks is going to prove to be really helpful. It opens lines of communication between you and your team members and it gives everyone a better understanding of all the moving parts working towards achieving your organizational goals.
Thanks for dedicating some of your time to reading the Fellow Blog! If you found this article resourceful, share it with a friend or a colleague to get their take on the use of a meeting recap. As always, it's been a pleasure having you and we'll see you next time!