Meetings are great – they gather everyone in one place to share updates and info that everyone needs in order to excel. But before you and your team can sit down and share ideas, you'll need to collect basic information of who, when, and where. Meeting invitation emails check that box. With the below meeting invite email templates, you can craft an invite that leaves virtually no questions unanswered.
Meeting invite email templates
No matter the type of business meeting you'll need to lead, sending the correct invitation can pay off. Sending out the right email can set the tone for the meeting and help everyone contribute. The below meeting invite templates can help you properly preview almost any meeting.
1 Team meeting invite
Your team consists of people you most likely already know, so you probably have some sort of rapport with them. And sure, when a team comes together for the first time, the initial meeting invite might be more formal and concise. But once you and your team get to know one another, you're free to make your invitation a bit more informal. It might look like what you see below.
Hi team,
Long time no see!
We'll be discussing [meeting subject] during our next meeting, taking place [name the date, time, and location here]. We'll have [amount of time] to cover everything, so come prepared with questions and be ready to chat about:
[repeat the above bullets in that order for as many goals as you plan to cover during the meeting]
Looking forward to it!
Thanks,
[Signature]

Encourage collaboration
Use a meeting agenda everyone can contribute to so all participants can join in on the conversation.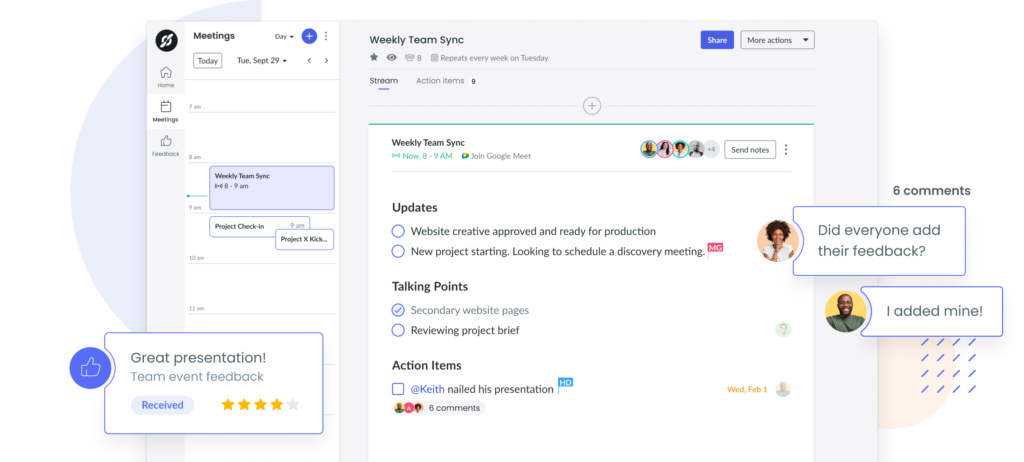 2 Presentation meeting invite
Invitations to a presentation are often more formal – you're probably sending them to a broader audience, so you don't want to come off too relaxed. Plus, presentations are usually longer than the typical meeting, so your invite should more heavily emphasize the time. Including an approximate schedule – something like a miniature meeting agenda – can help everyone properly plan their day to accommodate the presentation. Here's how to do it.
Hello [participant names, or "all" if the invite list is super long],
On [day and date] at [time], we will be meeting for a presentation about [topic]. The purpose of this presentation is [goal]. Here is a quick overview of the presentation and discussion schedule:
Talking point 1 [Approximate time]
Talking point 2 [Approximate time]
Talking point 3 [Approximate Time]
[Add more talking points and times as needed]
If anyone has any questions or concerns regarding the presentation, please let me know as soon as possible.
Thanks,
[Signature]
3 One-on-one invite
Meeting a manager face-to-face can be a nerve-wracking situation for your team members. That's why you should make your one-on-one meeting invites clear and friendly, to help dispel any concerns your team member may have going in. That said, more formality might be required if the topic is more serious. You don't want to send a team member a friendly invite and then blindside them with negative feedback. Here's a template you can use.
Hello [Participant name],
Hope the day's treating you well.
I'm just here to remind you that we're meeting on [date, time, and location] to talk in-depth about [topic] and answer any questions you might have. In case you need a recap, we'll be discussing [x], [y], and [z] [Note: you can delete the rest of this sentence if applicable] and working toward an appropriate outcome for [y].
Please make sure to review [name some relevant documents or information] prior to our meeting.
Thanks and looking forward to it!
[Signature]
4 Client catch-up meeting invite
Inviting a client to a meeting is a tricky balance of being formal and friendly. You don't want to come off like the business relationship is informal, but you also don't want to act like a stranger. Basically, when you catch up with a client, you can be slightly less formal since there's some shared history, but you can't go full-on casual. Here's how to walk the line.
Hi [name],
How are you? We haven't had the opportunity to meet in person for some time, and I'd like to change that. I'll be in your city from [date range], and I'd like to take that chance to discuss our work together and show you other things we're working on that could interest you.
We could meet on [day and date] sometime around [time] if that works for you. If not, just let me know what time fits into your schedule, and I'm sure we can work something out.
Talk to you soon!
Thanks,
[Signature]
How to structure the meeting invite email
Templates can help you start your meeting invite emails, but use them too much, and people are bound to notice the repetition. Colleagues and clients often respond better to personalized communication, especially when you're asking them to take time away from their other responsibilities. So yes, you can initially build from the templates, but it's good to learn how to craft business correspondence of your own. Learning how to structure your email is a great place to start.
1 Write a concise subject line
The subject line is one of the most critical aspects of an invitation email – it's basically your chance to make a great first impression. When you send a meeting invitation, you should be able to condense the meeting's purpose into only a few words. What you come up with will be your subject line. With a long, vague subject line, you'll be hard-pressed to get people to read your invitation, let alone show up to the meeting.
To increase response rates to your emails, try and aim for a subject line of around 41 characters or seven words. The average subject line can be up to 50 characters, so the slightly shorter 41 characters can help your subject line stand out. Calls to action in your subject lines can help encourage an immediate response.
2 State the time and location
Everyone you're inviting to your meeting has their own responsibilities, so try not to leave them guessing about your meeting's date and time. You should also clearly state where you're holding the meeting so everyone can arrive on time at the right location. Couple the start time with an end time so everyone can plan their days around the event.
If you're hosting a virtual meeting, you should also consider the meeting attendees' time zones. Make sure to specify the timezone with your meeting date and time to avoid potential confusion. And try to choose a time that's good for everyone – 4 p.m. in New York is 10 p.m. in Berlin. Nobody wants to meet right before bed.
3 State a clear purpose
A meeting without a purpose basically promises an unproductive meeting. If you don't offer a clearly stated goal in your meeting invite, how can participants collaborate toward a shared outcome? And if the meeting doesn't have a distinct goal in the first place, it could cut into the company's productivity as a whole. You can keep your explanation to one or two sentences, even for the most complex goals – save the complicated stuff for the actual meeting.
4 Share your meeting agenda
Sharing the meeting agenda alongside your meeting invite email can help you expand on everything in your invite. Attaching your agenda is basically a way of saying "hey, here's everything you should know" without adding a wall of text to your invite. 
A proper agenda will help your participants show up with relevant ideas and necessary materials. It should comprise the main talking points you plan to cover and the time allotted for discussing each. It's the skeleton of the meeting – the conversations you have during the meeting comprise all the muscles that get the bones moving. When everyone gets to see it alongside your meeting invite email, the meeting can move more smoothly.
5 Ask attendees to RSVP
Meetings are important, but the people you invite need to clear their schedules to accommodate your gatherings. Shift plans, upcoming project deadlines, or key staff holidays can impact full attendance. And if your invitees are especially busy, getting an accurate headcount beforehand could be challenging. It's no fun getting caught off guard when an unexpectedly small number of people show up, so you should ask for RSVPs in advance. Just ask people to say yes or no in a response back to you by a deadline. That's an easy way to get an accurate headcount.
6 End with a professional signature and branding
You should end your meeting request with a signature or some sort of personal branding. While some people may consider professional branding unnecessary, business correspondence with a personal-looking signature can be seen as unprofessional. A formal email signature can reinforce the importance of the contents of the message.
Tips on how to write a meeting invite email
Now that you know the basic structure of an invitation letter, you can take advantage of several tips to build from that foundation. As in everyday speech, it's not just your words that matter in a meeting invite email – it's how you say them. Here are four tips that put action to that philosophy.
1 Keep it brief
When Hamlet said "Brevity is the soul of wit," he was really on to something. Pretty much everyone appreciates conciseness in workplace affairs, especially if their attention is being pulled in multiple directions. To that end, when writing a staff meeting invitation, try to include only the most essential information.
2Personalize your invites
Even on invitations for more formal meetings, it doesn't hurt to personalize your message. Include the recipient's name in the email's greeting so it stands out from other emails and encourages more thorough reading. Additionally, you could include small, friendly remarks – think "how are you?" or "hope you're doing well." Though a bit trite, these phrases let the recipient know that you appreciate them as a human being.
3Use a tone that matches the purpose
There's context to every meeting, and that context should inform the tone your invitation should take. Your email should sound different depending on whom you're inviting and the goals you're looking to achieve. An invitation to a biweekly team meeting will read differently than one going out to your corporate board of directors.
4Share an easy way to join the meeting
Convenience helps drive the likelihood of employees attending the meeting and being prepared to contribute. While there's only so much you can do to make attending physical meetings easier, you have nearly full power over virtual meeting accessibility.
For example, you can include a link to your online meeting room in your meeting email. You can also include the link in your Outlook or Google Calendar event and invite everyone to that. Your goal is for participants to have an easy time adding the event to their calendar, setting up reminders, and showing up on time.
An invitation to success
Workplace meeting invitations can be tricky the first time you attempt to write one, and the above meeting invite email templates should help. That said, eventually, you'll want to ditch the templates for your own approach, and the above tips can help there too. And when it comes time to plan, run, and follow through on your meeting, Fellow can help. Its pre-built meeting templates, real-time note-taking tools, and collaborative agenda-building suite give you control of your meetings long before they start.