You need to hold a team meeting but want to do something different – something less formal than typical business meetings that gets everyone talking. But you also need to stay focused on all the important things you need to discuss. Lunch meetings check both boxes: They can bring your team together and create a conversational atmosphere. Below are 12 tips to help you plan an engaging and productive business lunch meeting.
Why should you consider a lunch meeting?
You should consider a lunch meeting because, well, who doesn't love food? Hosting a lunch meeting (also known as a type of offsite meeting) gives employees a delicious meal to look forward to while checking that important meeting off your list. Below are some other reasons to start taking some meal suggestions as you prepare for your next meeting.
Enjoying some tasty dishes during a meeting can make discussing next month's goals way more exciting. Food creates a casual and conversational atmosphere since people often eat with family and friends. In this environment, your employees might feel more comfortable contributing to the conversation.
Brings employees together
Some employees might grab food from the shop across the street during their lunch break. Others might scarf down a packed lunch while they rush to finish tasks at their desks. Both these lunches, even if absolutely delicious, are typically 100% solo. Hosting a working lunch brings your team together to accomplish a goal while eating together and enjoying some casual conversation.
Managers and leaders play a special role in lunch meetings. When your employees see you enjoying a meal alongside them, you level the playing field. Doing so can help you build relationships among your organization's members. Where better to get to know one another than over delicious sandwiches and fries?

Meetings worth showing up to
A well-run meeting can foster communication and collaboration by including an agenda the whole team can contribute to. Try using a tool like Fellow!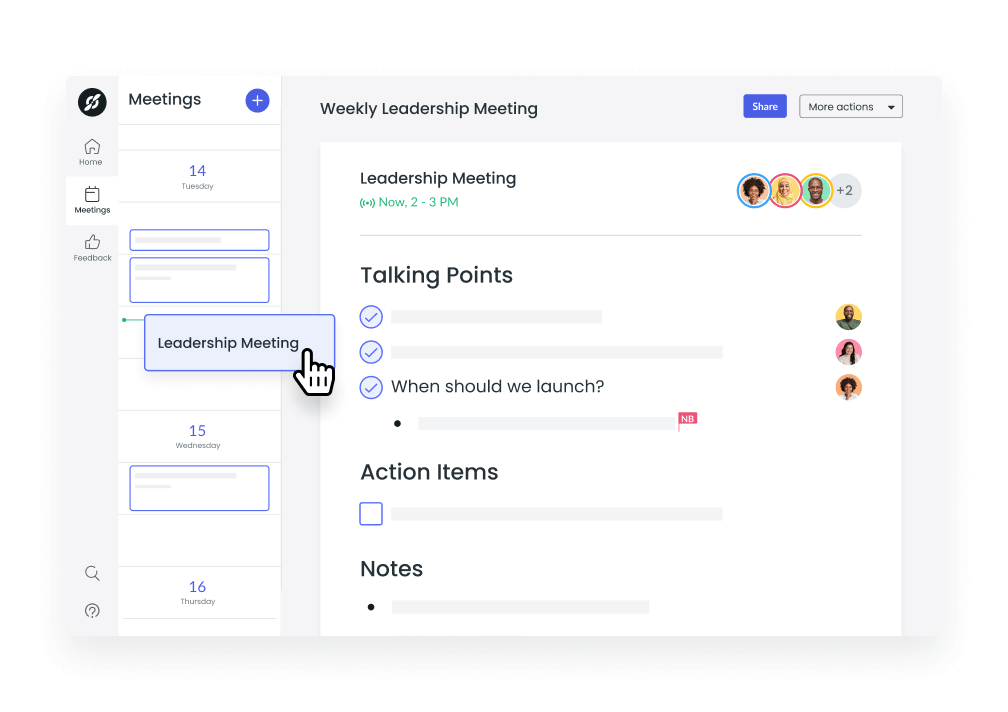 If your team already has a set time for lunch break, scheduling a lunch meeting means just setting that time for the meeting. That's way simpler than coordinating multiple schedules to find a meeting time. And it only takes a few minutes to call a restaurant and make a reservation or place an order with a catering company.
Depending on your meeting's topic, you might want to hold your meeting at a location that accounts for both you and your employees' comfort. For example, if you're having a team status update or group performance review, calling everyone to your office could seem a bit intimidating. You might want to meet at a restaurant or a coffee shop instead. This decision can help you keep your meeting environment open and conversational.
Ability to show appreciation
Treating your team members to a nice meal can show that you value them as employees and appreciate their hard work. Paying for their lunch shows that you care about their happiness and you're willing to make a small investment into their well-being. After all, a tasty meal is a huge mood-booster.
Our 12 tips for a great lunch meeting
While lunch meetings can be easy to plan, you should take some steps to help you and your team enjoy a fun, productive time. Below are 12 tips to help you have a successful lunch meeting.
1Send out meeting invites in advance
You should send your lunch meeting invites out well in advance. That's always true with meetings, but it's especially true with lunch meetings. Maybe some of your team members might use their regular lunch breaks to run a quick errand. In that case, advance notice allows them to adjust any plans they might already have. Sending a formal invite also allows your team members to quickly add the event to their calendars and set up reminders.
2Pick a location that's perfect for everyone
You might be tempted to take your team to that new spot you discovered that serves some of the best lasagna you've ever had. But would everyone enjoy that as much as you do? Before you choose a place to hold your meeting, send a quick email asking your team members to share their dietary restrictions or preferences. This way, vegan or gluten-free people – and those with other restrictions – aren't just ordering water and soft drinks for lunch.
From there, you can pick a restaurant that best fits everyone's needs. You should also take into account how far the restaurant is from the office. Not all employees will want to drive half an hour just to get to lunch. Try to choose a place that's fairly close so you're not cutting into your meeting time waiting for everyone to arrive.
3Book a table in advance
The lunch rush is one of a restaurant's busiest periods of the day. Don't let long lines and full tables delay or postpone your meeting. Instead, plan ahead and make a reservation so when you and your group arrive, you can quickly get into your meeting and the meal. Some restaurants may include conference rooms or sections you can book so everyone is in close vicinity in a quiet environment.
4Announce the menu and courses ahead of time
Once you've decided on a restaurant, you should send your team the menu. This way, people with dietary restrictions can be confident there will be options that suit their needs. If you're ordering a catered office lunch, ask your team about their preferences ahead of time so everyone has a meal to enjoy.
5Choose a meeting facilitator
To keep your meeting orderly and the discussion flowing smoothly, appoint someone to be the meeting facilitator. This individual will be responsible for guiding the team through discussion points while giving everyone a chance to share their thoughts. With a facilitator, you can make sure your meeting stays on topic and within its allotted timeframe.
6Arrive early
Starting a meeting late invites disorganization and rushed conversation, so you should arrive early. This way, you have amply time to identify and remedy any issues with seating or other restaurant or catering preparations. You'll also show your team that you're taking the meeting seriously.
7Wait for everyone to arrive before taking a seat
Before you and other attendees proceed to take your seats, you should wait for everyone else in your party to arrive. That way, you can welcome all your attendees and prevent anyone from having to search or ask around for the rest of the group. This approach also allows room for icebreakers as you wait for the full group and lets you start the meeting with everyone there.
8Pay attention to etiquette
There are a few practices you should remember in the name of etiquette. If your meal arrives before others in your party receive their plates, wait for them to also receive their meals before you start eating. This practice simply shows you're being a considerate host.
To keep a clean appearance, you probably don't want to order messy finger foods. And try not to stuff your mouth so full you can't freely contribute to the conversation. You should also silence and put away your phone so it doesn't interrupt the meeting.
9Stay focused on the topic
Maybe you want your meeting to be open and conversational but have several points on your meeting agenda to cover. Though you should allow a short amount of time in your meeting for casual chit-chat, get into (and stay focused on) your talking points afterward.
If the conversation starts to veer off track, the meeting facilitator should gently guide the discussion back to the intended purpose. This way, you can keep the meeting both engaging and productive.
10Make room for questions
Try not to get so caught up in the meeting discussion that you end the meeting without taking questions. Allotting time for your team members to ask questions invites them to raise any thoughts or concerns that came up during the meeting. It also helps you determine how well your attendees understood the content. Your meeting facilitator should ensure each person has had a fair chance to contribute to the meeting and receive helpful answers to their questions.
11Pay the bill
When you hold a lunch meeting, you invite your team to enjoy a different experience from its typical lunch breaks. You should foot the bill to reward them for their attendance and contribution. Ideally, you should handle the payment away from your attendees so no one feels obligated to help you pay.
12Send a meeting follow-up with notes
To recap the discussion and emphasize any meeting action items or main points, send a follow-up email to your attendees shortly after the meeting. This way, everyone can more easily determine what tasks or initiatives they should prioritize when they start the next day. You can also add a note at the end of your email asking for peer feedback to improve the next meeting. Maybe a new restaurant that your team recommends will make its way onto your list! With Fellow, you can easily send your notes with the click of a button!
Serving up success
Lunch meetings can be a great way to bring your team together for a work-related discussion in a social atmosphere. Whether you're taking your team to a fine-dining restaurant or buying a bunch of street food, your lunch meeting should get everyone engaged. And once you've set up the meal, Fellow can help you structure your meeting agenda, request feedback from your attendees, and do so much more.