It's great to manage a skilled team that's super passionate about its work. But even with their motivation, your team can only succeed if it has enough resources. That's where resource leveling comes into play. Below, learn about resource leveling in project management and how it can set your team up for success.
What is resource leveling in project management?
Resource leveling is a technique that estimates a project's start and finish dates based on your resources. As the name suggests, resource leveling can help you balance out your resources so you're not stretching your team – and tools – too thin.
Examples of resources include labor, time, equipment, materials, and team members, but don't limit your imagination. Anything useful can be a resource.

Great meetings are just the start
Level up your meeting habits to boost engagement and productivity with a collaborative meeting agenda. Try a tool like Fellow!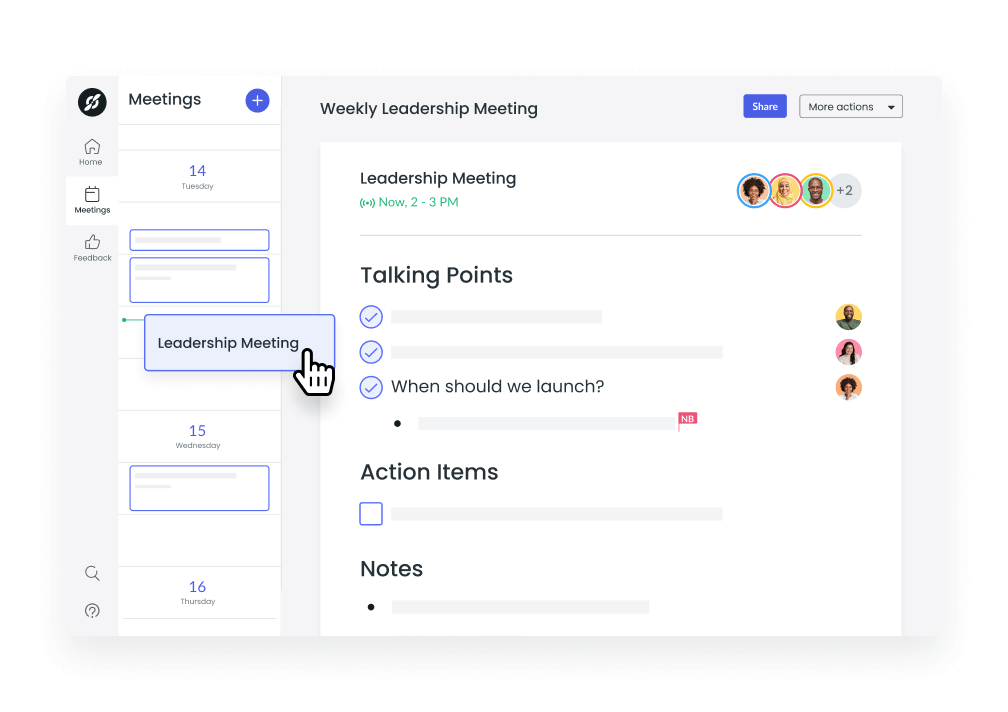 When should you use resource leveling?
Resource leveling can be great for any project. Below are a few instances where this project management technique can especially come in handy.
1To make the most of your resources
Picture this: A client has a vision for a project, so you and your team look at whether it's realistic. Then, you take those ideas and get to work. But only then do you really look at the small details and realize you don't have enough resources to complete your project.
With resource leveling, your time and tools are a part of the planning process. This way, you know exactly what you're getting into before you get started, and you can make the most of your available resources. You'll know how much effort, time, and money your team will need. This way, you can plan to use these resources to their full extent.
2To not overload your team
Research has shown that overloaded and overwhelmed team members can experience stress that negatively affects their outlook on work. Of course, that's not ideal – as a project manager, one of your biggest priorities is your team members' well-being. Resource leveling can help you avoid piling tasks on your team while keeping your project on track.
With resource leveling, you'll always take your team members' schedules and workloads into account. From there, you can set a project deadline that suits your team's capacity. This can help you set reasonable task deadlines and keep your team's workload manageable. This way, you can keep your employees engaged, motivated, and excited to see the project all the way through.
3To reduce resource deficits
Resource deficits will mean that you have to find more resources, which can be costly and push your timeline back. Resource leveling, on the other hand, helps ensure your project gets done on time. That means little to no overtime for your team members and less money spent on extra project costs.
With resource leveling, you minimize the number of resources you need to add to your project down the line. You'll have enough resources to cover your project from start to finish.
4To create a high-quality product
Without enough resources, your projects might not be up to your standards. Resource leveling can make sure you have the proper resources to finish your project while exceeding everyone's expectations.
When you're not stretching your resources thin, your team can access everything they need. Whether your budget, a software program, or your team members' time, balancing resource demand helps ensure you aren't stressing your money, tools, and people. This results in a project that's as high-quality as the resources you've poured into it.
Examples of resource leveling
To understand how resource leveling works, imagine that you and your team are developing a cloud-based marketing program for a client. Your marketing specialist is in charge of uploading software to the platform. This will take the specialist six hours, and she works eight hours a day. With resource leveling, you would identify the extra two hours in her schedule and add another task to fill that time.
As another example, imagine that your organization needs a top-to-bottom website update. Two team members will need to complete the project. However, only one team member is available. Instead of trying to finish the update in two weeks as originally planned, you can push the deadline back a month. This way, once the other team member becomes available, they can work with their colleague to finish the update within the set project timelines.
Resource leveling strategies
Below are a few resource leveling techniques you can use for your next project.
1Critical path method
The critical path method (CPM) is a project management approach that focuses on task prioritization and resource allocation. Time is the primary resource for this method. To start with CPM, you'll map out the longest path to completing a project. From there, you can set a realistic deadline.
The critical path method can help you finish the project on time since you've made a plan based on the longest time frame. CPM mainly looks at task dependencies, how you'll approach tasks, and how long each task will take. It also looks at how much wiggle room there is with each task's deadline.
In this method, you'll divide your tasks into two groups: critical and non-critical tasks. Critical tasks are essential to completing the project. Noncritical tasks are either optional or don't require much attention. With this approach, you can best identify where to focus your resources.
2Critical chain method
With the critical chain method, you'll add more resources than just time to your list of resource requirements for CPM. This way, you have buffers (additional resources) in place that ensure your team has what it needs (and then some). If your team isn't tapping into your buffers, that's a pretty good sign that your project is moving along smoothly.
After you figure out your critical path, you'll create a secondary chain of tasks that run alongside the critical tasks. These dependent tasks can help you make sure there are no delays with the critical tasks. If there are, your buffers can get everyone back on track.
3Fast-tracking
When time gets tight, fast-tracking can shorten your timeline. With fast-tracking, you'll find tasks that your team can complete at the same time instead of one by one. Notably, this doesn't work with tasks that depend on each other. But in other cases, it can help you pair similar tasks and speed up the process.
A major benefit of fast-tracking is that it doesn't lead to additional costs. However, it could increase the risk of mistakes since multiple processes are happening at once.
4Project crashing
With project crashing, you give your team more resources so they can work on multiple tasks at once and chop time off your project's schedule. The goal is to bring in additional resources at the lowest possible cost so your project's expenses don't skyrocket.
To get started with project crashing, you might hire a specialist for a short while to help your team work through a task. On the other hand, you could buy more equipment or more advanced software to give your team more tools.
Resource leveling tools
There are several project management tools you can use to bring resource leveling into your next project. Many of these tools are common in project management and can make the most of your resource leveling tactics.
1Gantt charts
A Gantt chart is a bar graph that lays out your project's schedule. It helps you visualize and manage the tasks and resources involved in your project. The chart shows each task and its duration as a horizontal bar. The longer the bar for a task, the longer it takes to finish that task.
With a Gantt chart, you can see each task that makes up your project. This clear project layout can help you determine how to best optimize your resources.
2Project management software
Project management software can help your team flow through a project. These tools can help your team communicate seamlessly, manage tasks and resources, and track deadlines.
Fellow stands out from other management software programs in that it focuses on meetings. Through the meetings that Fellow helps you effectively facilitate, you can assign key action items for your team to tackle while sharing feedback and notes. And you can do it all while integrating Fellow with your most important apps.
Additioannly, with project management software, you can dig into the details of your project plan and look at timing and resource allocation. At the beginning of your project, you can see which resources your team will need. As the project moves along, you can see how long those resources are lasting. And if you can add more resources to get over the finish line, go for it.
3Network diagram
A network diagram can show you how your project will progress from one step to the next. It can also help you plan important parts of your project such as task dependencies and timelines.
A Program Evaluation and Review Technique (PERT) chart is a great example. This network diagram links tasks to each other while keeping in mind the minimum time your team will need to work through the project. It's a detailed flowchart that identifies dependent tasks and tasks that your team can complete simultaneously.
4Referencing previous projects
You can look at past projects to get a good idea of the resources you'll need for your upcoming project. Try reviewing notes, charts, and schedules from other projects to figure out where your team might need some extra help this go-round.
Say, for example, that during your last project, your IT team was overloaded while trying to test out a new software platform. This time around, you might give the team another five days or so for the testing phase. You could also bring on a new IT team member if you're on a tighter schedule.
Making the most of what you have
Unlimited access to resources of all kinds is any project manager's dream. But, realistically, working around restraints is part of the job. With resource leveling, you can figure out which resources your team will need and plan your project around that. That could mean less stress on you, your team, and all your other resources.
As you work through your project, it's important to hold regular meetings to get updates from your team members. This way, you'll know if you need to bring in more resources or move some existing ones around. For all types of meetings, Fellow has you covered. With Fellow, you can easily get real-time peer feedback, delegate tasks, and collaborate on meeting agendas. It's a great way to bring your team into every part of the process.