As a team leader, there's one thing you know far too well: You can work all day and still have a ton left to handle. Unfortunately, pen and paper don't go far enough to keep tabs on everything you have to do – it can get disorganized fast, and it doesn't allow for on-the-fly changes or give visibility to others on your team that may need to know what you're up to. The solution? Task management software. The recommendations on this list can help you find the best fit for your team.
What is task management?
Task management involves more than just task lists (though that's certainly a part of it!). Task management starts with determining the necessary things that need to be done and the deadline for each one. It then moves on to task assignment, wherein you delegate all the work you've identified. You'll then need to prioritize tasks and track progress. If your team is missing deadlines or some team members are working excessively, you'll also need to redistribute tasks and rearrange work schedules.

Pro tip
Use a meeting management tool like Fellow to stay on top of your projects and tasks with a collaborative meeting agenda tool.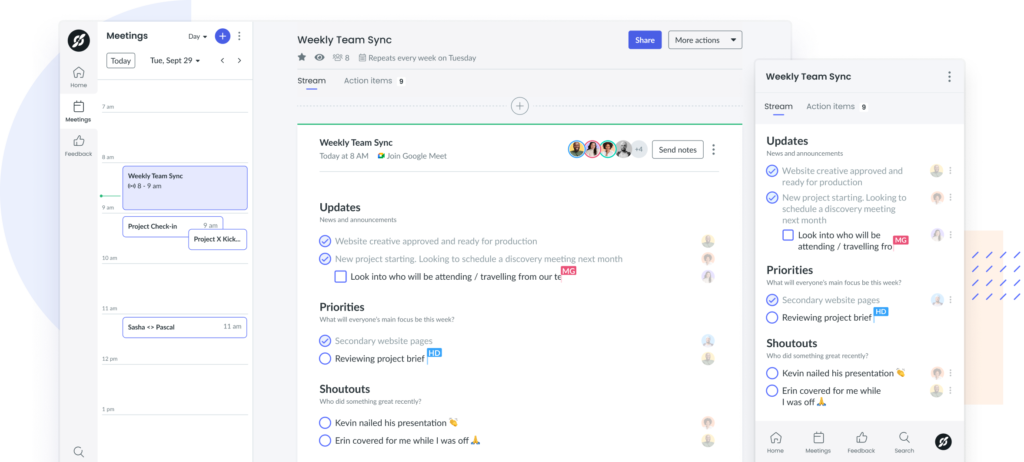 The top 13 best task management software for teams
Teams of all stripes – and especially their project managers (that's you!) – can benefit especially strongly from the below task management software platforms. These platforms include project management software, work management apps, time tracking solutions, and resource management tools.
1 Asana
Asana focuses on project and workflow management. Its most prominent features include task lists, comments, notifications, and other team collaboration features.
Key features: Task lists are organizable by deadline or project. You can comment on tasks and tag teammates. All your teammates can privately message one another. All communications trigger notifications, as does the assigning of tasks.
Price: A free introductory tier is available, and paid plans start at $10.99 per user per month.
Differences between free and paid versions: Asana's free tier includes three project views, community support, and basic workflows, reporting, and security. Asana's paid tiers include advanced versions (or greater amounts) of all these features.
Pros: With Asana, you can easily group a project's tasks together, assign these tasks to team members, and see a detailed list of each team member's assignments and deadlines.
Cons: Asana doesn't enable managers like yourself to create Gantt charts. It lacks an easy way to plot out the ideal amount of time team members should spend on each task.
2 Monday
Monday is a task management app largely focused on project management. You can use it to set timelines, expedite requests, share files, automate workflows, and create Kanban boards.
Key features: Gantt charts clarify timelines. Requests can be easily filed and approved. Automated workflows are customizable. Kanban boards are quick to create, and they provide spaces for sharing files.
Price: Free individual plans are available, and team plans start at $8 per user per month.
Differences between free and paid versions: When you upgrade to a paid Monday plan, you get unlimited free viewers and items. You also get extra storage, timelines and Gantt charts, hands-on customer support, greater dashboard functionality, and more automation features and integrations.
Pros: Monday has most of the features that a team leader would need to properly manage tasks.
Cons: Although Monday promises extensive customer support to paid members, it can be difficult to find the phone number to call in the first place.
3 Trello
Trello is a task management app centered on boards, cards, and lists. With these tools, you can get both a close-up and bird's-eye view of all your projects.
Key features: Boards, lists, and charts come together to approximate Gantt charts. Productivity tracking tools are available. Many popular small business apps integrate seamlessly with Trello.
Price: Free plans are available, and paid plans start at $5 per user per month.
Differences between free and paid versions: Paid plans come with unlimited boards, advanced checklists, customization features, and more user-friendly views.
Pros: Even Trello's free tier includes unlimited cards, storage space, and users.
Cons: Each card or task in Trello can only belong to one project or board. This limitation is rare among other task management software platforms.
4 Fellow
Fellow stands out from other task management software programs in that it focuses on meetings. Through the meetings that Fellow helps facilitate, you can determine key action items for your team to tackle later while sharing feedback and notes. And you can do it all while integrating Fellow with your most important apps.
Key features: Fellow acts as a team hub for meeting agendas and notes, plus any feedback and action items that result from your meetings. You'll get access to numerous meeting-related templates and idea streams that replace paper notebooks. You'll also get full integrations with dozens of apps, ranging from basics like Google Calendar to HR platforms like Workday.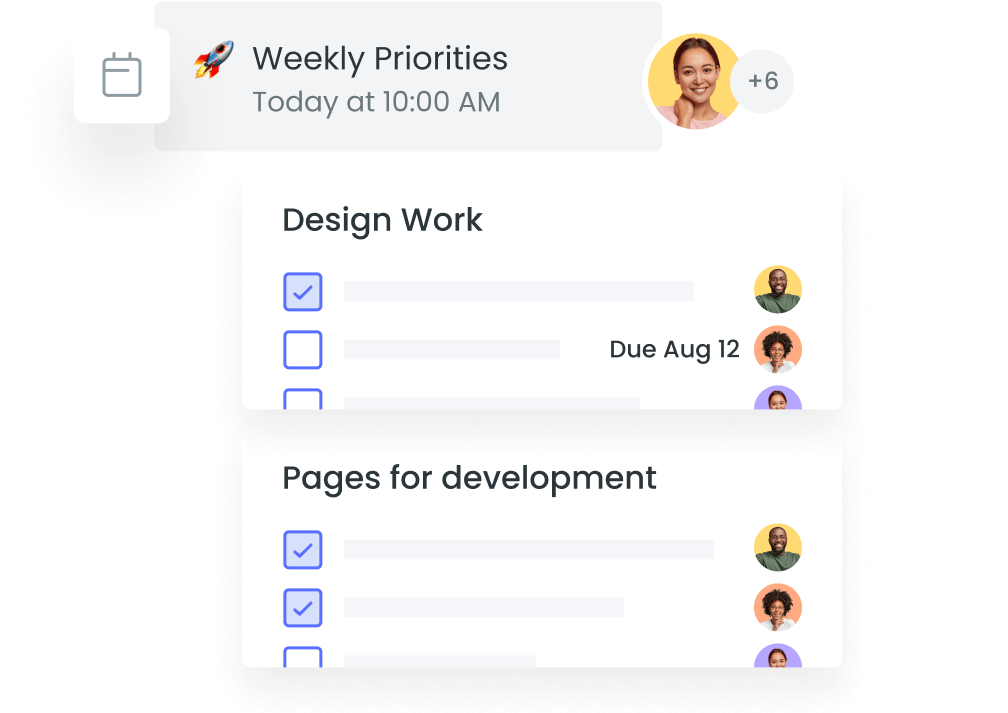 Price: Fellow is free for a maximum of 10 users. The Pro plan is $5 per user per month, and custom-priced plans are also available.
Differences between free and paid versions: Fellow's paid versions impose no limits on shared streams, action item due dates, and more. They also offer seamless integrations with Jira, Asana, and Zapier.
Pros: Fellow makes the most out of your meetings, which is key to determining, assigning, and managing tasks. It includes virtually every pertinent meeting tool under the sun.
Cons: Fellow isn't a through-and-through project management tool like some of the other entries on this list. But that's only a bad thing if you're not currently happy with your project management tool.
Fellow is a great complement to your project management app (or any of the apps on this list). With both organized task lists and streamlined events for identifying and assigning tasks, your team will swiftly ace all its goals.
5 Wrike
Wrike's workflow management platform is built from a foundation of multi-priority task lists. Its ultimate goal is to facilitate fully transparent team collaboration.
Key features: You can customize your Wrike workspace, expedite requests and approvals, and create interactive Gantt charts and Kanban boards. You'll also get project risk prediction alongside advanced communication features.
Price: Wrike offers a free tier, and paid plans start at $9.80 per user per month.
Differences between free and paid versions: Paid tiers include shareable dashboards, increased storage, more integrations, interactive Gantt charts, and customizable features.
Pros: Wrike is among few task management software programs to include risk prediction, and its workspace is among the most customizable out there.
Cons: Wrike's customization features are only available to users who opt into the second-most expensive plan.
6 Todoist
Todoist specializes in proactive project management. It highlights the most urgent tasks on your list to streamline your time management.
Key features: Todoist always surfaces your most urgent tasks. It streamlines task delegation when you're overwhelmed. You can also visualize your team's productivity to help decide which tasks you should elevate or save for later.
Price: Todoist offers a free introductory plan, and paid plans start at $3 per month.
Differences between free and paid versions: Paid Todoist plans allow for a greater number of active projects and collaborators per project. You'll also get a greater maximum file size, more filters, and a team inbox.
Pros: Todoist is among the most affordable task management tools. Its least expensive paid plan costs $3 per month, not $3 per user per month. This flat fee can reduce your task management expenses.
Cons: Gantt charts aren't among the features Todoist highlights on its plan comparison page. Project managers who need timeline views may thus find Todoist lacking.
7 ClickUp
ClickUp boasts significant overlap with traditional project management tools, but with more time tracking features. Its timeline features are of particular note.
Key features: ClickUp's most unique features include granular time estimates, time in status, and work in progress limits. High-end plans also come with numerous integrations, extensive security features, and robust support.
Price: ClickUp is available either for free or starting from $5 per user per month.
Differences between free and paid versions: Paid tiers include unlimited spaces and file storage. Higher-end paid tiers come with the full scope of ClickUp integrations, support, and security.
Pros: The App offers numerous integrations, not to mention ClickUp time tracking features uncommon among other task management platforms.
Cons: The vast majority of ClickUp's advanced security features and support are only available with its custom enterprise plans.
8 Basecamp
Basecamp is a project management platform intended for remote use. Both virtual and in-person teams can use it to streamline communication and workflows in various ways.
Key features: Through Basecamp, you and your team can send important notifications. You can also create message boards and store and share relevant files.
Price: Basecamp is available either for free or with a flat fee of $99 per month, independent of your number of users.
Differences between free and paid versions: Basecamp's paid tier includes a company HQ, priority support, and advanced client access. It also comes with an unlimited number of clients alongside team projects and project templates. The paid plan also eliminates user and project limits while substantially increasing storage space.
Pros: Basecamp combines commonly sought communication, project management, and file storage and sharing capabilities in one flat-fee platform.
Cons: Basecamp lacks Gantt charts, Kanban boards, and many other important visualization tools.
9 Airtable
Airtable enables you to design custom applications for all kinds of task management needs. You can use it to create a fully customized product planning interface, track bugs in software engineering projects, and plenty more.
Key features: Lower-tier Airtable features include solely non-custom task management tools such as grid, kanban, calendar, gallery, and form views. Higher-end tiers come with customization, editing and permissions, and professional services.
Price: Airtable offers a free tier, and paid plans start at $10 per month per user.
Differences between free and paid versions: Apps, customizations, and Gantt and timeline views are solely available with paid plans. The highest-level paid tier comes with professional services, admin tools, and an ongoing success program.
Pros: For professional or enterprise-level users, Airtable offers customization features largely unavailable elsewhere.
Cons: The free tier and lowest-level paid option lack most of the advanced features that distinguish Airtable from its competitors.
10 Taskworld
Taskworld is a project management and time tracking app designed entirely for teams. This design principle means that Taskworld lacks an introductory free tier intended primarily for individual, not business, use.
Key features: Chat, workspaces, guests, and active projects are Taskworld's primary features. Additional task management, project management, security, support, and collaboration tools are included.
Price: Taskworld starts at $10 per user per month, with no free tier.
Differences between free and paid versions: There is no free version of Taskworld.
Pros: Since it lacks a free plan, the lowest and highest Taskworld tiers differ relatively little from one another.
Cons: Despite the relative consistency of Taskworld's many plans, its security features are notably lacking at lower tiers.
11 Quire
Quire prioritizes user-friendliness and Kanban boards. You can use it to gather ideas and sort them into logically planned, realistically achievable projects.
Key features: Nested task lists break down assignments into smaller, interrelated tasks. Kanban boards follow logically from nested task lists. User permissions allow for the creation of external teams that can't see anything beyond their own projects. All these features come in a user-friendly interface.
Price: Quire offers a free plan, and its paid plans start at $8.95 per user per month.
Differences between free and paid versions: Paid Quire tiers include more storage, sublists, and external teams. The highest tiers include extras such as training and premium support.
Pros: Quire's nested task displays are rare among its task management software competitors.
Cons: Training and consultancy can be prohibitively expensive if you're setting up team access to lower-level tiers.
12 Teamwork
Teamwork, as its name suggests, is a task management platform focused on collaboration. It includes advanced project and account management tools alongside security, support, and numerous integrations.
Key features: All plans come with milestones, messages, and rudimentary project management tools. Some tiers include invoicing, agile views, project time budgets, custom fields, and resource scheduling.
Price: A free Teamwork plan is available, and paid plans start at $10 per user per month.
Differences between free and paid versions: The free version of Teamwork includes solely basic project management functions, milestones, and messages.
Pros: Paid Teamwork plans allow for unlimited client users, and all plans come with robust support.
Cons: The free Teamwork tier almost entirely lacks integrations, and the lowest-level paid tier is missing key integrations such as HubSpot and OneDrive Business.
13 Zoho Projects
Zoho Projects facilitates planning, tracking, and collaboration for both in-person and remote teams. It's among the more flexible task management tools out there.
Key features: Gantt charts are Zoho Projects' bread and butter. You'll also get customizable project fields, automated task charts, timesheets, and color-coding.
Price: A free Zoho Projects tier is available, and paid plans start at $5 per user per month.
Differences between free and paid versions: Paid Zoho tiers come with unlimited projects, greater file size maximums, and advanced task tracking features.
Pros: Between its color-coding features and extensive customizations, Zoho Projects makes for a highly flexible work management system.
Cons: The free tier of Zoho Projects is extremely narrow in scope, considerably more so than competitors' free tiers.
Why do you need task management software?
Take a look at the above definition of task management. Does it sound like a lot? It probably does. But with task management software, it doesn't have to be. A powerful task management tool can streamline your task tracking and team collaboration by:
Streamlining team communications. The best task management platforms include space under each project or assignment for all involved team members to communicate. These communications can take the form of project instructions, shared files, questions, feedback, and more. In this way, task management software is like a messaging tool where everything your team needs to ask and answer questions is always right there.

Prioritizing assignments. Inevitably, some assignments will be more important or timely than others. As such, managing tasks involves setting priority levels and deadlines for each one, and on this front, task management software excels. Your platform of choice should let you set deadlines that reflect priority levels. You should also be able to set subtasks that help your team members keep your projects on track.

Organizing all your work. Let's face it – even the best managers accidentally let things slip through the cracks every now and again. After all, you have so much work to manage that it's almost inevitable you'll miss something. Well, unless you implement task management software. With each of your tasks programmed into your software with a clear deadline and due-date reminders, you'll (almost) never miss a beat again.
Organizing and productivity consultant Jesmine Onyeukwu aptly summarizes why task management software matters. "For managing to-do lists," she says, "These are my top 5 tips: Be clear on the purpose of your tasks; establish processes, procedures and practices; delegate and outsource where necessary; marry related tasks; and use task management tools."
Manage your meetings (and the tasks they lead to) with Fellow
Task management software is your path to a team that knows exactly who should be doing what and when they should do it. Combining Fellow's meeting tools with a project management platform gives you the best of all things task management. Streamlined meetings of all shapes and sizes, action item lists, real-time feedback – that's the Fellow promise. Couple that with a digital task list and chat platform, and managing your tasks will be a cakewalk.