Becoming a project manager requires qualifications and skills that put team members in alignment to reach a specific goal that leads to business growth. Dealing with the issues that may arise during a project as well as managing the communication and collaboration between team members are two main responsibilities of project managers. These responsibilities can't be fulfilled unless you know how to use your project management skills and experience. This article offers a complete guide to becoming a project manager so you'll be able to start your career as a project manager and get your Project Management Professional (PMP) certification.
What is a project manager?
Project managers are in charge of project planning, execution, monitoring, control, and closure. They're responsible for the entire project scope, as well as the project team and resources, the project budget, and the project's success or failure. A project manager (PM) is a person who organizes, plans, and executes projects while adhering to budget and time constraints. Project managers are responsible for leading teams, defining goals, communicating with stakeholders, and completing projects.
PMP career is in high demand by companies, since the role is quite challenging and can determine the success or failure of a project. Therefore, it's important to know how to start your PM career so you stand out among other candidates in job interviews.

Great meetings are just the start
Level up your meeting habits to boost engagement and productivity with a collaborative meeting agenda. Try a tool like Fellow!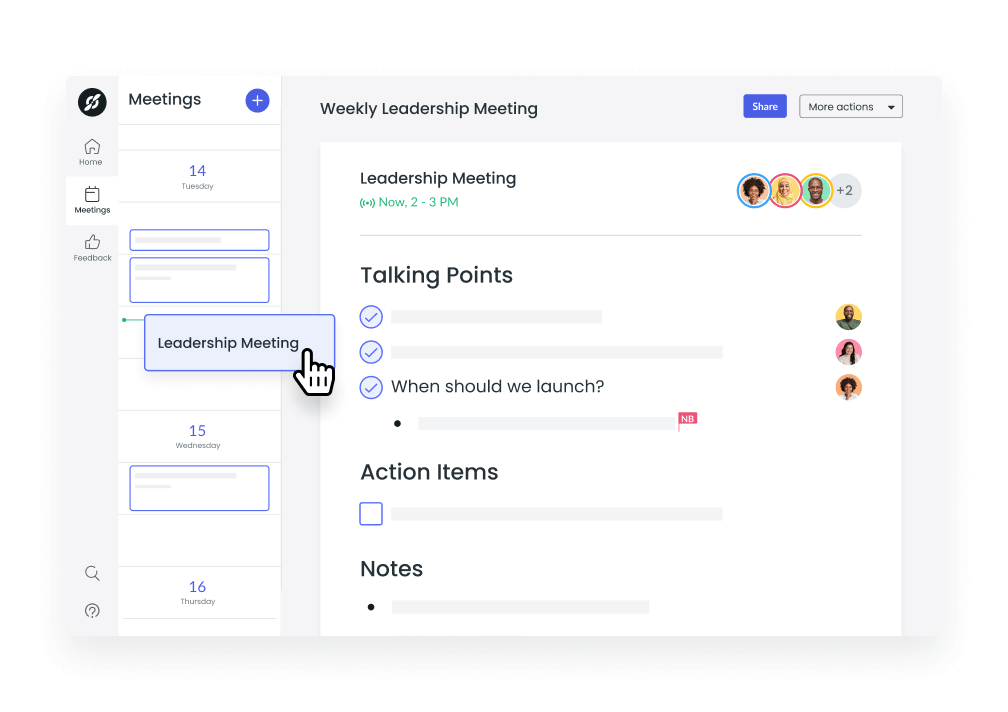 The importance of project managers
Project managers are important pillars of every business because they have the challenging role of leadership in the organizations, regardless of whether these organizations are small businesses or enterprises. Strategically aligning team members and guiding them toward the project's goals and objectives is a very crucial job done by project managers. Project managers should also have project planning skills and should be able to plan projects that are realistic and doable. They should check whether team members are productive enough by tracking the time they devote to their tasks and the amount of work that is done within regular time spans.
Above all, project managers are important to companies because they have the qualification to conduct risk management and assess the risks involved in a project from every aspect.
How to become a project manager
Becoming a project manager can be a promising career, especially for those who have PM qualifications and skills. Across all industries in the United States, the median salary for a project manager is $116,000, with most project managers making between $90,000 and $140,000. PMPs who specialize in program or portfolio management have an even higher salary potential than more generalist project managers.
Being a project manager isn't easy; there are common workplace challenges that project managers have to face daily. On the road to becoming a PM, there are two main career paths: you can take the conventional approach, which entails setting out to become a project manager, earning a certification, and working as a project manager; or you can keep gaining project management experience without a degree, PMP certification, or traditional project manager education.
So, basically, there's the formal education approach and the non-traditional approach when speaking of becoming a project manager.
On one hand, you can become a project manager through a formal education approach, which means you'll become someone who has chosen project management as a career path and holds a project management degree or PM qualification. On the other hand, you can also become a project manager by taking the non-traditional approach, which is also referred to as an accidental approach. Those who take this approach have never intended to become project managers yet find themselves managing projects on a regular basis. Marketers organizing a campaign, product managers coordinating the creation of a new product, and web designers constructing a new website are all examples of PMs who have taken the non-traditional approach.
A qualification is a wonderful way to advertise your competence and commitment to the PM career path to employers, whether you've been an accidental project manager for a while and want to add a formal certification to your CV or have always known you wanted to be a project manager when you grew up.
Even if a formal qualification is no longer required to become a PM, you can still consider improving your project management skills. Not only will doing so open up additional career prospects for you and increase your earning potential, but it will also teach you project management best practices and techniques you may not have been exposed to otherwise.
There are four main project management certifications you can get depending on the needs of the industry in which you're working or are most demanded in job advertisements that you are interested in applying for:
Project Management Professional (PMP): The Project Management Institute (PMI), the largest global organization for project management professionals, offers the PMP certification. It's one of the most well-recognized PM certifications, and it can have a significant impact on your salary.
Projects In Controlled Environments (PRINCE2): PRINCE2 is a process-based project management methodology that teaches you the core skills you'll need to be a successful project manager.
Certified Associate In Project Management (CAPM): The CAPM is an entry-level project management certification that prepares you for entry-level project management employment.
Certified Agile Project Manager (IAPM): The IAPM certification level is for people who have a basic understanding of agile project management. This expertise is required to effectively organize and implement an agile project on a theoretical level.
Project manager skills
To be the perfect project manager, you need to have both project management hard skills and soft skills. In other words, a PM's hard skills should be accompanied by soft skills to make them valuable to an organization.
When it comes to hard skills, you'll need to know a little bit of everything, depending on the project you'll manage. This doesn't mean, however, that you need to be an expert in every field–this just isn't reasonable and is practically impossible. Being a project manager doesn't mean that you should be a jack-of-all-trades. Rather, it means that you should be well aware of the things that should be done in a project so you can provide precise and clear instructions that lead to the best results and meet company goals. Leading a project means ensuring your team members have all of the information they need to complete a task and produce the final product or provide the service without facing difficulties or confusion.
Here's a list of skills you need to have as a project manager. You should familiarize yourself with the skills you need to develop or improve (if you've already developed them):
Thorough knowledge of business projects
Professional expertise to fulfill the needs of a given situation
Strong leadership skills (to monitor and control budgets)
Demonstrated project management and self-management skills
Ability to define situations, document data, and draw conclusions
Ability to think critically
Good communication and negotiation skills (to align team members and to keep clients satisfied simultaneously)
Decision-making skills under pressure
Strong interpersonal skills
Resource allocation skills
Good business sense capacity (to decipher instructions in any format to make it easier for team members to do their tasks)
Great organizational and multitasking abilities (so you won't miss anything)
Outstanding time management skills (to increase the productivity of team members, keep schedules, and meet deadlines)
A creative mindset that provides fascinating results
Analytical skills (especially when it comes to assessments of any kind during the project)
Precision and attention to detail
Ability to solve problems
Anger management skills and the ability to approach every issue calmly and patiently
Risk assessment skills
Self-motivation characteristics and self-devotion to projects
Accountability and sense of responsibility
Strong work ethic
Ability to understand the value of each team member
A functional understanding of project management tools
A full understanding of PM terminology
Free project manager agenda template
Parting Advice
Regardless of your project manager career path, you should be aware of the skills a project manager should possess and the responsibilities they have. It's your choice whether you'd prefer to take the formal education approach or the non-traditional approach. Regardless of the approach you use, you need to stand out among other project management candidates in job interviews by getting PM certificates, improving PM hard skills and soft skills, and always updating your knowledge about the latest methods of project management that fit your industry. Choose your desired road and take the first step toward becoming a project manager. Best of luck!