If you've been with your company for a few years, there's a good chance you've noticed the great resignation first-hand. It seemed like a universal experience for a period of time. One employee would leave the company, only to be followed by another… and another. Even if your own organization has retained its workforce, you've likely felt the disruption in other areas of your life. Labour shortages have contributed to inflation, making the cost of everyday goods like gas and groceries soar.
So what exactly is causing the great resignation? Let's take a look at the main factors contributing to the mass exodus of employees and what you can do to retain the members of your own team.
What is the great resignation?
The great resignation refers to the elevated rate at which North American workers have quit their jobs since the spring of 2021. The economic trend was prompted amid a strong labour market as access to vaccines began to ease the severity of the COVID-19 pandemic.
In 2020, the uncertainty brought on by the pandemic slowed resignation rates. As the uncertainty diminished the following year, a record number of employees called it quits. The U.S. Bureau of Labor Statistics reported that over 47 million Americans voluntarily left their jobs in 2021. In 2022, employee retention has remained a challenge for Canadian employers, too. According to the Human Resources Professional Association, Canadian companies are currently scrambling to fill 915,000 job vacancies. This is 80% more vacancies than in 2019 and the number is well above pre-pandemic levels.

Meetings worth showing up to
A well-run meeting can foster communication and collaboration by including an agenda the whole team can contribute to. Try using a tool like Fellow!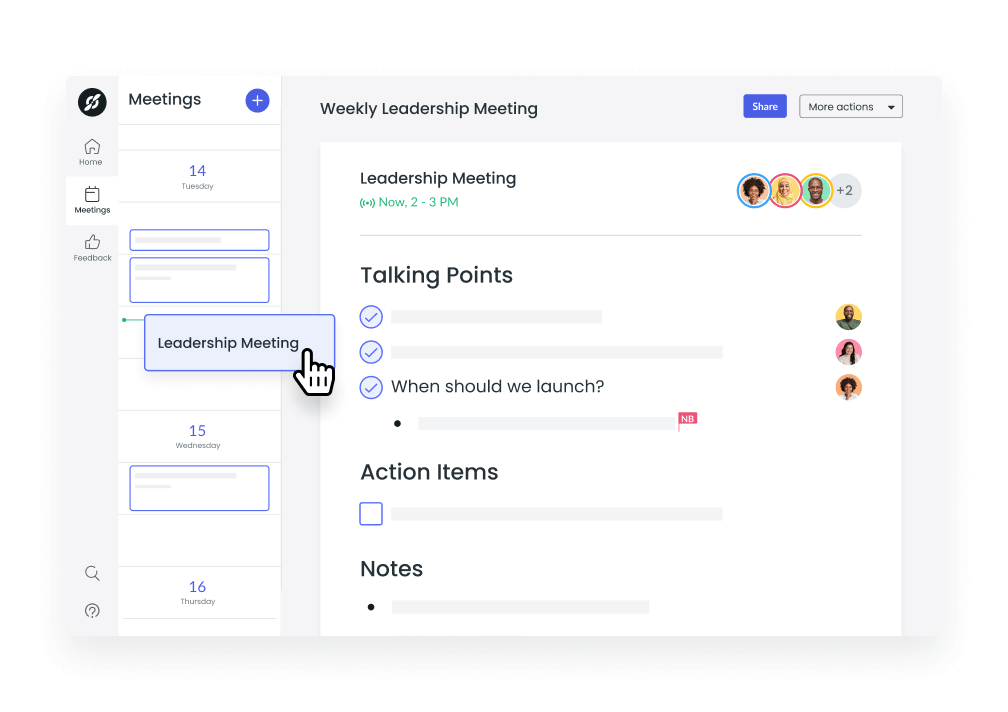 Factors that caused the great resignation
According to Harvard Business Review, there are six factors that have caused the great resignation:
1Retirement
Some have called the great resignation the great retirement because of the accelerated rate of retirements that began in 2021. Individuals who were able to retire during the pandemic did so at younger ages than ever before. We can assume that a number of individuals retired to focus on priorities outside of work and spend time with family. Since older adults are at a higher risk of severe illness due to Covid-19 than younger adults, they had additional incentives to step away and minimize close contact with others. Greater susceptibility to health risks and skyrocketing property values actually prompted many individuals who worked in person to leave the workforce entirely.
2Relocation
Many of us know a colleague who swiftly abandoned their downtown apartment for a cabin on the outskirts of town in the spring of 2020. Who can blame them? The rapidly growing availability of remote work has made it possible for employees to work from the comfort of home. Even those who began working at home at the start of the pandemic noticed that they didn't miss the morning commute, office drama, or in-person disruptions. Relocation prompted reluctance. According to the LSE Business Review, those who relocated from a physical office to a home office or from one home to another found that they were happier, more productive, and were experiencing less burnout than when they were working in person.
3Reconsideration
It comes as no surprise that many employees reconsidered the role of work in their lives amid the tragedies brought on by the past two years. It's likely that some employees quit due to stress or dissatisfaction, while others' decisions were prompted by none other than a shift in perspective. Companies that forced employees to return to the office faced a hesitant workforce and in turn, lost a handful of team members to companies with remote or flexible work options.
4Reshuffling
There has been a pattern of higher quit rates in lower-wage industries since 2021. This isn't to say that these workers left the labour market entirely. Many simply "reshuffled" to different fields. For example, industries like food services and hospitality had high exit rates, while retail trade and manufacturing experienced significant growth. Some companies have since taken action by raising wages and improving benefits packages to expand their headcounts.
5Reluctance
A Pew Research Center survey reported in late 2020 that around 64% of surveyed employees felt uncomfortable at the thought of returning to the office. This trend extended into 2021 and beyond. Since the early days of the pandemic, some workers began preparing to quit if their employer was unwilling to offer remote work options. Research from the Harvard Business Review in the summer of 2021 showed that a third of workers were going to search for alternative work options if forced to return to the office.
6COVID-19 pandemic
The pandemic exacerbated issues that weren't addressed before 2020. For example, Canada's exhausted healthcare workers left en masse after pre-existing issues like an aging workforce, poor salaries, and the pull of higher-paying jobs in different fields were met with poor working conditions. The unprecedented times led multiple generations of workers to think deeply about what work meant to them and exactly what they were willing to tolerate.
How employers can retain employees
1Offer flexible work hours
Let's face it: not everyone's lives revolve around your office's 9 to 5 operating hours. Some workers have young children who finish school early in the afternoon, while others simply work better at different times during the day. There are a number of benefits that flexible work can grant employees. A Statistics Canada survey from 2016 reported that 79% of employees with a flexible work schedule were satisfied or very satisfied with their work. Some employees even report that they're more productive when they're able to schedule their own working hours.
2Provide remote work opportunities
A study by Zenefits, an HR software company, reported that seven in 10 employees said that flexible work was as important to them as competitive pay and health benefits. It's simple: flexible work arrangements accommodate life changes without forcing workers to change jobs. When you're permitted to work from home, you can more easily meet household and family commitments, manage personal affairs, pursue interests outside of work, and even avoid that pesky commute.
3Give good employee benefits
Employees will feel motivated to stay if they feel like their employer cares about their wellbeing. When asked what employer-provided benefit is most important, the overwhelming majority of American workers point to adequate healthcare coverage. When you offer a competitive employee benefits package, you'll have a larger candidate pool of high-quality talent and will have healthier workers who can get treatment and recover quickly if anything does come up. Providing individuals with health benefits can increase overall productivity, reduce absenteeism, and promote positive behavioural patterns. Remember, a healthy workforce is an effective one!
4Show employee recognition
It's simple: if you treat a person well, they'll treat you better. If you recognize your employees often, make them feel valued, and offer regular growth opportunities, they'll want to stay. A successful employee recognition leverages technology to amplify staff recognition and broadcast it throughout the team or company. A culture that is built on open communication (including regular recognition) creates a stronger sense of belonging for everyone.
5Improve onboarding and training
Use Fellow's onboarding guide to set new hires up for success. If you want to retain top talent, you'll have to provide new staff with resources that help them understand how they can be successful in their role. You'll also want to support them as they establish their place within the team and the greater organization. During the onboarding process, ask each employee when and how they work best. Then, accommodate their preferences or work to find common ground. Set clear expectations during each employee's first week, and schedule ongoing one-on-one meetings to adjust goals and discuss how they can continue to feel fulfilled at work.
6Support employees
No employee wants to feel like a number. As a manager, you should aim to keep your employees in the loop. Inform your team of decisions that will impact their day-to-day work and ask for regular feedback. If you sense that an individual is struggling with a workplace practice, do your best to accommodate them. When a decision is made at the senior-management level that doesn't benefit your team, advocate for your employees.
Turn the great resignation into the great retention
Did you know that replacing an employee can cost your company between 50 and 150% of the same individual's salary? There are also hidden costs like productivity lost to vacancies and onboarding that prove how significant the price of employee turnover can be. While we can't help the six specific factors that caused the great resignation in 2021, we can work to retain current employees by ensuring they feel valued every day. The modern workplace is changing, and you shouldn't let old practices contribute to the loss of high-quality talent. In short, take care of your employees, and they'll take care of you!