A work environment full of employee recognition is great for your company culture. When you celebrate all the big and small wins, you're more likely to keep employees engaged and motivated. This creates a great domino effect — recognition means more productive employees means better work. Before long, you'll start noticing the benefits of employee recognition in all your day-to-day hustling.
That's not just an idea – studies have shown it's true. In one 2021 study, 82 percent of team members said that employee recognition is important to their happiness at work. Clearly, for a team member to rise to their full potential, they need encouragement. That's why, below, you'll find everything you need to know about employee recognition. That includes who should give the positive feedback and some tried-and-true employee recognition ideas.
What is employee recognition?
Employee recognition is acknowledging – both one-on-one and to the whole team – when someone does a good job. Recognition makes the team member feel good about their high-quality work and motivates them to do more of the same. It's essentially you saying, "yes, more of that, please." And when you recognize someone in front of the whole team, it keeps everyone on the same page, which is great for your team's productivity.
Recognition doesn't have to mean cash bonuses or extravagant work anniversary celebrations. It can be as simple as weekly shout-outs in team meetings, occasional small gift cards, or a high-five in the break room. Don't overthink the recognition, but don't forget to do it.

Meetings worth showing up to
A well-run meeting can foster communication and collaboration by including an agenda the whole team can contribute to. Try using a tool like Fellow!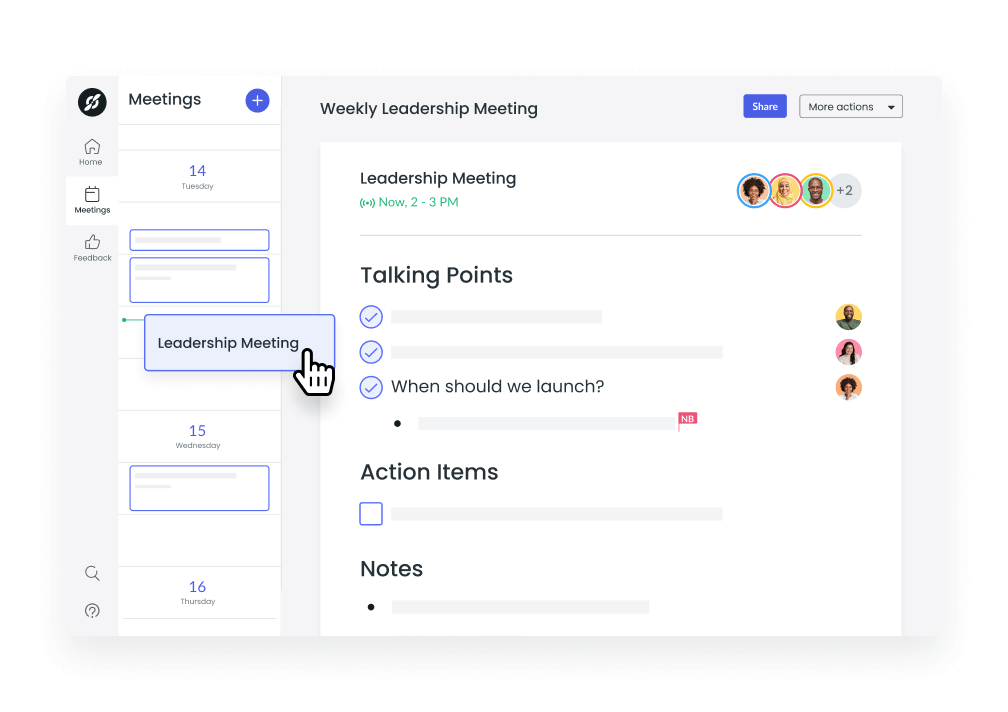 What are the benefits of employee recognition?
There are a ton of benefits to employee recognition, but here are the most important ones for the overall employee experience.
1Fuels greatness
Celebrating a team member – especially with the whole team – can make everyone better. People want acknowledgement whether they're new to the team or have years of service under their belt. Don't underestimate the power of a kind word or a glowing thank you note when someone goes above and beyond. And don't underestimate what other team members seeing that can do for their own motivation to do great things.
2Drives dedication
Employee engagement is the difference between a dedicated, thriving team and a team that's just going through the motions. In a 2018 survey, 84 percent of organizations said that employee recognition positively impacted engagement. All it takes to keep your team devoted to your cause is simply praising them.
3Builds trust
When you have a healthy, supportive line of communication in the workplace, it bolsters trust. People will feel more connected to their work when you take the time to share positive feedback and inspire them to keep going. You'll show that you care about the person, not just the work, which makes them more likely to trust you. And as they keep doing great work, your trust in them will grow more too.
4Goes hand in hand with company values
If your core values include trust, accountability, and respect, then your team will expect these things each and every day. Employee recognition puts these values into action. Plus, you reinforce your company every time you praise a team member for sticking to these values. A good set of values can unite people and create a sense that everyone is working toward a common goal. And that's great for your company culture.
5Lowers employee turnover
Employee retention saves you money – hiring is expensive – and tells you that you've created a great work environment for your team. When you award employees with trophies through an employee recognition program, you encourage them to stay with you and thrive. In fact, a 2018 study found that 68 percent of organizations saw lower turnover rates when they prioritized employee recognition. That's more money saved – and a happier team – for you.
6Creates an environment that inspires growth
Often, people don't just want a job – they want a career that will encourage them to grow and improve. Employee recognition can lead to this personal and professional development. You can provide rewards and recognition when a team member learns a new skill, takes a class, or does something else to grow. This environment should be enforced as of the start of their employee onboarding.
Marissa Goldberg, the founder of Remote Work Prep, has additional insight on this front. "As a manager, I like to know what each of my employees are aiming for long-term." she says. "That way I can open up opportunities and encourage skill growth that will help lead them to where they want to be. I don't make their growth choices for them, instead I listen to their dreams."
7Uplifts team spirit
Constructive feedback is as important as employee recognition. Work can be a race against the clock to make deadlines, and recognition can lead to morale and keep people heading toward the finish line. A simple yet effective way to boost morale is to recognize the effort and endurance needed to get a job done right. A strong recognition can make people more likely to rise to any occasion.
Who gives employee recognition?
Ideally, everyone should give recognition, but the real answer to this question depends on the situation. For example, who was involved in the project where Linda hit a home run reeling in a new client?

The person in charge of the project and working directly with Linda would be the most meaningful person to recognize her and her work. And if employee recognition is part and parcel of your work environment, team members might spontaneously praise each other.
Examples of employee recognition
From social media posts spotlighting an employee to bonuses and events, there are tons of ways to show appreciation for a job well done. Here are just a handful.
1Events dedicated to celebrating employees
Gratitude in the workplace is everything, and what better way to show it than a celebration? National Employee Appreciation Day is on the first Friday of March each year. It's the perfect opportunity to plan something special for your team, but recognition events can happen more often than once a year. You can honor hard work quarterly with catered lunches — and remember to recognize birthdays and work anniversaries too.
2Bonuses or incentives
A monetary reward for hard work is a proven way to show appreciation for a great quarter or year. But maybe you only have extra cash to give out at certain times of the year. Don't let that stop you – you can still give small gift cards for wins every now and again.
3Wall of achievements
You can hang up a corkboard in the office with push pins and sticky notes encouraging team members to praise each other. Your wall of achievements can be a fun and unusual way to drive employee recognition.

The messages everyone writes can inspire more positivity and action while bringing new perspectives to the table. After all, a manager is only one person – you can't possibly see it all. Letting your team members recognize each other can turn some stones you didn't even know existed.
4Employee of the month
This is a classic example of employee appreciation. It's a way to publicly spotlight one employee each month for their superb work. And with an employee of the month program comes a little friendly competition to motivate team members to go for this big honor. You can put a photo of your employee of the month on the wall, give them a gift card, or buy them lunch.
Employee recognition creates a happier company culture
No one wants to work for an organization that seems to barely notice them. Giving small shout-outs and sending thank-you notes when great things happen is all it takes to notice someone. These little gestures can go a long way toward keeping employees dedicated, motivated, and productive – and, most importantly, happy.
Great employee recognition starts with gathering and tracking feedback, which you can do with Fellow. You and your team can use Fellow team to share real-time feedback on meetings, projects, performance, and so much more. Fellow's 360 feedback tools make it easy to get the whole team's input on one person too. Employee recognition gets much easier when you can get feedback from every corner of your organization – all right at your fingertips.