Traditional in-person meetings, paper handouts, and physical agendas were soooo last season…
The future of meetings is quickly evolving and in a matter of time, remote and hybrid meetings will be the norm (if they aren't already!). Fellow's highly rated platform takes its users through a time machine to the future, showcasing what meetings can REALLY be!
With research and work from our world-class team, Fellow provides its users with the best possible meeting experience, changing the future of meetings one meeting at a time.
Fellow: Leader in G2's Meeting Management Software Category
Honourably winning the "Most Implementable Summer 2021″ badge, the "Leader Summer 2021" badge, AND the "Leader Small Business 2021" badge by G2's Summer 2021 Grid Report, Fellow continues to come out on top!
"Meetings and delight are not typically words that you hear in the same sentence. However, through changing the future of meetings, Fellow is changing that narrative so that every meeting is worth showing up to."


– Aydin Mirzaee, Co-Founder and CEO at Fellow.app
Fellow's impeccable team has managed to rank above average on almost all of the Satisfaction Ratings, with our lowest rating being 90%… Now that's something to celebrate!
Quality of Support = 95%
Ease of Use = 92%
Meeting Requirements = 90%
Ease of Admin = 94%
Ease of Doing Business With = 95%
Ease of Setup = 94%
"The support team is always so responsive and so helpful. Any time I make suggestions for additions to the app they're quick to add it to the feature requests list. I've even seen some of my recommendations come to life which is so satisfying as a customer!"


– Lydia W, Account Integrity Safety – Senior Support Specialist
Not only did Fellow rank 90% and above in the Satisfaction Ratings, but 95% of Fellow's users said that they are likely to recommend this product and 89% of Fellow's users agreed that Fellow is headed in the right direction.
Also according to the G2 report, Fellow's Highest-Rated Features are agenda making, note-taking, and creating digital workspaces, with an overall 4.7-star rating!

Productive meetings start with a collaborative agenda
Find out what all the hype is about and try Fellow, the meeting management tool, and see for yourself!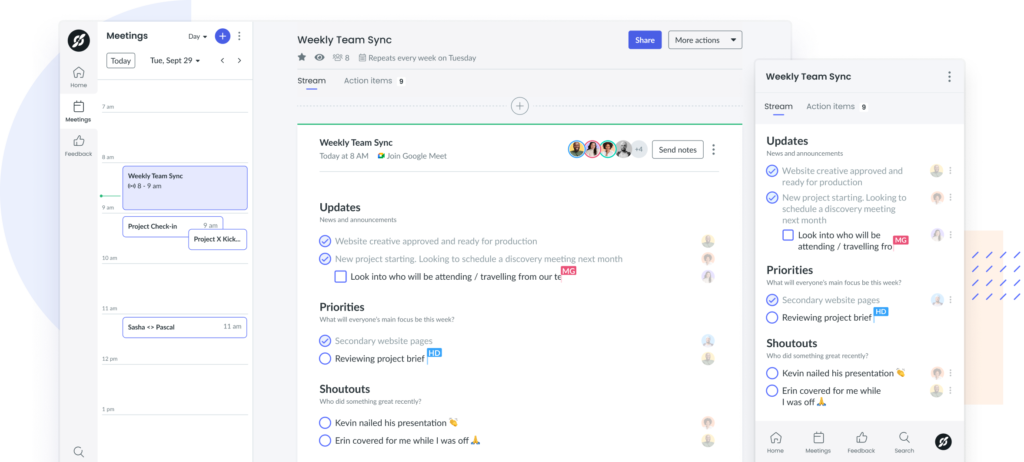 "The feature that I like best about Fellow is that it has a Chrome extension so that Fellow notes pop up during meetings! It's really handy to not have to open another tab or another app when I'm in a Google Meet. While the meeting is happening, assigning action items in real-time gets everybody on the same page."


– Joanna G, Learning and Development
Fellow's extensions and integrations also make Fellow fit into users' current daily routine seamlessly. This year, Fellow launched both our Chrome extension and Zoom extension, allowing its users to edit meeting agenda notes directly in both Zoom and Google Meet.
"Chrome Extension is amazing, it opens a box when you enter in a google meet with the agenda of that specific meet, therefore you can get notes during meets, share your agenda previously and let other people insert topics they need to cover."


– Raphael B, Process Architect
As if being rated the #1 meeting management software by G2 still isn't impressive enough, Fellow is also used (and LOVED) by some of the world's biggest brands:
Lemonade
UBER
Shopify
SurveyMonkey
Webflow
Time Doctor
TOP HAT
TaxJar
Solace
Stanford University
Getaround
University of Michigan
New Relic
"Fellow has been a game-changer for us. I love how lightweight and easy it is to use. It intuitively builds into my day-to-day rhythms, and the natural flow of Shopify, making it so much simpler to have valuable conversations."

– Brittany Forsyth, Chief Talent Officer at Shopify
We're honoured to have received this recognition from our users and look forward to continue building a product that makes meetings delightful for everyone. ✨