One-on-one meetings are extremely valuable for a whole host of reasons. They help you build trust with your peers, provide a safe space for private conversations, help to unblock your teammates, foster an environment where you can exchange positive or constructive feedback, proactively address issues, follow up on KPI's, and coach your teammates towards a successful career.
Whether you're struggling to structure your one-on-one meetings, or aren't sure if adding an extra meeting to your schedule is worthwhile, this blog covers everything you will need to know about hosting effective 1:1 meetings as a manager or leader.
What is the point of scheduling 1-on-1s?
A one-on-one meeting is a dedicated space in your calendar that you can leverage to connect with every person that reports to you. Carving out time in your calendar to schedule these meetings is imperative because it enables you to form unmatched human-to-human relationships with your direct reports while simultaneously empowering them to do their best work.
The purpose of hosting a one-on-one meeting is to make sure you're aligned with your direct reports while staying in the loop about priorities, upcoming projects, or even potential roadblocks that may be getting in the way of your team doing their best work. These conversations also give you an opportunity to give and receive in-depth feedback that wouldn't be appropriate to share in a group setting. One-on-ones should be used to provide feedback, hone in on coaching, and speak to the strengths and weaknesses of those on your team.

Pro tip
Make it easier for your direct reports to collaborate on talking points, exchange feedback, and have engaging conversations during meetings by using Fellow.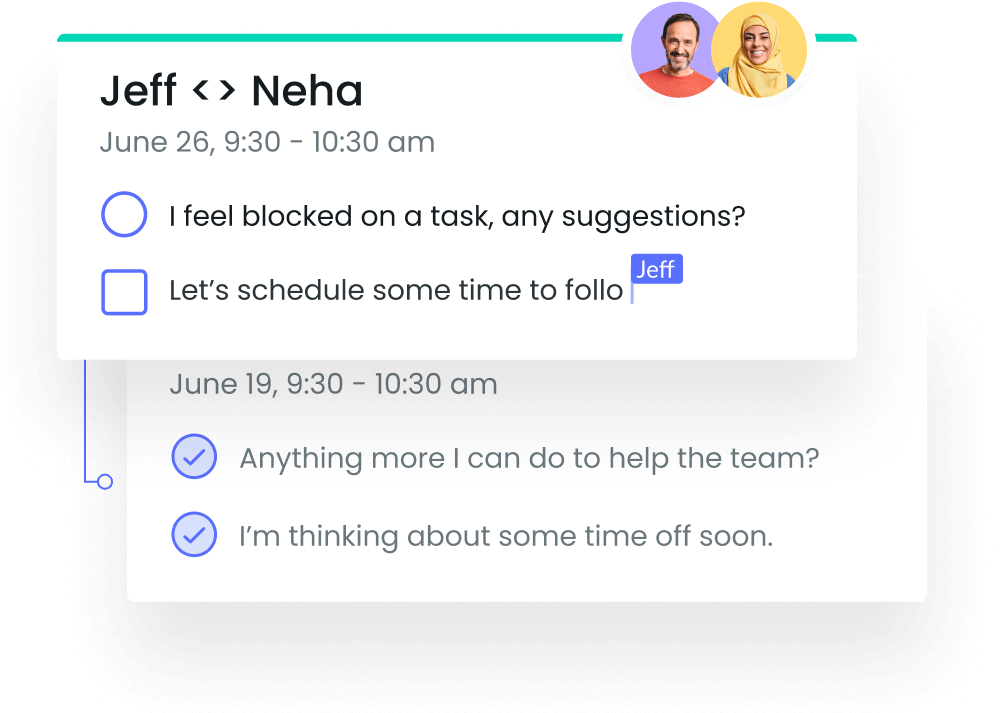 What do you talk about in a one-on-one meeting?
Like any meeting, a one-on-one should come with a thorough meeting agenda that speaks to important touchpoints and crucial action items. Tools like Fellow enable managers and leaders to create collaborative meeting agendas that can be altered before every meeting by both parties. Creating a collaborative agenda will ensure that both you and your direct reports have the opportunity to share and discuss important topics.
While the majority of your conversations during your one-on-one meetings may arise organically, it's also important to structure a meeting agenda that makes it possible for you to:
· Keep track of key performance indicators and goals
· Leave room for collaboration and additives from your teammates
· Prompt important conversations around career growth and self-improvement
As a manager or leader, you should encourage your direct reports to share what they would like to discuss. Common topics include growth and career aspirations, current or future projects, recent feedback, reviews, recognition, alignment, or roadblocks.
The purpose of one-on-ones: 8 reasons why they're valuable
Hosting one-on-one meetings as a manager or leader is extremely valuable for a plethora of reasons. Here are 8 reasons why you should start hosting effective one-on-one meetings with your direct reports today:
1 Build trust with the people on your team
Similar to the way in which you would build a relationship with a loved one or close friends, work-related relationships also take time, and should be nurtured. You can't expect to build a solid relationship that is built on trust with the people on your team if you only meet quarterly, or once a year. One-on-one meetings are a great way to build trust with everybody on your team because they foster a safe space to hold in-depth, personalized conversations. Holding these meetings frequently helps to build trust through a sense of consistency.
2Provide a safe space to ask questions and feedback about company initiatives
One-on-one meetings are ideal for holding private conversations because they provide a safe space for everyone to ask questions and seek feedback about company initiatives in a private setting that is meant to cultivate warm, honest conversations.
Sometimes, certain topics or conversations are off-limits in a group setting or they may involve a subject that is hard for one to broach meaning its extremely important to reiterate that one-on-ones are a safe space where these conversations can be had and fleshed out. Providing your teammates with a safe space where they can speak about whatever is on their mind is a great way to boost morale while creating a happier workplace.
3Unblock teammates
As a leader or manager, you may have access to additional resources that your teammates or direct reports do not have at their disposal. Taking the time to answer any questions or make warm connections to other departments or thought-leaders may be exactly what your direct reports need to be re-energized, inspired, or unblocked.
If your teammates are feeling stuck or blocked it might be as simple as you reaching out to another department to provide clarity or remove potential barriers. If you aren't taking the time to host consistent one-on-one meetings, you may miss out on key signs or indicators that mean your teammates need help or clarity.
Nothing is worse than receiving an email or a quick Slack message that says "we need to talk" from your boss. Working feedback into your regular rotation as a part of your weekly one-on-one meetings is a great way to eliminate the added element of surprise and prepare all parties for any positive or constructive feedback that is to come.
4Exchange feedback (positive and constructive)
One-on-one meetings are the perfect scenario to ask for feedback about your management or leadership style because they take place in a closed, safe setting between you and one other attendee. They are also a great opportunity to provide feedback on your direct reports' performance and progress in a face-to-face setting.
5Discover and address issues proactively
Hosting one-on-one meetings is a great way to nip any potential issues in the bud before they turn into a full-blown conflict that may get in the way of your teammates doing their very best work. Hosting frequent one-on-one meetings with your direct reports is a great tool that can empower you to fix situations before they become larger issues. From unblocking your teammates on a tricky project, to coaching your direct reports through workplace struggles, one-on-ones can help you align your teammates and diffuse any potential problems before they explode.
6 Ask about team dynamics
Sometimes asking about team dynamics can be a touchy subject and it can be best to have these types of conversations in a one-on-one environment. Understanding team dynamics in the workplace is extremely important because they impact productivity, creativity, and cross-functional collaboration. Group work is essential to any workplace, especially if you're managing a creative team that thrives on collaboration and improving dynamics can lead to increased productivity and effectiveness. One-on-one meetings offer the perfect environment to discuss team dynamics in peace.
7Check in on goals and OKRs
Checking in on goals and following up on objectives and key results is nearly impossible if you don't make frequent check-ins a priority. Hosting one-on-one meetings provides you with a great opportunity to follow up on key metrics that we're decided upon at an earlier date. If you fail to follow up, and don't hold yourself or your direct reports accountable to these goals, objectives, and key results, the possibility of them failing to come to fruition is much more likely.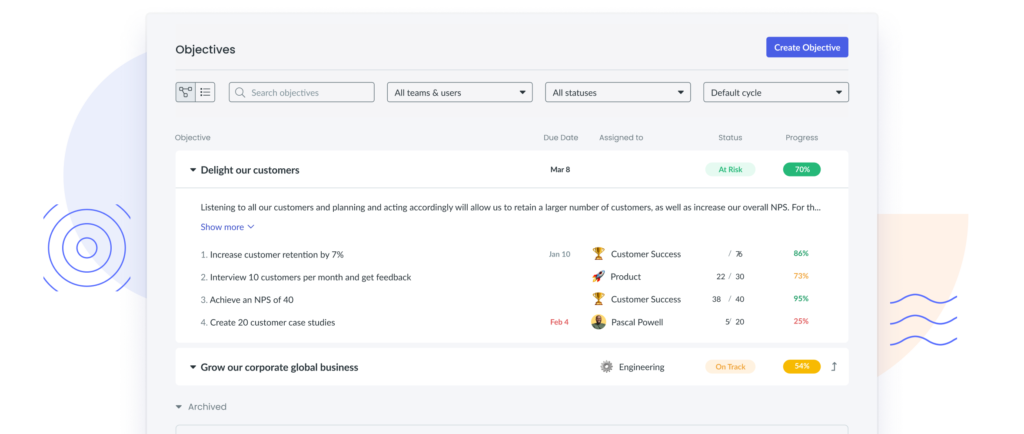 Checking in on these key performance indicators will also provide you with the opportunity to make iterations or adjust accordingly if things aren't progressing accordingly. It's much easier to make adjustments during the preliminary stages than it is to account for shortcomings after a project or product is supposed to be completed or released.
8Coach employees on their professional development
A major value add for any manager or leader is having the ability to support your teammates and really empathize with them. As a manager or leader, it's not only your job to support your teammates in their current day-to-day job, but it's also your job to empower them to make moves that prepare them for an excellent career.
One-on-one meetings are a great opportunity to provide mentorship and coach your direct reports in areas in which they may need improvement. Helping them hone in on their skills and advance professionally is a great way to ensure you're leading them in a direction that will benefit them in their future careers.
Start hosting effective one-on-one meetings today
Hosting effective one-on-one meetings is the key to changing the way you manage and connect with your teammates and it enables you to empower your teammates to take responsibility for their own work. One-on-one meetings bring employees and managers together and aid in creating solid working relationships. Working with your teammates through productive, consistent one-on-one meetings enables you to create a partnership that you can leverage to create stronger relationships and benefit the organization.