We've all heard of meeting agenda templates, but today, we're here to talk about something a little different: meeting formats. If you're looking to host a productive meeting, sometimes it takes more than simply asking your audience to listen in silence. Meetings designed with more collaboration and participation in mind are going to encourage meeting participants to become a part of the conversation and share their valuable insights. 
The minutes of a meeting format can be completed the same way as your other meetings, ensuring that you're capturing all the important information and key decisions that are made. Different formats can be effective in promoting a more interactive and productive meeting. Feel confident every time you walk into your meeting room with these innovative meeting formats to engage your team.
What is a meeting format?
Where in the past meeting attendees may have been okay with simply being spectators in meetings, now, employees want to participate actively and use their meetings as an opportunity for experiential learning. Most individuals have something that they want to contribute whether it's an idea, opinion, or innovative strategy. Attendees no longer want to sit and listen passively. So then… What is a meeting format? A meeting format is different from a meeting agenda or a meeting minutes template. A meeting format is the methodology behind the way a meeting is run, which seeks to promote active listening and encourages questions to be asked. This is a method that generates new ideas and solutions you might not have thought about as a manager. 
10 creative meeting formats to try with your team 
1 Dare to Ask
The content for a 'Dare to Ask' format or an 'Ask me Anything' session is based completely on what meeting participants would like to ask on the subject being discussed. Leaving the content of the meeting in your team members' hands can only really be effective, especially when you're sharing your meeting agenda in advance and asking your team members to think of some questions they'd like to have answered. By sending a meeting agenda in advance and creating agenda items, you can even ask those who are unable to attend to send you their questions. You can even collaborate in a Google doc to share ideas openly. This format fosters engagement and tells your team that their questions are important to you. This type of open session says that you are there to support your employees and help clarify anything that you can. 
2 Fishbowl
The Fishbowl meeting format consists of splitting your team into smaller groups to get together in a circle and have an open discussion, while the rest of the meeting participants (who sit outside of the "fishbowl") simply sit and listen to what the smaller group is discussing. This is an interactive meeting format because once someone on the outside of the fishbowl has something to contribute, they can choose to replace someone in the fishbowl and give their input. This promotes real-time brainstorming and innovative thought processes. Don't forget to compile action items at the end of the session and assign different team members their responsibilities and due dates based on the discussion. 
3 World cafe
This meeting format means getting your meeting attendees into small groups of about 4-6 people to discuss a range of topics around several different tables. Each table is dedicated to a different topic that is being covered and participants are encouraged to move around each table and spend their time at the tables they find the most interesting. Participants are encouraged to simply move on from the tables which don't particularly interest them. Assigning a facilitator to this kind of meeting format can be beneficial so that they can take meeting notes or effective meeting minutes, re-cap what's already been discussed, and move the session along. 
4 Open Space
An Open Space meeting format uses a meeting agenda that is framed by the meeting participants, similar to the 'Dare to Ask' method, except it's not quite as question-based or dependent. In this type of session, your team members or meeting participants decide what they would like to learn and the meeting facilitator then takes the floor with those topics. Again, be sure to send your meeting agenda in advance so that you know ahead of time as the presenter what the audience would like you to cover so that you can provide interesting and thought-provoking responses. This mimics the type of questions you may get during a meeting break or during a Q&A at the end of the meeting, but makes it the focus of the session to promote interaction and to be sure the audience is interested in what you're covering. 
5 Notes Day
The Notes Day meeting format entails having the meeting attendees get into small teams in their specific department. After discussing some key topics, participants from different departments get together to share ideas and discuss challenges that they face within their department that affect their work. This is highly interactive and educational because it gives everyone the chance to learn about obstacles and issues that are being faced in other areas of the business. This gives your team members the opportunity to work together to use their problem-solving skills in areas they don't always hear about. 

Pro tip
Use a meeting management tool like Fellow to organize a collaborative agenda for all meeting attendees to participate in and discuss their findings.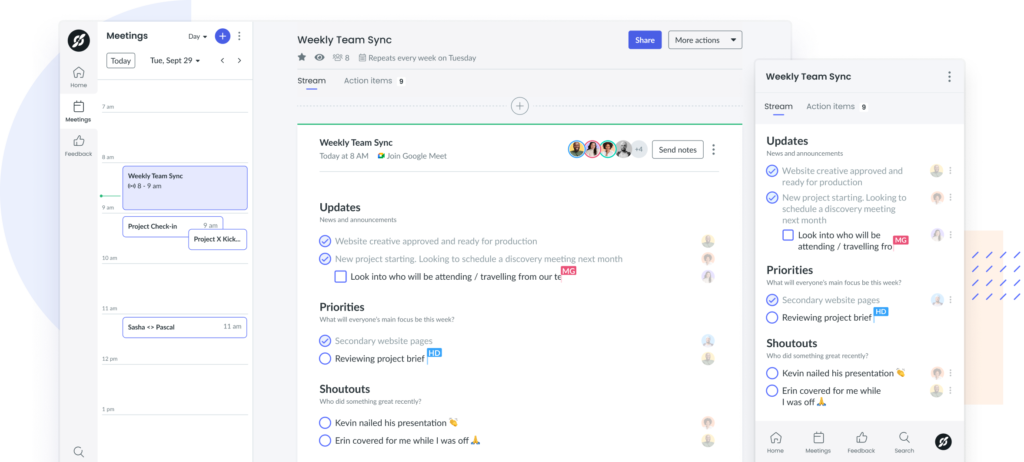 6 Pecha Kucha
During this type of session, meeting attendees review 20 images for 20 seconds each, with a goal of brainstorming, innovating, cultivating ideas and solutions to the issues that are present.
Pecha Kucha is designed for your team members to compile or organize their thoughts in advance so that they are prepared during the quick and on-the-spot session. This meeting format can feel a lot like a game, which makes it a fun and interactive session. Using technology here can make the session even more engaging. Consider timing your slides in the presentation to a 20-second limit to see if participants are able to keep their ideas to that slide before the presentation moves on. 
7 Gamification
Gamification is the idea of turning a meeting into a fun activity, where points are assigned to participants for different reasons. It ends up being quite a motivating and engaging way to encourage participation and feedback from your team members. You can choose to award points for things like asking questions, adding ideas or opinions to the discussion, voting, and any other kinds of actions that you would like to increase. This format is an interactive way of driving participation and creating a little bit of friendly competition with the points system. 
8 Flipped Learning
Flipped learning is a little bit like doing things backward. Instead of showing or sharing content with participants in a live meeting, learning material is made available to the meeting attendees in advance of the meeting. The learning material is typically a video but isn't limited to it. You can send metric reports, graphs, KPIs, progress reports, Gantt charts, or whatever it is you'd like your employees to be up to speed with. By encouraging learning ahead of time, your team members will be better prepared and ready to discuss the material and engage with their other teammates. 
9 Hackathon
A hackathon meeting format is exclusive to website developers and software development employees. In this type of session, you ask your developers to work on common projects in order to make significant progress, be as productive and as effective as possible. While actual hackathons are meant for development teams, the method behind this type of meeting format is now being used by other types of teams as working sessions or brainstorming sessions. This method can be used to creatively solve problems in all areas of the business, including your marketing and HR teams. Dedicating some time to work together towards achieving organizational goals and making progress on projects is going to foster collaboration, stronger communications, and better working relationships with your team. 
10 Huddle
A huddle is a less formal meeting format that is meant to bring you and your team closer together. We typically see huddles in sports games, for team members to discuss the strategy and to really motivate one another for the game ahead. In a business context, this can be really effective for hyping each other up and celebrating successes. If you're thinking about using the huddle meeting format, it's most effective when organized on a daily basis (although other frequencies, such as weekly will still work). Everyone stands up for about 5 minutes to quickly exchange important updates, wins and successes. This not only improves communication but will bring you and your team closer together. 
Parting advice
If you're looking to spice up your team meetings, spark participation and engage your employees, using a meeting format is a great way to start. While there are many different types of meetings, these meeting formats are applicable to many meetings (including formal meetings like board meetings) that you're already running, which makes them easier to incorporate. An effective meeting is one with open contributions from your team members. Become inspired by your team members, their ideas and the unique insights they bring to your meetings. During this process you are going to build trust, improve communications and foster collaboration.