If you work or volunteer, chances are you've been to a meeting – or two, or three. These gatherings are essential to making any organization run smoothly. But there's such a thing as too many meetings – and as a result, inboxes flooding with meeting invites to the point where yours may not be able to cut through the noise. Here's how to request a meeting in a way that reiterates the importance of the topic at hand – and get all the right people on board.
Reasons why you might need to request a meeting
Providing the reason you want to hold a meeting is the most important aspect of an effective meeting request email. Defining a purpose lets your contacts know that this meeting has an important purpose and that their attendance is key to a productive gathering. We've listed a few common reasons for holding a meeting below to help you brainstorm an invite, but it's by no means an exhaustive list.
1 You would like to discuss a promotion with a team member
Suddenly calling a team member into your office can be a seriously nerve-wracking experience for them, regardless of your actual intent. Even when you're only trying to discuss something as exciting as a promotion, they won't be at their best if the meeting is sprung on them.
Inviting a team member to an appointment by email – and letting them know why you're meeting – gives them some time to prepare for the discussion, gather their thoughts, and make their case for the promotion. It helps them gather their thoughts and more accurately show why they deserve the new position, for example.

No agenda, no attenda
Be prepared for every meeting by having an agenda that is collaborative, has talking points, and clearly outlines next steps. Try a tool like Fellow!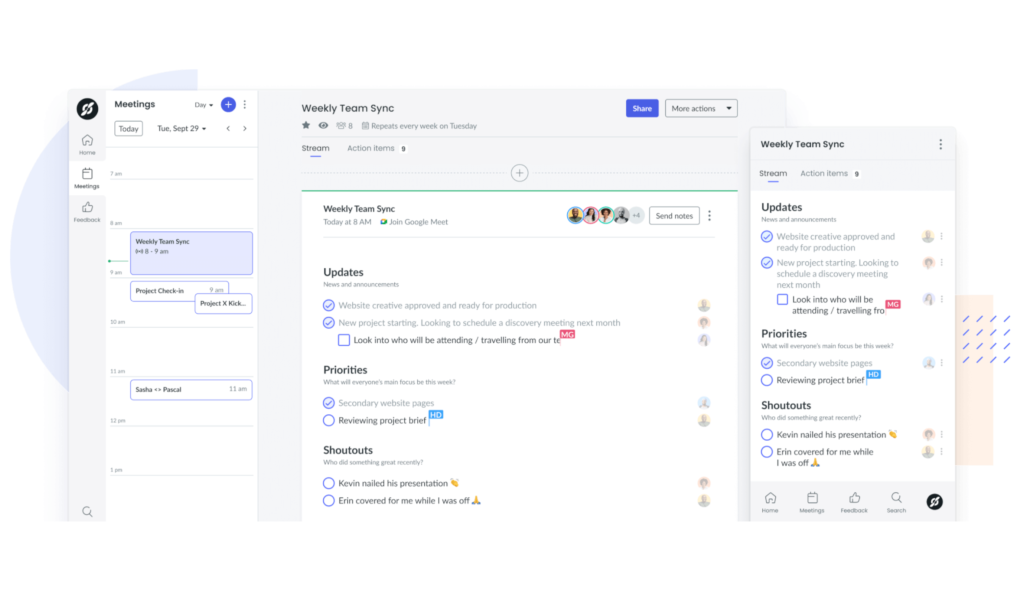 2 You would like feedback in between 1-on-1 meetings
Meetings are often used as quick ways to share important information, but that transfer of knowledge doesn't only need to be from you to your team. They likely have their own thoughts and opinions about how they work, and opening the floor to them can significantly improve workplace engagement. Not only can it help improve your performance as a manager, but it also fosters a more open and collaborative work environment that can greatly benefit future projects.
3 You need clarification on a complex issue
Clear communication is essential at work, but that doesn't always mean you'll understand everything the first time. Many people avoid asking for clarification because they're nervous it reflects poorly on them, but asking questions now can save a lot of headache later. Letting one misunderstood issue stall your project or cause a mistake can derail your entire workflow. While a meeting may not be appropriate for everything you need clarification on, don't be afraid to schedule one if you have lots of questions.
4 You want to brainstorm new ideas
Many companies' best products begin their journey from idea to reality in a brainstorming session. Even your smartest and most motivated team members can't innovate in a vacuum. Setting up a brainstorming meeting can help push boundaries and come up with new solutions to unique problems that your organization's company or service can solve.
5 You need to provide an update on a project's status
Decisions made elsewhere in the company can often cause your team's project to shift course. One of a manager's responsibilities is to stay informed about those potential changes and report them to their team as soon as possible. That way, you and your team avoid getting blindsided by a sudden change in direction and can more reliably maintain your momentum.
6 You want to pitch a product or service
Brevity is usually the name of the game when sending emails to potential prospects. Packing too many words into one message is a sure way to get it tossed in the trash. When trying to convince a potential buyer, it's typically much more effective to schedule a meeting where you can make your case. Words are often more persuasive when there's body language to support them, not to mention the added prep time you have before you meet the prospect face-to-face.
What should you include in a meeting request?
When deciding what to include in your meeting invite, the best thing to keep in mind is RAP. No, don't start freestyling or reaching for your Jay Z album: In this context, RAP refers to how you should request a meeting in a way that maximizes visibility and increases response rates. We've laid out the specifics of these roles below.
R: Reason
As mentioned above, when you send a meeting request, it's important to lead off with the reason for holding it. It's essential that you use the email subject line and the first few lines of the invitation to provide a clear and concise overview of the meeting's purpose. Doing this allows the recipient to make a more informed decision on how their presence impacts the meeting.
A: Action
The next part of your email is a call to action that encourages the prospect to continue your communication in some way. Generally, this part of the email involves ceding control over specific details of the meeting to the recipient, such as a date, time, or the way to meet, like over Zoom or at a local coffee shop. Accommodation is a powerful tool in many business proceedings, and the added convenience often helps convince someone you want to meet with to at least consult their schedule.
P: Professional sign-off
This is mostly self-explanatory, but it doesn't hurt to review. Generally, when you write an email meeting invite, you want to come off as professional as possible. While the tone and word choice within the body of the email sets up that tone, it's the sign-off that ties it all together. There are a few ways you could go about writing a professional signature, but the most common is simply including your full name and job title in the closing.
Email templates that help you request a meeting
While there is a reliable structure for writing meeting request emails, that doesn't quite account for its content. Tailor the words you write to the context in which you're sending the message. It's a level of fine-tuning that anyone requesting any type of meeting – from a team member requesting feedback to a sales rep who wants to schedule a demo – might struggle to tackle. These email templates can help you effectively request a meeting. 
Professional cold email template
These are meeting invitations sent to people you've never interacted with before. Sales representatives most commonly use them to get their foot in the door with a new prospect.
Dear [Name of recipient],
My name is [Name], and I work as an [Position] at [Company name]. Here, we offer [Product or Service related to recipient] that helps [Typical clients] attain their goals by addressing [Typical pain points within your niche].
Given your position as [Recipient's position] at [Recipient's company], I believe that we can effectively collaborate to achieve [Goal of meeting].
I'd like to invite you to a meeting at [proposed location] to discuss this topic further. Would [date and time] or [alternative date and time] work for your schedule?
Regards,
[Your name]
Contact after a prior meeting template
Managers more commonly use these emails because their work often affords them more opportunities to network. This invitation is free to be shorter and more casual since the person you're contacting is likely already familiar with you and your company.
Hey [Recipient's name],
We met recently at [Event], and I wanted to follow up on [Your company's product or service] that I mentioned.
I wanted to reach out and see if you were interested in a short meetup at [Suggested location or method of meeting] to talk in greater detail.
Just let me know your availability, and we can set something up.
Sincerely,
[Your name]
Team meeting request email template
Project managers are typically the ones to use team meeting invites. These meetings help set expectations and create a collaborative atmosphere. Team meeting invites are slightly more informal to help break the ice between leadership and the rest of the team while encouraging the free exchange of ideas at the meeting to come.
Hi team,
We're set for another meeting on [date and time], so make sure to mark your calendars. We'll be discussing [meeting goals] and outlining a plan to reach our project milestones.
There will be a set block of time for questions and concerns, so come prepared. Additionally, be ready to discuss the following topics beforehand:
Talking point 1
Talking point 2
Talking point 3
See you then,
[Signature]
Corporate sales meeting request email template
Pitching a sales meeting to a large company is especially tricky because they get similar correspondence frequently. More often than not, they have automated inboxes to handle the large number of emails they receive, increasing the difficulty in getting yours seen. As evidenced by the name, corporate sales meeting requests are most frequently used by salespeople.
Dear [Recipient's name],
I'm [Name], and I work as a [Position name] at [Company name].
To cut to the chase, we provide [Service or product] to help leaders in our industry mitigate [Common pain points] and find new success. [Your company's name] has helped several noteworthy clients like [prior clients] achieve [Value you provide], and we'd like to extend our services to you.
Let me know if you're available for a meeting at [Date and Time] or [Alternative Date and Time] so that we may discuss this topic further.
Kind regards,
[Your name]
Presentation email request template
Presentations are larger-scale meetings used to disseminate helpful information to as many employees as possible. However, because they cater to a larger audience, they can also run long, losing team members' attention along the way. A presentation email request is not only an invite but a preparation guide for the coming event, telling the recipients what to expect to help keep your team members engaged. Managers tend to use this kind of email template the most.
Hello [Employee names],
We will be holding a presentation on [Day and date] at [Time] to discuss [topic]. By the end of the meeting, we hope to [Goal of the meeting]. The event schedule is as follows:
Talking point #1 (approx. time)
Talking point #2 (approx. time)
Talking point #3 (approx. time)
If there are any concerns about attendance or if other accommodations need to be made, please do not hesitate to contact me at my email address and let me know.
Thank you,
[Signature]
Product demo request email template
While talking or writing about a product is one thing, demonstrating what it can achieve can be the ticket that convinces someone to become a customer. Sales representatives most commonly use a product demo meeting template. It focuses on the significant benefits that a particular product offers to convince prospective clients to learn more about it.
Hi [Recipients name],
My name is [Your name], and I work as an [Position] at [Company name]. We offer several quality [Products and services] for several noteworthy companies such as [Previous client names].
Our products greatly benefit businesses within our industry by targeting [Common pain points] and helping bolster regular operation. Some of the advantages provided include:
Product advantage 1
Product advantage 2
Product advantage 3
If you're interested, we offer short product demos to help you determine if our [Product or Service] is right for you. They take place on [list dates and times]. We hope to see you there.
Regards,
[Your name]
A template to success
Finding the right words to match the proper contexts can be challenging well into your career. However, the benefit that meetings can provide to a company as a whole and prospective sales makes it worth learning. Although, that doesn't mean you can't get help when needed. The Fellow app is a professional meeting program loaded with high-quality tools to help ensure any meeting goes smoothly. Its list of features includes several valuable templates to help guide you through setting up and running meetings in almost any circumstance.