When was the last time everyone at your organization was together in one place?
If your answer is "the 2019 holiday party" then it's likely your company doesn't take the time to hold informative all-hands meetings with their employees. Not having an all-hands meeting on the calendar every month can be detrimental to your company's success and can lead to ineffective communication across departments.
If you're not sure what an all-hands meeting is or how to structure one, Fellow is here to help.
What is an all-hands meeting?
An all-hands meeting is when an entire organization comes together, either in person or virtually, to discuss company goals, progress on key metrics and year-end goals, and discuss significant projects with the leadership team. These meetings are a great opportunity to provide organization-wide clarity and context on major initiatives and can inspire unity across the entire company.
These meetings can sometimes also be referred to as a town hall meeting since everyone from the CEO to the newest hire is in attendance. 

Every meeting can be delightful.
Stay on time and on track with every meeting by having a meeting agenda everyone can follow. Try using Fellow!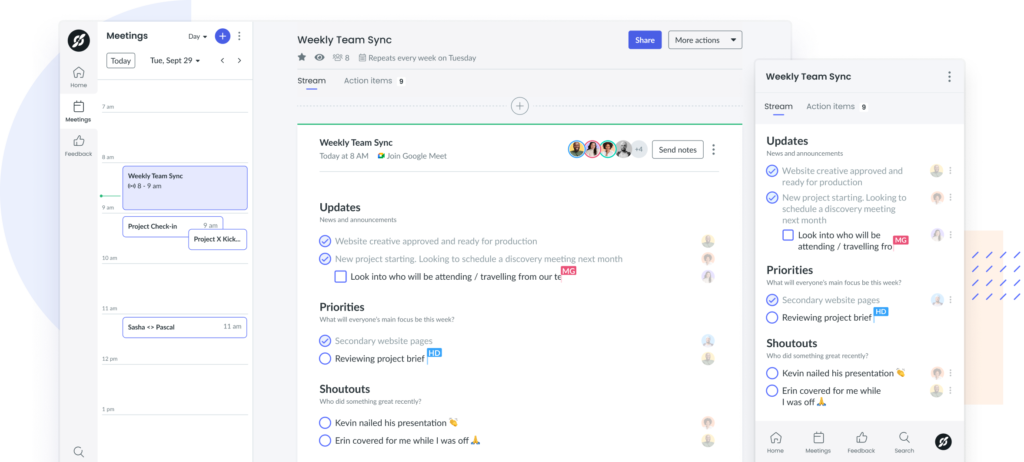 Why is it called an "all-hands meeting"?
The term all-hands meeting comes from the phrase all hands on deck. This phrase was coined when a ship captain would call all available members of their crew up to the boat's deck to address an issue altogether. In this context, the matter at hand was often an emergency that called for every extra set of hands working on an issue at once to find a solution.
However, in the case of an all-hands meeting, the goal is for every employee to come together and hear the same information from company leaders in real-time at a regularly scheduled event.
The benefits: why should you have an all-hands meeting?
If your company hasn't thrown an all-hands meeting in the past, now is the time to consider adding this type of meeting to the calendar. They can lead to many benefits, no matter how big or small your company is or the industry it's within.
Keeping alignment surrounding the company mission, goals, and strategies while reviewing key metrics regulated to sales, revenue, net retention, NPS, and more.
Foster company culture around trust as everyone hears important information directly from leadership that is related to values and the company mission.
Giving everyone a voice to bring up questions or concerns in an organized fashion.
Celebration of successes in real-time when the company has hit its goals, which can boost morale across all departments.
Connecting the remote teams in various time zones with the HQ.
Providing transparency and open communication while giving employees a chance to come together and ask questions
What do you need for a successful all-hands meeting?
If you've never thrown an all-hands meeting before, it can be challenging to know where to start. Thankfully, there are specific components you can incorporate to make sure it's a success.
1 Detailed agenda
First things first, like all successful meetings, a successful all-hands meeting will need a detailed agenda. This agenda should be sent out at least a week in advance and should highlight information like:
Date and time
Estimated length of the meeting
Who will be speaking and when
What topics will be covered
2 Questions from the team
In addition to sending out a detailed agenda, utilize employee engagement software to send out a survey to encourage the team to send in a list of questions they may have. These questions can be directed towards leaders of certain departments or even the CEO of the company. Make sure employees know that, although nothing is off-limits, questions should be worded in a kind and professional manner and tone.
Don't forget to leave enough time for Q & A. If you don't, employees will feel like you're rushing through the answers to their important questions.
3 Variety of voices
Nothing makes for a boring all-hands meeting than the same individual talking throughout the entire thing. Be sure to incorporate a variety of voices across all departments to lead sessions and share information with the organization. Switch it up for every all-hands meeting, so everyone has a chance to feel included.
4 Video conferencing tool
If you have an international team, or if your company has a hybrid work environment, make sure to provide the best online experience for everyone with a video conferencing tool you can trust. Plus, not only should the camera be facing the speaker, but quality audio is key so that nothing is missed.
5 One place to record meeting notes
In addition to recording the all-hands meeting, you should have one singular location that houses all meeting notes. To ensure that everything is organized and easy to find, use a meeting tool like Fellow to know your notes are all in one place.
How to structure an all-hands meeting
Now that you've got a better understanding of what you need for an all-hands meeting, let's go over some topic suggestions for how to structure one so that they feel productive and valuable to your employees.
1 New hires
It's considered standard protocol to announce new hires to the team on their first day, but this should also be done during an all-hands meeting. Consider creating a presentation slide that showcases the headshot of every new hire, organized by department, for a quick little shout-out.
In addition to their name and department, you can also add their title within the company and even a fun fact or two since this is their official introduction to the rest of the organization outside of their team.
When you send the meeting notes after, include the employee's email address or online company profile to encourage other employees to reach out and introduce themselves.
2 Celebrations and positive news
Everyone likes hearing good news, so if something is exciting to share, say so during an all-hands! Whether it's a significant win for a specific department or that the company has reached a goal ahead of what they had previously predicted, sharing positive news can energize all attendees and get everyone feeling motivated for what's to come.
3 Company announcements
One great thing about an all-hands meeting is that you can share company announcements with every employee at the same time. Doing so means that all team members are aware of new development or company events at once to avoid confusion.
Some details that may be worthy to include here are:
The hiring of a new executive member
The retirement of a long-time employee
The opening of a new office location, or the closing of one
An update regarding fundraiser efforts
Upcoming company events, like a holiday part of paid time off
Additions to the perks or benefits package
New product launches
4 Presentations
As it started, an all-hands meeting shouldn't just be the CEO or founder of a company in front of employees with a microphone. A successful all-hands should feature presentations from various department leaders with pertinent information for all attendees. Make sure to keep slides engaging and informative while incorporating branded elements, graphs, and images.
5 Customer stories
Another suggestion is to incorporate a customer story into the all-hands meeting. While this may not be necessary or relevant to every single all-hands, utilize it when you can! If they've seen success using your product or service, ask that team member provide some details with the rest of the organization.
This can also serve as a learning opportunity for departments that don't have many touchpoints with customers to learn more about how clients benefit from what the organization is selling.
6 Shoutouts
If an employee has gone above and beyond since the last all-hands meeting or has accomplished a particularly exciting goal, give that person a shout-out in the all-hands meeting.
Beyond exciting achievements, a portion of the all-hands meeting can shout out employee anniversaries or birthdays as an added way to recognize certain members of the team. You can also choose to give a spotlight to a specific department at each all-hands so that everyone gets time to shine.
7 Questions
Like we said, it's essential to leave time during an all-hands meeting for questions from employees. It's not uncommon for companies to shy away or push aside the need for a Q & A session due to fear that questions will be too challenging or that there isn't enough time.
If you're concerned about time, you can either shuffle around some content, ask presenters to keep slides to less than five minutes or schedule a buffer time slot of 10-15 minutes to ensure every question gets answered.
When senior-level executives make questions a priority and are willing to share information, it creates a deeper level of trust. Invite all members of your organization to ask questions, and don't shy away from questions about tough subjects. Answer these questions as honestly as you can, with as much detail as possible.
All-hands meeting templates
Interested in creating a meeting template for your all-hands meetings? Fellow has you covered!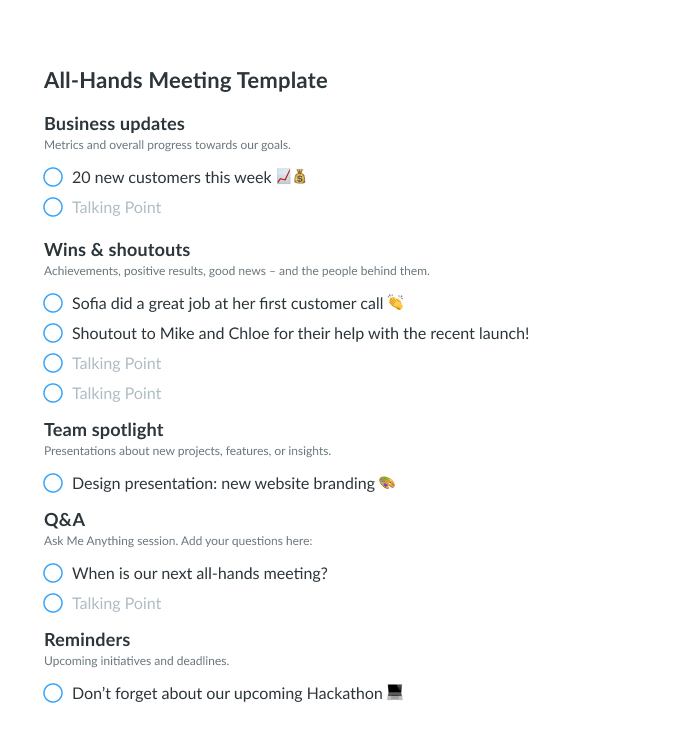 Everyone's invited!
Now is the time to stop thinking about an all-hands meeting being simply another meeting on your calendar. Make sure to schedule one with the entire organization once a month to ensure all employees are on the same page regarding new information, changes to policies, or exciting announcements.
An all-hands meeting is likely the only time that everyone comes together at the same time, so make them worthwhile!