People often think working in information technology, or IT, limits you to working for a tech company in a fancy office in a big city.
But nowadays, IT roles can be found across varying industries in organizations of all shapes and sizes. Because of this, careers in IT are gaining popularity, and there are several paths from which you can choose.
If you're unsure how to start a career in IT, we at Fellow break it all down below!
Why choose a career in IT?
There are several reasons choosing a career in IT may be right for you. Here are three reasons it's a wise career path to choose.
1It's constantly evolving
A career in information technology is constantly evolving. New technology always emerges onto the scene, so if you like learning new things and staying up to date on the latest trends, IT is for you!
2Training is relatively low cost
Only some IT roles or career paths need a four-year degree for sufficient training. This means that an individual's education costs could be much lower than going into other fields, like engineering or healthcare.
3You have job stability
Having a role in IT provides job stability and security. There's a high demand for skilled IT professionals, and almost every organization has multiple IT workers on their staff. Plus, many IT roles come with compensation that properly reflects the high demand.

Run efficient meetings, come to a decision, and get back to work
Level up your meeting habits to boost engagement and productivity with a collaborative meeting agenda. Try a tool like Fellow!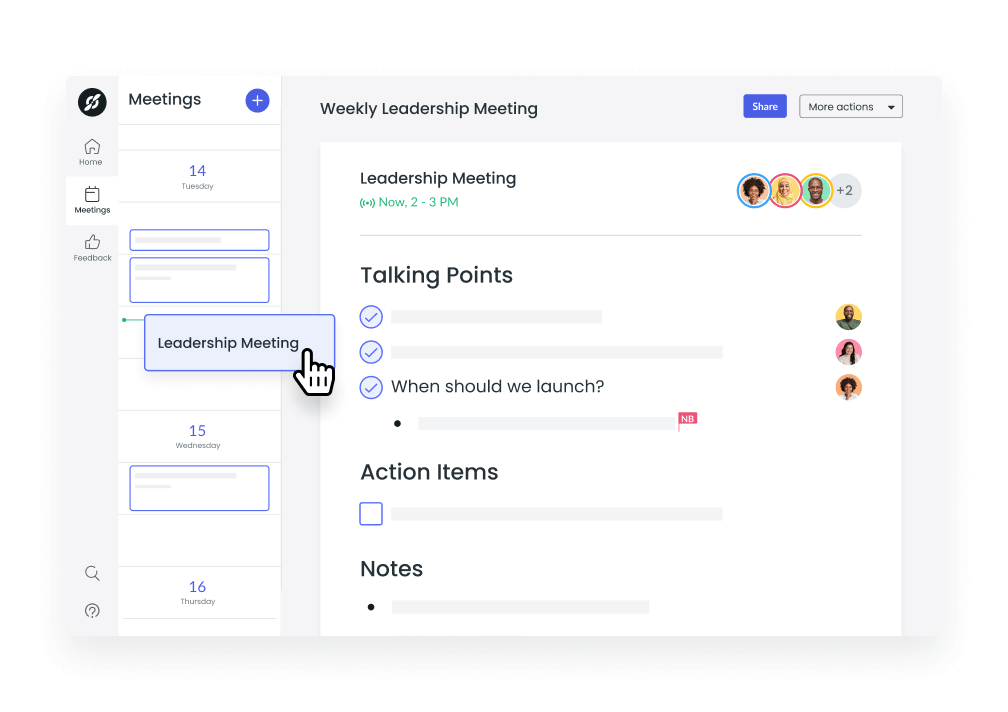 How to start a career in IT
If you're unsure how to start a career in IT, consider following these five steps!
1Grow your network with those in the field of IT
Sometimes, it's all about who you know. Having a network of like-minded IT professionals can help you get an inside look at what it's like working in IT, and you never know who could end up helping you to land a job down the line.
Find ways to network with others in the field, whether attending conferences or forming relationships with others on LinkedIn and other social media sites. Someone you meet could give you a job referral, providing you special consideration for an open role in such a competitive landscape.
Additionally, someone you meet could become your mentor, giving you an advantage as you start a career in IT. Make the most out of these conversations with a mentor by using a mentor meeting template from Fellow!
2Perfect your coding skills
Next, it's imperative you learn how to code and perfect these skills over time. While some coding languages are easier to learn than others, consider classes, online tutorials, or formal training through education resources to add every coding language to your resume.
Some coding languages you should learn are:
HTML
Javascript
CSS
Java
C++
Ruby
Python
3Get an education or job experience in a related field
Next, you'll want to enroll in some educational classes or get an entry-level job to gain experience in a related field. The education can be taking a formal coding course or making the first steps in getting your associate degree or bachelor's degree in information technology.
The direction you take here will depend on what interests you the most and what skills you already have. For instance, consider taking courses and earning certificates if you're leaning towards being a software developer. If you'd like to become a network engineer, it's best you go to school for a Bachelor of Computer Science.
4Prepare to answer technical questions
Once you line up some job interviews, practice your answers to common technical interview questions. Prepare yourself for these questions by researching popular IT-related interview questions and practicing your answers.
Some questions you may be asked are:
What certifications do you have?
What languages have you programmed in?
What source control tools have you used?
What technical websites do you follow?
How do you handle multiple deadlines?
How do you keep current in the industry?
What is the biggest IT-related challenge you've faced, and how did you go about solving it?
Keep in mind that in addition to asking you technical questions, some hiring managers may ask you to solve technical problems as part of the interview process.
5Research the possible roles and positions available
Once you have your resume written to perfection, have practiced answering interview questions, and have a solid network of IT professionals to engage with, it's time to research potential roles and positions to apply to!
The IT field is vast and diverse, with many specialties. Some job roles you'll likely see on job boards and job search sites are:
Network Engineer
Software Developer
Systems Administrator
DevOps Specialist
Research which roles are available to help you understand which ones you're most interested in applying to and which align with your skills, interests, and career goals.
IT career paths to explore
There are many different career paths that you can choose, depending on your interests, skill sets, and which field you're best at. Below are the seven career paths that may be right for you.
1Cybersecurity
One of the IT career paths you can choose is cybersecurity. Entry-level cybersecurity roles are usually listed as a cybersecurity engineer, cybersecurity analyst, and information security analyst. From there, mid- and senior-level positions are listed as ethical hacker, information security manager, and senior cyber engineer.
Responsibilities for this IT path vary, but may include protecting the computer systems of fellow employees and safeguarding sensitive information from malware, data breaches, and unauthorized access.
The average salary for an IT professional working in cybersecurity is $78,480. Certificates like CompTIA Security+ or Certified Information Systems Auditor (CISA) are good to have in this IT path.
2Software development
If cybersecurity doesn't pique your interest, consider becoming a software developer. Sometimes called software engineers, these IT individuals focus on creating software programs that their organization uses to complete various tasks.
A software developer can work in various industries like tech, finance, and video game development. They should be well-versed in Ruby, Python, and Java.
The average salary for an IT professional working as a software developer is $120,730.
3Web development
Someone interested in IT can also go into web development. These individuals create and maintain websites and mobile apps as front- or back-end developers.
You'll see titles focused on web development are web developer, web designer, full-stack engineer, full-stack developer, front-end engineer, and back-end engineer.
The average salary for an IT professional working as a web developer is $79,890. To be a web developer, you'll want to be well-versed in Python, HTML, CSS, and JavaScript.
4Cloud computing
There's also the cloud computing career path, which includes cloud software programs like Google Cloud, Azure, and AWS. Early roles in cloud computing are typically classified as cloud engineer and cloud computer programmer. Mid- and senior-level titles include cloud consultant and cloud architect.
The average salary for an IT professional working in cloud computing is $81,435.
5Data
Companies collect a lot of data on customers, services, and other factors and often need an IT professional who knows how to keep this data secure while also examining patterns and insights as a data scientist. Entry-level, IT-related roles that focus on data are usually titled data center technician, data analyst, and database administrator.
Mid- and senior-level roles in data are often listed as data architect, data scientist, and data engineer.
The average salary for an IT professional working in the data field is $96,710. The IBM Data Analyst Professional Certificate or the Google Data Analytics Professional Certificate is good to have under your belt in these roles.
6Computer support
There's also the computer support IT path. Computer support is a common path to choose when starting your IT career since it supports several aspects of computer operations. Some early jobs in computer support are usually titled IT support technician, IT associate, desktop support technician, and help desk technician.
As you progress in your role, mid- and senior-level titles can be support desk manager, service desk supervisor, and senior help desk support technician.
The average salary for an IT professional in computer support is $62,760.
7Networks and systems
Lastly, there's the networks and systems career path. These individuals work with network-related tasks, hardware, servers, and computer systems. Job titles in this career vary based on the industry and size of the organization. Early jobs can sometimes be titled network administrator, systems analyst, and systems administrator.
Mid- and senior-level titles often are network engineer, systems engineer, cloud network engineer, and computer network architect.
The average salary for an IT professional in networks and systems is $80,600.
The career for you!
The world of IT offers a variety of career paths across diverse industries to choose from. It's important that you consider your specific likes, strengths, and skills when deciding which is best for you!