Making a new employee feel welcome is extremely important. First impressions are everything and you want to make sure that your onboarding process makes the new employee feel comfortable, right from the get-go. There are several things that human resources and the hiring managers can do to make a new employee's start date go smoothly. One really effective way to make team members feel at ease is to send them a welcome message. This brief and friendly message is going to make your new employee feel like part of the team right away. This message is a great way to showcase your company culture and settle your new employees' nerves.
This article is going to cover why you need to welcome a new employee, how to best welcome a new employee and some welcome message examples so that you can cultivate an excitement to work in every new hire from here on out.
Why do you need to welcome a new employee?
It's important to welcome a new employee for a few reasons. First, it shows professionalism, a welcoming company culture and good organizational skills. When new hires' onboarding process goes smoothly, they are likely to have a good first impression of their new place of employment. This is how a good human resources team retains talent! Showing the new employee that you are excited for them to be joining the team is going to motivate your new employee and make them feel valued.

Set your new hires up for success.
Having detailed agendas avoids confusion and lack of clarity. Use Fellow to collaborate on every meeting agenda and to track action items.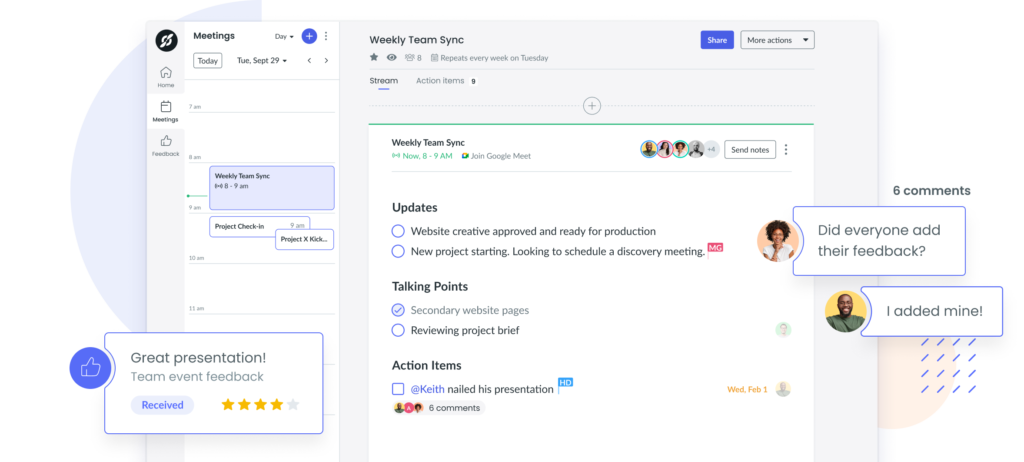 How to welcome a new employee
1 Write a welcome email
One way of welcoming your new employee is by writing them a welcome email. Renée Solorzano, Director of Product Design at Faire, shares why a welcome email is a fantastic way to make your new employee feel welcome:
"… we send every new hire the day that they join a welcome email, that retells the story of why we hired them. And I think it's just such a special moment, in terms of, you know, feeling like, oh, I'm recognized already. And this is why I'm ready to join. And this is what I'm going to bring to this community, which I think I found inspiring."
In your welcome email, it's also a good idea to provide details of the job offer, including pay, working hours, information about parking and dress code.
2 Have trainings ready for the first day
A new employee's first day of work is not meant to be spent wondering what they're meant to be doing… Make sure that you've updated the employee handbook and that you have some training and preparations ready for your new hire. This is going to show your employee that you want to catch them up to speed and properly prepare them for the job so that they feel confident and prepared to take on their new role.
3 Make sure they have everything they need before day 1
If your employee is going to need a parking pass, swipe card, any kind of technology, a desk to be set up, instructions for the copy machine, any tools or resources, be sure that all of this is set up before the start date. When an employee walks into a new job and nothing is set up for them, it's going to make them feel unimportant and awkward.
4 Stay patient and available
There's going to be a learning curve for any new employee. For this reason, hiring managers need to be patient with new hires and available to answer any and all of their questions. Be sure to assure your new employee that it's normal to have tons of questions and that you are there to guide and support them. It's a good idea to let them know the best way to ask their questions (i.e., via instant chat, email, phone call, come to your desk, etc.). 
5 Encourage coffee chats with their team members
Encourage your existing team members to ask your new hire out for a walk or a coffee chat to make them feel comfortable. Of course, you can suggest that your new hire reaches out to people on the team, but this can be pretty intimidating as you're starting out a new job! If other team members are inviting a new employee out to grab a coffee, they're sure to feel more comfortable and it's also the perfect opportunity for a tour of the office.
21 Welcome message examples
"[name], we are so excited to be welcoming you to join our team! You're going to be a great addition, considering your background. Welcome aboard!"
"Welcome to the team [name]! Everyone on our team brings a unique background and different experience, which enriches what we bring to the table. We can't wait to see what you'll accomplish with us!
"We are delighted to hear about your decision to join our team, [name]! Your application really stood out to us because of [characteristic 1] and [characteristic 2]. We know that you're going to bring unique and innovative ideas to the company and we can't wait to hear about them!
"Welcome to [company name], [name]! Our organization constantly changes and grows and we're really glad to have you along for the ride. We hired you to make a real impact here, so please don't be shy!"
"Congratulations on accepting your job offer [name]! Welcome to the team! We can't wait to see the great contributions that you'll make here."
"Welcome [name]! We know that it can take some time to get comfortable in a new job but we want to encourage you to always speak up, share your thoughts and challenge us. We're here to grow together, and we can't wait to hear more about what you have to say!"
"Congratulations and welcome aboard, [name]. We selected you for the [job title] position because we know you'll help us achieve great successes! We want you to make yourself comfortable from the get-go and take chances in your work."
"Thank you so much for accepting the job offer with [company]! We hope your onboarding process goes smoothly. If you need anything at all, please don't hesitate to reach out to us. Don't feel shy about sharing your valuable thoughts and ideas — we brought you on board to share them!"
"Dear [name], your skills and competencies are going to be a great addition to our ongoing projects. We are so excited to have you work with us and look forward to collaborating!"
"Welcome! We choose our new team members with care and feel very proud to be welcoming you. This is going to be a fabulous learning opportunity for you and for our team, as we learn from you. Don't worry about getting everything right from the get-go- making mistakes and pivoting is exactly how we learn!"
"Welcome, [name]! You truly stood out from all of the other applicants and we are so confident and proud to have you as a part of the team. We look forward to learning and growing with you in these next few years."
"Congratulations on joining our team, [name] ! We look forward to sharing many wins and successes!"
"Congratulations on taking the next step in your career! We see great things in your future and amazing potential with [company name]. We hope that this will be an opportunity for you to try new things, acquire different skills and competencies, so we can all progress together."
"Welcome, to the crew [name]! We are so happy to have you as a part of our work family! Always ask questions when you have them and let us know if and how we can help."
"Welcome to the team, [name]! You're the perfect addition to our team, and we know you'll accomplish great things here. We look forward to supporting you as you begin your journey with [company name]."
"[name], congratulations on landing the new position with [company name], and best wishes for your first day! We want you to know that we believe in you and we're behind you in everything you do here."
"A huge welcome from the whole team at [company]! We're always working to build a strong and passionate team, which is why we think that you'll fit in perfectly with us."
"Congratulations and welcome to [company], [name]! We can't wait for you to collaborate with the team in the weeks and months to come, and want to ensure you always feel comfortable asking us for support in your new role. Soon enough, you'll be the support to those who work with you, too!"
"[name], I want to welcome you on behalf of management and hope you will enjoy working with us."
"Welcome and congratulations, [name]! When we on-board a new employee, we make a commitment to their successes. This is why you were selected carefully and why we feel so confident in your joining our team! We look forward to helping you do the best work yet with us."
"Welcome to the team, [name]! We know that starting a new job can be somewhat overwhelming, so we wanted you to know that we're here to support you in every step along the way. You're a part of our team now, and we know you'll do amazing things at [company name]."
Parting advice
Whether you're writing a welcome email or have a box of company swag waiting on your new employees desk, it's so important to make a good first impression on any addition to your team. Choose to start your new hires on the right foot by preparing everything as best as possible before your new employee begins. It's important that new employees get a sense of the company culture and a feel for how the business operates. Adequately welcoming your new employees is going to enable you to retain your top talent in the long term.