Your team's workflow takes your projects from start to finish – pretty important stuff. It's what happens along the way that determines whether your workflow consistently yields high-quality results. Reviewing all these processes and their efficiency can help you take your team's productivity to new heights (and your own productivity too!). In this article, you'll learn how to improve workflows throughout your organization and work more efficiently.
What is workflow efficiency?
Workflow efficiency measures all the time, productivity, and performance that go into a process your team goes through time and again. An efficient workflow minimizes wasted time, effort, and materials while still producing high-quality results.

No agenda, no attenda
Save time in your meetings by preparing a detailed meeting agenda so your team can stay on track of discussion with a tool like Fellow.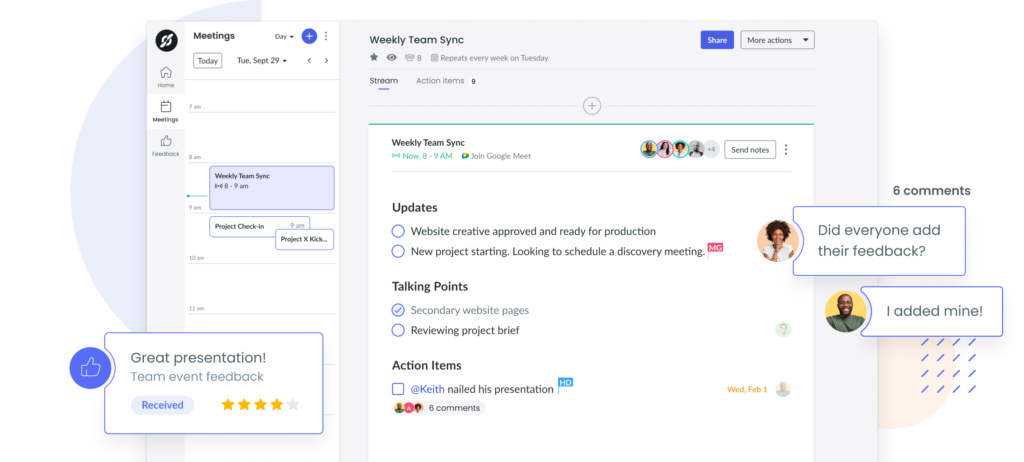 10 ways to improve workflow
Improving your team's workflow can save you precious time. It can also make all your processes more sustainable in the long run – imagine committing to a slow, exhausting approach for years on end? Plus, making the necessary changes doesn't mean a complete overhaul of your current project management methods. Below are 10 ways to help your team improve their workflow and overall efficiency.
1 Review your current workflow – and review it again
To determine how to improve your workflow, you should first get a sense of how your team manages its current processes. That's why you should regularly review your team's workflow. Doing so can give you an idea – better yet, a thorough analysis – of your team's approaches and work speeds. An approach like the Kanban method can help – it's structured to help you view exactly how your team progresses through a process.
2 Find bottlenecks and fix them
This step goes hand in hand with the review process above. As you take a close look at how your team makes magic, you might spot recurring issues that slow employees' progress or produce less-than-optimal results. Identifying these challenges and roadblocks now means you can start creating solutions that address them.
Some questions to ask in this step include: Which processes are most time-consuming? Are your team members using their most well-developed skills? Are your teams lacking any resources that could improve your workflow efficiency? The answers to these questions can help you decide how to streamline your workflows.
3 Lean on automation systems
Improving workflow efficiency is largely about maximizing productivity (without giving your employees more to be stressed about, of course). Enter workflow automation: Technology that can run your existing processes with little to no human intervention. Yes, these systems can cost some money, but the amount of time they free up for your team is absolutely priceless.
Automation tools can schedule email content for subscribers, input client data into a master list, and simplify stand-up meeting planning. To determine which automation systems could benefit your team, start by identifying which parts of workflows don't need human supervision. You can then assign appropriate tools to each of those components.
4Throw some collaboration tools into the mix
Team collaboration tools allow your team members to juggle multiple assignments and tasks while staying in touch about it all. With collaboration tools, everyone can share their progress on tasks, share documents with the rest of the team, and assist their fellow team members.
Collaboration tools streamline processes, workflows, and organization to help your team stay on top of its assignments. Many of them include notifications and email reminders as a nice little bonus.
5 Get better at communicating
Collaboration and communication go hand-in-hand – after all, collaboration tools are for sharing information and updates. You might want to set up more rigid communication systems or protocols too. This way, information flows through the appropriate channels so team members receive everything they need right when (and where) they need it.
Communication channels for specific projects can help keep conversations organized and resources gathered in one place. You should encourage your team to go above and beyond in sharing progress (and challenges) in these channels. This way, everyone will stay up to date on the status of your projects. And that makes for smoother workflows.
6 Train your team the right way
For both new employees and seasoned team members, regular training sessions can ensure everyone understands your processes and the best ways to navigate them. In a 2019 International Journal of Business and Management Research study, 90 percent of respondents said workplace training programs positively affected their job performance.
Offering a variety of training options – perhaps a formal employee development program – can help team members better accomplish their tasks. (That's another way of saying "improve your workflows"!) Try creating specialized training programs so team members can explore the paths most relevant to their role and interests.
7 Get organized
Without an effective organization system, you and your employees could be wasting time searching for documents or looking for key resources. Implementing organizational strategies and data management systems can help your team on track in your workflows.
To help keep your team organized, try giving everyone clear deadlines for their tasks. Using group calendars can help team members view upcoming tasks and projects relevant to the team. You should also host regular status update meetings where leads can inform everyone of their team's progress. That sort of shared knowledge keeps everyone more on track, leading to more robust workflows.
8 Be specific with your tasks and assignments
Yes, you can make a detailed list of tasks that you need to complete during the week. But if you don't formally assign these tasks to specific team members, how will your team know to complete them? It's a workplace form of the bystander effect: People might feel less obligated to complete an open task because others can do it instead.
Assigning tasks to specific team members helps you avoid this effect. It also lessens the chance of multiple employees working on the same task, producing duplicate work, and harming your workflow. Specific assignments can also help you delegate tasks to employees based on their skillsets. This way, everyone can work on what they do best – and that makes for some pretty ideal workflows.
9 Make important information easily accessible
No matter how complex or simple a project, your team needs easy access to everything required to get the job done. That's why you should give your team quick access to appropriate company databases, technology guides, and training manuals. Providing this information through readily accessible channels can help your team focus on work instead of hunting for resources.
10 Set a budget
Imagine holding a project status meeting and learning the project's cost will greatly exceed the allotted expenses. Failure to set and communicate a budget early on can cause this sort of workflow disruption.
Thinking about the dollar signs beforehand can prevent your team from needing to redo a plan skimp on other necessary processes. So keep a close eye on your projects' budgets, expenses, and profits – and then make cost adjustments for similar future work. This way, your team is more likely to get it right the first time the next go-round, making for an ideal workflow.
Working smarter, not harder
With the right tools and strategies, you can improve your team's workflow management and efficiency, and Fellow can help. Fellow comes with management tools for team collaboration and organization, and it helps you host productive, efficient meetings where everyone can contribute to your processes. And less time spent in meetings means more time back for other processes – and that means improved workflows.