Collaboration: You can't perform well without it. Yes, managers like yourself know that teamwork is key to success, but when team members fall behind or don't meet expectations, the urge to go it alone can arise. Ignore that urge – a more effective response would be to invest in stronger team collaboration tools. This way, you and your team are always on the same page, more primed to hit your deadlines and please your clients (and each other). And that matters a lot.
The importance of team collaboration
Team collaboration is important because:
It incorporates a greater number of skill sets and backgrounds. The more people involved in a project, the more tools and knowledge your project requires to complete it successfully. Think about it like this: Collaboration is like combining all your team's talents into the ultimate productive force.
It accelerates project timelines. Even the most skilled employee only has so much time on their hands. When this employee needs 40 hours to complete a project due in two weeks but only has three hours available per day, they literally can't do it alone. If they instead collaborate with other people, those 40 hours can get done in just a few days. That means your project gets completed much faster.
It helps team members grow. When your team members collaborate with one another, they're introduced to skills and mindsets they might not yet have. As their exposure continues, they might develop these skills and mindsets for themselves. The more these talents develop, the more your colleagues grow. And with personal and professional development among your colleagues comes an overall stronger team.
The best team collaboration tools
Now that you've refreshed yourself on why collaboration matters, you're all set to peruse some of the best team collaboration tools around. These online collaboration tools include video conferencing apps, project management software, instant messaging platforms, and more.
1 Slack
Slack is perhaps the leading name in cloud-based team messaging software. You can use it to send one-on-one and group messages. This platform makes it easy to exchange ideas and solicit feedback from others on your team without a constant stream of emails. Organize each project and team by channels so every assignment has its own place where your team can easily collaborate and share their thoughts at each stage of your project. Plus, for remote or on-the-go work, Slack's mobile app keeps you connected wherever you or your team may be.
Part of Slack's dominance is that its free version includes many tools integral to its paid tiers. This structure is relatively rare among collaborative platforms. However, if you're looking for a collaboration app with ample space to store and share files, Slack might let you down. Its storage maximums are low enough that larger companies might quickly run out of space. However, you can probably use cloud storage like Google Drive to make up for this minimal storage space.
2 Zoom
Ever since the outset of the COVID-19 pandemic, Zoom has become ubiquitous in both business and personal life. It's perhaps the most widely used business video call app, as its virtual communication tools are next to unbeatable. You can use paid Zoom tiers to host up to 1,000 video meeting participants for pretty much any amount of time. Zoom also includes screen sharing tools, a group instant messaging platform, and audio and video recording tools.
Nowadays, Zoom's biggest advantage might be that almost everyone knows how to use it (though we've all been in those dreadful meetings with people who don't mute themselves). Its clear disadvantage is that, for any meeting of three or more people, you can't speak for more than 40 minutes without paying. If you're trying not to pay for your video calls, this artificial time limit can make for some needlessly hasty, and thus unproductive, meetings.
3 Microsoft Teams
Microsoft Teams is perhaps the second-most used videoconferencing app after Zoom. It includes most of the same basic features as Zoom, such as screen sharing, attendee instant messaging, and meeting recording tools. Unlike Zoom, though, it integrates naturally with tools such as Word and Excel since it's a Microsoft product.
Microsoft Teams edges out Zoom in that the time limit for free-tier meetings is 60 minutes, not 40 minutes. You can also get it as part of a bundle that includes pretty much every Microsoft app. This bundle costs $12.50 per user per month, which points to Microsoft Teams' biggest flaw. Its non-free tiers quickly get more expensive than Zoom. With just two users, Teams is more expensive than Zoom's highest fee of $19.99 per license per month.
4 GoToMeeting
GoToMeeting is another video collaboration tool, one that promotes its crisp audio and video quality as its standout feature. Its enhanced audio tools include commute mode and background noise suppression so your team can collaborate by video on the go. GoToMeeting also prioritizes HD visuals and includes drawing tools alongside keyboard and mouse sharing. Plus, you don't have to download it to use it, unlike Zoom.
All the above primary features are perhaps the most compelling argument for choosing GoToMeeting over its competitors. Managers more concerned with meeting size than media quality may prefer other options, though, as GoToMeeting caps attendance at 250 people. This number is only one-fourth of Zoom's maximum capacity.
5 Trello
Trello is a task management app through which you can use boards, lists, and cards to manage projects and all their tiny moving parts. You can use them to create what are essentially Gantt charts comprising task assignments and timelines. Trello also gives you tools for measuring your team's productivity, and it integrates with many popular business apps.
Trello is advantageous in that it won't limit the number of cards, members, and storage space you have. The same holds true for boards if you use Trello's paid tiers. However, unlike some other project management tools, Trello cards and tasks can only belong to one board or project. Some project managers may find this single-project structure more of a hindrance than a help.
6 Fellow
Meetings are when your team's brilliant minds come together to plan out the next steps that will best benefit both the project and everyone involved in it. In other words, they're highly conducive to effective collaboration. And Fellow is highly conducive to effective meetings.
With Fellow, you can plan for and hold – and take action after – one-on-one, team, cross-functional, and remote meetings. You and your team can also share real-time feedback during meetings to make your conversations and all resulting action items even more effective. Speaking of action items, with Fellow, you can visualize and assign priority-ranked action items that arise during meetings. Fellow's streams also let you organize projects and turn your newly discussed vision into a dazzling reality.

Pro tip
Use a meeting management tool like Fellow, which also integrates with your favourite team collaboration tools like Slack, Zoom, and thousands more for better, more productive meetings!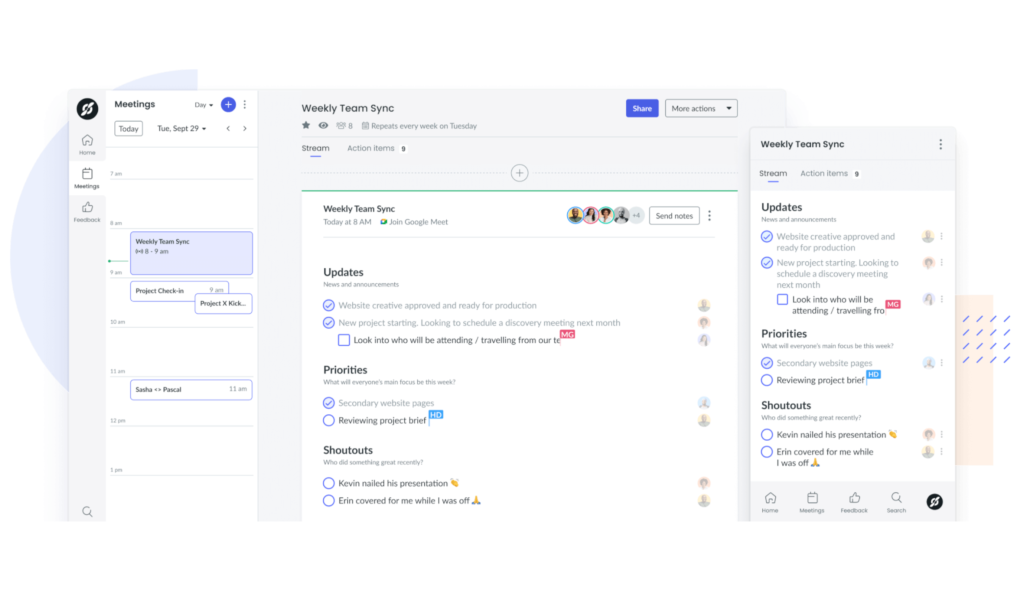 7 Zoho Projects
Zoho Projects is a project planning, tracking, and collaboration solution engineered for office and remote teams alike. Zoho promotes its Gantt charting tools as its best project management feature, and its customizable project fields, billable and non-billable timesheets, and automated task charts are also excellent. Across the board, its features allow for color-coding and flexibility in ways that make your organizational tools even more organized, leading to better teamwork.
Zoho Projects' free tier, though, is relatively lacking. Whereas Asana has relatively few limits on the number of projects free users can create, Zoho will cap you at just two projects. The free tier also includes solely a Gantt chart viewer rather than project or global Gantt tools. These tools are inexpensive if you do need them, topping out at $10 per user per month.
8 Kanban Tool
The Kanban Tool platform offers convenient software for its titular project management methodology. You can use it to collaborate in real-time on Kanban boards through comments and task assignments. You'll also get analytics and metrics that show you where bottlenecks are arising in your team's collaborations and how you can bridge these gaps.
To get used to Kanban Tool's interface, you can start with a 14-day free trial. This trial will give you access to Kanban Tool's essential features, which you can use at any time from any location. You can continue with Kanban Tool's free tier thereafter, but it won't give you access to advanced features such as time-tracking and reporting. The free version also has the major disadvantage of not allowing file attachments.
9 Podio
Podio is designed to eliminate the disorganization and back-and-forth that often accompany traditional email communication and file-sharing methods. Podio converts your project data into a single point for storing content, executing processes, and speaking with team members, clients, and vendors. It also includes task management, workflow automation, and data visualization tools.
Podio's abundance of features is available at a shockingly low price. Its most expensive plan costs under $20 per year, making its pricing a major advantage. Perhaps the clearest disadvantage of Podio's platform is that only its highest tier includes visual reports, so lower-budget teams might struggle to analyze their data and its ramifications.
10 Wimi
Wimi offers three team collaboration tools: Wimi Teamwork, Wimi Custom, and Wimi Armoured. Wimi Teamwork focuses primarily on document and task management, with additional file storage, shared calendars, and audio and video chat tools. With Wimi Custom, you can combine one, some, or all of the company's suites for communication, documents, tasks, and agendas. Wimi Armoured's top-notch digital security is intended for highly sensitive projects.
Choosing Wimi is advantageous in that the company's offerings are highly versatile. You can go with Wimi Teamwork and instantly get many key team collaboration tools, or you can choose Custom to create your own suite. The brand does have two major disadvantages. With Wimi Teamwork, you must pay custom enterprise prices to access most of the company's customer service features. Additionally, Wimi Armoured lacks several major integrations.
11 Otter.ai
As its name suggests, Otter.ai is an artificial intelligence tool. It uses AI to transcribe your meetings in real-time, thereby saving you the burden of notetaking. Of course, AI isn't perfect, but Otter.ai makes up for that by allowing all meeting attendees to annotate its transcriptions. Additionally, for Zoom meetings, Otter.ai automatically sends your meeting notes to everyone present. This way, everyone can immediately get to work on their action items.
Among Otter.ai's biggest advantages is that its paid tiers have low monthly rates. Its biggest drawback is that the free version doesn't include automatic cloud sync. Additionally, Otter.ai can't generate action items for you. You'll need Fellow for that.
12 Asana
Asana is a task management and collaboration app that's quite similar to Trello and just as popular. You can use it to create projects with sections and subtasks and assign tasks to your team members. You can also comment on each task and tag team members to share updates or ask questions right in the task, where the team member can see all the information they need. Private messaging is also available.
Asana stands out for its user-friendly interface on both desktop web browsers and the Asana mobile app. Its clear disadvantage is that its timeline view, which is basically a Gantt chart, is completely unavailable for its free users. Although some integrations can partially make up for this gap, other free project management tools come with built-in Gantt charting tools.
How to choose a team collaboration tool
To find the right collaboration tool for your team, ask the following questions:
What problem are we trying to solve? Think specifically about what needs organization or facilitation help, and find products that can make that happen. If you need videoconferencing tools to improve your collaboration, for example, choose a platform that focuses primarily on this technology. Yes, team collaboration tools that throw the whole kitchen sink of tools at you – including videoconferencing – exist. But with this breadth can come deficiencies in each tool that might not be an issue with a dedicated platform.
How user-friendly is it? Rare is the collaboration tool that you and your team will completely understand from the get-go. What's more important is to avoid learning curves so steep they render the platform's features all but inaccessible. A second-choice set of features in a more intuitive platform can be better than a first-choice set of features that requires a lengthy implementation process.
How secure is it? Theoretically, any digital tool your team uses can provide a backdoor for bad actors to access your data. That's why the best team collaboration tools come with rigid cybersecurity features. You should see these features promoted on the tool's website. If not, ask a company contact for cybersecurity information, and choose a competitor if you encounter vague answers or resistance.
What does it integrate with? For truly seamless collaboration, you'll want your business software platforms to integrate with one another. This way, when you update information in one platform that should be adjusted in others, you don't have to manually enter the data in each platform. These real-time updates both save you time and keep your team on the same page, leading to better collaboration.
Will there be an obvious return on investment? Most team collaboration tools aren't free – and if they are, that's because they lack useful features reserved solely for paying users. The thing is, in team management, you have to spend a little to earn a lot. But just how much will that lot be? If you calculate that a collaboration app will result in fewer than two or three dollars earned for every dollar spent, find another solution instead.
Now get to collaborating!
With a good handful of the above tools on hand, you and your team are primed for collaboration that achieves all your goals. Your videoconferencing, project management, and team communication needs will all be met, plus if you choose Fellow, your meetings will be as engaging as they are pointed. Streamlined meetings and clear action items make for consistent collaboration – and that means a consistently stronger team.