When you hear the word 'hackathon,' your brain might immediately conjure up images of cyberhackers gathered together to break down the strongest defence systems of the tech world.
As riveting as that scenario might sound, hackathons can really be a lot more diverse. More than just hacking systems, hackathons enable you to hack ideas.
We're here to introduce you to the world of hacking ideas, and we've also provided 15 ideas to kickstart your creative journey!
What is a hackathon?
Think of a hackathon as a sprint-like attempt at brainstorming. However, rather than just taking the concept into the ideation phase like brainstorming does, hackathons bring the project into planning and execution phases as well.
The purpose of a hackathon is to generate something very quickly. Each hackathon varies in what it aims to produce as an end result. Two famous examples of these events are:
HackMIT, where thousands of university students come together annually to create new software and hardware technologies.
International Space Apps Challenge, where NASA invites registrants to develop new apps that will benefit the space industry.
These types of events are often held in one- or two-day sprints to maximize creativity and energy. They're also most commonly done in STEM fields, but the concept can be applied to any industry.

Run delightful meetings
Increase meeting engagement and productivity with a collaborative agenda that the whole team can contribute to. Try using a tool like Fellow!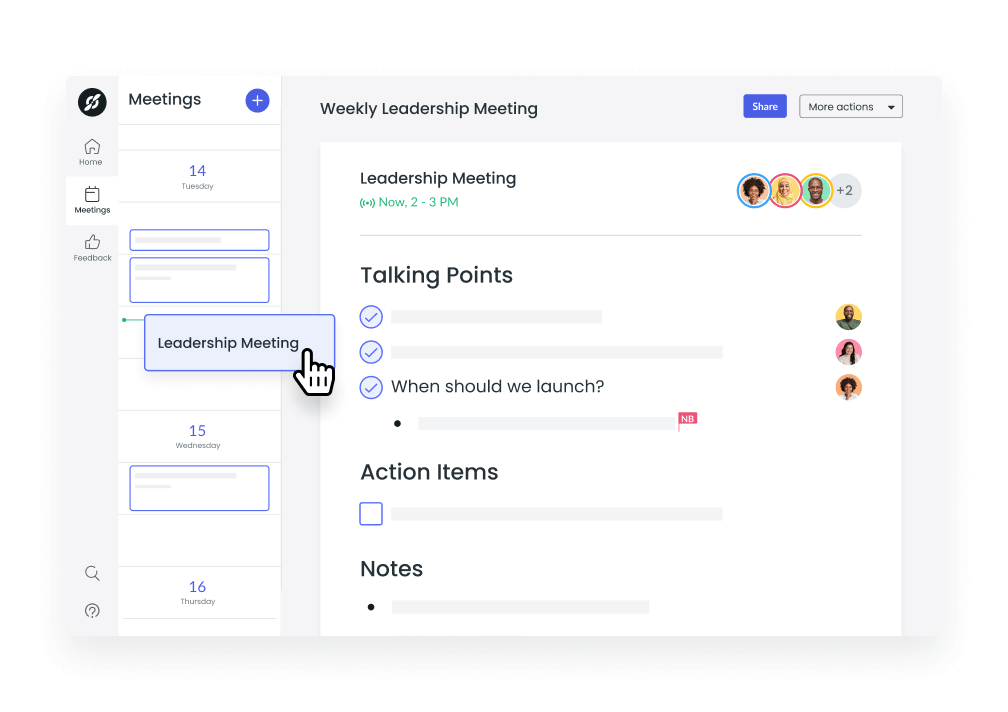 How to prepare for a hackathon
1Create and register your team (or decide if you're going to work alone)
While most hackathons require you to register as a team, some may allow you to register as an individual contributor. Alternatively, some may even combine multiple individuals into teams (which is great if you'd like to leverage new perspectives).
On one hand, working in teams provides many benefits, like increased access to resources, more human power to complete tasks, and more power for idea generation. On the other hand, working independently allows you to create the project of your dreams and work efficiently to get the project completed.
2Come up with your hackathon idea
When registered for the event, your next step is to begin planning! Stir up some creativity by deeply researching the industry and existing technologies or projects before the hackathon begins. Knowing what's out there already will help you spot an opportunity for the next big idea to develop.
Your team should be in the loop and in full agreement on your idea before you get started. Hackathons are done in a time crunch, so be extra cautious to avoid team conflict during the event itself.
3Determine what resources you'll need
Pay close attention to the project requirements and judging criteria to help you plan your scope. Ask yourself and your team thought-provoking questions like:
How much will we be provided?
What are we expected to do?
What is realistic considering the time, money, and human resources available?
Do we have sponsors that are contributing anything?
What can we bring into the arena? Is anything prohibited?
Does our project idea pose any risks? If so, do we need additional resources to mitigate or cover the effects of the risk if it were to occur?
4Create a meeting plan (either remotely or in person)
Set up several meetings with your team way before the start date. Especially if you're working with new team members, a few get-togethers before the hackathon begins will help you learn more about your new colleagues. Take time to learn each person's preferred working styles and areas of expertise. Figuring these details out before the hackathon date will minimize the chance of team conflict arising during the event itself.
5Distribute work evenly
Efficiency and speed is key in hackathons, so it's important to be able to hit the ground running on the first day. Make use of a meeting agenda to assign areas of responsibility across your team. Ensure each team member has specific action items they'll manage before, during, and after the event.
For example, you may consider having one person responsible for ensuring that all the resources are obtained before the start date while another is responsible for communicating with the event hosts. During the event, one team member may be responsible for front-end design while another works on back-end design.
How you split the workload is up to you, as long as your team is in agreement.
15 hackathon project ideas
Build an application for a small grocery store chain to process online deliveries, accept payments, and notify customers when fresh produce is in stock. Any additional features to increase efficiency and information flow to customers is a great bonus.  
Develop a marketing plan for a university that is struggling to bring students back on campus after a few years of remote education. 
Since Netflix, Hulu, Crave, and DisneyPlus have all become household names, create a new AR or VR experience for movie theaters that will encourage more customers to come back to watching films in person. 
Electric vehicles (EVs) are slowly taking off, but could use a bit more of a push. What's holding them back? Determine what EV manufacturers can do to drive adoption of their cars faster.
Create a website for a not-for-profit so the organization can share upcoming events, take donations, and manage inbound inquiries.
Remote working allows asynchronous work to work more efficiently, but teams still need some way to connect with each other. Create a virtual platform that can increase global team engagement.
Agriculture is weather dependent, and weather is far out of anyone's control. Northern regions are especially at risk of low food supply due to weather concerns. Determine what kind of innovation can help Northern populations overcome this concern.
As professional golfers train up for the next Master's tournament, their coaches are looking at new tech that can help during practice rounds. Create an innovation that tracks golfers progress in real-time and syncs with either new or existing applications. 
It takes a lot of experience to become an expert photographer, especially when considering the technical knowledge required. Build a tool or application that allows beginner photographers to have real-time access to information on how their settings and environment will affect their photo. 
Supply chain management challenges have shot through the roof during the pandemic. Develop a solution to provide deeper insights or information on this problem. 
Employee insurance portals are often outdated and lack many features that employees crave, like dashboards of their claims and one-step submission processes. Create an easy-to-set-up platform that enterprise-level companies can use for managing their insurance.
Being diabetic means constantly keeping track of how much sugar you've digested. Some foods pack a shocking amount of sugars, which can put a diabetic at risk. Build an innovation that can estimate how much sugar is in any given food.
Traditional marketing techniques like physical mail deliveries are difficult to track and calculate campaign return on investment. What innovations can improve trackability on traditional advertising? Map them out, including solutions for three types of traditional advertising.
Apple's iMessage allows users to send games back and forth in the chat. However, the same games have been around for years and users are looking for something new. Build an animated game that two or more players can play back and forth on the Apple iMessage app. 
B2B companies are hard to reach, either by phone, email, or snail mail! Create an AI-based outreach technology that will help sales teams close more targeted leads. 
Free hackathon meeting agenda template
Parting advice
If you're creative, ambitious, energetic, and willing to take risks, hackathons might be a fun channel for you to pursue! For both individuals and organizations, hackathons are a way to produce a plethora of possible new ideas or project samples within a condensed time frame. If this challenge is something you're ready to tackle, make sure your team is well aligned and fully assigned before the event so you can hit the ground running.