Objectives and key results (OKRs) form a goal-setting framework that can be used by individuals, teams, and organizations to outline and set measurable goals while tracking their outcomes. While OKRs can be used in any stream of a business, they are particularly important in sales. OKRs in sales support your team in defining its goals and outlines the steps that are required to attain them. Whether you want to increase sales in specific markers, increase referral sales, or improve efficiency, OKRs are a productive way to drive accountability across the organization and ensure that you're tracking the progress that's being made as you work towards your goals.
What are sales OKRs?
Sales OKRs are part of a collaborative goal-setting framework that's implemented by the sales team to set ambitious goals with results that are trackable and measurable. These OKRs encourage engagement and drive accountability since you can follow up with tasks that need to be completed and identify what still needs to be done to reach your sales goals.
Sales OKRs are also a great way to motivate your team as you encourage employees to develop relationships with customers, to work on their negotiation skills, and to stay organized and on top of their responsibilities. Most sales OKRs are set on a quarterly basis to allow an adequate amount of time to work on the tasks that are required to be completed. That said, you should still check in weekly with your team to identify any progress or challenges that may arise.

Stay aligned with the team
A well-run meeting can foster communication and collaboration by including an agenda the whole team can contribute to. Try using a tool like Fellow!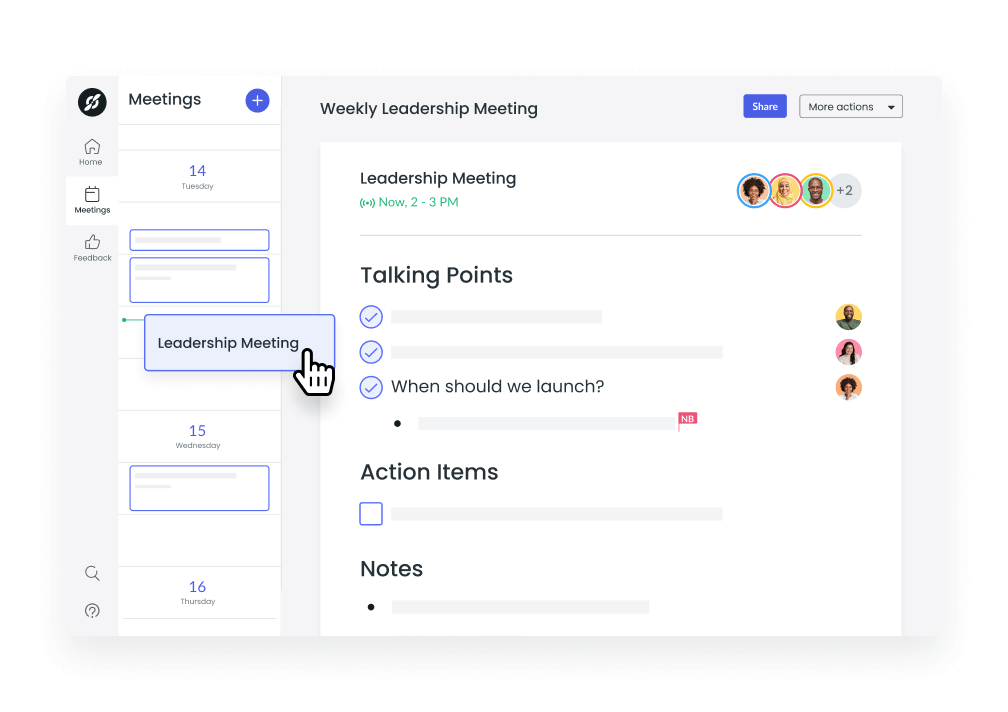 The benefits of sales OKRs
1Align team members
The OKRs methodology can help you and your sales team find alignment since it keeps you organized, promotes collaboration, and increases communication between team members. Because the OKRs framework provides an opportunity for team members to learn about what their co-workers are responsible for, it promotes a better general understanding of the projects at hand and how individuals may be able to work together to achieve larger, more ambitious goals. Ultimately, this understanding results in teams collaborating better and being more aligned with each other and with the business goals. What's more, with OKRs you'll spend less time chasing individuals for updates since you'll be updated each week in a team meeting.
2Track project progress
Another major benefit of OKRs is that they track your sales team's progress. When you clearly define, record, and track the progress of OKRs, you'll feel more organized, effective, and productive as a whole. With Fellow's Objectives tool, you can define and track your OKRs with the additional benefit of quickly reviewing these objectives during your team meetings. Key results (KRs) from your OKRs determine whether an objective has been successful or has fallen short. Because KRs are quantifiable, measurable, and time-bound, you can easily gauge your team's progress. It's important to look at your progress weekly so you can realign when you need to and feel confident in your ability to achieve your KRs. Every quarter, you can then look at your KRs retrospectively and identify what you may be able to improve on next time.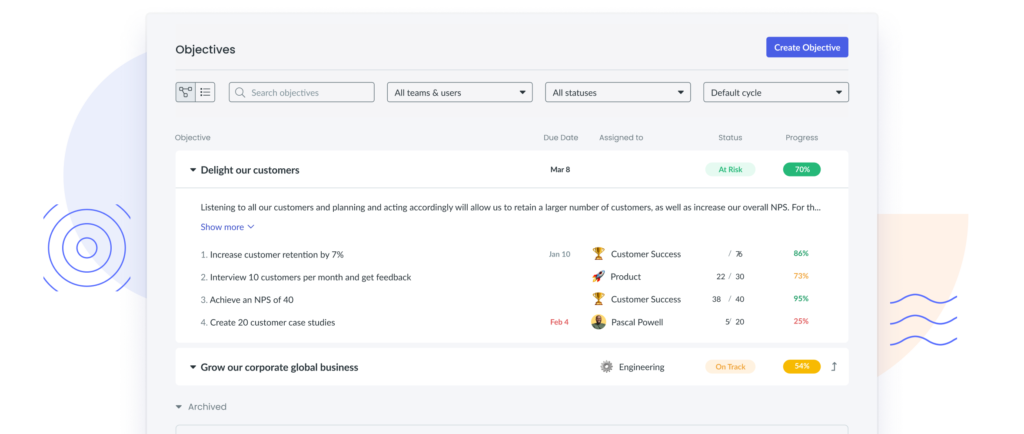 3Overcome blockers
Because you and your team are meeting every week to go over your OKRs, roadblocks are prevented from growing into larger issues. When problems do arise, you're able to mitigate them at the source and then realign with your team. Because you're meeting with the entire team, this is a great opportunity to collaborate with other team members and work together to brainstorm and problem solve to find the best available solution. Not only do OKRs help you overcome blockers to your success, but they can also help you identify what kinds of issues may arise so you and your team are adequately prepared to tackle them.
Sales OKR examples
1Sales manager OKRs
Objective: Create an effective sales department.
Key Result 1: Promote 2 senior sales associates to sales manager positions.
Key Result 2: Have 100% of sales managers pass the Sales Certification test.
Key Result 3: Bring 5+ sales-qualified leads each and begin to penetrate the European market.
2Sales partnership OKRs
Objective: Grow sales through channel partners.
Key Result 1: Identify and recruit 20 new channel partners in the European market.
Key Result 2: Onboard channel partners with 25 scoring and more than 85% on the final test.
Key Result 3: Have each partner close deals for a total value of $100,000.
3Sales revenue OKRs
Objective: Achieve higher profitability by reducing expenses.
Key Result 1: Reduce paid subscriptions from $10,000 to $7,500 a month.
Key Result 2: Reduce outsourcing cold call services from $7000 to $2000 with aims to introduce in-house cold calling.
Key Result 3: Increase team cold calling activity from 100 calls to 1500 calls per month.
Key Result 4: Hire 5 sales associates specifically for cold calling responsibilities.
4Sales prospect OKRs
Objective: Build more and develop a better rapport with prospects for sales opportunities.
Key Result 1: Identify 100 prospects with high potential and do background research to gain familiarity with the business.
Key Result 2: Develop 3-touchpoint processes with personalized messages based on this background research.
Key Result 3: List 10 insights on customer journey from interactions with prospects and record them to refer back to them.
5Sales closing OKRs
Objective: Target small-sized business clients to accelerate the sales cycle.
Key Result 1: Reduce the time between the free sign-up and the demo from 2 weeks to 1 week.
Key Result 2: Provide a 15% discount rate to clients who sign up within 5 business days.
Key Result 3: Reduce the time between the demo and the accepted proposal from 10 to 7 business days.
Key Result 4: Reduce signing time of the final proposal from 1 week to 5 days with digital signature using DocHub software.
6Sales referral OKRs
Objective: Strengthen our sales pitch and increase trust by increasing high-quality sales referrals.
Key Result 1: Create 10 referral email templates, then personalize from there.
Key Result 2: Increase average referral count from 5 to 20 per month by optimizing long-term client relationships and increasing quantity of introductions from existing clients.
Key Result 3: Get a positive response from at least 70% of referrals and use this response to increase sales.
7Sales enablement OKRs
Objective: Make the customer relationship management (CRM) tool an optimal place for the sales pipeline analysis to better understand areas of opportunity. By using CRM software, teams can save time, resulting in increased work productivity and a shortened sales cycle.
Key Result 1: Create 7 clear stages of sales cycle in the CRM.
Key Result 2: Obtain 5 different sales reports for 5 different countries within the CRM.
Key Result 3: Use automated dashboards to reduce the time required to prepare weekly sales reports from 1 hour to approximately 10-15 minutes.
8Sales analytics OKRs
Objective: Implement a sales analytics and business intelligence platform that can be successfully delivered by the end of the month.
Key Result 1: Deliver new sales management alert triggers based on triggers in sales cycle in terms of size, stage, and change.
Key Result 2: Deliver weekly recurring summaries of sales activity metrics to the sales management team and identify areas of improvement and of opportunity.
Key Result 3: Deliver the weekly sales pipeline metrics summary report to the sales management team by the end of the quarter, being sure to include recommendations for the next quarter.
Free OKRs meeting agenda template
Parting advice
Sales OKRs keep you on track, on time, and in alignment with the rest of the sales team. Using OKRs creates an opportunity for team collaboration, to hold each other accountable, and to feel aligned on the goals of the sales team as a whole. Creating smart, realistic, and measurable targets through the use of OKRs will motivate the team to achieve ambitious goals. Best practices for sales OKRs include holding a weekly recurring meeting to go over the progress that has been made, as well as holding a quarterly meeting to set new OKRs. Be sure to apply the examples provided in this article to your own business practices to see just how effective they can be in helping the sales team achieve their goals!