A career is a lot like a car in that neither can make much progress at a dead end. For example, even if a team of engineers loves their jobs, many are focused on building a career that makes them happier. If they can't find this within their current roles, they might leave your organization – and be way less engaged and motivated in the meantime. Either way, it's a loss of time and resources, and to prevent it, you can set clear career paths in your organization.
Below are a few best practices that'll help with developing a career path framework and showing your team members that there's something to work toward.
What is career pathing?
Career pathing is when a manager sits down with a team member to plot their trajectory through the organization. The team member will outline their career goals, and the manager will pinpoint the needed skills and experience.

Run efficient meetings, come to a decision, and get back to work
Level up your meeting habits to boost engagement and productivity with a collaborative meeting agenda. Try a tool like Fellow!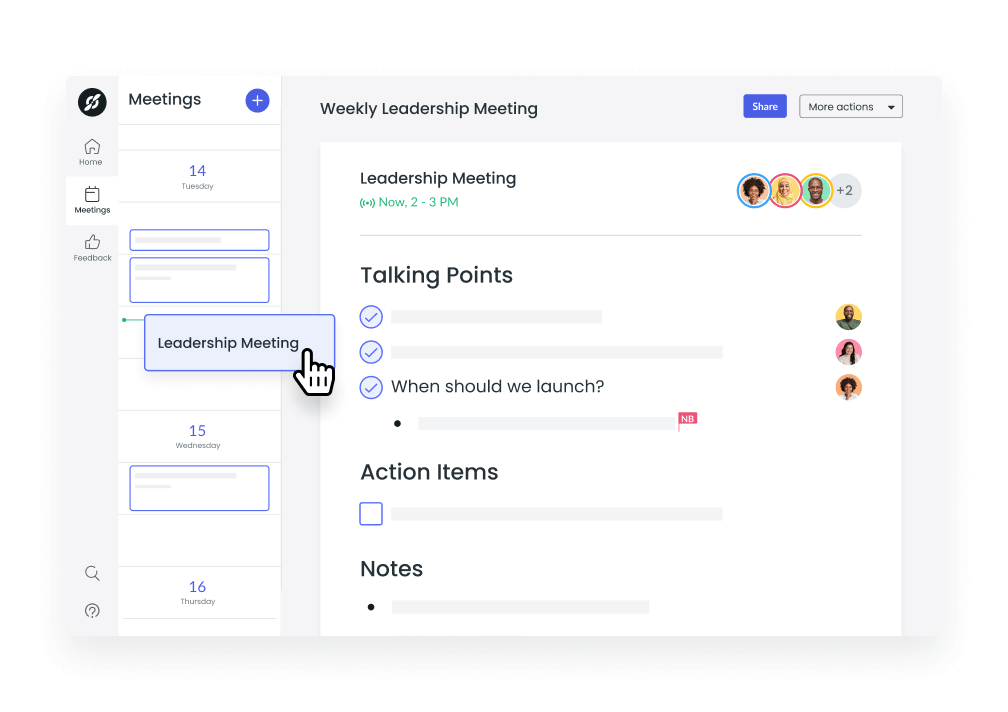 What is a career path framework?
Career path frameworks map out all the roles and responsibilities within an organization to show team members where they can go long-term. It also shows them how to grow into those positions. This gives your team more control over their professional development goals.
Moving along a career path typically requires more knowledge and experience – the higher someone goes, the tougher the work. Putting someone less suited for the role in a higher position could end up setting everyone back.
6 reasons to develop a career path framework
Creating career path frameworks is just a tiny bit more complicated than it might sound on paper. After all, writing clear job descriptions for every role in your organization can take a long time. But it's something you only need to do once, and you really should – career path development is important to most employees. The benefits your organization gets from career path frameworks often make the effort worthwhile – below are some of those benefits.
1Team members may feel more appreciated
Showing that you want a team member to stick around often starts with helping them progress in their careers. Laying out career progression frameworks can prove that you're invested in the team's future and that you want to see their careers flourish.
2Team members can figure out what they want
Some people get a job knowing exactly where they want to be in 10 years or more. Others aren't so set in their ways and might not know much about an organization beyond their current role. An existing framework for career growth can show these team members what their skillset is preparing them for and help them find a meaningful path.
3Team members may feel more encouraged
Even if you do have a way for team members to climb the ladder, they may still feel discouraged if the path isn't clear. Helping them build realistic goals for their professional development can encourage your team to start putting in the legwork.
4Team members can build more trust
Being transparent about your organization's structure and how to move up can help build trust at work. This transparency can also show team members that they won't get any negative feedback for trying to work their way up the organization.
5Team members are more likely to stay
Taking an interest in how your team develops professionally and helping them achieve their career goals can keep team members around longer. While it's still possible for team members to leave down the line, these career conversations can lead to more development opportunities and a clearly outlined career path which typically make this less likely.
6Team members can be more effective
Learning and training opportunities can be a big investment into how well your team members can work right this moment. They also teach your team members the skills they'll need as they grow into higher-level positions. With all this knowledge at hand when they level up, they can maximize productivity and minimize micromanagement right out of the gate.
Developing a career path framework
It's not exactly hard to develop a career path framework, but writing out detailed job descriptions for every role can be pretty time-consuming. That said, creating a career path framework involves pretty much the same steps each time. Those are listed below.
1Make an organizational chart
First things first, make an organizational chart or update your current one. Your chart should outline where each position falls in the hierarchy since it draws actual lines between each job level. Plainly laying out each role like this can help you show your team the skills and experience needed to move up the ladder.
2Get your team members' input
After outlining each role within your organization, conduct a team-wide survey to learn about each team member's thoughts on their current role and career goals. This is a great starting point for defining your organization's roles and figuring out which job levels you should define more. You can include any questions you see fit – your goal is to include all your team members as you develop career path frameworks.
3Make it clear how to reach each role
Here's the meat and potatoes of any careers progression framework: showing your team what's needed to progress in their careers. You should be thorough with what you include here so that your team members know exactly how to move forward.
First, define the role through the below questions.
What's its title?
What tasks does it involve?
What are its usual responsibilities?
What's expected of someone in the role?
From there, outline the skills, experience, and education needed to reach this position.
4Add opportunities to learn
Once you've nailed down the requirements for each position, you should think about how a team member would get the skills and knowledge needed. This can present a problem: If your people management budget is small, you might not be able to provide in-depth development opportunities. There's another way to look at this, though: Even the smallest learning resources you keep on hand can help advance someone along their career path. Bring some in to jumpstart your team's career pathing.
5Expect the unexpected
Sometimes, a team member zigs in their career trajectory when you think they'll zag. The higher job levels within an organization are usually leadership roles, but what if someone doesn't want to lead? Pushing them into a position with that much responsibility when they don't want it can lead to burnout and poor performance. Instead, you can offer senior titles for their current role along with a promotion. This can give them upward mobility as they keep doing work they love.
6Put the finishing touches on the career path framework
Iron out the details and be sure that managers and team members have signed off on the organization's career path framework. Fix any problems until everyone is happy, then set everything in stone. This way, everyone who can move along the path or help other team members do so is all on the same page.
7Figure out which team members might be ready to move up
The true final step of developing a career path framework is finding team members to move through it. Look at everyone on your team and ask the below questions about each of them.
How are they doing in their current role?
What are their strengths or weaknesses?
What are their professional development goals?
Do they have the skills and experience to move up?
Follow-up best practices for career path frameworks
Once your framework is written and ready to go, it's time to get as much use out of it as possible. Here are two key ways to follow through on your career path framework.
1Use the framework to improve your hiring process
A career path framework clearly defines roles and responsibilities in ways that can help you find the best candidates for them. You'll have already written your job descriptions in your framework – now, use them on job boards to find top-quality candidates. This way, you'll hold fewer job interviews with people who aren't fit for the role. You'll also help job seekers – they won't apply to your organization and later realize their expectations were all wrong.
2Make the framework a part of your meetings
A career performance framework can come in handy during one-on-one meetings, performance reviews, and meetings for setting long-term objectives. Your team can weigh in on what they think of the framework and how it's changed their work objectives. They can also give you feedback on where it can be improved. Acting on what you hear is another great way to show your team that you care about helping them grow.
Create a clear path forward for your team
Don't let your team sit idle at a dead end and lose motivation for their work. A career path framework can give your team members a guide (and plenty of motivation) for growth within your organization. You should revise your framework from time to time for best results, and meetings can be a great space to work on these updates.
With Fellow, you can set up high-quality meetings with tools for collaboratively creating meeting agendas, taking meeting notes, and assigning meeting action items. You'll get everything you need to help your team pave a clear path toward their career goals.