Using a productivity tool for check-ins and goals is the secret ingredient to a successful workflow. Productivity tools make check-ins – whether that be your 1:1s or daily stand-ups, for example – productive and efficient.
Whether you're a current Friday.app user who's looking for an alternative or someone who's finally ready to level-up their workflow, Fellow.app is the tool for you. So keep reading to find out why Fellow is the best alternative to Friday.app (and all productivity tools for that matter!) to kick-start your success!
What is Friday.app?
Friday.app is a productivity management tool that helps users create a digital bulletin board to track tasks and goals. Friday.app enables users to automate check-ins and status updates and centralize and track progress on team and company goals. The productivity management tool raised a pre-seed round of investment in 2019 and then raised a seed round in the fall of 2020.
However, Friday.app has recently announced that it will be permanently shutting down as of June 3, 2022. According to Luke Thomas, Friday.app's founder and CEO, Friday.app is shutting down due to an increase in competition in the productivity space. Thomas also said that the company struggled to answer:
Who is the buyer?
What is the willingness to pay? Where do we find budget?
Is Friday a replacement to an existing tool like a wiki, or a brand-new one?
Friday.app's key features
Task tracking – Track your tasks with Friday.app's digital planner to avoid forgetting to complete your action items. Friday.app enables users to pull specific tasks into one daily planner to have everything in one place, making it easier to keep track of action items. Friday.app's task tracking feature also prompts accountability by connecting the planner to your team's task management software.
Check-ins – Friday.app enables users to customize check-ins with templates or build your own from scratch. Friday.app also helps users boost check-ins with icebreaker questions and goals. Finally, Friday.app enables users to see automatic reports to keep stakeholders informed and to keep track of trends that develop.
Goals – Friday.app allows users to track personal and team goals, as well as share progress as goals are completed. Goals and their progress can also be integrated into check-ins to foster accountability. Friday.app's functionality is built to support any kind of goals, including OKRs and Smart Goals. Finally, Friday.app can be integrated with Slack where goal progress updates can be shared to serve as reminders and foster more accountability.
Meet Fellow: The best Friday.app alternative for check-ins, goals, and meeting tasks!
What is Fellow
Fellow is the meeting management software that allows users to create and collaborate on meeting agendas, meeting notes, and action items. Through syncing Fellow with your Google Calendar, you'll have a side-by-side view of your calendar events and the agendas that belong to each of those meetings, making it easier than ever to prepare for your conversations!
Fellow also enables its users to create daily planners and streams to keep themselves on track each day. The daily planner helps users prioritize their tasks from most important to least important to ensure that the right tasks are completed at the right time.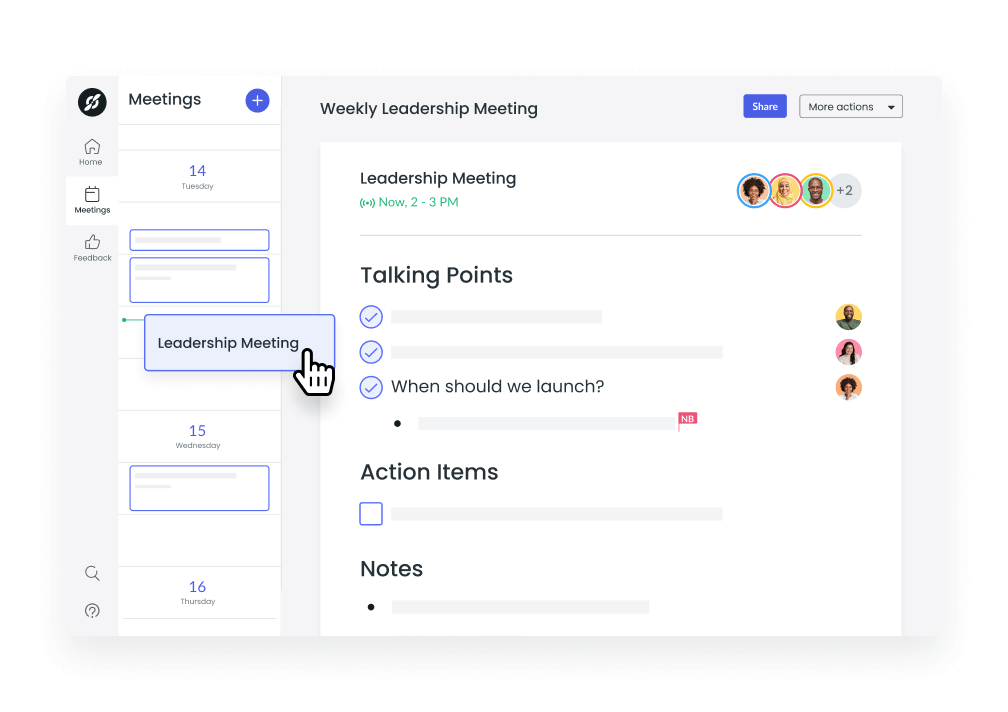 Fellow Key Features:
With the calendar integration, meeting agendas in Fellow are connected to your calendar, making sure that you never show up to another meeting unprepared with no talking points or purpose to the meeting! The calendar integration also serves as a reminder to add to the meeting agenda to get productive meeting outcomes. Fellow's calendar integration works with Google Calendar, Office 365 Calendar, and Outlook.
Using Fellow's 1:1 meeting agenda template, direct reports can host productive 1:1 meetings that result in productive outcomes. Fellow also prompts users with questions to add to existing meeting agendas for extra guidance. For recurring 1:1s, Fellow enables users to use recurring templates that carry-over uncompleted action items, to ensure no actions get forgotten about.
Action items (meeting tasks)
Assign action items to teammates with due dates directly on a collaborative meeting agenda with Fellow to prompt accountability. Users can also track their own action items in their "My Action Items" tab to never miss an action item again by keeping track of all the tasks from different meeting agendas in one place.
Private and public streams (planners)
With private streams, users can keep track of personal to-do's, OKRs, action items, and private notes all in one place to plan their week and record career milestones. Users can also use public streams, which enable users to track company OKRs for alignment and collaborate on projects and checklists.
Rather than starting from scratch, use one of Fellow's hundreds of meeting agenda templates to host productive and efficient meetings. Fellow offers templates for every meeting, for example 1:1 meetings, agile meetings, board meetings, team meetings, and many more. Users can also set templates for recurring meetings, such as weekly team meetings, to create a routine that encourages team members to add to the agenda prior to the meeting each week.
Using Fellow's "Objectives" tab, stay on top of your goals by recording, defining, and tracking OKRs and their progress. It's as easy as defining a cycle, adding team objectives, specifying key results, and staying on track! OKRs can also be linked to meeting agendas, making it easier to review progress as a team, resolve challenges, and foster accountability.
Fellow integrations
Fellow's pricing
Free – For teams of up to 10 people
Pro – $6/user/month and for teams of up to 50 people
Business & Enterprise – These plans require requesting a demo for prices.
The free plan's features include:
1-on-1s
Meeting notes
Private streams
Send notes
Reactions
Dark mode
Meeting timer
The paid plans' features include the above features, plus:
Shared streams
Due dates for action items
Note version history
Public links
Comments
Embedded media
Meeting automation
Sections
Note locking
Teams and OKRs
Feedback
Fellow's G2 report
According to G2, Fellow's users rate Fellow the following:
🎉 9.0/10 for ease of use
🎉 9.5/10 for quality of support
🎉 9.3/10 for ease of setup
Fellow has also received many badges from G2, including:
Most Implementable Summer 2021 badge
Leader Summer 2021 badge
Leader Small Business 2021 badge
Momentum Leader Spring 2022 badge
Leader Spring 2022 badge
Leader Small Business Spring 2022 badge
More Implementable Spring 2022 badge
Top 100 Fastest Growing Products in 2022
Fellow testimonials – Don't just take our word for it!
Fellow is the best alternative to Friday.app, but don't just take our word for it! See why so many users love Fellow👇❤️
"Fellow helps me organize everything, literally. From meetings to thought processes to impact reviews and feedback, it is one vast space to keep track and organize everything. On a micro level, I like that everything can be categorized. Action items look different than notepad points or talking points and will pull themselves into a separate repository with reminders to complete the things. It syncs with my calendar and Google Meet, so my notes and tasks follow me everywhere I go. I don't even have to think about it." – Tiffany J, Team Lead.
"Fellow integrates seamlessly into google meet, but how it helps me the most in staying in a productive flow with the streams system. I spend an hour each morning doing daily planning and organization, and I achieve this through a daily log stream that has all the week's tasks organized by priority, flex, and category. Fellow allows me to use headers and action/talking points in my stream template to keep tasks moving forward into the next day while removing completed items. With this setup, I can stay focused on what's important for the day." – Ryan S, Senior Data Engineer.
If you still aren't convinced why Fellow is the best alternative, check out more of our 400+ customer reviews.
What makes Fellow the better alternative
In a tool with so much functionality, it can be difficult to pinpoint just a few reasons why Fellow is the best alternative. So, let's explore three main reasons why Fellow is the better alternative to Friday.app:
Goal tracking for productive workflows
Fellow allows you to track goals with the added benefit to embed objectives and key results directly into meeting notes.
Meeting automations to save valuable time
Through pre-meeting reminders, the automatic cancellation of meetings with no agenda, and feedback prompts with every meeting, Fellow's meeting automations are sure to save you valuable time.
Integrations to easily fit into existing workflows
Fellow one-ups Friday.app by offering many of the same integrations offered by Friday.app, plus 15 additional ones – including Jira, Dropbox, Bamboo HR, Office 365 Calendar, and Zapier.
Parting advice
Using Fellow, you can rest assured that you'll never show up to a check-in unprepared or forget to complete your goals. In a tool with so much functionality, you cannot go wrong. So, stop wasting valuable time on an unprodive workflow and kick-start your success with Fellow!
And for all the Friday.app customers, you only have until June 3rd to start using your better alternative (Fellow)… so don't wait! 👀⏱