May I have your attention please!
There are many different ways you can get a meeting started, and saying the above isn't exactly the best way to do so. And while there are several variables to consider, like the size of the meeting, who's in attendance, and how long the meeting should last, the opening remarks can establish the tone for what's to come. It can also make sure the meeting agenda is followed and set the team up for success.
If the way you kickstart your business meetings could use some refreshing, check out the steps, examples, and the do's and don'ts to remember when you introduce a meeting!
Meeting introduction steps and examples
Ready to kickstart the meeting with an introduction that sets the tone? Here are four steps for leading a meeting introduction, plus how to apply them to both informal and formal settings.
1 Start with an introduction
It's a good idea to start a virtual or in-person meeting by greeting everyone and introducing yourself. This can be especially helpful if there are attendees who may not know who you are because they're new to the organization, or if you're stepping in for someone else as the meeting facilitator.
Informal: Hi everybody, I'm [your name], [your role] at [company name]. Thanks for joining the call today! I know most of you, but there are a few new faces! I'm excited to get started.
Formal: Hello everyone, and thanks for joining. My name is [your name], and I'm the [your role] at [company name]. I appreciate everyone's punctuality at this meeting. Let's get started.
2 Announce the subject and duration of the meeting
Next, you'll want to make sure everyone is aware of the subject of the meeting so they have an understanding of what's about to be discussed. You should also mention how long the meeting will last.
Informal: We're all here to discuss our very exciting upcoming product launch! This meeting should last about an hour.
Formal: Today, we're going to talk about our new product launch. The meeting will last an hour.

Put it on the agenda
Never forget what to say by adding it to the meeting agenda! Have a collaborative agenda that everyone can contribute to for engaging conversations. Try Fellow!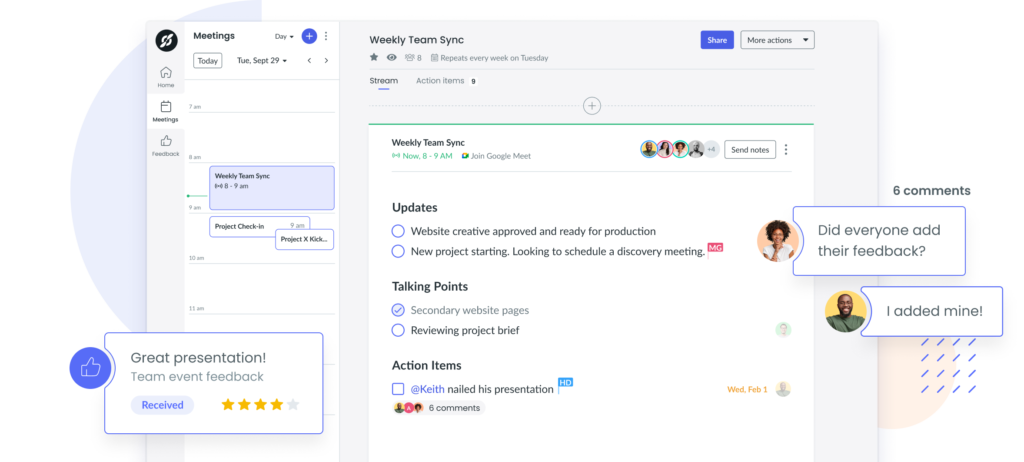 3 Explain the purpose
Once the subject matter and duration has been established, touch on the purpose of the meeting. The last thing you'll want is for attendees to be unsure why the meeting is taking place. Even though you should have had a clear purpose outlined in the agenda sent out before, it's a good idea to remind everyone before the meeting gets started.
Informal: When we're done here today, we will have outlined a product launch schedule and have assigned roles to everyone.
Formal: Before this meeting concludes, a product launch schedule will have been established, in addition to everyone's roles to make the launch a success.
4 Explain why the participants were chosen to be there
Finally, go over why all of the meeting participants were chosen to be there. You don't necessarily need to go person by person, especially if the meeting has a high number of attendees, but a brief comment about who is meeting will suffice.
Informal: You're all here because everyone in this room/on this call will play a huge part in ensuring the product launch is a success!
Formal: Everyone in attendance today will play an integral part in launching the product on time to our customers.
Other ways to start a meeting
You're not limited to those four tips and examples above, as there are other ways to start a meeting that can be considered. Consider these six alternatives if you've gone through those four examples and could use something new.
1 Leverage small talk
People often roll their eyes when conversations veer into small talk. There are only so many times you can chat about the weather or your weekend plans. But small talk doesn't have to be boring! Leveraging it the right way can help attendees know one another better.
Consider these outside-the-box small talk questions:
Are you reading any good books right now?
What's your go-to comfort food?
Would you rather have four ten-hour work days or five eight-hour work days?
Although similar to an icebreaker, small talk is a great way to share a short and concise conversation with attendees.
2 Roll call
If the meeting you're introducing is with a smaller group, it's probably unnecessary to take attendance out loud. It's likely that the person taking the meeting minutes will know everyone on a first-name basis and can note who is present and who isn't in attendance.
If you're leading a larger meeting that's in person, you may choose to send around an attendance sheet. If someone vital to the matter being discussed is absent, it may be necessary to apologize for their absence and provide a short explanation as to why they're not there.
An example of this is: You'll probably notice that [name of CEO] isn't here today as they were called away on business.
3 Use icebreakers
You can also lean on icebreakers to start off a meeting. These team-building questions can foster trust and build psychological safety with one another. There are a ton of options you can choose from! Some of our favorites are:
What are your hobbies outside of work?
What is your favorite thing to cook?
What is your favourite reality TV show?
Where is your dream vacation?
Where is your favourite sit-down restaurant? Followup: What do you order there?
You may be surprised by the attendees' answers!
4 Reiterate ground rules
You can also start the meeting off by reminding everyone of the meeting ground rules. These are the standards or guidelines set up ahead of time that the attendees should follow for the meeting to be as productive and successful as possible.
Some examples of meeting ground rules are:
State your name before you begin speaking.
Stay 100% focused during the meeting by avoiding incoming emails, direct messages, and text messages.
Never interrupt the individual who is speaking or sharing a point.
Come prepared with action items to discuss with the team.
Stay on topic and don't get too off base to allow for enough time for everything on the agenda.
Have your camera on when it's your turn to speak during a virtual meeting.
5 Outline the objectives
Another alternative is to include an outline of the meeting objectives during the introduction. It's far too common for attendees to join a meeting feeling like they have no idea what's about to be discussed and what they're expected to bring to the table. Establishing clear and concise objectives before a meeting starts can help avoid this confusion.
Some ways you can outline the objective during the meeting introduction are:
"Thanks for joining this meeting! The objective today is to create a plan of action surrounding the new recruiting strategy for open positions that we're looking to hire for this quarter."
"Thank you everyone for being on time for today's meeting. The objective today is to develop a new plan to reduce customer churn in the second half of the year."
"Hi everyone! Thanks for joining on time. The objective today is to plan for the upcoming holiday party and discuss theme, menu, and yearly awards."
6 Share quick status updates
Finally, another alternative to starting things off is sharing quick but informative status updates. Depending on how many people are in attendance, you can have everyone go around and share 2-3 sentences about where they are on a project or initiative. Or, for larger meetings, have the leader of each team or department share pertinent updates on a need-to-know basis.
This keeps everyone informed and accountable for what is being worked on by each team.
Do's and don'ts of meeting introductions
Lastly, consider these do's and don'ts when kickstarting a meeting. Keeping these in mind will help you get things off to a productive and meaningful start.
Don't take too long. Remember to be respectful of attendees' time and that some may have a meeting after the one you're leading. Keep the introduction short and sweet.
Do include attendees. Trying using the word "you" to get people excited about participating and having a conversation. It'll also share what's in the discussion for them.
Don't over promise or exaggerate. Be as transparent as you can regarding the state of the project and don't promise unrealistic results by the end of the meeting.
Do get creative. Done well, the introduction can be a time for you to have some fun and get attendees comfortable around one another.
Do use Fellow.app for your meeting agenda, which includes the introduction
Parting advice
You always want the meeting you're leading to be interactive and productive, and to have a conversation that stays on track. There are many ways to accomplish this, but when you take the time to have a meeting introduction that's fun and informative, it sets everyone up for success. Doing so can go a long way, especially if the attendees may not know one another or if your meeting is at the end of the day and you're worried about low energy levels.