Picture this: You're a project manager leading a major product launch. The product team has had all hands on deck in the lead-up to the launch and everyone is ready to see their hard work pay off. Suddenly, days before the launch, the worst-case scenario occurs. Your product has been rendered useless because a platform partner dropped support for the application programming interface (API).
It's a total disaster. The product has failed and employees and managers at your organization are upset. You ask yourself what could've been done to prevent this from happening.
Luckily, there won't be the next time because you'll soon know all about pre-mortem meetings!
Let's explore project pre-mortem meetings, their benefits, and how you can run them to ensure you're prepared for every scenario.
What is a project pre-mortem meeting?
A project or product pre-mortem is a meeting where all employees involved in a project gather to discuss what could cause the project to fail. It's a time for the team to create a work back plan to prevent obstacles and increase the chance of the project's success.
Pre-mortem meetings have become a standard process at many companies. The exercise asks that all involved individuals gather for a risk identification exercise that involves imaging all the ways a specific strategy, program, product, or project could fail while simultaneously listing reasons why this failure might occur.
As a form of defensive pessimism and risk management, a product pre-mortem meeting is an excellent way to evaluate the probability and impact of each potential failure.
"The pre-mortem workshop is very different from a daily stand-up. During that meeting, it's running in a way where people are present and engaged. It's not something where I'm checking my email on the side."

Ross Mayfield, Product Lead, Zoom Apps and Integration at Zoom, in episode 47 of the Supermanagers podcast.
Benefits of having project pre-mortem meetings
Hosting a pre-mortem meeting before a program or project launch is beneficial because it can:
Create a shared understanding of the project: Many challenges can be overcome if you communicate often and openly with others in your company. Pre-mortems are especially important if you're working with other teams on the same project. These meetings will get everyone on the same page regarding the project or product's goals and objectives. You can also use this time to discuss expectations at each stage of the product's life cycle.
Help you avoid project failure: Preparation is key. If you aren't prepared for all potential outcomes, you'll be less likely to succeed. Hosting a pre-mortem meeting will ensure everyone involved with a product or project is involved in the most critical issues that could occur.
Keep the team motivated: Prepared teams are motivated ones! Mitigating risk in advance will ensure that all involved teammates know they put their best foot forward and will be willing to try again next time around if things don't work out.
Reduce overconfidence: While there's nothing wrong with some healthy idealism, hope alone won't make a project successful. Identifying potential failures and working through solutions in advance will prepare your team for what may come.
"Research conducted in 1989 by Deborah J. Mitchell, of the Wharton School; Jay Russo, of Cornell; and Nancy Pennington, of the University of Colorado, found that prospective hindsight – imagining that an event has already occurred – increases the ability to correctly identify reasons for future outcomes by 30%."
How to run a project pre-mortem meeting
1Schedule a meeting before a project
Before you begin delegating tasks as a project manager, schedule a pre-mortem meeting to discuss the product or project and all potential scenarios for failure. If this is the first pre-mortem you're hosting, send an email to all individuals involved in the project and explain to them what this type of meeting entails and why it will help the product launch or project be successful. Describe how the meeting will run and follow up with a detailed agenda.

Project pre-mortem meeting worth showing up to
A well-run meeting can foster communication and collaboration by including an agenda the whole team can contribute to. Try using a tool like Fellow!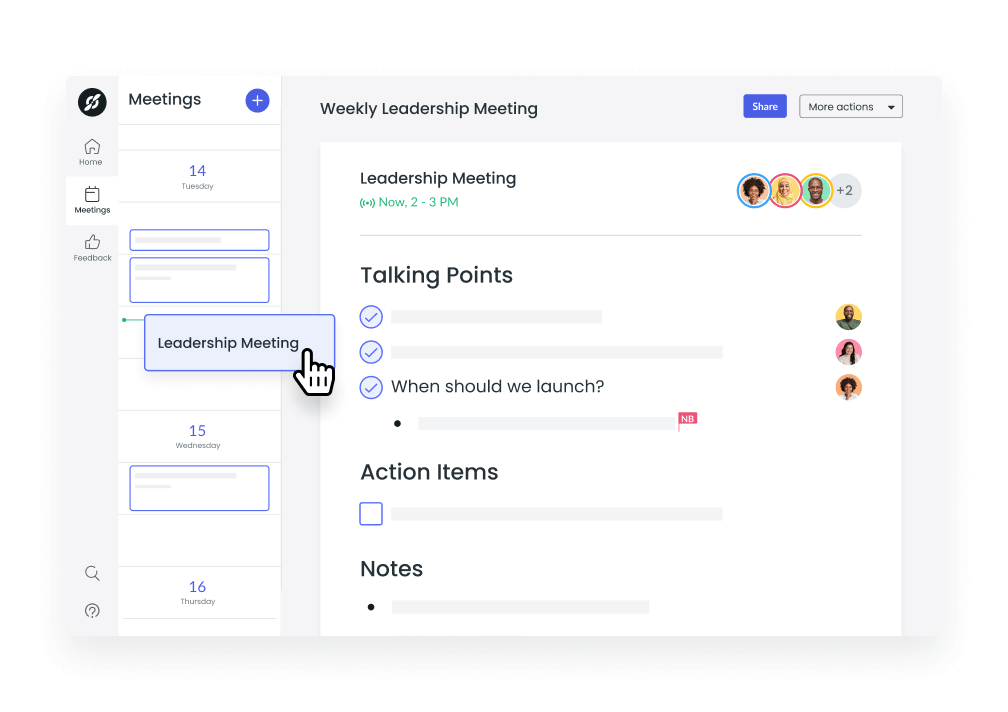 2Have a meeting agenda
Use a meeting agenda to keep your pre-mortem meetings organized. With Fellow, you can build a collaborative meeting agenda, keep track of pre- and post-mortem meeting notes, and centralize all action items from different meetings. Distribute the meeting agenda at least 24 hours in advance so each participant has enough time to prepare their notes, add their talking points, and plan for information, comments, or questions they would like to communicate during the meeting. 
3Create an action plan
Work with your teammates and across departments to develop an action plan, and determine whether now is a good time to move forward with the original plans. Don't be alarmed if your pre-mortem reveals a ton of risk. If the reward could be great, the project may very well be worth pursuing. Now that you have all of the necessary information, you can decide whether to venture into these risks.
What should be included in a product pre-mortem agenda?
1Summary of risk
Think of a pre-mortem summary of risk as the lead in a news story. This section should outline the who, what, when, where, and why of the product or project. It should give a summary of the project or product and its key benefits, alongside all of the key risks and potential failures. This section should be brief but detailed and can be written last if helpful. Use the inverted pyramid structure to place the most important information at the beginning before arranging the remaining pieces.
2Team risk
The second section of a pre-mortem agenda centers around team risk. In this section, determine whether the employees tasked with the project or product delivery have the resources, tools, skills, and expertise to successfully execute the required tasks. Outline any potential shortcomings throughout the life cycle of the project and determine whether you need to recruit new teammates or further train current ones. This section should also include any relationships or dependencies with stakeholders and other involved organizations.
3Technology risk
Most projects in this day and age involve a certain degree of technological risk. In this section, include details on how technology failures could derail the project's success. For example, if you're running a large-scale marketing campaign on Instagram, determine how a platform outage would disrupt your efforts. If you're launching a new website, you might want to think about topics such as potential security incidents, cyber-attacks, password theft, and service outages. 
4Product risk
The fourth section of your pre-mortem should focus on potential and existing product risks. It should also be the part of the meeting where you address financial matters and identify other resources needed before moving forward. Ask your teammates what risks surround the project and affect the capability to meet the project's objectives. Think about what could go wrong with whatever is being produced by the project. Lastly, you should determine whether there is a clear understanding of your customer or target audience in this section.
5Market risk
In this section of the pre-mortem, you need to review market risks. This section should discuss potential challenges for product distribution platforms and channels and evaluate whether the current market is ready for the product or project. If it's helpful, you can complete a SWOT (strengths, weaknesses, opportunities, and threats) analysis in this section to organize your thoughts and identify competitive risks.
6Lessons learned
In the final section of the agenda, cover the main takeaways and lessons learned from the potential failures you've identified in other sections. Describe how you managed dependencies and mitigated risks in each scenario. Jot down advice for your future self and learn from mistakes you made during the pre-mortem process. This section may take the form of recommendations or action items that the team must work through before moving forward with the project or product to ensure its success.
Free product pre-mortem meeting template
Parting advice
Imagine this: Your company is launching a new project again. It's been challenging to keep the team motivated after last month's failed launch, but you're optimistic. Unlike last time, you've taken all potential scenarios for failure into account and feel confident that this project will work out.
Projects fail at a spectacular rate when people aren't given the time and space to speak up about their reservations. Little do we realize that assessing risk and probability of failure will only improve a project's chance of success. Host a pre-mortem the next time you're leading a project and want to mitigate risk!
To learn more about how you can use pre-mortems to ensure your time is spent efficiently, check out episode 47 of our Supermanagers podcast featuring Ross Mayfield, Product Lead, Zoom Apps and Integration at Zoom.