It's a weekday afternoon and you're headed out of town for a work trip with the rest of the senior management team. You take a look at your calendar to make sure you're prepared for your upcoming week away. Lucky for you, all of your in-person meetings and appointments have been scheduled at convenient times. Your transportation and accommodations are booked in central locations. As you take one final look around your office space, you notice that a stack of business cards with your new title have been printed and left on your desk to bring with you. Your office manager has come to the rescue again by making sure that you're prepared to tackle important business!
Or perhaps you're the one behind the scenes. If so, you're no stranger to handling complex challenges and making your company run smoothly. You make everyone's job easier. It's time to make sure you have the skills to make your own position easier, too.
Let's talk about office managers, why they're essential, and how to thrive in this type of role.
What is an office manager?
The office manager is commonly overlooked but holds one of the most challenging jobs within an organization. Often confused with administrative assistants, office managers are responsible for high-level projects aimed at moving a company forward. They are the glue that holds the office together by developing systems and processes that keep everyone on track to success.
It's an office manager's job to build a healthy work environment for all employees and create a culture where everyone feels supported. Office managers work with multiple departments on tasks like: preparing reports and presentations, managing office budgets, dealing with correspondence, booking accommodations, supervising administrative staff, liaising with stakeholders, handling recruitment initiatives, and organizing an array of other activities.

Great meetings are just the start
Level up your meeting habits to boost engagement and productivity with a collaborative meeting agenda. Try a tool like Fellow!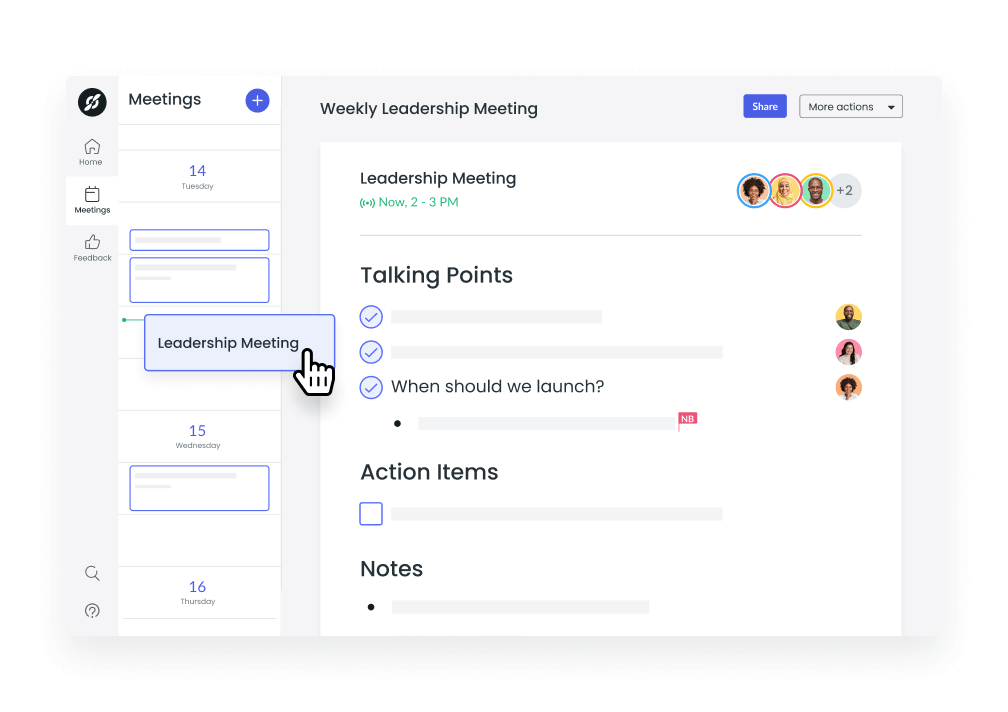 Office manager skills you need by category
Administrative
Office managers are often responsible for many administrative tasks. In this type of role, the required administrative skills may include:
Information management: The ability to discover, analyze, and organize relevant information and data is a key determinant of success within a company. Individuals with information management skills get the right information to the right employees at the right time.
Delegation: Empower and build trust within the team by delegating certain tasks to optimize time and improve collaboration.
Scheduling: Help colleagues feel in control of their environment by using scheduling skills. The team should trust the office manager to plan their activities so they can achieve their priorities in the time they have available.
Decision-making: Being a strong decision-maker means navigating uncertainty with ease, evaluating options, and establishing priorities to determine the best solution for the challenge.
Conflict resolution: Being a calm and reasonable leader in the workplace will help teammates find common ground during disagreements.
Analytical
An office manager should be able to identify inefficiencies in the company and develop effective solutions. Analytical skills can include:
Proactivity: A good office manager should identify potential issues before they become setbacks. They should aim to control the situation rather than respond after the fact.
Detail-oriented: Detail-oriented individuals notice small details by paying close attention. This skill is especially important for office managers who are booking accommodations, scheduling meetings and calls, or managing their organization's finances.
Accuracy: Office managers should make employees' lives easier. One way they can do so is by carefully reviewing work so both internal- and external-facing products are free from error.
Record-keeping: Keeping track of company activities in a consistent format will ensure the entire organization and individual departments stay organized in the long run.
Reasoning: This includes both inductive and deductive reasoning. Inductive reasoning is the act of making a general conclusion based on specific observations. Deductive reasoning means progressing from an idea to a specific outcome based on logical conclusions.
Leadership
Office managers may have administrative teams of their own to supervise. To keep everyone coordinated, office managers should have the following skills:
Teamwork: A successful office manager will be a team player who is willing to collaborate with others to get results for the organization.
Management: Basic management skills are required if the office manager will be overseeing members of the administrative team. Being a good manager involves many functions including planning, organizing, coordinating, and overseeing a range of activities.
Interpersonal: It's important that someone who is managing office affairs cares about the people within the organization. The individual should show this by being assertive, actively listening, and proving themselves to be someone who's able to work with different personality types.
Collaboration: Examples of collaborative behaviour include brainstorming ideas, solutions, and goals as a team, maintaining open lines of communication, and being willing to help less experienced team members work through new tasks.
Motivation: Motivated employees are empathetic, resilient, persistent, and positive with their teammates.
Communication
Part of the office manager role is using effective communication methods to keep employees and stakeholders up to date. These skills include:
Email and phone etiquette: Office managers are often the first point of contact at their organization. Therefore, being clear and professional via phone and email is imperative to the company's success.
Reception: An effective individual will be able to perform routine administrative tasks in a timely manner and manage the front desk of an organization with ease.
Approachability: Employees and stakeholders will enjoy interacting with an office manager who is warm and competent.
Active listening: Understanding a message, processing the information, and responding carefully indicate active listening skills.
Oral communication: Conveying messages in a clear and concise manner will ensure the audience understands the message and expectations.
Technical
Office managers are responsible for helping the organization achieve its desired functions. Technical skills include:
Microsoft Office: Nearly every company uses Microsoft Office Suite applications to do their work. Office managers should be familiar with Word, PowerPoint, Excel, and OneNote so they can help employees through work hiccups.
Data entry: Office managers should maintain organized databases by entering information from paper and digital documents into processing software.
Calendars: Use digital calendars to organize your colleagues' meetings and events so they're able to get their best ROI for their time.
File sharing: Make sure teams within your company can keep work moving in a secure manner with seamless file-sharing processes.
Tech-savvy: Office managers should be able to keep up to date with new office software and equipment. They should be able to identify apps and technology from which their colleagues could benefit and regularly discuss implementing these tools with members of the senior management team.
Financial
Financial reports and tasks may fall under the office manager's range of duties. Individuals in these roles should hone their skills in areas such as:
Invoicing: Office managers need to keep track of services provided by the company and also submit the relevant invoices on time. 
Financial statements: Documents that detail the company's financial status at a specific point in time should be prepared and readily available for senior management to review. 
Budgeting: Tracking company income and expenses, making recommendations, and preparing budget reports are all responsibilities that may fall onto the office manager. 
Bookkeeping: Completing data entry, collecting transactions, and tracking payroll will verify that the company's financial affairs are in check.
Compliance: Making sure that the company is compliant with its legal and regulatory obligations, as well as company policies, will guarantee that the organization is in good standing.
Organizational
Office managers need to be organized so they can help teams prioritize activities and achieve their goals. Some organizational skills include:
Note-taking: Use Fellow's collaborative note-taking integrations to keep focused and organized during important meetings.
Planning: Managing priorities that will allow the company to meet predetermined objectives are often a task for the office manager. Being a skilled planner means multitasking effectively, monitoring performance against goals, and putting in steps to mitigate issues when necessary.
Time management: Office managers need to be able to prioritize tasks, set boundaries with individuals within the organization, delegate, and create systems that will allow them to complete all their work on time.
Digital organization: Prioritizing time to digitally declutter often will help keep office systems organized and all work in its proper place.
Physical organization: Maintaining an organized workspace will set a great example for the rest of your administrative team and company. Having a clean area will also increase your productivity and eliminate stress.
Celebrate your office manager!
Office managers are jacks of all trades. In a single day, they may be booking travel accommodations for an employee's upcoming conference, managing the administrative staff team, reviewing financial statements, and onboarding the company's newest employee. For this reason, the role requires a diverse skill set and a versatile, can-do attitude. Whether you are an office manager, are searching for this type of role within a company, or are simply wanting to learn more about the position, know that the role requires someone who will have the best interest of the entire organization in mind at all times. So take a look at the skills we've outlined, see if you can implement any into your own role, and greet your office manager with a high five the next time you pass by their desk. Let them know their hard work hasn't gone unnoticed!