Objectives and Key Results (OKRs) are measurable goals that teams set. OKRs and typically set quarterly or annually and serve to keep teams aligned and achieve progress.
According to Jeff Gothelf, Harvard Business Review contributor, OKRs begin with leaders defining inspirational goals, called "objectives". Then, the outcomes, called "key results", showcase how successful teams were with their objectives,
"This approach keeps planning and progress-tracking focused on the impact the work is having, rather than micromanaging the specific work that teams are doing on a daily basis."
Additionally, according to Forbes, the number one mistake with OKRs is that they turn into a huge task list. So, it is important to avoid losing focus on OKRs and to not set too many. Aagya Mathur, CEO at Aavia IO, also suggests reflecting every so often to ensure that teams are prioritizing the correct OKRs and listing priorities in order for each week to ensure everyone is staying on track.

Stay on top of your goals.
Never forget what was said in a goal-setting meeting by having all of your Objectives and Key Results in one place with Fellow.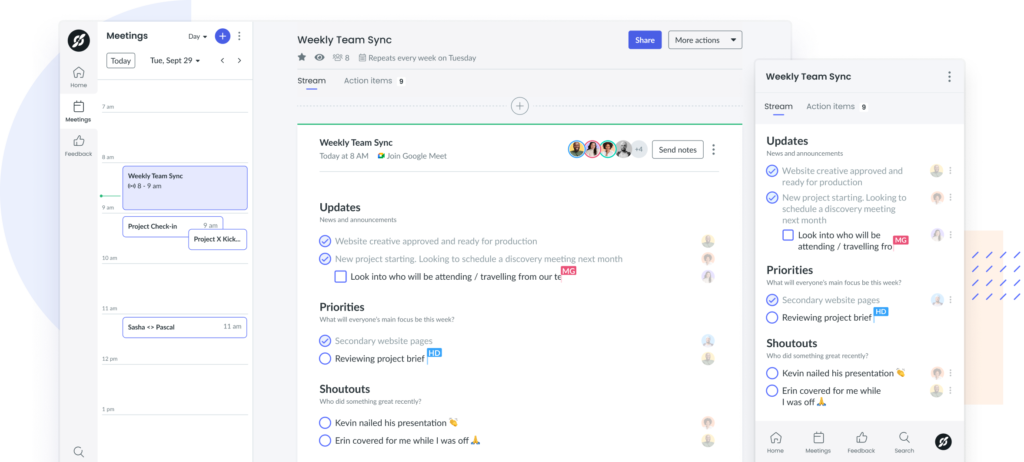 OKR Examples (Objectives and Key Results for different departments)
Let's learn how different departments use OKRs and how they are helpful…
1 Marketing
A few important responsibilities of the marketing team include boosting engagement via social media, increasing online traffic, and reducing bounce rates on the company website. OKRs help the marketing team stay on track of their priorities and see successful results. According to Kamela Nizio, Marketing Coordinator at Fellow, OKRs also help the marketing team establish clear next steps; "Marketing involves a variety of different channels and having OKRs can help establish clear next steps for taking it to the next level and provides us with lots of learnings to go forward with."
Below are three OKR examples for your marketing team to try out:
Objective 1: Boost social media engagement
Key Results:
Increase the number of daily posts from X to X
Increase the number of daily replies and interactions from X to X
Increase the marketing links from X% to X%
Objective 2: Gain more subscribers to the email newsletter
Key Results:
Increase the number of subscribers from X to X
Increase the open rate of the email newsletter from X% to X%
Create a content strategy for the next X upcoming months
Objective 3: Reduce the bounce rate % from the website
Key Results:
Increase the CTR from X% to X%
Conduct X A/B tests on various landing pages
Increase sign-ups from the marketing website by X%
2 Sales
A few key responsibilities of the Sales team include increasing sales in specific markets, increasing referral sales, and improving efficiency. Through these processes, OKRs serve as both a trial and error and as a way to keep track of progress made.
Check out the three OKR examples below for Sales departments to implement:
Objective 1: Increase sales in X Market
Key Results:
Find X new customers in X market
Implement a new sales training program for our X team
Recruit X for our X market and team
Objective 2: Increase referral sales
Key Results:
Create a partnership contract and proposal with X company
Interview X partners
Close X deals from partners
Objective 3: Improve the efficiency of the sales department
Key Results:
Hire and onboard X new sales managers
Ensure all of sales department completes X training
Bring in X sales qualified leads
3 Customer Success
The Customer Success (CS) team is responsible for ensuring that customers have the best experience possible. To do this, the CS team collaborates with the Sales team's OKRs to determine the Sales team's revenue goals and financial targets. Once the Sales team's OKRs are hit, the CS team assists the new customers with their onboarding.
Additionally, for CS managers their responsibilities are focused on managing processes and customer relationships. For example, Sarah Collins, Customer Success Manager at Fellow, says that one of her responsibilities includes talking to customers to discover which plans are best suited for them; In turn, this helps Sales OKRs by passing the customer over to the Sales department to sell them a new plan. Thus, CS OKRs align with Sales OKRs to increase profit.
The CS team is also responsible for providing world-class customer support through collecting customer feedback, customer reviews, and customer satisfaction surveys. Check out the list below to see four CS specific OKR examples:
Objective 1: Increase product adoption
Key Results:
Have at least X live touches in 100% of accounts
Write engagement messages for X customer lifecycle points
Improve NPS score to X+
Objective 2: Drive revenue with Customer Success
Key Results:
Increase renewal rates by X%
Reduce churn by X%
Increase MRR by $X
Objective 3: Improve the efficiency of the customer support team
Key Results:
Ensure all of CS department completes X training
X% team maintaining a personal score of more than X
Onboard X number of Customer Success Reps
Objective 4: Live chat goals
Key Results:
Median first response 10 minutes
CSAT X%
4 Finance
Setting financial OKRs can bring an organization to the next level. The Finance team is responsible for all management of a company's cash flow, including budgeting, forecasting, and analysis of reports. Larger organizations will have specialized teams with multiple levels of management, whereas smaller businesses may have a few individuals who have greater responsibilities. Regardless of the size of the company, having clear goals is crucial for keeping the organization's financial health positive.
Here are a few OKR examples your Finance team could have in order to identify opportunities for improvement and determine the profit or loss:
Objective 1: Improve Annual Budgeting Process
Key Results:
Review & train X Department heads on the new process
Review every department's budget proposal before QX
Get sign off for the final budget from all leads
Objective 2: Improve Financial Reporting Process
Key Results:
X new Financial Department hires
Move X% of documents to a more efficient process
Close X% of our financials within X weeks of the end of the quarter
Objective 3: Pass External Audit
Key Results:
Reduce the number of audit findings to X
Reduce time of audit from X weeks to X weeks
Improve record-keeping process
5 Operations
It is important to understand the distinction between operations and human resources (which we will look at next!). So, here are a few of the key distinctions according to the Academy to Innovate HR (AIHR):
Operations:
– Maximizes employees' value
– Operates on a more holistic view of the business
– Involved in strategic decisions
– Creates systems and programs that improve the ways of working
– Encourage employee initiatives and dedication through goal-based rewards
– Aims for less turnover by supporting current departments
Human Resources:
– Enforces compliance and reduces liability
– Operates within more narrow boundaries of the traditional HR
– Informed on strategic decisions and responsible for executing them
– Addresses issues as they appear
– Maintains employee database
– Hires employees to fill vacant positions
Here are three OKRs to try out with your operations department:
Objective 1: Develop an excellent company culture.
Key Results:
Increase employee retention to X%.
Conduct quarterly work satisfaction surveys across the company.
Reach X% in average work satisfaction from the survey.
Objective 2: Improve internal document management
Key Results:
Choose and launch a new document sharing platform
Move X% of existing documents to a new system
Have each team create their own directory structure for documents and share it with the organization
Objective 3: Improve infrastructure and IT
Key Results:
Reduce service downtime by X%
Create alternate backup sources in case of emergency
Decrease response rate of IT Support by X
6 Human Resources
While Human Resource (HR) OKRs typically focus on more qualitative objectives, they still provide measurable key results. Some typical responsibilities of HR include managing the hiring of employees, benefits, compensations, policies and procedures, organizational structures, learning and development, labour relations, and company culture.
Below is a list of four human resource example OKRs to start implementing:
Objective 1: Increasing employee engagement
Key Results:
Increase engagement score in surveys from XX% to XX%
Increase survey completion by XX%
Increase score on eNPS by XX%
Objective 2: Improve employee recruitment speed
Key Results:
Attend X hiring events per quarter
Invest in an ATS (applicant tracking system)
Increase job ad spending to $X
Objective 3: Increase company culture
Key Results:
Host one virtual team-building event per month with XX% attendance.
Offer a development course each month with XX% participation.
Facilitate weekly coffee chats between peers and colleagues with XX% participation.
Objective 4: Boost career development
Key Results:
Add "career growth" conversations to all department's 1-on-1 templates.
Create career roadmaps for X roles in each department.
Increase promotion rate by XX% in XX.
7 Software Engineers (Developers)
As an engineering team member, some of your responsibilities include improving developer experiences, maintaining product stability, and improving code quality. To achieve these goals (and every goal) software engineers typically use the SMART criteria – Specific, Measurable, Attainable, Relevant, and Time-bound. SMART OKRs help software engineers stay ahead of completion, help with long-term professional development, help with better time management, and help instill confidence in team members.
Here is a list of three SMART OKRs for your software engineers to try out:
Objective 1: Build a world-class engineering team
Key Results:
Hire X new engineers with a diverse top of pipeline
Write X new posts each month on the engineering blog
Employee NPS with XX% response rate and a score above XXX
Objective 2: Improve our developer experience
Key Results:
Decrease build times in CI to X minutes
Reduce average time to merge PRs to X days
Eliminate test flakes
Objective 3: Maintain product stability
Key Results:
Maintain X 9's of system uptime
Reduce the number of required hotfix deployments by XX%
Implement a monitoring and alerting system
8 Product Release
The product team is responsible for deciding what to build and why it needs to be built. Diving a bit more into the "what" aspect, the product team first determines what problems need to be solved and what opportunities need to be pursued. Next, the product team looks at the "why" aspect, which considers why this problem/opportunity needs to be addressed and why now is the right time to address it.
According to Arsalan Yarveisi, Senior Product Manager at Fellow, "having OKRs in place helps us be aligned with company overarching goals, be focused on what matters today, and have the same vocabulary and understanding when talking about our initiatives."
Another key responsibility of the product team is to measure what they did and if it produced the desired outcome; "Without having KRs that are clearly defined and measurable, we would be flying blindly. We might be progressing, but we wouldn't know what we did right or wrong to double down or do less of", explained Yarveisi.
Finally, depending on the product launch, there may be collaboration from multiple departments. Thus, it is important to establish clear OKRs for each team and person for a successful launch.
Try out these three example OKRs with your product team for more successful product launches:
Objective 1: Increase community participation in product release
Key Results:
Host a launch event for new product releases
Increase the number of attends to the event by XX%
Increase the number of early adopters for a new release by XX%
Objective 2: Improve the quality of product releases
Key Results:
Reduce bugs during the development process by XX%
Increase sprint capacity from XX to XX SP
Individual developers contribute XX% more code reviews by the end of every sprint
Objective 3: Improve the stability of product releases
Key Results:
Decrease unscheduled downtime from XX h to XX h.
Decrease time between each release from XX days to XX days
Decrease number of emergency patches from XX to XX per quarter
9 Design
The design department is responsible for producing high-quality designs while keeping users' needs, business goals, and scalability in mind. The design team also works collaboratively with developers to ensure that designs are implemented correctly through design reviews.
According to Darcy Aubin, Lead Product Designer at Fellow, his role "contributes to the success of the design team, through process, collaboration, and documentation [and] advocates and designs for consistency and brand value across Fellow."
Thus, OKRs help ensure that the design team stays on-task while prioritizing objectives that will foster progress. Below are three examples of design OKRs:
Objective 1: Improve design team communication
Key Results:
Conduct weekly team update meetings discussing roadblocks and solutions
Add design updates in weekly company-wide meetings
Host one cross-functional meeting a quarter
Objective 2: Having a world-class user experience
Key Results:
Meet and collect feedback from partners in five different countries
Reduce task completion time for users from X minutes to X minutes
Communicate results and scores to the marketing team to highlight in social media post
Objective 3: Identify and improve on personal development areas
Key Results:
Add feedback conversations in each one-on-one
Conduct employee self-analysis after completing each project
Conduct 2 training sessions by the end of the quarter
10 Executive OKRs
Executives' responsibilities are more personal than team-oriented. Their OKRs also sometimes relate to company goals. For example, an OKR may be to grow their corporate global business. While this objective is related to the entire company, the KRs relate personally to the executives and specific teams.
Below is a list of three OKRs for executives to try out:
Objective 1: Grow our corporate global business
Key Results:
Hit company global sales target of $XX.
Increase the company average deal size by XX%
Reduce churn to less than XX% annually

Objective 2: Delight our customers
Key Results:
Increase customer retention by XX
Interview XX customers per month and get feedback
Achieve an NPS of XX.
Create 20 customer case studies
Objective 3: Delight our employees
Key Results:
Achieve a weekly Employee Pulse Score of XX+
Incorporate a "Win's" section into our team meetings
Host monthly Q&A sessions with executives
Parting advice
As Haseeb Tariq, Forbes contributor reminds us,
"It's important to remember that OKRs are not a one-size-fits-all solution. They will work for some people, and they won't work for others."
Thus, implementing different OKRs for each department and team is necessary to achieve the best results. Try using the above OKR examples for your team to continue progressing and hitting your goals!