Arguably, the most important part of project management is keeping your team engaged and motivated to execute each aspect of the project successfully.
Even though team engagement isn't always easy and requires some thought and action, successful engagement is rooted in your teammates' level of investment in the project.
Your team wants to be well informed, appreciated, trusted and treated with respect. If you can foster an environment that is supportive but is matched with a challenging environment, where obstacles are tackled collectively, you will in turn foster engagement within your project teams.
The bottom line is: When employees are engaged, the team can be successful.
What is project management?
After a project has been identified, project managers are responsible for assigning specific responsibilities to team members and holding them accountable.
The Project Management Institution (PMI) defines project management as:
"The application of knowledge, skills, tools, and techniques to project activities to meet the project requirements. It (project management) has always been practiced informally, but began to emerge as a distinct profession in the mid-20th century."
Project management processes fall into five major groups:
Initiating
Planning
Executing
Monitoring and Controlling
Closing
Project management brings a unique focus shaped by the resources, the schedule and most importantly, the goals of each project.
Why is it important to improve group engagement in project management?
It's important to improve group engagement in project management because this simultaneously improves the project success by creating an efficient and effective project team.
Engagement increases task performance, the level of work efficiency and project team members' attitudes towards customers, clients and stakeholders.
The best part is that when employees are engaged, they exhibit a stronger organizational commitment so you're likely to experience reduced attrition as well as higher levels of job satisfaction.
Engagement is also important because communication needs to be constant and clear for the project to be executed successfully. If employees are engaged, the project plan will run much more smoothly because they'll be comfortable speaking and collaborating with other project team members on an ongoing basis.
7 Strategies to increase group engagement in project management
1 Set a clear vision and project goals
First and foremost, you need to set a clear vision and specific project goals to foster group engagement. Not only do you as the project manager need to create this vision and these project goals, but you need to continue to communicate them on a consistent basis.
Make sure that you're explaining to your project team how the vision relates to the project and how the team of individuals that are involved are contributing to this vision.
Your vision and your goals should be a part of your daily conversations with your team so that departments, project teams and any employees involved understand how they're contributing. These roles and responsibilities need to be defined so that there's accountability. It's very important that your vision is then translated into specific project goals. Be simple and clear in the way that you articulate and explain these collective goals to your project team members.
Pro Tip
Schedule a project kickoff meeting to set a vision and goals for the team. Here's a template you can use to ensure that everyone is on the same page:
2 Trust your team with challenging assignments
Challenging assignments (also known as stretch assignments) are much more likely to engage your team members. As Lara Hogan, author of Resilient Management argues:
"Two of people's six core needs at work are having a sense of improvement and progress in the things that matter to them, and having the right amount of choice in their work. Challenging assignments can help address both of these core needs. Your teammates will have an opportunity to grow and develop, AND they'll have a bunch of autonomy as they make that progress (so long as you set up the challenge right!)."
As a project manager, it's really important to satisfy the need for challenging work by offering your employees the opportunity to further develop their skills and competencies to strengthen overall performance. If you're providing enough guidance and support to your team members, they should welcome challenges in the workplace and actually feel motivated to step up to the plate.
If you allow individuals to develop skills that are outside of their current set of capabilities, you're providing your employees with a valuable learning opportunity that turns into a growth opportunity. With these newly established skills, they may now be equipped to take on more, or different responsibilities that will support the team's effectiveness.
3 Empower the team to make decisions
It's important to make your project team members feel empowered to make decisions because this clearly demonstrates that you trust their professional judgement.
Now that your team understands how they are contributing to meeting the project goals, they're entitled to control their responsibilities and deliver on them. When you empower individuals to make decisions, they can see their personal impact much more clearly which will further motivate their efforts and improve engagement.
Here are five ways to empower your team to make decisions, according to Wharton University:
Make the decision-taking process collaborative.
Create a strengths-based culture where employees feel valued and empowered.
Reinforce positive behaviour.
Open the lines of communication.
Avoid micromanaging. Instead, be an encouraging mentor.
You have enough decision-making to do. Trust your team to come through for you and use your weekly or biweekly team check-ins to hold them accountable.
4 Share progress on an ongoing basis
We briefly touched upon how important it is to keep ongoing, clear communication with all project team members. Sharing the progress of the project on an ongoing basis (for example, at a weekly team meeting) is a perfect example of this communication that is needed for the project's success.
As you know, things in the business can change very quickly. Time, scope and budget can flip over night and it's important that this information is shared with everyone who may be affected by these changes. Whether something is done sooner than anticipated or you need to buy some more time, your project teams should be aware of how the project is progressing so that they can remain on top of their responsibilities.
It's a good idea to have a project plan that is updated as changes happen so that everyone can access the document and see if dates, budgets or individuals involved have been modified. Weekly updates or steering team meetings are a great way to bring the group together so that each stream of the project can provide an update to the others.
Pro Tip
Tracking progress and outcomes is critical when collaborating on a new project. Use Fellow to create collaborative project outlines, organize and prioritize action items, and ensure that your team is making progress.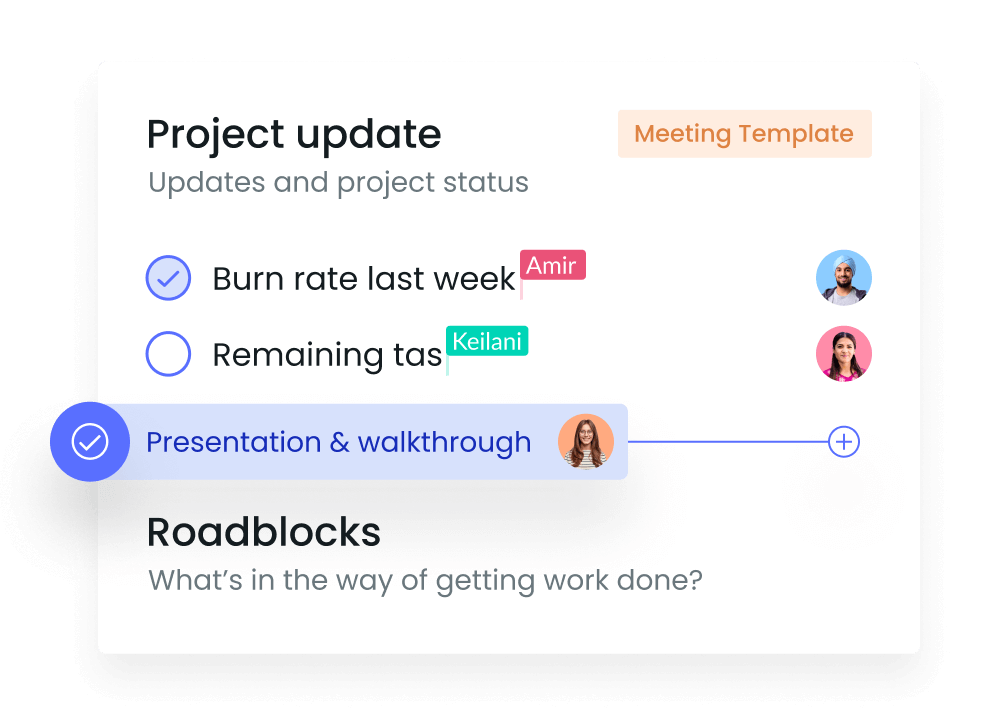 5 Provide social and structural resources for the team
It's your responsibility as a project manager to provide your team with all of the resources they need to successfully complete their tasks. Team resources can vary from physical documents, to intellectual information that supports the completion of individuals' responsibilities, to project management courses or resources to help them upgrade their skills.
Required resources would also mean social and emotional resources such as time to socialize and develop relationships with other contributors that are involved in the project and making time to check in with how they are feeling, in terms of their workload and overall responsibilities.
Your team members need to feel as if they're working in a safe and secure environment, where they feel not only well equipped to do their job but where they feel comfortable working with the rest of the team to achieve success.
6 Remove obstacles that are hindering team success
Another responsibility that project managers need to own is to remove any obstacles that are hindering team success. You can minimize the effects of roadblocks by creating a mitigation plan that manages the expectation of each person involved in the project and ensuring that your team has everything they need to complete their job effectively.
Obstacles vary in nature from a lack of support from the company, a lack of available resources or unclear requirements from stakeholders that require clarification. When these issues can be mitigated, your team can acquire a stronger focus on the work that needs to be completed.
When your team is focused on their work because they know they have your support in dealing with issues that arise, they feel more absorbed and therefore more engaged in their work.
7 Show appreciation for your team's work
Lastly, and perhaps most importantly, show appreciation for your team's hard work! The strongest leaders appreciate hard work, recognize progress and congratulate successes.
Showing your project teams your appreciation has a huge impact on individuals' level of engagement because it motivates them to continue producing great results. When hard work goes unnoticed, people are going to feel disheartened and aren't going to want to put in a significant effort. A lack of appreciation means that talent retention becomes very difficult.
A simple thank you can go a long way and shows your project team members that you're grateful for the work they have put in to ensure the project is executed successfully.
Pro Tip
A healthy and strong culture starts with feedback. Use a continuous feedback app to share real-time feedback on meetings, projects, and performance.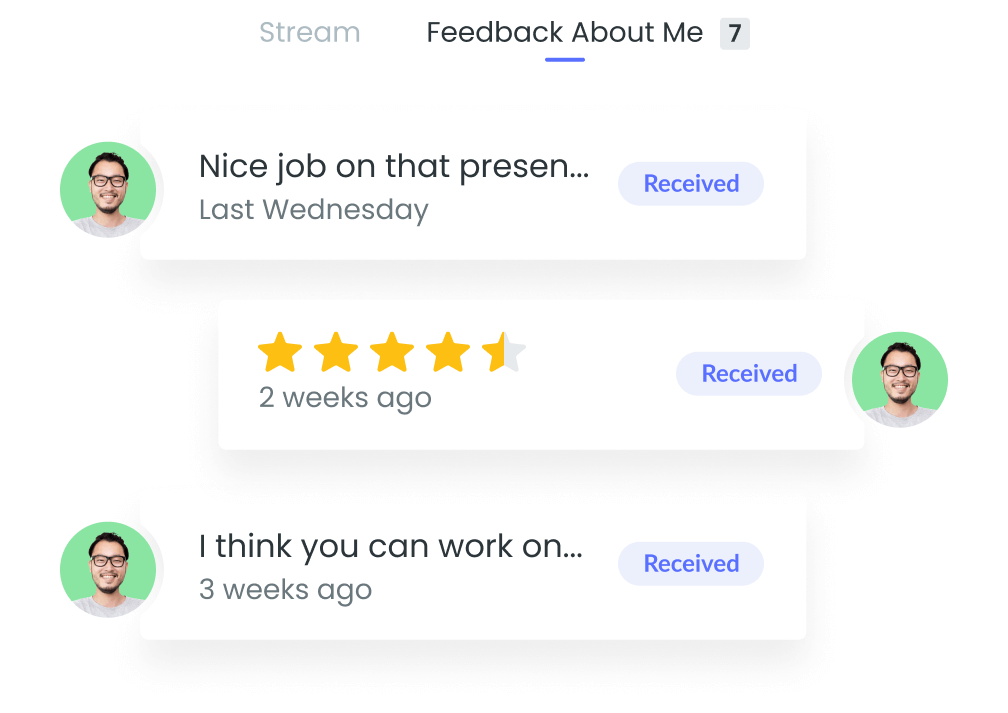 Conclusion
Ensuring group engagement in project management is essential to your project's success. Or rather, it makes the success of your project much more attainable, with less hiccups along the way.
Start with setting a clear vision and specific project goals before you provide challenging but exciting assignments. Empower your team to make independent decisions and share the projects progress on an ongoing basis. Provide social and structural resources for the team and work to remove any obstacles that are hindering team success. Remember to show your project team members how much you appreciate their hard work and dedication to the project.
Refer back to this guide anytime you look at your project management plan and need a refresher on how to keep your group engaged.