Optimizing your teams' ability to collaborate cross-functionally with other teams will give your company a competitive edge and bring team productivity to an all-time high.
Effective collaboration can be achieved when team members have a strong understanding of a common goal and these goals and objectives are clearly outlined, with a means to be achieved. Successful collaborative skills don't always come easily though…
If your team is working with other teams within your company, cross functional collaboration challenges are sure to arise. For that reason, Fellow has created a guide to explain what cross functional collaboration is and how to achieve it within your organization.
Keep reading to gain an understanding of what cross-functional collaboration is, the benefits of cross-functional collaboration, four common challenges of cross-functional collaboration and some quick tips on how to achieve effective cross-functional collaboration in your organization.
What is cross functional collaboration?
Cross-functional collaboration happens when different groups or individuals within a company with different functional expertise come together to work towards a common goal.
Collaboration efforts can happen organically where teams or team leads take the initiative to reach out to work with one another or they can be a result of a formal project where the company is looking to leverage the skills of employees from different departments.
Combining skill sets and experience from cross team employees allows the organization to leverage different insights, approaches and problem solving skills that are valuable to achieve goals and objectives.
Examples of cross functional teams would include marketing and design teams working together, design and engineering teams, sales and customer success teams, and many more teams who see a mutual benefit in linking up and working together towards a common goal.
4 Benefits of cross functional collaboration
1 Increase in innovation
There is no better way to increase innovation than bringing different perspectives to the table. Bringing people together from different parts of the company can produce innovative solutions from individuals who approach situations with different backgrounds in knowledge, expertise and experience.
You are truly optimizing your workforce and promoting innovation by bringing people together from the rest of the organization who can brainstorm new ideas and work on process improvement.
2 Leverage diverse skills and experience
Bringing expertise together from different areas of the business allows your team members to learn from one another and helps individuals understand how their specific tasks fit into the bigger picture which bring the team closer to achieving their common goal. This allows a group of people to gain more competencies and skills as they learn from other functional teams while they embark on team working initiatives. Tapping into the skills of a larger and more diverse group of people is going to produce more positive outcomes.
3 Foster a more creative environment
A more multi-directional approach in project management can yield greater results. Creating cross-functional teams and leveraging unique backgrounds can promote more creativity, sparking the potential for more creative solutions to problems that arise in the business.
Using the unique background of different individuals also means that the ideas being brought forward are coming from different levels throughout the organization, rather than all of the ideas coming from a single department with a dominant leader. Individuals at any level can participate in discussions and contribute to the expansion and execution of great ideas. This is going to increase engagement and productivity as a result of these collaboration efforts.
4 Old ideas are challenged
Another benefit to functional collaboration is that old ideas are challenged and the pace of change is accelerated. Many businesses get stuck in their own ways, following rigid processes that have been in place for years. Building out cross team collaboration will promote change so that you can become more competitive in the market and use new perspectives to drive the company forwards.
Collaboration efforts make way for new ideas to processes that have overshadowed the potential for fresh, new perspectives in a particular department, or within the company as a whole.
4 Common challenges with cross-functional collaboration
1 Lack of trust
To get teams collaborating effectively, you need to establish some trust, which usually isn't present at the get-go. Initially, there can be a lack of trust between cross functional teams, seeing as you may not work with this group of people often, nor have a real understanding of their experience or quality of work. When there is a lack of trust between the different teams, collaboration inevitably fails.
Leaders should try to align the common goal of the organization as a whole, rather than suboptimizing their own departments goals. Start with some small opportunities to work together to build some trust before you embark on larger projects. Finally, consider planning a couple of meeting icebreakers and team building activities to encourage your teammates to get to know each other.
2 Poor communication
It's not easy communicating with our own teams let alone with other departments that we're not used to working with. Departments tend to operate as silos, often using their own unique communication amongst team members only. But effective collaboration requires effective communication. If you cannot communicate clearly and efficiently with other teams, you are going to struggle to meet the common goal of the organization.
Try using a universal communication approach that all employees are aware of and feel comfortable with. Promote open and honest communication amongst team leaders and managers.

Pro tip
Schedule recurring cross-functional meetings to check-in on project goals and milestones. Use a meeting management tool like Fellow to track decisions, meeting notes, and action items across different teams.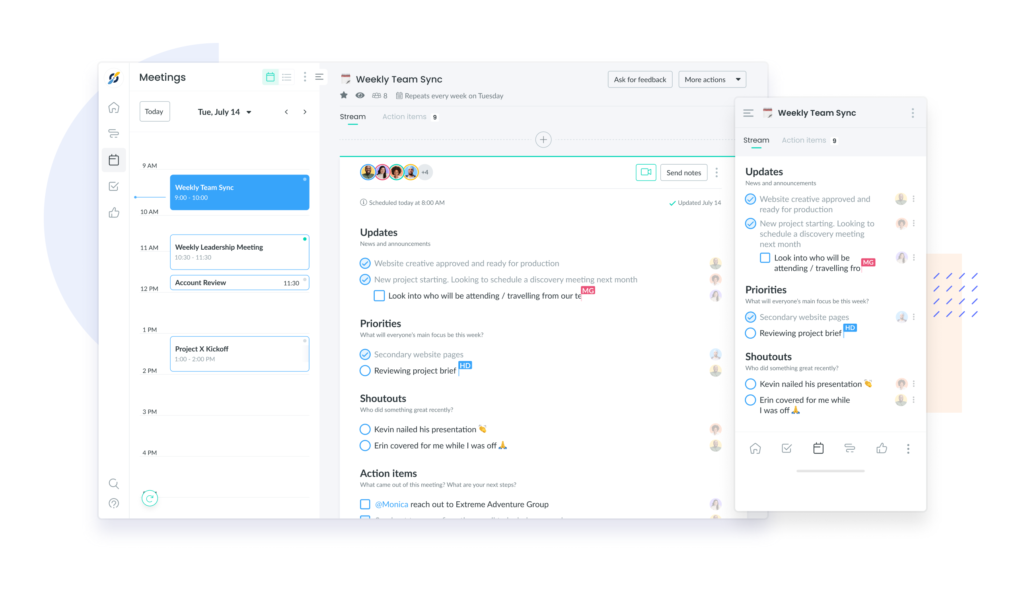 3 Misaligned goals or priorities across departments
Typically, we measure employee success based on goals and objectives that are specific to job description and responsibilities. While there's nothing wrong with setting up personal goals, sometimes the focus becomes prioritizing tasks that help individuals work towards personal goals, losing sight of the bigger picture. There becomes little room for improvements and initiatives that will benefit the company as a whole.
If you want to improve cross functional collaboration, you need to devote specific time to working with other departments and reward the successes on cross functional projects accordingly. Make it clear that working towards cross functional goals doesn't take away from personal development but actually enhances it!
Finally, make sure to spend some time aligning on goals and the vision for the project. For instance, if two teams are collaborating on an initiative, both team leads could meet separately to talk about their vision and strategy to accomplish the cross-functional team's goals.
Erin Blaskie and Joel Grenier, talk about the importance of balancing priorities in this video:
4 Managing diverse teams and their personalities
Cross functional collaboration challenges intensify when there are more people to manage and communicate with. More people means that there may be more dominant personalities that are more difficult to manage, especially if a specific leadership role isn't identified. Sometimes this can cause a scenario where different individuals compete to be seen as the leader. In this case, it's important to clearly define roles before you begin working with other groups or departments for successful collaborative efforts to be seen.
Here's a project kickoff meeting template you can use to define the project roles and responsibilities:
Best practices for effective cross-functional work
Appoint a leader with overall project responsibility: Employees need to take ownership more than ever while working with other teams. Appoint a strong manager or employee to step up and take charge to drive the project forward. If not, your project might go astray.

Define a clear project outcome: It's important to show individuals what they are working towards to create a sense of purpose, to feel rewarded and proud of their efforts. Define a clear business outcome with deadlines that will help keep teams on track. Consider creating a standard way to measure the impact of each cross-functional team to comprehend the impact and see improvements as they develop.
---
According to Capterra's analyst, Ankita Singh, these are two tips for management to enable collaboration among multifunctional teams:
Boost transparency and collaboration through inter-departmental meetings to help find commonality and eliminate inter-departmental inefficiencies. Teams would otherwise be unaware of roles allotted and skillsets available in different teams.
Foster coaching and mentorship to promote team growth not just individual growth through shared team objectives, defining coaching or mentoring activities as individual KPIs and public recognition instead of just financial rewards.
---
Recap: How to make cross-functional collaboration work at your company
Taking the time to understand how to build and sustain cross functional teams is worth the effort. Working with other departments or groups of people promotes innovation and gives you the ability to leverage the skills and experience of a more diverse group of people. Moreover, you'll see a spike in creativity that utilizes the unique background of each individual. Another benefit in making collaboration efforts is that old ideas can be challenged and the pace of change becomes accelerated. Out with the old, in with the new!
Although there are some cross functional collaboration challenges, there are many ways to work through them. If there seems to be a lack of trust between teams, try to align the common goal of the organization as a whole and take on small cross functional tasks before moving onto bigger endeavors. If you're noticing that goals are misaligned, consider devoting specific time to working with other departments and rewarding success. It can be tough to manage so many different personalities and backgrounds but if you identify a specific leadership role, it will become a lot easier. Because team communication can be another challenge, we suggest using a universal communication approach and promoting open lines of communication.
To enhance cross functional collaboration, consider appointing a leader with overall project responsibility, defining a clear project outcome and using an effective meeting tool like Fellow to keep you on track and organized. Refer back to this guide whenever you need some guidance on how to navigate cross functional collaboration!