Sarah Cooper is a renowned comedian and the author of the must-have book "100 Tricks to Appear Smart in Meetings." In this article, we dive into tips and tricks to appear smarter in meetings as inspired by Sarah's noteworthy book that teaches you how to show attendees your intelligence in meetings in less than half the time it takes to learn anything.
You may think that you don't need tricks to appear smarter in meetings, but in reality, you might. These simple tips and tricks are easy to implement, and not to be taken too seriously. Creating unique acronyms, playing the devil's advocate, leveraging non-verbal cues, and poking fun at yourself are all unexpected but valuable tactics you can use to seem intelligent in meetings. Try it out for a few laughs and a guaranteed good meeting!
How to appear smart in meetings
Have you always wondered how you can level up and appear smart in meetings? Keep reading to unlock 12 tips and tricks that will help you exude intelligence in your next meeting.
1 Draw a Venn diagram
Venn diagrams offer a unique opportunity to display data in a way that is easy to process and understand. Unlike alternatives, Venn diagrams allow you to organize information in a way that enables consumers to identify relationships, including commonalities or differences, between sets of data. They also make it possible to compare two or more choices and make an informed decision. Ultimately, Venn diagrams help you appear smart in meetings by helping you show that not only do you have a deep understanding of the data you're presenting, but you're also able to display it in a way that helps everyone else derive the same conclusions.
2 Translate percentage metrics into fractions
Information is only valuable if it's easy to consume. If you're presenting and your presentation is difficult to understand or not easily consumable by your coworkers, it may be deemed irrelevant or even unnecessary. When crafting the perfect presentation and learning how to appear smart in meetings, it's important that you take your audience into consideration by displaying all relevant information in a way that is easy to understand and consume. A great example is translating percentages into fractions. Fractions may resonate strongly with your audience while serving as a more accurate representation of the data at hand.

Meetings worth showing up to
A well-run meeting can foster communication and collaboration by including an agenda the whole team can contribute to. Try using a tool like Fellow!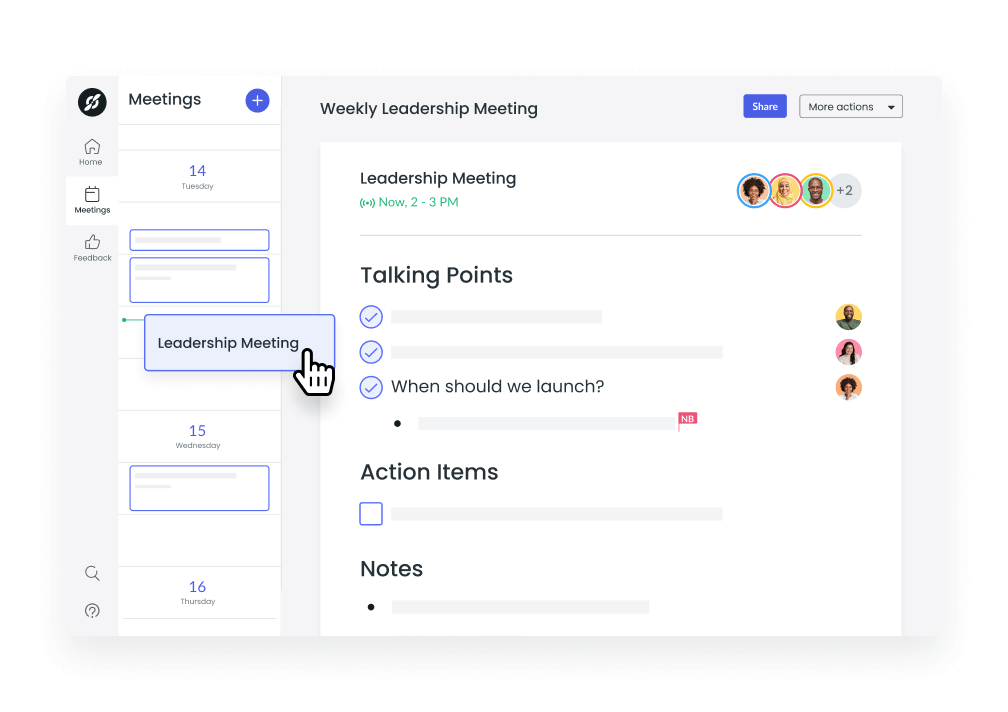 3 Define technical terms for the room
Whether you're presenting or part of the crowd, you can take on the role of making sure everyone is on the same page. Tricks to appear smarter in meetings are few and far between, but this trick is both simple and clever. Defining technical terms for the room will not only help you appear smarter, but will also help you position yourself as a valuable member of the team.
Oftentimes when teams get together for large meetings, not everyone may be on the same page regarding technical terms. These terms are usually more relevant to individual contributors, or to employees that are using them consistently in their work. If you're partaking in a cross-functional meeting, it's possible that some people may not be on the same page when it comes to the technical terms being discussed during the presentation, so it's helpful if someone can step in and explain them.
4 Encourage everyone to take a step back
It's completely normal for employees to get ahead of themselves, and there's no shame in pressing pause and taking the time to really refine an idea or project before moving forward. Speaking up when needed is a great way to demonstrate your intelligence and a great way to be a team player. Encouraging everyone to take a step back will ensure that any kinks are resolved and that each and every teammate is on the same page and ready to move forward in tandem.
5 Ask the presenter to go back a slide
Nothing says intelligent like someone that pays close attention to the presentation from start to finish. To demonstrate your willingness to listen and absorb the information, simply ask the presenter to go back a slide. Asking the presenter to go back a slide will demonstrate just how intently you are listening. There's no shame in asking for clarity or repetition, and you may notice that others coworkers in attendance have the same questions.
6 Turn a multi-word phrase into an acronym
Abbreviations or acronyms spread more quickly if they're easy to remember. Turning multi-word phrases into short, distinctive, and memorable acronyms will make the information you're presenting easier to remember and consume. Your coworkers or employees are more likely to think highly of you if you leave a lasting impression by hosting a meeting or giving a presentation with key takeaways that are memorable, and creating customer acronyms will ensure you leave a lasting impression that's positive.
7 Turn nouns into verbs
Turning nouns into verbs is a great way to keep communication fun amongst internal teams. The purpose of turning nouns into verbs—also known as "verbing"—is to make what we say immediate or to-the-point. If you can't find an existing verb to offer as an additive to your explanation, simply verbify the nearest noun! Your coworkers and employees will think it's clever and they'll be more apt to remember your new, original verb. This is a great tactic to use if you're looking to convey a lengthy message in a memorable way.
8 Play devil's advocate
Those who sit on the fence or remain quiet during meetings may get a bad rap. Playing the devil's advocate allows you to have your opinion heard while simultaneously making it seem like you've paid attention during the entirety of the meeting. Having an opinion is better than having no opinion at all, even if it means disagreeing with your teammates. Playing devil's advocate ensures all bases are covered. Going along with the status quo may mean that all avenues or scenarios haven't been discussed, which may ultimately lead to a problem down the line.
9 Ask for an email meeting summary
Asking for an email meeting summary is a great way to demonstrate that you're eager and on the ball. It also demonstrates that you're tying up all loose ends by ensuring everyone has equal access to any and all information that was discussed during the meeting. This tactic is simple, and asking for the summary only takes a few moments!
10 Use nonverbal cues
Nonverbal cues are just as important as verbal ones. When giving a presentation or hosting a meeting, your non-verbal cues say just as much as the words you speak. It's important to exude both confidence and professionalism, which, believe it or not, can both be conveyed through your nonverbal cues! Nonverbal cues that can be used when giving a presentation or hosting meetings include eye contact, facial expressions, gestures, and positive body language. Nonverbal cues or communication also includes the use of social cues, kinesics, distance and physical environments, appearance, voice, and touch.
11 Ask "will this scale"?
Nothing says visionary quite like an individual who's able to conceptualize big ideas in a way that positively impacts an organization's future success. Asking questions like "will this scale?" demonstrates your willingness to plan for future success. Looking to the future is a great way to demonstrate your loyalty to the organization, while simultaneously proving you're a valuable member of the team.
12 Poke fun at yourself
Everyone loves a presenter or host who's able to keep things light-hearted. Feeling nervous? Forget a slide in your deck? Take advantage of the moment by being proactive and poking fun of yourself. It's a great way to keep things fun and running smoothly, especially when compared to the alternative, which is most likely going off track or letting the minor blip derail your entire presentation. If you're presenting and you're nervous, simply make a joke or address your emotions rather than suppressing them or making them the focus of your presentation. Attendees will be able to laugh with you as opposed to at you, and it will be easier to move forward with ease.
Learn how to appear smart in meetings
Congratulations, you're officially ready to be the smartest person in the room! If meetings aren't your strong suit, or you've been looking for a unique way to gain respect, these tips and tricks are exactly what you need. These tips and tricks are simple and easy to implement, so you can enter your next meeting with the confidence you need to give a flawless presentation.