Meetings are productive and invigorating – as long as you prepare correctly. Taking great care and effort to think carefully about your agenda items, meeting goals, and who needs to be at the table (or on the Zoom) has great payoff in the long run.
Whether you're new to hosting meetings or have some experience under your belt, here's everything you need to know about how to host a meeting, whether in person or virtually.
How to prepare for a meeting as the host
Putting together a meeting requires meaningful prep to be a successful use of time for everyone. From planning a location to deciding who to invite, you can come up against some solid obstacles. Here's how to overcome them and host a great meeting.
1 Define the objective
Before hosting a meeting, you should decide what type of meeting you're having and what you're trying to accomplish. A few questions to ask yourself are:
Who are you meeting with?
Is this a client catch-up, or a meeting with your teammates?
Is this meeting supposed to be formal or informal?
Once you've answered these questions, you'll have a better idea of how to direct your meeting. At the same time, if your answers to these questions make it seem not worth having, well, it probably isn't. Keep it to email instead, or if you can solve any relevant problems yourself, then get to work.

Prep for it
Have delightful meetings by preparing a collaborative agenda that includes talking points and action items. Try a tool like Fellow!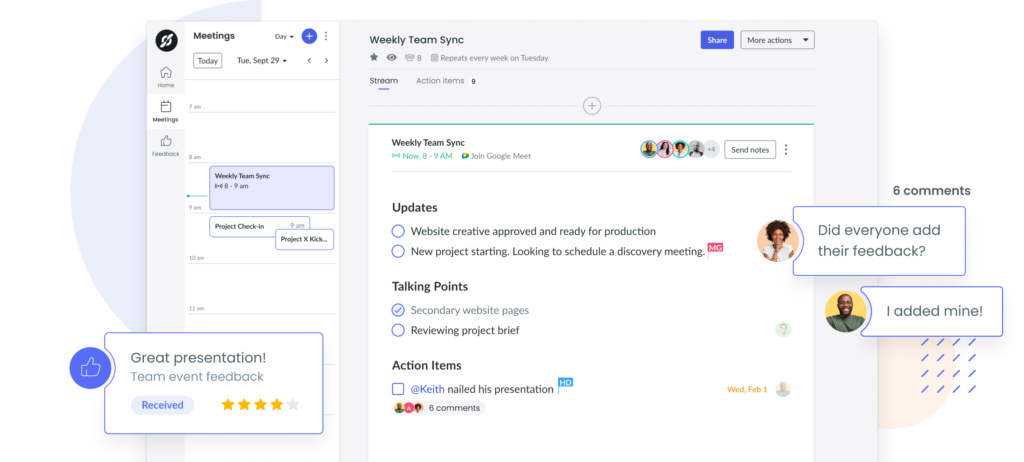 2 Decide who needs to attend
When you're deciding who should attend a meeting, make a list. This way, you can see everyone you believe should be there and run your list past a co-worker to ensure you didn't miss anyone.
Your list can also help you decide who doesn't need to attend the meeting. It's important to ask yourself: Will this meeting benefit this person? Does it pertain to their work? If the answer is no, then let them skip this one so they can work on other tasks.
3 Decide on the meeting format
Different types of meetings will have different formats. Your meeting's length and number of meeting participants should also shape your choice of format. Here are the main three meeting formats:
In-person meeting. If your meeting involves team-building or is more relationship-based, it'll likely fare best in person.

Virtual meeting. For task-based chats, virtual meetings should suffice. If you're just going over your team members' schedules or fixing a small potential issue, that's fine through a screen.

Lunch meeting. If your meeting will top out at 30 minutes with a small group, lunch meetings could work. They're relatively informal, and they don't detract from your team's actual work hours.
4 Think about details
Meeting planning is full of little details. Yes, you need to know how many people will attend and what you'll discuss, but that's top-level stuff. There's also the background of it all: location, time and date, AV equipment you may need, meeting room size so everyone can sit comfortably (and distanced).
For example, let's say you're gathering 20 team members and you choose a room with 12 seats. Do people really want to stand during lengthy meetings? (Of course, this factor matters less with, as their name suggests, standup meetings.)
5 Write a meeting agenda
When hosting a meeting, you want to stick to your meeting agenda. That's because, as great as meetings are, they can rub folks the wrong way if you veer off-track and go over the allotted time. So beforehand, write down what you want to accomplish (or head over to the Fellow app!), list the main talking points, and combine it all into a timeline. Stick to that timeline, and you're less likely to go off-topic or run over the time you've set– even by just five or 10 minutes.
Your agenda should contain a list of everyone who's attending. It should also outline any special roles that certain attendees might play in the meeting. Importantly, don't overlook a notetaker: Simultaneously hosting a meeting and taking notes can be a distraction, so someone else should handle notes while you're running the show. And you're here because you're the one leading things, so find someone else to take notes!
6 Send out your meeting invites and agenda
You should send out meeting invites at your earliest convenience. A week of advanced notice – two weeks if you can swing it – is ideal. In your invites, you should include your meeting agenda so everyone can read it over and prepare questions.
You should also detail the meeting's location, its start and end times, and all your main talking points, with time dedicated to each one. This structure tells participants everything they should know well ahead of time.
6 tips on how to host a meeting
Being the host with the most can be fun and easy when you take the right steps just before and after the meeting (and, of course, during it). Follow these six tips on how to host a meeting easily and effectively, and you'll have a great time.
1 Arrive and set up the presentation early
When you host a meeting, you should be the first person there. Your early presence will give you time to set up everything you need for the meeting and go over topics before your team arrives.
It's also a chance to address potential issues, especially if you're hosting a virtual meeting where technical hiccups could arise. Arriving early and addressing this all can help you work out all the small kinks to ensure everything will run smoothly.
2 Ensure the camera and microphone work if virtual
If you choose to go virtual for your meeting, make sure that you and everyone else joining the meeting is tech-savvy enough. No one needs to be Bill Gates, but it's essential that everyone knows how to set up their camera and microphone. You can let your team know you'll show up early to your virtual meeting so they can do the same if they need tech help.
3 Break the ice
Breaking the ice is a great way to engage everyone in the room (or across your screen), especially if there are newcomers to the group. Here are a few fast ways to break the ice:
Speed meeting. At the beginning of the meeting, go around the room and have each person make an introduction and share a fun fact about themselves. This icebreaker activity will get people talking and help them feel more comfortable with one another. It's a fun way to learn something new about your employees and get them more comfortable in their work environment.

Playing a game. A classic meeting icebreaker game is one you've probably played with friends: two truths and a lie. Each person will name three things – one lie and two being truths. Then, everyone else will guess which of the three is a lie. It's a super fun way to help meeting attendees get to know each other.

Create your own name tag. Instead of grabbing a sticker and writing each participant's name on it, let your team members create their own! They should write their real names, but they have the choice of how they write it. Funky fonts, cool colors – it's all on the table. This approach to name tags allows attendees to bring out their creative side and could help them feel more comfortable sharing with the group.
If everyone in your group already knows each other, you can go for a more abbreviated icebreaker. Simply tell a recent personal story – maybe something you did over the weekend. Ask folks to do the same, and it'll set the tone for enjoyable time together.
4 Stick to the agenda and timeframe
When sending out meeting invitations, make sure you mention the meeting's start time and how important it is to arrive on time. Then, once you start the meeting, stick to the agenda topics and times. If you start falling behind, move on to the next subject and make a note to carry any questions into the next meeting.
5 Make time for questions
A good meeting involves everyone asking and answering questions. That's how you encourage greater attendee engagement and ensure that everyone leaves the meeting on the same page. But set aside five to 10 minutes at the end for any questions instead of letting them roll out during the meeting. This way, you don't deviate from your agenda.
6 Send out meeting notes and follow up as needed
Meeting attendees are typically busy people. They might have to run off to something else the moment your meeting ends. But that doesn't mean they should forget everything from your meeting.
To keep everything moving forward, send out meeting notes right after the meeting for everyone to reference thereafter. You should also schedule follow-up meetings as necessary so everyone knows their next steps before any other commitments could get in the way.
Responsibilities as meeting host
Now that you know how to prepare and host your own meeting, you should remind yourself of your responsibilities as a host. Here are some general guidelines you should follow before, during, and after your next meeting.
Keep conversations on track. Your agenda is there to ensure your meeting goes as planned without additional unnecessary topics. Stick to it, and your conversations will remain on track. The result is a better meeting for both you and everyone else in the room.

If in-person, ensure all participants will fit in the space. Before choosing a spot for your meeting, it's essential to visit the location first. This way, you'll know exactly how many people can comfortably sit in the space without feeling crowded or cramped.

Ensure participants leave feeling fulfilled. Whether you're new to hosting meetings or have done so time and again, it's always good to ask your meeting participants for feedback. After the meeting, send out a meeting effectiveness survey asking whether attendees found the meeting useful and how you can improve future gatherings.

Be prepared. Meetings are less productive when the person leading them can't steer the conversation. If you follow the guidelines above, you'll never be that person. All the above will adequately prepare you for any meeting.
Now go host your meeting!
Now that you know all the above tips on how to host meetings, you're one step closer to sending out invites and running the room with confidence. To really take control of your meeting, use Fellow's collaborative tools for creating meeting agendas, taking meeting notes, assigning meeting action items, and seeking peer feedback. Whether you're hosting virtually or face-to-face, Fellow is with you every step of the way.