Whether we like to admit it or not, we all love affirmation. As the leader of your team, you should be providing your employees with consistent positive feedback that inspires them to build better habits. Positive feedback is one of the most powerful tools you have as a manager, but framing it in a meaningful way can be tricky. When done correctly, positive feedback is a foolproof way to enhance relationships, connect, and build rapport with each member of your team.
Positive feedback examples
Here are 22 examples of positive feedback that you can give your employees to recognize their accomplishments and make them feel valued in different areas at work.
1 New hire
Being the "new person" in any setting can feel intimidating. Make new hires feel welcomed onto your team by sharing positive feedback like:

Thank you for sharing your insights into our hiring process! We're always looking to improve how we welcome our new employees. You've identified gaps in our onboarding processes that will help us improve in the long run. The fact that you are already bringing up new ideas means that you will contribute greatly to the department! I look forward to seeing what other ideas you bring to the table as you get started.
I hope that you're settling in nicely, Kaila. I noticed that you've taken extra time to learn our internal processes and procedures during your first few weeks in the office, which is excellent. The rest of the team has mentioned how keen you are to learn about our company values and mission, and I know that your go-getter attitude will make you a wonderful addition to our organization. Keep up the great work!
2 Collaboration
If you're noticing that an individual has been collaborative lately, you can share feedback such as:
Hey Kevin! I wanted to reach out and say that I and the rest of the team appreciate the great example you've set this week. We were all blown away by your contributions during our recent brainstorming session. Having you on the team makes a huge difference and we can't wait to see what other creative ideas you'll come up with as we begin the project.
It's commendable that you acted as the voice of reason during that recent conflict within our team. Having you as a mediator kept the discussion focused and allowed everyone to get their point across without having things blow out of proportion. We appreciate how reliable and collaborative you are during stressful situations. Good work!

Great meetings are just the start
Level up your meeting habits to boost engagement and productivity with a collaborative meeting agenda. Try a tool like Fellow!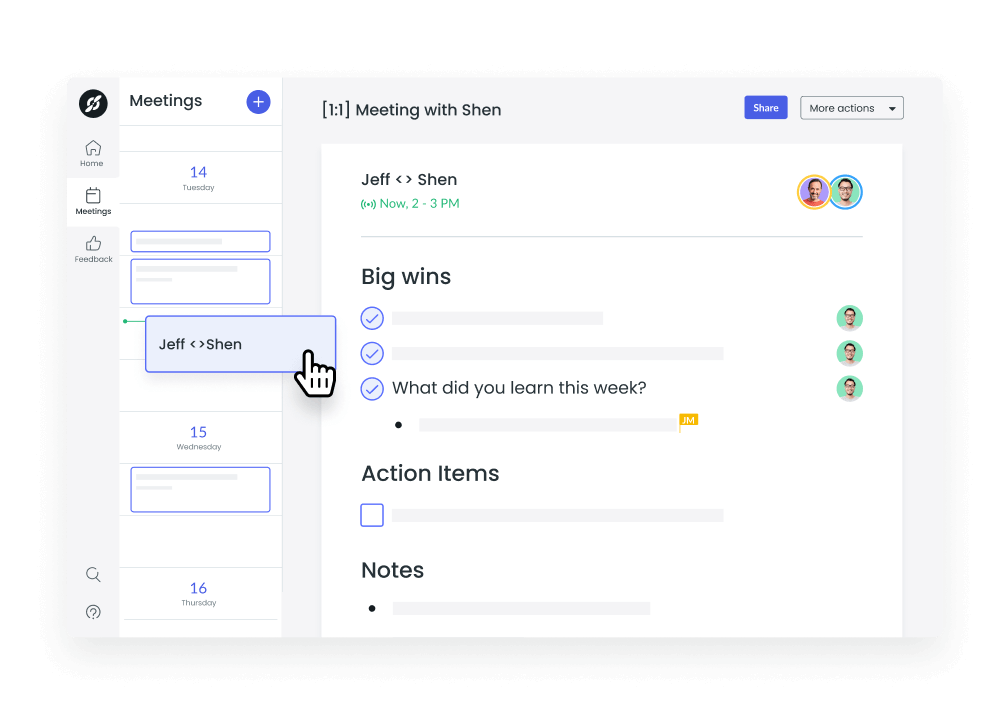 3 Learning a new skill
Is a member of your team learning a new skill so that they can be an even greater asset? If so, you can share positive feedback such as:
I'm reaching out to let you know how proud I am of you for identifying a gap in our team's abilities and developing the necessary skill set to ensure we will meet our goals this quarter. When you learned how to use the newest version of that software so the campaign launch was a success, you showcased that you're a savvy problem-solver! Thank you for helping us be the best we can be.
Hi Fatemah! At our last one-on-one meeting, I mentioned that I wanted to see you improve your videography skills. I'm so proud that you took that constructive feedback and improved this month. The extra time that you took to develop that skill did not go unnoticed by the team. Thank you for being so adaptable!
4 Problem-solving
Every successful team has incredible problem solvers. Try out these positive feedback examples at your next one-on-one meeting with a subordinate:
Nathan, I've noticed that you really go above and beyond to solve issues in a timely manner. You always have a positive attitude and are willing to put in the extra work to make the client feel confident in our team's ability to deliver. Your commitment to our team and stakeholders shines through during challenging times, and I really appreciate it.
You are consistently able to come up with creative strategies that solve a wide range of problems in our line of work. Your solutions are always outstanding and a testament to your awesome problem-solving capabilities. Keep it up!
5 Decision-making
Do you have an employee who can make informed decisions at work that help you and your team succeed? Try out these lines the next time you chat or email this individual:
Malcolm, your willingness to take the lead last week during that major business dilemma with our client was a huge help. You made quick decisions that helped us avert a crisis. I notice that you are often able to confront difficult decisions with ease and it makes all the difference in our ability to get clients the great results they deserve.
Your ability to make a quick and informed decision helped us during our last client call. I can always rely on you to come up with a solution that exceeds my expectations.
6 Communication
Communication is key in any field. Reinforce good communication skills with positive feedback like:
Thank you for taking extra care to ensure that every member of our team was kept up-to-date with the deliverable status for our recent initiative. Your communication skills shined through when you checked in with everyone. You made sure we were always on the same page which made it possible for us to launch the initiative ahead of schedule!
I really appreciate how you use our weekly team meetings to keep everyone up-to-date with the status of the new software launch, Mohammed. It's great to see the team's progress! You encourage us all to touch base during busy times so that we can be even more collaborative.
7 Meeting goals
Don't let it go unnoticed when you see your employee crushing their goals. Give them positive feedback such as:
Marisa, you mentioned during your recent performance review that it was your goal to develop the necessary skills to ascend to the management level. Over the past few months, I've watched you improve your presentation skills, give thoughtful feedback to others, and meet all of your deadlines. I have no doubt that you will flourish in your new role as team lead! Actions speak louder than words and you're a great example for the entire organization. Congratulations on your accomplishments!
It's amazing that you were able to achieve that goal you recently set for yourself in such a timely manner. Over the past month, I watched you set yourself up for success by creating habits that allowed you to become the most effective version of yourself, and I'm proud to have someone like you with such a drive to succeed on my team!
8 Handling conflict
The ability to handle conflict is a necessary but often overlooked skill in the workplace. Let your employees know that you appreciate their ability to deal with conflict at work by saying things like:
You listened carefully to both parties during that disagreement between members of our team last month. Your ability to focus on behaviour and events rather than personalities is admirable. I was blown away when you were able to identify points of agreement so that the teammates could find common ground and dissolve the argument. Thank you for addressing the situation with such professionalism and kindness.
Conflict resolution is a huge strength of yours. During times of stress, you always maintain a calm tone and show a willingness to compromise and collaborate. Your communication skills, positive attitude, and patience allow you to resolve challenges effectively. We could all learn something from you.
9 Taking initiative
Employees who drive things forward on their own deserve recognition. Motivate your team members to take initiative with phrases like:
Hey Tom! Thank you for scheduling that last-minute call today to work through the project's shortcomings. Because of your initiative, we're going to turn this project around and deliver an incredible result to senior management. I'm proud of you for identifying areas of improvement and being willing to take the lead.
You demonstrated initiative this afternoon when you followed up to see if I needed any assistance in working through the final details of our team's communications plan. I'm overall very impressed by your recent work and would love to discuss your growth opportunities during our next meeting.
10 Personal development
Have an employee that's going out of their way to improve or diversify their skills? Compliment their actions and achievements with positive feedback like:
I've noticed that you've really improved in the area of time-management since I last mentioned it during your performance review. Your eagerness to learn and improve is a testament to your resilience. We're so happy that you're a part of the team and I can't wait to see what skill you elevate next.
Since the last quarter, you've really improved your written communication skills. The effort you put into your online course is clear. Please let me know if there is anything I can do to help you continue to succeed!
Free feedback templates
Positive feedback for happy workers
Positive feedback matters just as much as constructive feedback. To have a productive team, they must feel valued and know how to improve. Your team will crave positive feedback when they put in the extra work, and their achievements shouldn't go unnoticed. Positive feedback should be the cherry on top of the success cake. Give your team encouragement today and watch their motivation soar to redouble their efforts tomorrow.