There are so many benefits to having a job that allows you to work from home (WFH).
Whether it's avoiding rush hour or getting to workout in the middle of the day, there are many perks to enjoy.
However, it's common for the remote workforce to feel isolated from others, especially when living alone. Finding a community of others to interact with when you work from home is essential to having a support system and a sense of belonging.
Why do remote workers need a sense of community?
Even with all of the benefits of working from home, one of the challenges the remote workforce often encounters is having trouble staying connected with others. Here are some reasons a sense of community is so important:
Provides support and fellowship: Having a community and a sense of belonging can give remote workers the support and fellowship they'd likely receive if they were going into a physical office space. Connecting with others and feeling purpose and camaraderie, even when working in a virtual environment, can be critical to their success, well-being, and happiness. Try using a catch-up meeting agenda to have an engaging conversation: 
Helps employees maintain their mental health: It can get lonely working remotely, especially if the individual lives alone. Socializing and fostering relationships outside of work can help fight off mental health issues that can stem from not having physical interactions with others day in and day out. 
Helps employees build their professional and personal networks: When working from home, an individual may not be going to many conferences or in-person events to have face-to-face interactions. But, when remote workers have a sense of community with others, they can better build both their professional and personal networks, meet new people, and connect in new and exciting ways. To stay connected, remote workers may consider turning to social media to have conversations with others in a remote setting.
Helps employees combat isolation: When individuals go into a physical office setting, they have built-in commodities like chatting at the water cooler, taking lunch breaks with other team members, or enjoying after-work happy hours. When employees are working remotely, an organization should strive to provide them with ways to socialize and build relationships so they don't feel isolated.

Great meetings are just the start
Level up your meeting habits to boost engagement and productivity with a collaborative meeting agenda. Try a tool like Fellow!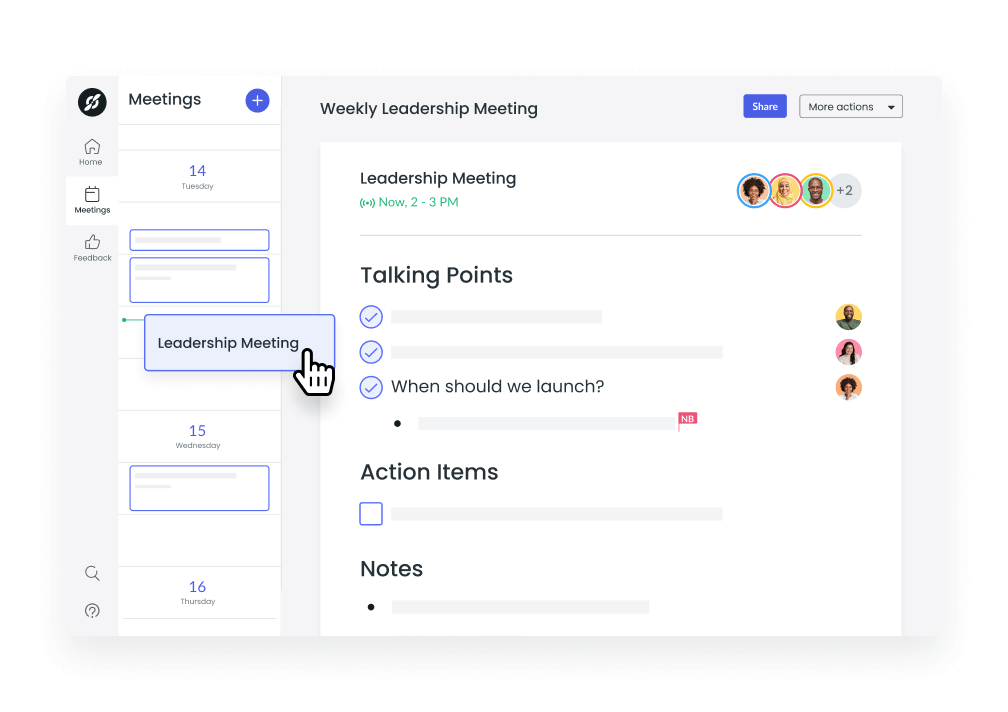 6 tips to maintain a sense of community during WFH
If you're a remote worker who's unsure how to build a sense of community, consider these six tips to get started.
1Get to know one another
A great way to maintain or create a sense of community as you work from home is to make an effort to get to know your other team members and coworkers. Consider giving them a tour of your working space so they know more about your office, couch, or living room outside of what they can see in virtual meetings.
If you have a pet, invite them on camera! Just get something new in your home, like artwork or new kitchen appliances? Show them off!
Additionally, don't knock the cliche "how was your weekend?" question, because it's a good way to find out about your coworkers' life outside of the typical workweek. You can also take advantage of virtual icebreakers before meetings begin and host virtual happy hours or lunch breaks.
2Connect over common interests
After getting to know the other team members, you'll likely find some common interests through which you can connect.
Maybe another one of your coworkers really enjoys cooking unique meals, or perhaps there's another bookworm on your team. Finding this common ground is a great way to create a sense of community, whatever the case may be. From starting a book club to sharing recipes and making them together, there are many ways you can connect virtually with your team.
For example, after getting to know one of my coworkers, we discovered we go to the same gym. Having this mutual connection gives us something to talk about outside of work. We ask each other how our workouts went and complain if a session was especially difficult. We also send each other our workout stats, like average heart rate and calories burned, after we take a class.
3Play a game together
There's nothing wrong with a little friendly competition! Consider getting the team together to play a game. There are a lot of websites, like Kahoot, that make it easier than ever to connect over a game of trivia. Take your game up a notch by putting coworkers on teams to compete against one another and even offering prizes for first and second-place winners. You'll be surprised by the random tidbits of knowledge that some of your team members may have!
4Be human first
Try to keep in mind that everyone you work with is human, so it's important to remember to say thank you, be kind, and consider how you would interact with other coworkers if you were in an office or speaking face-to-face.
For instance, when sending a team member or coworker a direct message asking for help, remember to begin with saying hello or hi. If this is your first interaction, consider introducing yourself before diving into a question.
A sample message could be: "Hi [coworker's name]! My name is [your name] and I'm on the [department] team. I'm hoping you can help me with…
Without this lead-in context and introduction, the coworker reading your message may be caught off-guard and even a little turned off by a cold request.
5Set goals
Are you looking for a sense of community to grow your career, build your network, or get some much-needed socialization? Having this answer can make it easier to set goals for yourself as you start to meet new people.
For example, suppose you're looking to build a sense of community on social media, like Twitter. In that case, you may have goals that entail taking part in Twitter Chats, like Fellow's #ManagerChats, gaining a certain number of followers, or joining a Twitter Community centered around one of your interests. Knowing your intention and setting smart goals for yourself is an excellent way to know what to work towards and to hold yourself accountable.
Try this free template: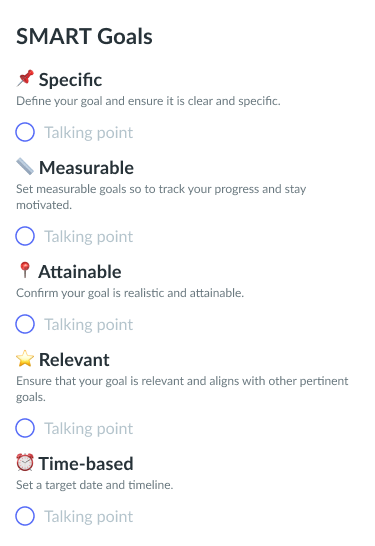 6Be an active member
To feel a sense of community from others, you need to be an active participant. If you wish you knew your team better, then it's up to you to make an effort to join in on conversations and attend virtual events. To be an active member of the community, do your best to engage, participate in remote opportunities, and lean into discussions.
You don't have to be the first person to take yourself off mute, but always keeping your microphone muted makes it pretty hard to find a sense of belonging.
Characteristics of a good community
Not sure how to spot a good community when you see it? Here are some characteristics to watch for before deciding to become an active member.
1Shares a common goal
A sure sign of an effective community is one in which people have similar goals, values, or belief systems. When a community shares a common goal, it's easier to know that everyone is motivated and working together to achieve their goals. It also makes for easy discussion points and more ways to start a conversation.
For example, if you've joined a book club, the shared goal may be to read a certain amount of books every month with another goal at the end of the year. This goal gives everyone in the club something to talk about, with topics changing every once in a while so there's always something new to share.
2Accepts members without judgment
No one wants to join a community that isn't accepting or that judges others based on first impressions, appearances, or class. When you find a community that is kind, judgment free, and accepting of people the way they are, that's one you want to join.
Keep an eye out for red flags, gossip, or members talking down to one another. If you notice any of these instances, this may not be the community you're looking for.
3Holds respectful conversations
Having meaningful conversations with others is a crucial element to feeling like you belong in a community. One characteristic of a good community is having members who can hold respectful and meaningful conversations. This doesn't mean that everyone agrees 100% of the time, but there isn't name-calling or rude behavior when disagreements happen. Instead, individuals can have disagreements and converse about them in a mature way.
4Actively listens
Active listening is easier said than done, but a good community will always strive to listen as actively as possible. Active listening looks like:
Asking open-ended questions
Giving verbal affirmations
Waiting to share an opinion
See if you notice this during conversations with others.
5Encourages and inspires others
Finally, a good community will always encourage and inspire others to be their best selves. Everyone comes together to help one another with challenges they may be facing, celebrate personal or professional accomplishments, and encourage others to achieve their goals.
Your people are out there
There's no denying that working remotely can feel a little isolating. Having a sense of community and building relationships can ensure those working from home thrive and connect with others, even though they're not going into a physical office every day. No matter how autonomous you feel, don't neglect your social needs!