We've all heard about the work from home model, especially as of late with COVID-19 where it has become essential for many businesses to operate remotely. Working from home has certainly been an adjustment for many employees and the way that they work. Similarly, managers have had to shift their approach in order to manage their remote workers as effectively as possible.
In this article, Fellow focuses on the management side of working from home and provides you with best practices for remote management and tips that every manager should know while they lead their teams from a distance.
What Is Remote Management?
Remote management means managing a team virtually or remotely. After you've had some time to adapt to working from home, you should feel confident that you are able to effectively manage each team member from a distance and still see strong levels of productivity and efficiency.
Advantages of Remote Management
There are a surprising amount of advantages to managing your remote workers. In fact, a lot of employees like the idea of being able to work from the comfort of their homes, which increases the morale and motivation amongst employees.
Management becomes a lot easier when your team feels motivated and eager to tackle their responsibilities. Here are a few advantages of remote management: 
Hire Global Talent 🌎
When your company allows remote work, you can hire the talent that you need from anywhere around the world. This also gives employees the freedom and flexibility to be based wherever they'd like to be.
"Remote work has opened up a global talent pool for us and new opportunities for dedicated people who may not be in a position to move just to advance their career," says Darren Murph (Head of Remote at Gitlab). "It's also a more inclusive way of working, providing opportunity for working parents, caregivers, military spouses, and those who struggle with physical mobility."
Decrease Costs 💰
As an organization, you can save a lot of money by having a remote team. As a manager then, you can reallocate these funds somewhere else where they are needed, whether it be on remote tools and resources or a well-deserved bonus. This cost reallocation can enrich your employees' satisfaction in their roles, promoting happiness, which produces productive individuals. 
"No matter what size business you run, keeping costs to a minimum is always on the agenda," says CEO and co-founder of Mailbird, Andrea Loubier. "Telecommuting helps reduce operating costs, cash in on the appeal factor and boost your bottom line. According to Aetna, an insurance giant in America, it shed 2.7 million square feet of office space and as a result saved $78 million. American Express reported similar results by saving $10-15 million annually thanks to its telecommuting policies."
Encourage Creativity 💭
Having a remote team means that you need to be a lot more open in your management approach. Rather than being super concerned with how things are getting done, it's more important to focus on the completed product. This allows for each of your team members to be much more creative in their approach and to focus on which working and learning style is best suited to them. When your employees feel in control of their productivity and success, they're going to feel a lot more motivated. 
"Creativity requires breaking down structured information, seeing it in a new light, and discovering its connections to other ideas. The structured nature of the office experience may itself kill creativity. And it's the very nature of remote work that supports (or forces) these creative ways of thinking," says Peter Berezhansky, VP of Product & Creative at Powtoon.
9 Tips for Effective Remote Management
Make remote work more productive and engaging for employees with these 9 essential tips:
1 Stay in touch through structured check-ins
Organize yourself ahead of time to facilitate structured team check-ins. We'd recommend conducting a weekly team meeting and to organize it in your calendar as a recurring event. You may have to define responsibilities ahead of time so that when you are following up with your team to see how it's going, you're aware of what they're working on and how the tasks are progressing. 
The definitive guide to team meetings
Learn how the world's best companies run effective team meetings – featuring insights from Figma, Buffer, Close, Webflow, Shopify, and more.
On the other hand, it's very important to schedule regular one-on-one meetings with your direct reports. One-on-ones provide employees with a dedicated space to receive coaching on their priorities, exchange feedback, and set professional development goals. All these things will help you keep employees engaged and motivated when working remotely.
2 Trust your employees to do their work
Some managers with remote employees worry if their team members are actually working when they're remote. Managing remotely takes some adjusting to but you've got to trust your team and honour their word. If you're happy with the end result, try not to be so preoccupied with how it's getting done. Give your team the chance to prove to you that they can be productive and efficient while working from home.
"As a leader and a manager, if you're not hiring people that you can trust to work hen you're not around, you probably have some bigger issues that you need to look at," says Mark Bergen, Head of Revenue at Shopify Plus.
3 Define clear tasks
As a remote manager, it's very important to make sure that the tasks you're assigning aren't open-ended or ambiguous. Remote management requires that you define specific, clearly defined tasks. This is going to reduce the chances of team members going off track or losing focus. Finally, explain the scope of the work to each individual so that they understand how their individual tasks are contributing to the larger, overarching goals.
"It's a good idea to openly communicate with your team to test your thinking when fixing unclear roles and responsibilities. If you feel like your team members need to clarify their roles, then it's likely they feel the same," says Ben Brearley. "Ask your team members for feedback and see whether they feel the uncertainty that you do."
4 Choose the right remote tools
Another important part of succeeding as a remote leader is choosing the right tools for your team meetings and daily tasks. Using a tool that consolidates several functions into one, so that you're not using a million applications is going to be extremely beneficial. Some remote management tools we recommend include:
5 Encourage flexible working
If your team's work is getting done and the quality is sound, don't fret about how (and when) they're doing it. Make sure to consider the availability and flexibility of team members in different time zones before scheduling meetings or before giving them tasks that require immediate attention.
"You have to shift from being a hand holder to being an unblocker," says Darren Murph. "The role of the manager mostly becomes unblocking. And that requires a culture of trust where your directs will come to you and say: this is where I'm at on a project. I can't figure out how to get around this thing. Can you help me get around this thing?… So you are really reliant on your people telling you what they need and then you empowering and equipping them as a leader to run really fast and do what they need to do."
6Track team and company goals
Create some kind of tracking process so that you are aware of the status of the tasks and have a strong understanding of the progress of the project.
At Fellow, we created a shared stream where we track company OKRs and team goals for each quarter. Using a collaborative tool can be effective for tracking goals so that employees can go in and make modifications to time, budget, scope and the persons assigned to get it done.
7 Provide opportunities for social interaction 
In remote settings, it's easy for work to feel a little transactional. The best managers know that in a remote world, maintaining "human-ness" is key. Structure some ways for employees to interact socially while working remote, whether it's a virtual happy hour or simply scheduling some time before or after a meeting to catch up. This is going to reduce feelings of isolation and foster a sense of belonging.
8 Offer encouragement and praise
It's important for you to acknowledge your team members' stress, listen to their concerns and empathize with their struggles as they transition to a remote work setting.
On the other hand, it's just as important to also encourage and provide positive affirmations to motivate the team. Make sure to check-in with your employees and ask how they're doing. Knowing that they can come to you with their concerns will be very comforting.
Finally, remember to praise employees when they're doing a good job, as this positive encouragement will keep remote employees engaged and motivated.
"Culture isn't about proximity, it's about connection," says Laurel Farrer. "Be innovative as you remind your team that they are valued, appreciated, and recognized, regardless of location.
9 Get feedback about your meetings and processes
Last but not least, it's crucial to get feedback from your employees about how you're doing as you manage them from a distance. Promote a culture of continuous improvement by asking for constructive feedback about your meetings, projects, and overall management style. Make it a priority to make adjustments to your remote management style as you speak to your team. 
"Managers can set the tone for a feedback-rich culture by modelling that they value feedback [for themselves]," says Patricia Thompson, PhD. "This means that they need to have a willingness to ask for feedback, and receive it in a non-defensive way."
[Learn how Fellow can help you build a culture of continuous feedback]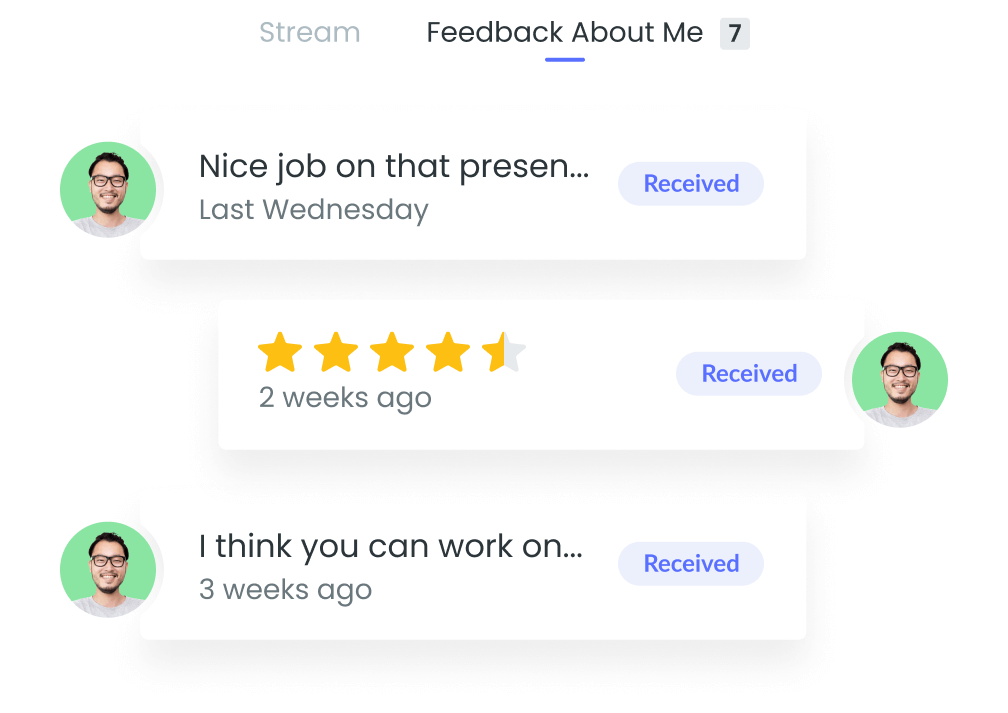 3 Common Challenges in Remote Management
Although there are many advantages to managing a remote team, there are also some challenges that need to be overcome in order to truly reap all the benefits. Even when overcome, challenges will likely continue to arise. It's all about being aware of these obstacles and learning how to best approach them!
Here are a few challenges of remote management:
Varied time zones 🕑
It can be tough to manage a team that works from varied time zones. It especially creates complications in scheduling meetings or working sessions because there may not be a time that is comfortable for everyone. Having team members in different time zones can also cause delays in completing certain tasks and therefore, sometimes delays the entire project.
In order to overcome this challenge, make sure you are planning and thinking ahead with your team members' time zones etched in your memory (and calendar!).
"We are very conscious of the times that different teammates work and ask them to include it in their Slack profile so that everyone can know when they might be online," says the Buffer team. "We change up meeting times to try and make it more available to people around the world, or hold two different meeting times so that it's during the day for everyone."
Task tracking ✅
Task tracking can be a little challenging because you need to make sure you're getting individual updates from each team member. This can be time-consuming and might take up too much of your workday to make these check-ins.
In order to overcome this challenge, make sure that you have an efficient process in place to track your teammate's progress and results.

Productivity Tip
Use a meeting management tool like Fellow to track the action items and decisions that come out of your one-on-ones and team meetings.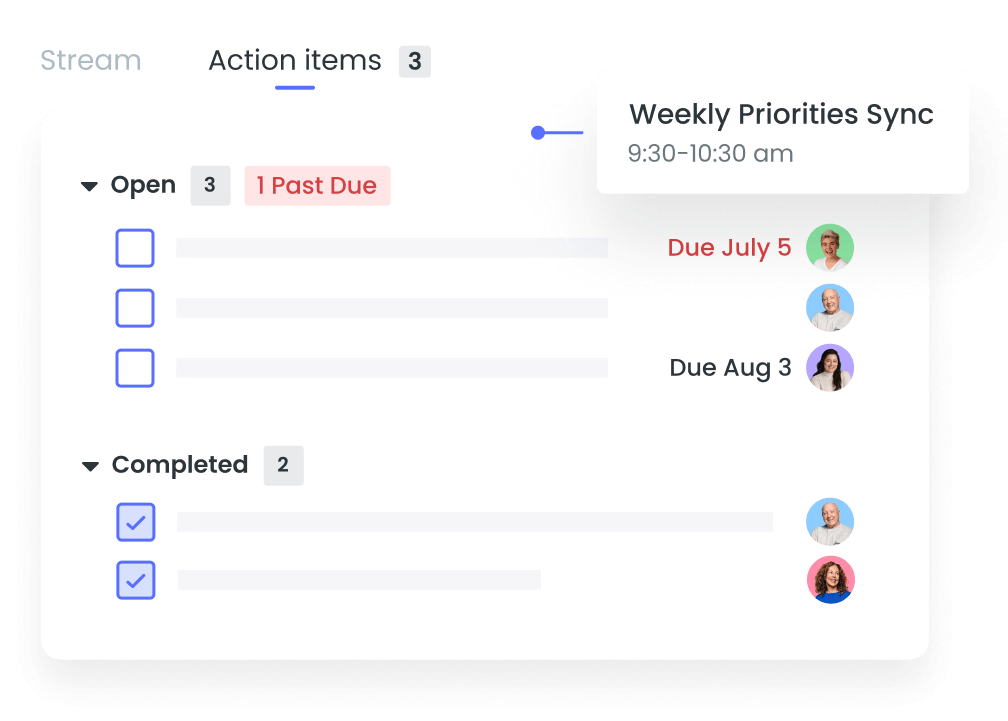 Communication gaps 🗣
If you're not careful, managing your team from a distance can cause a gap in communications. Especially when your project requires regular discussions, you need to ensure you're using the most efficient communication tools which will help you and your team members keep in touch.
In order to avoid the common communication challenges of remote work, make sure to think ahead when it comes to bigger discussions and schedule calls ahead of time. It's important to stay extremely organized so that you're not wasting yours and your team members' time.
Darren Murph, Head of Remote at Gitlab, also advises using public channels as much as possible in order to avoid communication silos:
"We actually have a key performance indicator where we quarter over quarter try to make sure that the percentage of slack messages sent as private or direct messages actually goes down, and the ratio of the public messages sent goes up," said Darren Murph. "And that helps more decisions be made in public so that they're broadcast to the broadest amount of people, which goes along with our mission of everyone can contribute."
Conclusion
Remote management has become a norm in many companies around the world. As a manager, you've got to be prepared to step up to the plate and manage from a distance, if you aren't already doing it. If you follow remote management best practices, you can confidently manage your team, wherever you are.
Refer back to this guide whenever you need a refresher on remote management best practices and 9 great tips on how to manage your team from home.