There's no doubt about it: remote work is here to stay. That change brings a whole new approach to team communication along with it. That means more than virtual Friday afternoon happy hours — it means day-in, day-out digital infrastructure that boosts team collaboration, productivity, and plain old conversations. Enter team communication tools.
With team communication tools, the people (figuratively) around you can stay connected anytime, anywhere. They also provide a user-friendly way to dodge inefficient workflows, clarify instructions, and navigate any conflicts that may arise. A team connected via these tools is a team that's on the same page.
Sounds great, right? It is – and these 15 efficient team communication tools can help out.
What should you consider when choosing team communication tools?
Given the abundance of team communication tools out there, you might be wondering: What exactly do I need in mine? Fair question, as these tools oversee a lot – file sharing, internal communications, task management, you name it. That's a lot for any app to place on its shoulders. And each of these aspects is a chance for an app to just get it plain wrong.
To avoid apps that don't quite hit the right marks, seek out the following in your team communication tools:
Ease of use. You'll want a team communication tool that's easy for everyone to use. This way, your team faces a minimal learning curve implementing the software – and then using it every day.
Integration. A good team communication tool streamlines your workflows rather than adding needless additional steps. That means your team communication tool should integrate seamlessly with the other apps you use each day. This way, you don't disrupt your typical processes at the expense of better communication.
Security. Unfortunately, small teams represent 43 percent of all cyberattacks, and a poorly secured team communication app can provide a backdoor into your infrastructure. That's why your team communication tool should include robust data security features. You should also look for internal controls through which you can restrict who does and doesn't get access to certain information.
Features that meet your organizational needs. As you search for team communication tools, consider your industry, team size, and capabilities. Use this information to build a list of the features you need your software to cover. Then, look for team communication tools that address most or all of these needs. Although tools that check every box are rare, an app that checks most boxes could be your best friend.

Effective meetings start with an agenda.
Collaborate on a meeting agenda that inspires a productive group conversation and includes all voices with a tool like Fellow.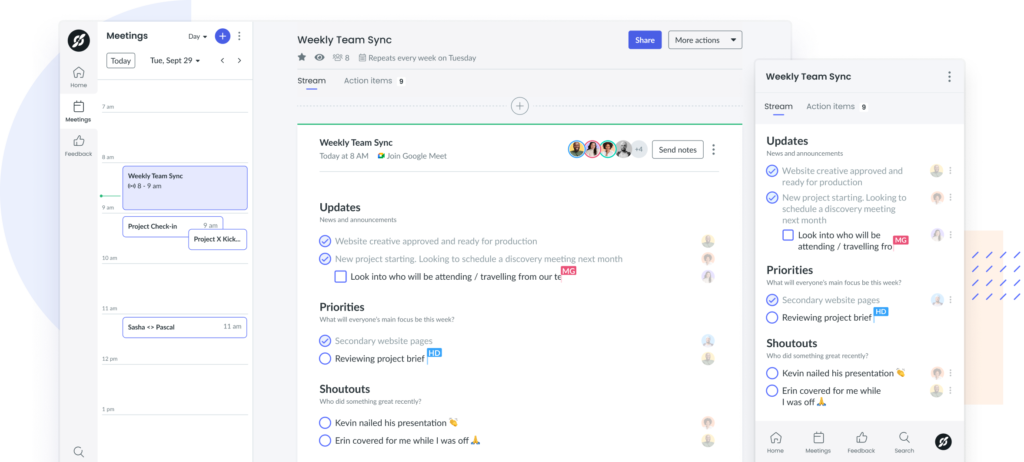 15 best team communication tools to use
Now that you know what kind of features to seek in a team communication tool, you might be ready to consider some options. That's why we've assembled the below list of 15 trustworthy options. You'll see an assortment of video conferencing tools, project management platforms, messaging apps, and more.
1 Slack
At this point, it's safe to say that almost every team has at least heard of Slack. The company had grown so popular by 2018 that, in July of that year, Slack bought the then-popular team communication tool HipChat. It then shut down HipChat and integrated it – and its users – fully into Slack. Three years later, Salesforce – the leading name in sales software – acquired Slack. This is all to say: Slack may well be the dominant name in team communication tools.
Of course, that's all for a reason. Slack offers highly organized instant messaging that you can sort by category, project, assignment, or anything else. You can also set up direct one-on-one messages or group chats with anyone on your team. Additionally, you can stay connected with your team anytime, anywhere with Slack's mobile app. All these instant communication features come at the expense of ample file storage and sharing capacity.
Main benefits:

Highly organized instant messaging
One-on-one, small group, or full team messages
Mobile app for around-the-clock team communication

Price: Plans are free or start at $6.67 per user per month
2 Zoom
Zoom is all but ubiquitous at this point. You're probably well aware that it allows you to set up virtual video and audio conferencing with your team. You can also use it for webinars, live chats, screen-sharing, and other types of collaboration. It's among the most versatile team communication tools out there, though Zoom fatigue is 100% a real thing.
Main benefits:

Near-universally understood and used
Seamless screen-sharing and webinar formats
High-quality calls and video

Price: Plans are either free or start at $14.99 per month per license
3 Microsoft Teams
More than 330,000 companies around the world use Microsoft Teams. That's largely thanks to its trusted Microsoft branding, but it's also due to Teams' consolidated chat, document sharing, and online meeting tools. Teams' main disadvantage is that the free Teams tier only permits meetings at most 60 minutes long. However, Microsoft has extended this duration to 30 hours during the COVID-19 pandemic.
Main benefits:

User-friendly chat functions
Integration with Office 365 and other Microsoft tools and suites
Widely accepted alternative to Zoom

Price: Plans are either free or start at $5 per user per month
4 Google Workspace
Google Workspace (formerly G Suite) offers seemingly countless communication and collaboration apps that can take your business to the next level. Use it to obtain a professional email address for every user on your team and enjoy flexible user account management. You'll also get cloud storage and search options that accelerate file sharing and ensure that team communications contain all relevant information. However, the lowest-tier pricing plan lacks the automatic meeting recordings of the higher-level plans.
Main benefits:

Professional email options
Large amount of cloud storage
Powerful search tools

Price: Plans start at $6 per user per month
5 Fellow
When it comes to meetings, whether virtual or face-to-face, Fellow is your best friend. Use it to collaborate on meeting agendas, share notes, and create meeting action items. It's a great way to improve your meeting communications, hold your team accountable for action items, and make key decisions.
Main benefits:

Paperless meetings
Simplified notetaking
Seamless agenda creation and sharing

Price: Plans are either free or start at $5 per user per month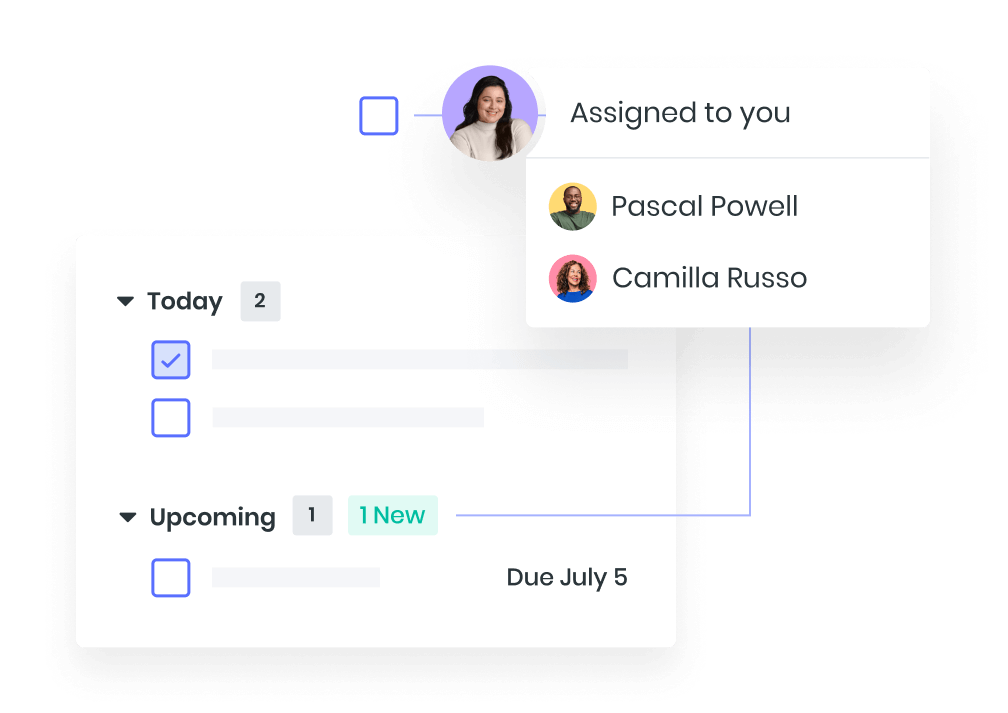 6 OneDrive
OneDrive is the Microsoft equivalent of Google Drive, making it a popular choice among many organizations. It integrates seamlessly with other Microsoft Office products, making it easier than ever to share, store, and collaborate on content. As such, OneDrive is a team communication tool in that it gives your team access to items needed for discussing collaborative projects. That said, if your team uses many non-Microsoft tools, you might find OneDrive's lack of non-Microsoft integrations challenging.
Main benefits:

Unlimited file access at all times
Full integration with Microsoft Office
Sharing and access capabilities streamline discussions of ongoing projects

Price: Plans start at $5 per user per month
7 ProofHub
Unlike many other project management software platforms, ProofHub charges flat-rate instead of per user. This billing comes with ease of use, as ProofHub's interface allows users to easily learn and operate the platform. ProofHub is also available in half a dozen languages, making it a perfect option for managing global remote teams. Its key disadvantage pertains not to its services but how you pay. If you can't pay by PayPal or credit card, you'll have to pay a larger annual fee instead of a smaller monthly one.
Main benefits:

Optimized task management
Risk identification and mitigation
Central location for all files

Price: Plans start at $45 per month
8 Filestage
Filestage streamlines the approval and review processes key to communicating a project's progress and moving forward. It claims that it can accelerate your workflows tenfold. That means your team can easily ask for – and obtain – what it needs to stay on deadline. However, Filestage's two lowest-tier pricing plans lack priority customer support.
Main benefits:

Improves workflow and productivity
Ability to annotate and collaborate on projects within the same space
Streamlines communication with team members and clients alike

Price: Plans start at $9 per user per month
9 Chanty
Chanty is a simple and fast team chat app that helps boost business productivity. Its Teambook technology stores and organizes all messages, files, links, and tasks for easier communications. Its voice messaging and call features also enable quick communication in a pinch. However, Chanty isn't as ideal as some of the other options on this list for video calls or file sharing.
Main benefits:

Built-in task management
No message history limits, with searchable history
High-speed message delivery

Price: Plans are either free or start at $3 per user per month
10 Troop Messenger
Troop Messenger helps manage your team's collaboration and communication through its secure instant messaging platform. Through these instant messages, your team members can discuss projects, share ideas, and spend time just getting to know each other. The app's multi-location access also improves virtual meetings, audio calls, and video conferencing. However, its pricing structure is questionable, as the least expensive plan offers less storage space than the most expensive one.
Main benefits:

Accessible via web browser or desktop and mobile apps
User-friendly interface
Optimized communication regardless of location

Price: Plans start at $5 per user per month
11 Taskworld
Taskworld's workspaces, chat tools, and active project lists make it a well-respected cloud communication tool. Its focus is on providing teams with time-tracking and project management solutions accessible anytime, anywhere. Given its team focus, though, Taskworld lacks a free introductory tier designed for individual use. It's one of relatively few tools on this list with no free option.
Main benefits:

Consistent task management features across all plan tiers
Relatively high maximum number of active projects per pricing tier
Sets minimum, rather than maximum, number of users for each plan

Price: Plans start at $10 per user per month
12 Bloomfire
Bloomfire's knowledge-sharing software solution allows users to centralize company information in a searchable platform. Your team members can easily share this information with one another to streamline communication. Additionally, Bloomfire sets its prices to decrease as your team size increases, making it a highly scalable team communication tool. That said, some of its most important integrations are only available to enterprise-level users.
Main benefits:

Searchable knowledge platform
Easy knowledge sharing streamlines communication
Scalable pricing keeps Bloomfire with you as you grow

Price: Plans start at $25 per user per month
13 MediaFire
MediaFire is a file storage, sharing, and collaboration platform with relatively advanced features in its free tier. Its free-tier storage and download capacity, as well as its bandwidth, are exceptionally high for unpaid plans. Its one-time links are also highly convenient for privately sharing sensitive content. These free features, though, come with pesky ads that you can only eliminate if you pay for MediaFire's Pro tier.
Main benefits:

Feature-rich free tier
High storage and download capacities
One-time links

Price: Plans start at $3.75 per month
14 Jive
Jive prides itself on three C's: collaboration, communication, and connection. Your team members can use Jive to identify the best possible collaborators and analyze all your collaborations. You can also use Jive to set up internal conversations about relevant news and videos or start an employee blog. These features, though unlike other team communication tools, aren't quite the instant messaging tools many team leaders seek.
Main benefits:

Identify collaborators and analyze collaborations
Discuss relevant news and videos
Create employee blogs to stimulate conversation

Price: Jive pricing is only available if you request a personalized demo.
15 Krisp
Krisp is a noise-canceling app that helps eliminate background noise during virtual meetings. This unique tool is thus less for providing a communication channel than for perfecting your existing channels. Its value, though, can't be overstated: Your team loses time and knowledge to noisy calls on which people are hard to understand. Krisp's main disadvantage is that its most popular pricing plan lacks priority support, though non-priority support is available.
Main benefits:

Remove background noise from video conferences
Supplement existing communication tools
Unlimited noise removal with paid plans

Price: Plans are either free or start at $5 per month
Communicate, collaborate, succeed
Modern team communication tools are a must-have for team-wide success. They ensure that your team can communicate readily, share files, and see eye to eye on all things work. All these capabilities are key to preparing and then executing meetings, two tasks with which Fellow can help. Fellow's meeting agenda, notes, and action item tools help you plan and execute meetings in which everyone communicates clearly and easily. With everyone aligned, success is just around the corner.