If it's not on Google Calendar, does it really exist?
For meetings, reminders, time blocks, and more, Google Calendar is where you'll find a ton of information regarding what awaits during the day, week, or month ahead. And while it's an incredibly useful tool, it may not be perfect or have the most necessary features for everyone all the time.
Thankfully, there's likely an extension that has everything you're looking for—and so much more.
What are the benefits of Google Calendar extensions?
There's no denying just how popular Google Calendar is. In fact, it's used by over 500 million people and is available in 41 different languages. It's often one of the first websites people fire up at the start of the workday to see what meetings await and what items are on their to-do list.
The right Google Calendar extension can allow users to add customizations and small tweaks that the app itself is missing. Maybe you need different types of reminders, a better way to visualize events, or better note-taking abilities—an extension added to an already great app like Google Calendar can give you the personalized features you may need.
Whatever the case may be, a Google Calendar extension is the one thing your calendar is missing and what will take productivity to the next level.

Run delightful meetings
Increase meeting engagement and productivity with a collaborative agenda that the whole team can contribute to. Try using a tool like Fellow!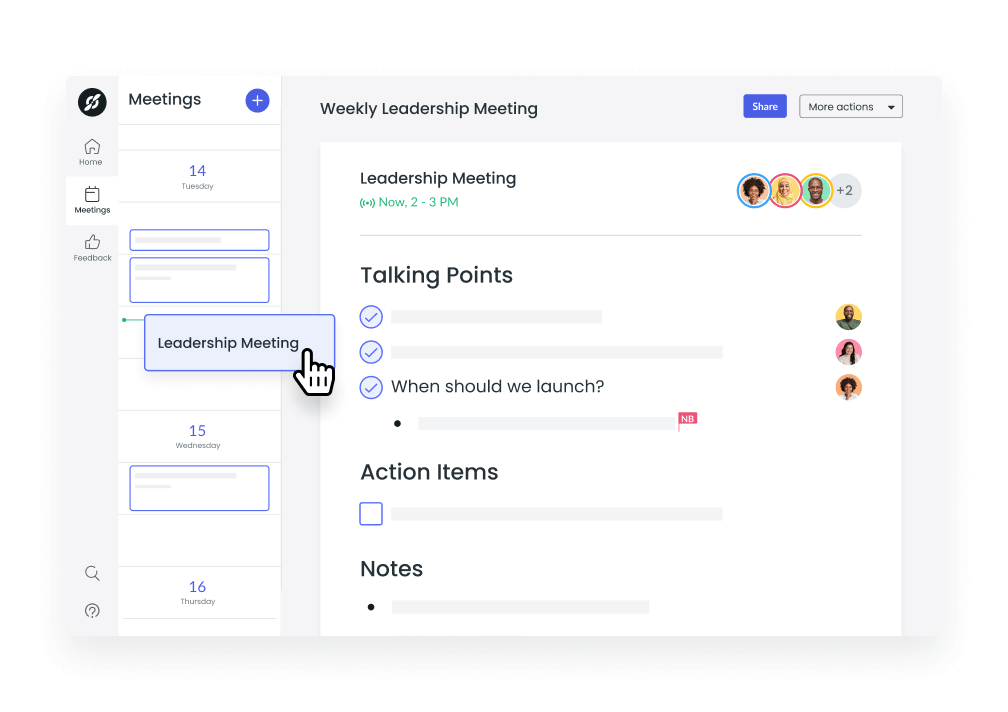 9 extensions for Google Calendar
No matter what you need to add to Google Calendar, chances are there's at least one extension that will be a good fit. We've narrowed down these extensions to 9 options that might be exactly what you need for a productivity boost.
1Toggl
Toggl is a free Google Calendar time-tracking integration that makes it easier for users to keep themselves accountable to their calendars. It also highlights gaps in the day, so users can either take advantage of some free time or choose to fill this time slot with meetings or other tasks. The Toggl button can be especially helpful when time tracking how much of the day is spent on specific activities or projects.
Plus, setup is done from start to finish in four easy steps.
2TeamCal
Another great option is TeamCal, which enhances the standard Google Calendar with team scheduling and planning functions. It displays all calendars at once using a horizontal timeline view, which can be helpful for managers who are supervising a large team and need to find time for a meeting that works for everyone. To ensure nothing falls through the cracks, users can easily schedule availability, staff rotations, on-call employees, time off and leaves, and can change shifts.
The extension boasts a 30-day free trial, then pricing begins at $29.00 a month.
3Fellow
This wouldn't be a roundup of ways to boost productivity without mentioning Fellow's Google Calendar extension. Users can access meeting notes directly from events in Google Calendar to stay organized and ensure no detail goes missed. All it takes is a quick glance at your calendar each morning to start getting prepared for each upcoming meeting or to-do task. Plus, users can seamlessly schedule a follow-up meeting if more time is needed to discuss specific action items or if a check-in is needed down the line. It's also easy to review past meeting notes teams need a refresher on what was decided last time.
4Timely
Another Google Calendar extension to boost productivity is Timely. Users can automatically import crucial Google Calendar events to a private timeline while connecting more than one account at once. Timely makes it easy to log all time spent in meetings directly in a timesheet for a better understanding of how long it takes to complete specific tasks. It's also simple to track projects, monitor budgets, keep tabs on team performance, and more.
Timely offers a 14-day free trial, and then pricing starts at $8 a month.
5Todoist
Next up is Todoist, which boasts a real-time, two-way sync with Google Calendar, making it possible to organize, manage, visualize, and prioritize tasks in an easy-to-read view. When you make a change, all updates made in Google Calendar are instantly reflected in Todoist and vice versa, so there's no confusion. This extension's features include scheduling meetings and events, setting reminders, time blocking, offering a drag-and-drop functionality, and more.
Todoist is free, but you can upgrade starting at $4 a month for extra capabilities.
6Calendly
Trying to schedule a meeting with numerous other coworkers and employees can be extremely tedious. Sometimes it even feels impossible to find a time that works for everyone. But that's where Calendly can help. Scheduling is easy, and you can say goodbye to the days of being double-booked. It's simple to connect with your team, agree on the best time to meet, and get a time scheduled without numerous back-and-forth messages and emails. One stand-out feature is being able to ​​create and send meeting polls to find and book the best time for everyone.
Calendly's basic plan is free, with other plans starting at $8 per seat per month.
7Event Merge
If you're a visual learner, check out Event Merge. As the name suggests, this free Google Calendar extension makes it easy to merge multiple calendars, giving users the ability to manage personal, work, and team calendars in one organized view. Event Merge combines the same event across various calendars to give you a coordinated view of your events so you can see everything at a quick glance. Plus, everything is visual with unique stripes, colors, and individual calendar colors.
8ReminderCall
ReminderCall is for users who sometimes lose track of time and need a reminder of upcoming appointments. Users can send automatic ReminderCall.com appointment reminders from a Google Calendar in two simple steps. Reminders can come through as texts, phone calls, or emails. For these reminders to work correctly, users need an account with ReminderCall.com, but signing up for an account is free and easy!
9G-calize
Last but not least is G-calize, a free color-coding tool that helps users better plan their schedules and hold themselves accountable to their tasks. Think of how people used to color-code paper notebooks and calendars—now this can be done electronically! Since color-coding is so popular for organizing, tracking what needs to be done, and boosting productivity, G-calize lets users color-code their calendars. Colors can be customized for each day of the week for better organization.
Take your Google Calendar to the next level
When your Google Calendar is approaching chaos, an extension can be what you're looking for to get organized, stay productive, and always be prepared for what the day has in store. The right extension can effortlessly take someone from feeling overworked and overwhelmed to feeling calm, cool, and collected.
Which extension is right for you?