Wondering how some people can accomplish so much in one working day? There's truly no secret to it: it's all about ensuring that you're as organized as possible so you can set yourself up for success. While there are many ways to stay organized, one highly effective approach is to use a daily task planner. Because most people struggle with using their time effectively throughout the day, a daily task planner is one way of managing your daily schedule and important tasks and ensuring you stay on top of your personal to-do list. There are many project or general management tools that can help you incorporate a daily task planner into your day.
This article will cover why daily task planning is important, why planning your day is essential, some qualities that a good daily task planner should have, how to use a daily task planner effectively, and how to schedule your day for optimal productivity so you can ultimately accomplish more with less effort.
Why is daily task planning important in the workplace?
Daily task planning is important in the workplace because it can help you complete your work in a more accurate manner. When you're more organized, you're much less likely to make mistakes, whether they be small slip-ups or incidents that can have negative repercussions. When you implement a daily task planner, you work more efficiently and productively since you have clearly set out what is required of you on a weekly, daily, and hourly basis. Creating this effective plan outlining how you will tackle your daily agenda will help you efficiently complete tasks by their due dates and manage your recurring tasks to attain your goals.

Organize your ideas, your way
Organize and prioritize your tasks so that you start every day feeling calm and motivated and get clarity on what needs to be done next with Fellow's Streams!
Why planning your day is important
Planning your day is important for several reasons. First, you'll notice that using a daily task planner reduces wasted time that may be spent trying to organize and situate yourself. When you plan your day, you work on improving your memory and retention of recurring tasks, you reduce stress (since you can clearly determine what needs to be accomplished by when), and you end up feeling more positive because your day seems so much more manageable. Of course planning your day also boosts productivity, facilitates more collaboration, encourages more mindfulness, and helps you to meet your personal and professional goals. 
5 qualities a good daily task planner should have
1Daily task list
This component may seem obvious to some, but a good daily task planner requires a daily task list so you can keep on track of what you've accomplished and what you still need to get done before the end of the day. Managing all the to dos across your many projects and tasks can be overwhelming. With Fellow, you can track action items across your meetings or projects, add tasks in the action items section, or sync them with tools like Asana, Jira, and Zapier.
2Bullet journal pages
A bullet journal can be really effective to use as a daily task planner. These journals typically have different organized sections so you can log your daily to dos, keep a monthly or weekly calendar, write down notes on various projects or tasks, and track your progress on personal tasks (like using a mental health checklist). Importantly, you can also record short- and long-term goals.
3Goals
Your goals need to be clearly identified to have a good daily task planner. With a meeting management tool like Fellow and its objectives and key results (OKRs) feature, you can easily create new objectives, specify key results, track progress, and update contributors. If you're encouraging your team to use Fellow for their daily task planners, each team member can create their own private or public OKRs or even create team-wide objectives.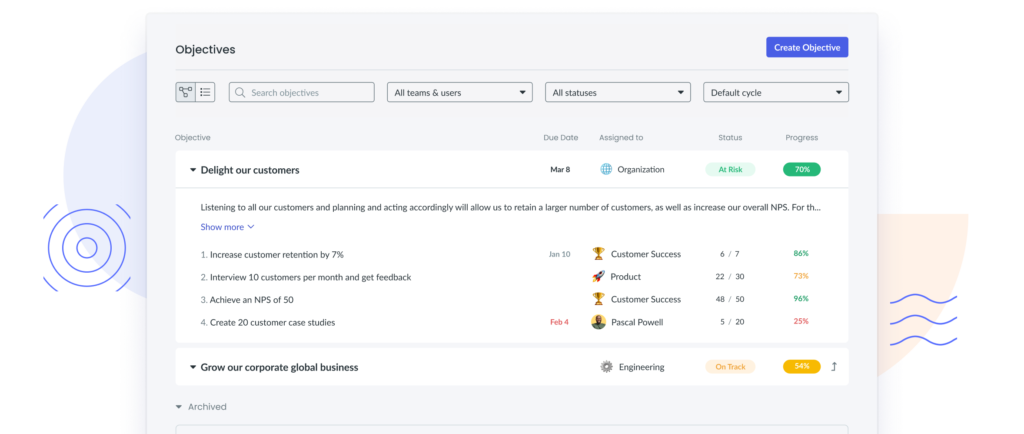 4Daily, monthly, and yearly overview
Creating a daily, monthly, and yearly overview is essential to your daily task planner. Having this information written down will ensure that you're on top of your tasks and that nothing comes as a surprise to you, as it will already be outlined. Of course, as tasks arise, be sure to add them to their respective task list depending on their due dates.
5Place for notes
A place for your notes sounds simple but is really important for a good daily task planner. To optimize your time management and productivity, use Fellow's private notes and streams feature. Streams are digital notepads that you can use on your own or with your team to capture ideas, goals, and whatever else you dream up. You can easily organize and view tasks so you start every day feeling calm and motivated.
How to use a daily task planner effectively
1Be consistent
Consistency is key, so if you've decided to implement a daily task planner into your day, stick with it! Building any habit requires a certain amount of discipline and consistent implementation. Using a daily task planner here and there will neither be effective, nor will it help you be more productive. Be sure to make a commitment to your daily task planner, knowing that in the long run, using a time management and productivity tool like this will be extremely beneficial.
2Fill in important dates and deadlines right away
As soon as important dates and deadlines come up, put them into your daily task planner immediately. Doing so will ensure that nothing slips through the cracks and that you stay on top of all your important, impactful tasks.
3Use color coding to keep track of different items
Using a simple technique like color coding will surprisingly help you keep track of different items. Use particular labels for specific things. Perhaps you color code based on importance or urgency, based on daily, weekly, and monthly tasks, using another system. Regardless, having this visual indication of responsibilities will ensure that you're on top of everything.
4Implement time blocking
Time blocking is a time management method that is meant for individuals to organize their workday into specific blocks of time. Each block is dedicated to completing a specific task, with the intention for the individual to stay focused on that task exclusively. Rather than having an open-ended to-do list, time blocking allows you to focus on a concrete schedule so there's no question as to what you should prioritize each day, and when.
5Use the extra features the planner offers
Use all the features of a planner that are at your disposal. Extra features are intended for an even more elevated and optimized experience! For instance, Fellow 4.0 has recently been launched to give you a better user experience and even more support in accomplishing your daily tasks. With the tool, you now have more flexible ways to organize your action items, your meeting information is made more accessible before, during, and after meetings, and you can now sync important information from Fellow to your other work tools.
6Remain detail oriented with organized characteristics
To stay on top of your daily task planner, you need to focus on being detail-oriented so you can keep as organized as possible. If you're not naturally detail oriented, that's completely normal. The good news is that this is something that can be worked on and developed over time. To work towards becoming more detail-oriented, use a task management system, give yourself a daily routine, stay healthy, track your time, ask for clarity when you need it, proofread your work, and write everything down. 
7Be empathetic and proactive
Be empathetic in the sense that you think about how your team members are affected by you completing or not being able to complete certain tasks on time. To be an effective planner, it's important to consider that your work affects others, which is why it's essential to be proactive and complete tasks as best as you can.
8Maintain a positive attitude and collaborate with others
Try to maintain a positive attitude, even during busy and challenging times at work. Your team is there to support and help guide you. Be sure to engage with your coworkers and collaborate with them to get things done more effectively.
9Tap into strong communication skills
Work on your communication skills and tap into them when you're working to get your tasks done. Effective workplace communication is essential to the successful functioning of any organization. It's important to be self-aware and mindful of the way in which you choose to communicate in general, but especially while you're at work. A good communicator is thoughtful and speaks with intent. Often, we can tell when a message is well received, and when it isn't. Pay attention to other people's reactions and non-verbal communication cues in those instances.
10Be flexible
Be as flexible as possible when it comes to your daily task list. In today's work environments, things change very quickly and you're going to need to adjust your task planner often to keep up with those changes and make adjustments accordingly. Being flexible and being able to adjust will ensure that you remain on top of things at all times and that you can pivot with ease. Be sure to leverage technology, such as a management tool like Fellow, to keep you on track and ensure all important information is documented clearly for future reference. 
Free planner template
Check out this free planner template that you can try for yourself so you can begin to manage your tasks and projects more productively and attain your goals with more ease:
Parting advice
Start tracking any created tasks with a daily task planner. Creating to-do lists is a great way to manage your time and remain organized, especially during busy times where you may be working on many projects simultaneously. Day planners or task managers are most effectively used with a management tool so you can optimize great automation functions that make keeping track of things significantly easier, down to an hourly schedule.