Meeting parking lots are an excellent productivity technique that can be leveraged to boost meeting productivity, improve communication, and streamline project management. Whether your meetings are running over time, or your teammates aren't sticking to the agenda, meeting parking lots are the perfect solution to keeping your teammates on track.
In this article, we'll dive into meeting parking lot dos and don'ts, as well as insights into the best time to leverage parking lots. We'll also get into the importance of meeting parking lots and let you know exactly how you can start using them to improve meeting productivity.
What is a meeting parking lot?
A meeting parking lot is an efficient tool that is used to keep meetings on track. When a topic arises that doesn't pertain to the meeting agenda, you can use a meeting parking lot to set aside the idea to remember to discuss it later. A parking lot can take many forms, including a notepad, a sticky note, a presentation slide, meeting minutes, or meeting software like Fellow. What's most important is recognizing when one of these ideas arises so you can park and record it to revisit at a later date.
In short, a meeting parking lot helps keep track of important items that may not be beneficial to discuss at the current meeting. As subjects arise that don't pertain to the discussion in the current meeting, you can add them to the groups parking lot or business bin and plan to include them in future meeting agendas.

Put it in park
Stay on topic by having a detailed meeting agenda to make the best use of time. Try using a collaborative tool like Fellow!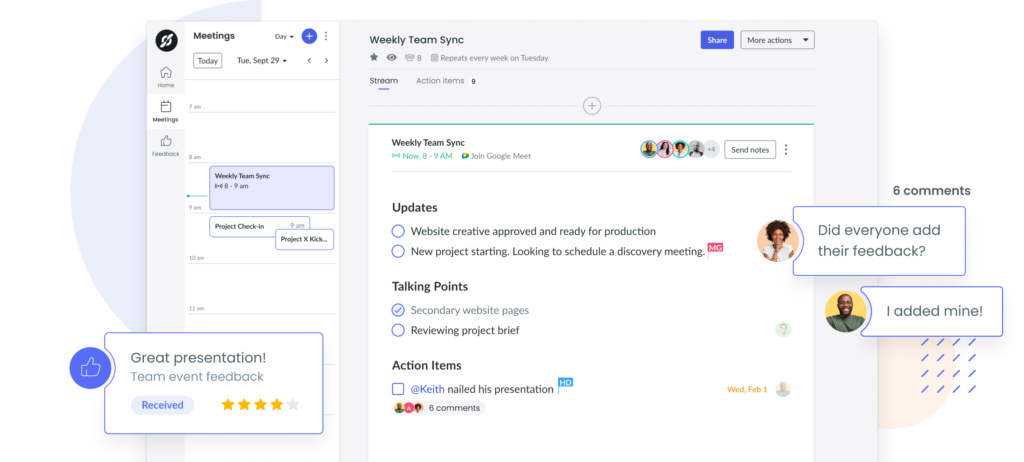 Why is it important to have a meeting parking lot?
Leveraging meeting parking lots is a great way to boost meeting productivity and improve efficiency. Meeting parking lots helps you keep conversations on track, capture topics for future meetings, outline items for follow-ups and next steps, and optimize your time.
When is the parking lot used?
Meeting parking lots are used anytime a point or discussion arises that isn't relevant to the meeting at hand. If a point raised requires attention, but isn't appropriate for the conversation at hand, it will be added to the meeting parking lot and discussed at a later date. The parking lot method can be used during meetings, during project management exercises, or even when something unexpected pops up during a workshop.
10 ways to use parking lots effectively
1 Make the parking lot known
If your team isn't aware of the meeting parking lot, they can't use it, right? Right. If you want your teammates to actively take advantage of the parking lot method, you need to first make them aware of the parking lot. To take a proactive stance, you can add a section for the meeting parking lot in the meeting agenda so everyone can access the lot during the meeting. You can also mention the parking lot when your meeting kicks off. If your team is aware of this productivity technique, they'll be more inclined to use it; as a result, your meeting will run more smoothly. When you use the meeting parking lot technique effectively, it doubles as a meeting productivity hack!
2 Keep the lot visible
Keeping the lot visible is a great way to encourage its use. If you keep the parking lot visible and in a space where everyone can contribute during your meetings, your team will be more inclined to use it. They may even suggest a point for the parking lot as opposed to derailing the conversation. Even better if they add their point to the parking lot without derailing the conversation at all!
3 Make it digital or physical
It's important to create a meeting parking lot that speaks to your environment. If you're meeting in person, consider using a whiteboard so everyone can take note of the parking lot items. If you're meeting virtually, consider adding it to your meeting template or agenda. Making sure your teammates have access to the meeting parking lot at all times will ensure they feel comfortable adding their talking points. If you're meeting virtually, feel free to re-share the link to your parking lot in the chat of your virtual meeting. Making sure that everyone has access is imperative.
4 Encourage critical thinking
Parking lot items often arise from brainstorming sessions where meeting attendees have the opportunity to dive deep and explore new topics. It's important to not squash this creativity by reiterating that new topics don't have a place in the conversation. Instead, take the time to acknowledge new ideas and encourage your teammates to add them to the meeting parking lot. To encourage these behaviors, you can follow up after meetings and schedule a time to discuss any off-topic ideas.
On the flip side, encouraging critical thinking also forces your teammates to think within the scope of the meeting agenda. Encouraging them to really hone in on the topics at hand may lead to more structured conversations that are appropriate for the present meeting.
5 Allow attendees to speak up when discussions are getting off topic
It's important that everyone feels comfortable enough to speak up when the meeting goes off track. Hosting an open and honest conversation with your teammates where you let them know that it's ok to call someone out when they go off topic is a great way to kick things off. When having this conversation, remind your teammates to keep things respectful. It's imperative to reiterate the importance of calling out these off-topic discussions respectfully.
6 Note the context
Project management 101 is all about being meticulous and organized. When referencing a meeting parking lot item, take note of what discussions brought the parking lot item up. Taking note of the context will ensure you have all of the information you need when it comes time to act on the item. If you don't take proper meeting notes, you may not have the context you need to act on the parking lot items at hand.
7 Track the contributors
Similar to the importance of noting the context, tracking the contributors is equally as important. Keeping track of the people that have contributed to the meeting parking lot will ensure all key stakeholders are involved when it comes time to act on the items that are waiting in the lot. Not sure where to start? In your meeting notes, simply note the team member that added to the parking lot. Alternatively, have everyone specify which items they added to the lot.
8 Review the lot regularly
It should be second nature to review the meeting parking lot or issues bin. Make a habit of reviewing the lot and making sure each item is being addressed and acted upon. Taking thorough meeting notes or keeping a running issues list will ensure you have all of the information necessary to review the lot when it comes time to take a deeper look. 
9 Act on each item
You have to make sure to take action items seriously and act on them when they arise. If you don't have the capacity to act on them in the present moment, add them to the parking lot and revisit them at the end of the meeting. When you have time to take a deeper dive, make sure to address these items and allocate an appropriate time to take a deeper dive with your teammates. Maybe this will be during your next team meeting, or maybe the discussion of the items can simply be wrapped up in an email. What's most important is not forgetting to act on these parking lot items.
10 Delete, defer, or delegate parking lot items
As the host, you're accountable for the parking lot items. Taking inventory and deleting, deferring, or delegating the parking lot items is crucial and should be done at the end of each meeting. Taking the time to dive into the parking lot items and assigning them to their respective stakeholders is a great way to make sure nothing gets forgotten.
Make the parking lot method your own
Like any productivity technique, it's important to make the meeting parking lot your own. Having fun with it and customizing it to suit your style or your team's preferences is a great way to get everyone excited about the technique and the benefits that come from using it. Take these tips and tricks and run with them! Use them as a starting point and put your own spin on them. If you need additional guidance, consider chatting about the parking lot method with your teammates. They may have great ideas or insights that can make it fun for the entire team.