According to Harvard Business Review, "Research shows that people typically prioritize tasks with the shortest deadlines — even if those tasks aren't the most important or valuable."
Learn how to stop prioritizing tasks based on the due date and start prioritizing tasks based on importance to conquer your task list like an expert. Keep reading as our amazing #ManagerChats panelists share their best tips and tricks to master ruthless prioritization…
What is "ruthless" prioritization?
According to Sheryl Sandberg, ruthless priorities mean "only doing the very best of the ideas. Lots of times you have very good ideas. But they're not as good as the most important thing you could be doing."
Our #ManagerChats panelist Mike Lamb, Productivity Coach, also shared what ruthless priorities mean to him,
"Ruthless Prioritization is the elimination of what doesn't drive you towards your goals. There is always too much to do, not enough time & time cannot be created. So your limited time must be intentionally invested. Being clear on your goals clarifies where to invest time."
When should you reflect on priorities?
Reflecting on priorities and staying agile and flexible is important because oftentimes things change. According to Vinciane de Pape, DEI Advisor at Build with Bloom, she reflects daily; "I start every morning with an evaluation of my priorities for the day, week, and month. I use a kanban board with post-its and shuffle things around as needed."
While Pape reflects priorities daily, some of our other #ManagerChats panelists reflect less frequently, specifically Ara Ghougassian, Co-Founder and Chief Cheerleader at Fluent. According to Ghougassian, the fast pace of a startup causes him to reflect weekly, "I like Sundays for more calm reflection. Spending time to get clarity on the upcoming week."
Aaron Orendorff, VP of Marketing at Common Thread Co, also shared how they reflect daily, weekly, monthly, and quarterly; "Morning gut checks to answer the question, 'What's the most important thing I could be doing?', start and end of week *written* check-ins as a team, monthly realignment on KPIs, and quarterly big-picture."

Pro tip
Use a meeting management tool like Fellow to clearly see action items with due dates to ensure you're staying on track and achieving goals.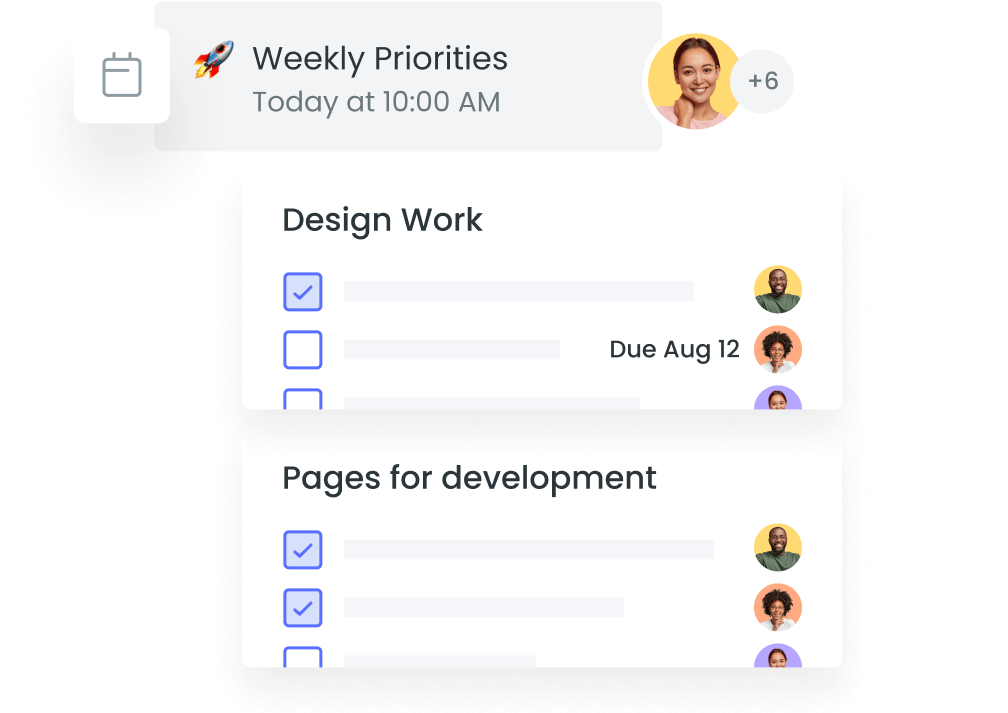 5 Tips on mastering ruthless prioritization
Take the advice of our expert panelists to get 5 tips to master ruthless prioritization…
1 Decide when a meeting needs to happen
Despite what most people think, you CAN cancel a meeting! Having meetings that don't need to happen only wastes attendees' valuable time. So, it is important to determine when meetings need to happen.
According to Orendorff, if there is no meeting agenda, there is no need for the meeting; "Agenda, agenda, agenda! If a meeting doesn't have a written agenda *at the time of* being scheduled with one overacting goal + deliverables and due dates associated with it … it shouldn't happen"
Mara Calvello, Content Marketing Manager at G2, reminds us that moving team meetings from weekly to monthly is okay:
"I gauge how the meeting is being run & how productive I feel after. I recently went to my manager with ideas on how to improve our team meeting because I felt it had grown lacklustre. It's okay to move a weekly meeting to a monthly cadence if it feels redundant."
2 Help your team move things along
A common misconception is that being busy equates with progress. However, as a leader, we need to ensure that our team's tasks are being completed and they are using their time wisely.
According to Priscilla Kosseim, Cybersecurity Manager at CGI Global, conducting regular check-ins helps maintain organizational goals and ensures that your employees are on task; "It is easier for employees to know what is expected of them and why through a cadence of check-ins and continue to uphold their engagement."
Another tip from Charlie Gilkey, CEO and Founder of Productive Flourishing, is to have a weekly huddle and follow-on structured meetings with sub-teams to foster effective progress.
3 Check in with your team
An important part of mastering ruthless priorities is to have weekly or monthly one-on-ones. According to Lamb, "​​In 1-on-1's, we discuss their tasks, what roadblocks they are running into, priorities to adjust & what I can help with. The goal is for them to know what is expected & have a clear path to get there."
As a leader, you also need to be an unblocker and coach your team on what to focus on and how to eliminate weak spots.
"I find that coaching my teammates is the best way to help them manage their time and priorities since 99%, when something is incomplete, it is due to procrastination or not knowing what work needs to be prioritized. And both of those lead to stress and overwhelming feelings."

– Kosseim
4 Know when to say no
Another tip to mastering ruthless priorities is to learn the skill of saying "no". Kosseim shared that we say yes to things to not sound mean, lazy, and unhelpful, "but as you grow in experience, you learn that we have less time for meaningful work than we actually think we do."
Pape shared with us their formula for saying no, beginning with providing content, then, explaining your impact, and finally, offering alternatives. They also provided an example;
"Instead of 'Sorry, I don't have the bandwidth for this right now' you could say, 'My priorities this week are (A), and if I don't give them the required attention, then (B) will happen. What I can offer right now is (C).'"
5 Take advantage of technology
Our final tip to mastering ruthless priorities is taking advantage of technology. Orendorff suggests using Asana for step-by-step tasks; "Ruthless adherence to step-by-step Asana subtasks: These form my to-do list for the day *or* I force myself to change them within Asana by renegotiating due dates."
Time blocking is also a great tip which Calvello suggests; "I'm a big fan of time blocking. It's a method I started in college and it's stayed with me for my professional career. I especially apply this when I work on freelance assignments. I tell myself 'you only have until noon to write this, so get moving.'"
Lauren Steinberg, Senior Vice President of Loblaw Digital, explains that from a product management perspective "[the] best methods for us are *really good OKR's* and a *prioritization framework* based on our goals (eg. effort vs speed vs impact etc)."
Parting Advice
Ruthless priorities work differently for everyone, and it is important to find out which tips work best for you. Try out our expert panelist's advice and find a routine that works for you and your workload. At the end of the day, it is important to have clarity on your goals to achieve them and to stay on track. Stay tuned for more #ManagerChats happening each month to hear more expert advice!