Joan Deitchman of Buffer said it best: "So much about being remote is, you have to be more intentional about everything." Virtual team management involves way more than making sure your team logs in and out on time every day. How do you recreate team unity and camaraderie when there's no literal water cooler to gather 'round? Remote leaders like yourself have succeeded time and again with the below tips under their belts.
11 tips for managing a virtual team
To manage a virtual team, you should:
1 Set clear expectations
Managing virtual teams requires you to set two expectations from the get-go: Your team's purpose and the tools you'll need to collaborate now that you're no longer in the same office space. The purpose can be just a sentence or two that encompasses your goals. Your team collaboration tools can range from the video chat app you use every day to your digital file storage service.
Clearly defining your virtual team's operational framework means that your colleagues will know how to complete their assignments without your constant physical presence. To set these definitions, collate your goals to all your tools in an easily accessible digital document or folder. This way, geographically dispersed team members can stay on the same page across time zones.
2 Provide goals and roadmaps
General purpose is just the starting point for your virtual team. You'll also want to provide target values for your key performance indicators and demonstrate how your team can reach these high-water marks. For example, a virtual software development team might benefit from software engineer goals such as completely refactoring a certain set of code within a given timeframe. A roadmap toward achieving this goal will be necessary, too.
Goals and roadmaps make up for a major potential gap with remote work. Namely, without all your employees working in the same place, it becomes tougher to know when someone's gotten off track. Remote teams with clear roadmaps, though, are far less likely to fall off track. You can create these roadmaps in your project management tool and share them with the appropriate team members.
3 Schedule frequent team meetings
In-person team leaders have constant face-to-face interactions with their colleagues during work hours. This proximity allows leaders like yourself to stay abreast of your team's progress. That progress is a lot harder to track when you work remotely, and regular team meetings can help bridge this divide.
Frequent team meetings ensure consistent communication between you and your colleagues. They get everyone on the same page regarding project needs, timelines, and other key concerns. Videoconferencing tools both provide an appropriate space for your meetings and include screen sharing, recording, and other features that improve your meetings.

Pro tip
Use a meeting management tool like Fellow to collaborate, share agenda notes, take minutes, and follow up with your team all in one place.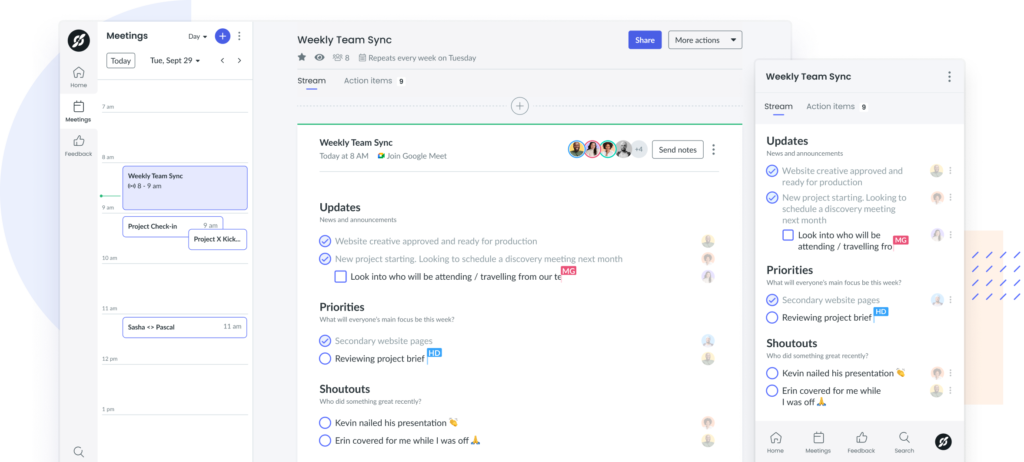 4 Work with project management systems
Presumably, remote workers aren't communicating with you or each other as often as they would in person. Without this consistent in-person communication, your team might find it tougher to visualize the group's progress along certain projects. It might also get tough to know who's working on what and adequately prioritize tasks. Project management systems address all these concerns.
With project management systems in place, anyone on your team can see all the tasks and due dates comprising a project. They can also access the tools they'll need to complete their tasks and see who's handling which tasks. Conduct some research to find the project management tool right for you, then sign up for it. Then, onboard your team, create your assignments, and get to work!
5 Take advantage of technology
Project management tools aren't the only technology a virtual team leader like you should use. Your team will also find working from home way easier when you implement communication technologies that organize and expedite work conversations. These technologies are more organized than email inboxes, and they're faster too since they rely on instant messaging. They also trounce phones in that you can always look at your screen to remember what was said.
Other technology to consider using includes file management software, customer relationship management (CRM) software, and accounting software. All these tools give people in disparate locations access to the same infrastructure, align their progress, and prevent the double-assigning of tasks. Research each tool before implementing it to ensure it's a fit, then set it up, onboard everyone, and incorporate it into your regular workflows.
6 Schedule 1:1s and check-ins
No matter how much you try to keep things simple, work can feel like it's piling up, and the virtual team disconnect can add to this feeling. How will your team know when they're doing too much work or not enough? How can they stay motivated? Regular one-on-one meetings and check-ins can help.
During your meetings, you can make sure that your team members know all their tasks and your expectations of them. You can also give your team a chance to express feelings of overwork, confusion, or demotivation. It's then on you to compassionately work with the employee to resolve these feelings in ways that work for you both. A one-on-one early in the week and a short check-in a few days later can help you check all these boxes.
7 Schedule around time zones
One of the major advantages of remote teams is that they can include anyone from anywhere. Without fixed geographical boundaries comes a team working in many time zones, thus potentially making meetings tougher to schedule. And perhaps more concerning, a team member who urgently needs something from another halfway around the world might have to wait a long time to get it. Try scheduling your team around time zones to cover your bases.
Make sure that every team member's working hours at least partially overlap with that of another. This way, anyone actively working has another colleague they can ask for help. Also, try to overlap the schedules of team members who often work together so you don't interrupt their communications. And when it comes time to communicate with the whole team at a meeting, hold your meeting at a time when the maximum number of people can attend.
8 Create a work-life balance
When remote work unexpectedly ballooned in prevalence at the outset of the COVID-19 pandemic, many employees felt that their work-life balance felt lost. It's incumbent to managing virtual teams that you take active steps to rebuild this work-life balance for your colleagues. There's an especially easy way to do so: Let employees set their own work hours, then ask that they not work outside those hours.
When you give your employees the chance to set their own hours, you show that you care about their happiness and in turn increase employee motivation and loyalty. You also allow your team members to work at the times they expect to be the most productive. Plus, if you build flexible hours into your schedule so your colleagues can step away to handle personal matters, you'll find your team less stressed across the board.
9 Provide detailed agendas and expectations
During a face-to-face meeting, keeping attendees focused is relatively easy. Anyone in the room can see everyone else in the room, so attendees will likely feel less able to multitask and lose focus during meetings. In remote meetings, the inverse is true: In front of a screen, it's much easier to get distracted and feel disconnected. You can resolve this with detailed meeting agendas that tell your team what to expect from the jump.
When your team knows how a meeting will go, they can be proactive about doing what they must to stay attentive and actively participate. Your meeting agendas can also help your team catch up on conversations they might not be as privy to since they're not constantly around their coworkers. The result is more relevant, realistic meeting action items.
10 Highlight achievements and foster team-building
Working within feet of your couch and TV on a really tough workday can make disconnecting feel irresistible, especially if your team members don't feel connected or motivated. Team leaders like yourself are in an excellent position to elevate your team's spirits. To do so, try highlighting team achievements and making time for team-building activities.
You can use your digital communication app to highlight achievements. Create a team achievements channel in your app and don't hesitate to celebrate big wins there. Celebrate both individual and team-wide achievements while giving space for everyone else to echo your praise and excitement. This structure in and of itself builds trust, and more explicit team-building games do even more on this front. If your remote team members all live close to one another, you can even arrange for outdoor team-building games to make things especially meaningful.
11 Provide time for non-work events
Speaking of remote team members that live near one another, a great way to manage virtual teams is by interacting with them outside the confines of your virtual office. Doing so could mean, for example, finding an outdoor happy hour that busts stress while keeping things safe. For teams that are scattered across the country or globe, have everyone show up on your video conferencing app after work with a drink or two in hand.
Building camaraderie, trust, and – if you're lucky – genuine friendships among your team is great for both personal and professional matters. A team that gets along better does better teamwork. Great rapport means fewer worries about asking certain questions and less anxiety about what happens after poor performance or missed benchmarks. Don't just manage your virtual team – unite it.
Even from afar, teamwork makes the dream work
Yes, the challenges of managing virtual teams are real, but no, they're not insurmountable. Surely, you've noticed that all the above steps are easy to take – you can even start working on them right this moment! As you do so, consider adding Fellow to your technology arsenal to make the most of your virtual meetings.