In the corporate world, the CEO is the epitome of leadership. Not only are they responsible for their own livelihood and the success of the business, but they also hold the fate of all employees, contractors, vendors, partners, and customers that interact with the business.
So naturally, managing their schedule can be intimidating, to say the least.
We're here to provide the direction you need to successfully manage a CEO's schedule with ease and efficiency. Managing a well-structured and balanced schedule is one small (yet mighty) part of ensuring organizational success!
Why it's important to manage a CEO's schedule effectively
According to a Harvard Business Review study, CEOs reported time management as one of their greatest challenges. CEOs work incredibly grueling schedules, spending most of their time juggling back-to-back meetings and often working overtime and sleeping less at night. Alongside leading an entire organization, CEOs don't have time to organize small details related to time zones, meeting location, commute times, and more.
That's where schedule managers come in. Often more formally known as executive assistants (EAs), the people responsible for a CEO's schedule need to be detail-oriented, agile, and good at communicating clearly. With these essential skills and our 12 tips for managing a CEO's calendar, you'll be able to establish a balanced schedule for your CEO in no time.

Meetings worth showing up to
Maximize a CEO's productivity and streamline their busy schedule with a meeting productivity software that empowers them to own their day. Try a tool like Fellow!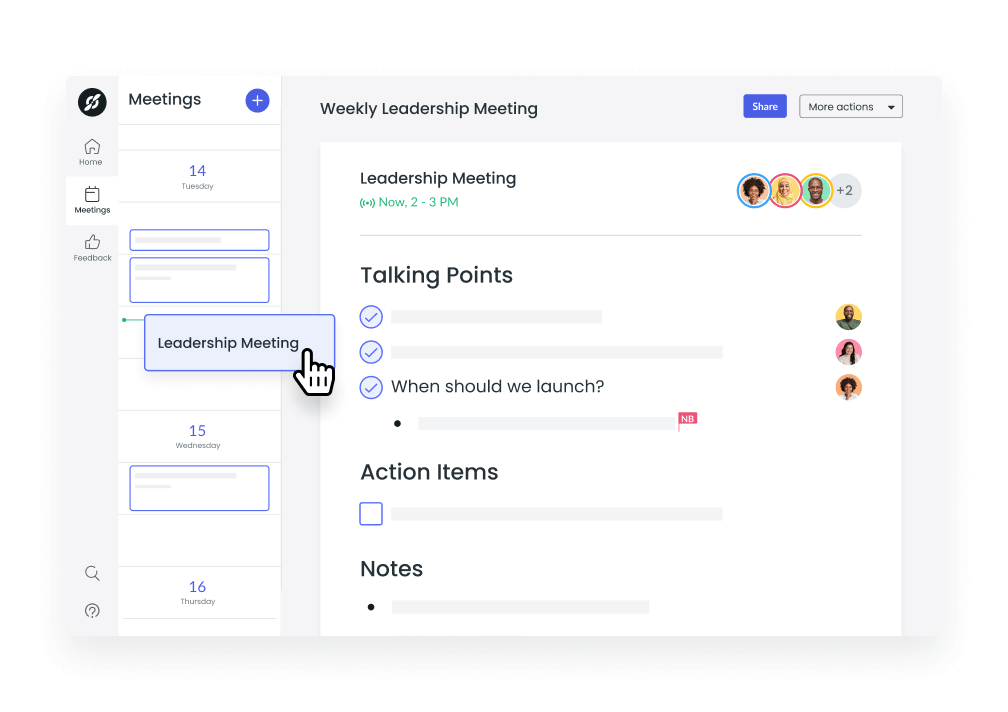 12 tips for managing a CEO's calendar
1 Use the time-blocking method
The time-blocking method for calendar management is as simple as it sounds. By blocking out segments of time for specific activities, you're able to focus on prioritized tasks. Blocking your time also helps you make more efficient use of your day since you're allocating specific time for meetings and for deep work, therefore decreasing how often your brain needs to pivot between various work modes.
Many researchers suggest that starting the day with a maximum of four hours of focused deep work is optimal for peak productivity. The rest of the day is then available for attending meetings, doing light work, or taking purposeful relaxation time. This schedule might need to be adjusted to each CEO's preference and availability, but generally, consider blocking out time for tasks that require deep focus.
2 Create a routine
In a similar vein as blocking out time to ensure that tasks are completed, creating a consistent schedule through a routine is a great way to help a CEO mentally prepare for their day ahead—after all, it's helpful for a leader to know when they're going to be engaging in certain activities. Creating your own routine to follow as well will let the CEO know what you'll be focusing on throughout the day, so they know when you're available or busy.
For example, try dedicating the first hour or two of each day to reading through emails. Clearing an inbox before starting deep work is a gentle way to leverage the morning's productivity boost while also getting up to speed on any important notices.
3 Know their preferences
In most cases, your CEO has many years of work experience under their belt and they've likely developed their own set of habits and preferences as a result. Understanding these preferences and integrating them into the CEO's schedule is a small but impactful way you can make the calendar easy for them to navigate. Doing so will help them feel balanced and aligned with their day-to-day work.
As one example, it's helpful to know if your CEO prefers to attend meetings through video chat, by phone call, or in person.
4 Use a productivity tool
The average CEO attends around 37 meetings per week.
Using a productivity tool like Fellow to sync meeting agendas with calendar events is a seamless way to manage information and processes within a CEO's busy schedule. Keeping the agenda linked to the calendar event makes everything easily accessible so more time can be spent making productive decisions instead of scrambling to recall information or talking points.
5 Use a colour-coding system
A CEO is responsible for juggling many organizational tasks at once. Even displayed neatly in a calendar, a CEO's day-to-day schedule can be difficult to read, understand, and organize.
Using a colour-coding system to link each meeting to a specified category, you're allowing your CEO to quickly skim over their upcoming calendar and visualize the percentage of time spent on each focus area. You may choose to colour code based on the type of work (ie., deep work, light work, relaxation time, meetings), on the organizational function (ie., finance, strategy, travel), or in an alternative way that suits your CEO.
6 Send meeting reminders
Meeting reminders are helpful for many reasons. First, they're beneficial when meetings are back-to-back. A 5- or 10-minute reminder can notify the CEO that the next meeting is upcoming so they can leave the first call in time for the next one.
Additionally, meeting reminders can help when a CEO is in deep focus or is doing another activity before the call. Setting a 30-minute meeting reminder can help them shift focus from their previous activity and pivot their work mode to prepare for the upcoming meeting.
7 Schedule recurring meetings at the same time
Scheduling recurring meetings at the same time is part of building a routine for your CEO's calendar. Whether the meeting is daily, weekly, or monthly, it's helpful to find a time that works well for the meeting attendees and stick to it. Not only does this help with schedule management, but it also helps attendees (the CEO included) to get into the right meeting mindset.
8 Consider time zones when scheduling meetings
As we ease into a permanently remote (or hybrid) working world, it's becoming clear that CEOs are going to be connecting with global partners via virtual channels for a long time to come. Having an awareness of the various time zones meeting attendees are in is a sign of respect to all those on the call. If the meeting is hosting attendees from other countries with which you're unfamiliar, make sure to research what times of day are considered appropriate for work to ensure you're being respectful of the attendees' time.
9 Schedule travel time for in-person meetings
While the virtual world has taken over a ton of meetings, it definitely has not erased the need for in-person meetings. When scheduling an in-person meeting, always add the travel time it takes to commute each way, increased by 25% (for example, a 20-minute drive should have at least 25 minutes blocked out and a 2-hour flight should have 2 and a half hours blocked out). The 25% "safety window" in travel planning secures extra time if there's congestion on the highway, a flight is delayed, or anything else happens while commuting to the meeting. This rule also applies if your CEO comes into the office each day. Rather than booking meetings for when the CEO is set to arrive at the office, try moving the first meetings to 30 mins after their expected arrival time.
10 Schedule breaks for free time
Let's be honest, if we don't schedule time for breaks, it's totally likely we'll just forget them all together. Unsurprisingly, this bad habit leads to burnout, and you definitely don't want a leader with the fate of an entire organization in their hands to burnout.
When using the time-blocking method, you can schedule time that is specifically for doing nothing. Whether your CEO actually uses it is up to them, but at least you're providing the opportunity and reminder to get some fresh air or a snack. (On the same note, schedule time for your CEO to eat, too!)
11 Check traffic and weather reports on busy days
As much as you can try to prepare for any scenario, sometimes the world has other plans. You can do your best by checking factors like traffic, weather, wait line times and more on the day of the meeting if you're worried about delays. If it looks like things might be slower than expected, you can provide yourself enough time to rearrange your schedule for the highest priority activities.
12 Help them stay on schedule
At the end of the day, you and your CEO are humans, and it can be difficult to stay on top of everything all the time. Adopting productivity tools to automate part of your work, limiting the frequency of back-to-back meetings to avoid overscheduling, and setting helpful meeting reminders are several key ways to stay on track.
Parting advice
Whether you're new to managing a CEO's schedule or you're a seasoned veteran, we're hopeful you found some new wisdom to help you structure your CEO's calendar in a way that's more efficient and well structured. When managing a calendar for any high-level leader, communication is the most important element. Clear discussions on preferences, working schedule, habits, and organizational style can all add to a healthy working relationship.