Having a good note-taking system is essential to absorbing the content of a meeting, keeping in the know and on top of your responsibilities. You've probably heard of Evernote, which is a pretty popular note-taking and organizational app. Lately though, as new technologies emerge, it seems like a large number of their users are looking for an Evernote alternative. 
For all of these users, and for any other passionate note-takers, Fellow has created a guide that is going to show you 5 Evernote alternatives that you'll love for boosting productivity and collaboration amongst your team members. If you're looking for an alternative to Evernote, you've come to the right place.
First, we're going to talk about what Evernote is, what it's key features are and what some of the application's drawbacks are. Keep scrolling to learn more!
What is Evernote?
Evernote is a note- taking tool. Like a lot of great software companies, this app is headquartered in California and was developed by the Evernote Corporation and founded 20 years ago. It uses open source software and it's a cloud-based application.
It's also probably the most popular note-taking software in the world, with over 200 million users. This app is cross-platform, operating on Android, iOS, macOS, and Microsoft Windows. It's free to use (but with monthly usage limits), and it also offers paid plans for expanded limits.
Evernote Key Features
Easy Note Taking:
Evernote is successful because it's easy to use. You can create a new note in seconds and customize it with a lot of text formatting options like fonts, italics, bold text and hyperlinks.
Integrations:
This is definitely a useful feature from Evernote. You can integrate tools that you already use like OneDrive, Salesforce, Gmail (or so many more) with Evernote so that it's accessible to you through whichever tools are a part of your daily working routine.
Cross-Platform Syncing:
Evernote saves your data automatically, so you don't have to put in any extra work to click the "save" button (anything to save a little bit of your precious time). It also syncs your data across all platforms automatically.
Browser Extension With A Web Clipper:
Rather than having to bookmark a page, Evernote enables you to take an actual screenshot of it. You can even capture snippets of images if you don't want the entire thing. Plus, the browser plug-in automatically saves your screenshots so you can access them across all your platforms.
Evernote Drawbacks
Lacks Productivity Features:
Unfortunately, Evernote only creates notes. There aren't really any other task management features other than the ability to create basic checklists. Plus, after you've created your notes, you have to transfer them to your task management tool. Things aren't consolidated which pushes you to have to be a little more organized.
Limited Collaboration:
Real-time collaboration isn't possible on notes with other users. Two people aren't able to work together and share a note. When real-time collaboration isn't possible, it means a lot of back and forth. In 2020, collaboration features are too effective to pass up for project teams.
Limited Free Version and Pricy Plans:
Evernote has a free version but it's super limited. For example, you can only sync data across two devices and your note has to be smaller than 25MB, which makes it pretty hard to embed images or video files. If you want to upgrade for features which we think are core functions, it starts getting pricier. This is a factor that might ignite the search for an alternative to Evernote to get better value for price.
5 Great Evernote Alternatives 
Note-taking apps are really evolving and consumers are taking advantage of the opportunity to choose whichever application makes them the most productive and efficient in their jobs. Basically, with the technology we now have access to, we can get picky with whatever works best for us. 
1 Bear
Bear is a great note-taking tool and a good alternative to Evernote. It's an easy-to-use writing app with a stunning user interface and quite a few features. There's a lot of different text formatting features including stunning themes and typography options.
What's cool about Bear is that you can convert your notes into Word Documents or PDFs really easily. Bear also has custom markup shortcuts so you can change the style and add links, to then link notes to each other and organize your thoughts effectively. Your data is automatically synced across platforms, which is great. The only significant drawback is that Bear is only available on Apple devices (iOS).
2 Notion
Notion is more of an all-in-one workspace, rather than an individual note-taking application, like Evernote. When Evernote tried to move from a personal tool to a collaborative one, it didn't work, whereas Notion was created with collaboration in mind and tailored it's approach to teams. In fact, it's collaborative features are pretty strong. You can also set notifications to alert several users about pressing tasks. More than a note-taking app, Notion is more of a relational database that allows teams to use collaboration features in notes, spreadsheets, and calendars. Notion allows teams to collaborate in real-time, supports more than 30 media types and allows you to integrate more than 50 apps.
One drawback is that because there are so many templates available, users might take a little too much time formatting and preparing notes. This app can also be kind of slow (because there are literally so many functions), especially on a mobile device, which is far from convenient.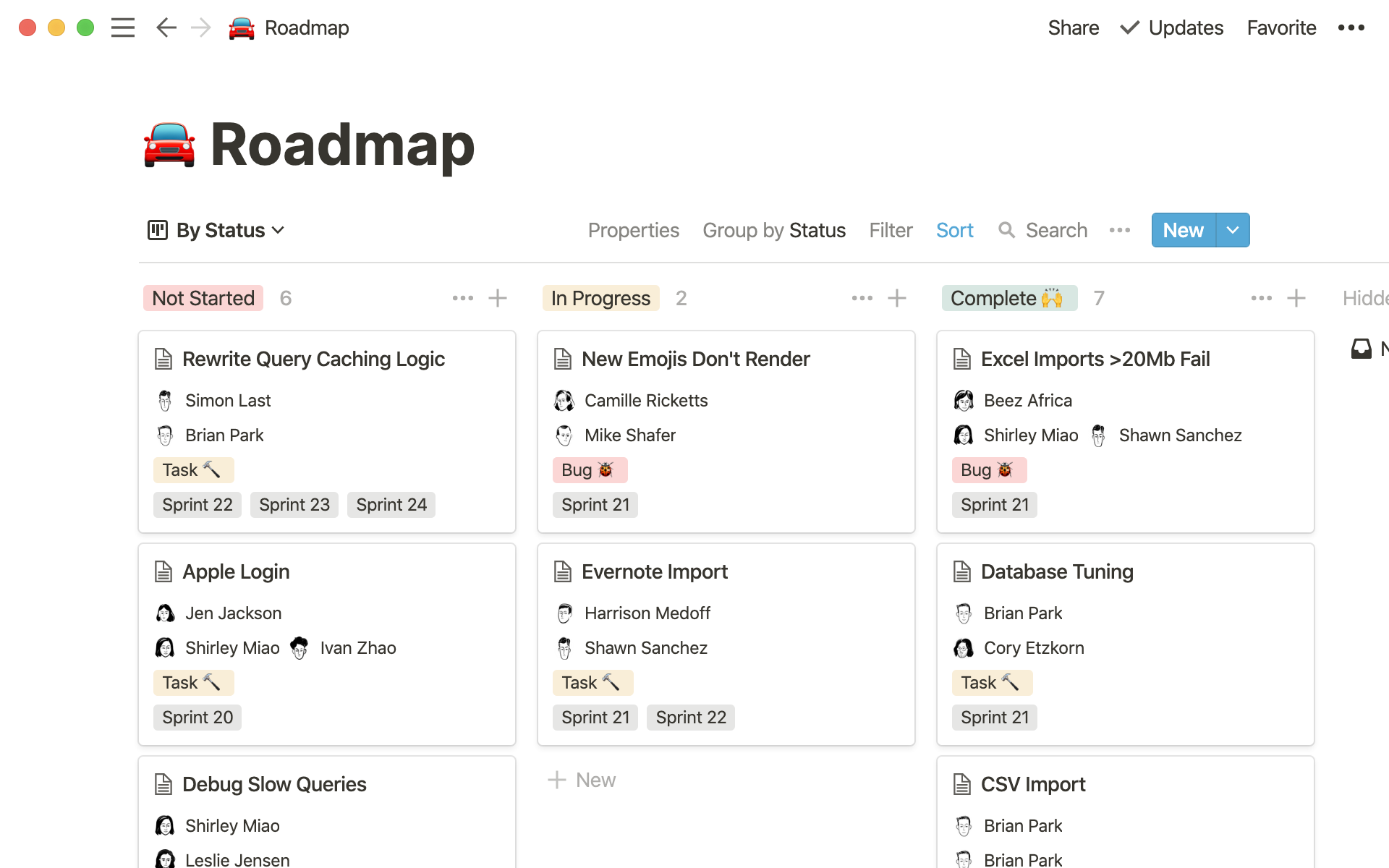 3 Fellow
We think that Fellow is one of the best alternatives available to Evernote because it fosters the perfect environment for teams to communicate clearly and execute both individual and team goals. It's a meeting application designed to be your team's hub for meeting agendas, action items, and feedback.
Fellow facilitates the perfect space to take meeting notes because you can collaborate in real-time and interact with other users to stay productive and efficient. This application enables collaborative meeting agendas, real-time note taking, time-saving templates (or the ability to custom-make your own), a space to create and track action items, a streams feature (essentially a digital notepad for capturing ideas and goals), and finally, a platform to give and receive feedback in real-time.
Another important aspect of Fellow is that you can integrate the tool with other tools to make your meeting, management, and productivity workflows even better. Cross-platform syncing is made easy with tools like Asana, Jira, Zapier and more.
Finally, one of the most attractive features is how easy to use and aesthetically pleasing this app is.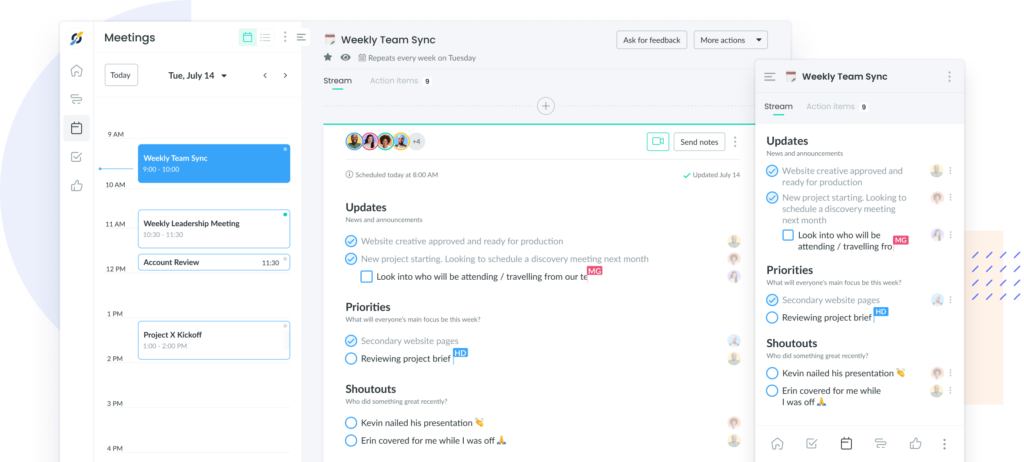 4 OneNote
OneNote is another alternative to Evernote that a lot of people seem to be excited about. What's unique and cool about this note-taking application is that it supports voice memos, audio notes and to-do lists. It's also a collaborative tool, which we think is an absolute must-have for any note-taking tool. It offers customizable themes on the desktop application, which is pretty neat as well. Other attractive features of Microsoft OneNote app is that it can organize notes in folders and encrypt notes before you share them with the rest of your team. Alike to many other note-taking apps, you can insert online videos, record audio notes and add files. You can share your notes with other OneNote users (hopefully your team's on board) over a network or the internet. What's neat as well is that you can annotate the notes you've written with a stylus pen or your finger. #Artsy
5 Apple Notes
Apple Notes is also a pretty good note-taking application. If you use any Apple products, you might have noticed the notepad icon that you can jot things down in. You can take notes, organize them into folders and insert all kinds of different attachments. You can even lock notes with your touch ID or a password. Because this is a default system app, it makes it really easy to find and use since it's already installed and likely on your home screen. It's also a really fast working application, which makes it easy to use. It syncs in seconds and very dependably across your different Apple devices. The only downside is that like a lot of other Apple products or features, this app is only available via iOS, Mac or web.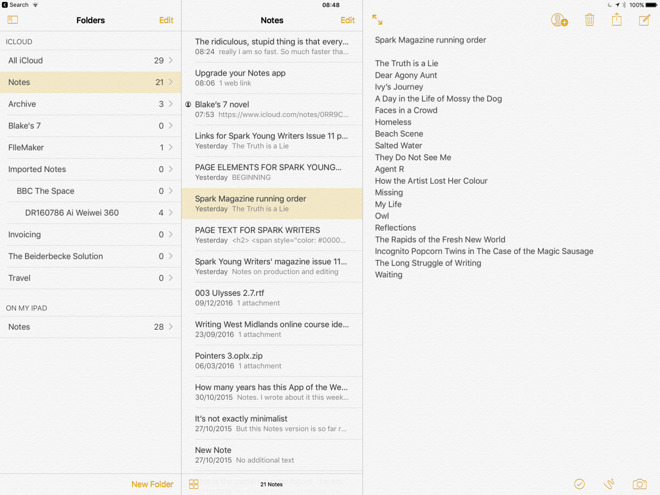 Things to consider when choosing a note-taking tool
User friendliness:
Unless a note-taking tool is super easy to use, you're probably not going to want to spend the time tackling the learning curve of how to utilize central features. Look for an app that works almost instinctively with what you're trying to achieve. With so many technologies at our disposal, we have the opportunity to try and test whichever app is going to be best for our individual or team needs.
Collaboration features:
This is also a feature that we feel like you can't live without. It may not seem like an issue to you if your partner can't edit a grocery list you've made, but when it comes to working as a team, the ability to collaborate is essential to producing successful business outcomes. It also cuts out the back and forth copy and pasting, which drives us all insane.
Cross-Platform Syncing:
Make sure that you choose an app that enables cross-platform syncing. It's important to be able to access your notes, team meeting agendas, brain-storming and whatever else you're jotting down on all of your devices. It's equally as important to be able to edit your stuff and have it automatically sync across all devices. This is going to save you a lot of manual labour and is kind of what technology is for… May as well take advantage of it, right? 
Integrations:
You want a note-taking application that's going to integrate seamlessly with whatever kinds of tools you're already using. Choose a tool that integrates with what you already have set up.
Looking for Evernote alternatives?
Handwritten notes are becoming a rare practice, now that we have so many amazing technologies at our fingertips. Using note-taking applications allows us to take quick notes, access, edit and share them in real-time. This means that with the help of technology, we're finding ways to be more productive, more efficient and more organized so that we can crush both individual and collective goals with our team members.
The alternatives to Evernote that we mention in this article are those that we think are the best in the market.
Bear
Notion
Fellow
OneNote
Apple Notes
That being said, there are tons of other apps you can explore like Dropbox Paper, NoteJoy, GoodNotes, BoxNotes and (tons and tons) more.
BTW- there's nothing necessarily wrong with Evernote. It's just that there are now several software products that are providing super useful features that Evernote can't offer.
If you're an Evernote user (or used to be) and you're looking to switch things up a bit, re-read or revisit this article to understand which alternative might be best for you.
Don't forget that there are some important factors you should consider when choosing a note-taking tool: Look for user friendliness, collaboration features, cross-platform syncing and an integrations feature.
Make sure to check out the alternatives to Evernote provided in this article by clicking on the hyperlinks provided. Thanks for stopping by at the Fellow blog! We'll see you next time.