No matter your organization's size or industry, there are likely to be days where you feel like you're buried under a mountain of work. You might have your job down to a science, but it's easy for something to slip through the cracks when there's so much on your plate. But if enough tasks fall off your radar, the occasional mistake can turn into a larger issue and keep you from staying on top of your workload. It can be hard to escape this spiral once you're trapped in it.
One way out is by using a task tracking tool to help organize your work and remind you when something's due – or past due. Once you master these tools, you can avoid ever getting in this stressful position of falling behind in the first place. Below are several valuable apps that can keep track of tasks and assist you in maintaining control over a hectic work schedule.
9 apps to keep track of tasks
Several organizational apps are available to help you manage busy work life. Each program brings its own features and benefits to the table that help manage your workload, and the one that's right for you is the one that best and most naturally fits into your daily routine. One of the below nine options can help.
1 Todoist
Todoist is one of the more well-known task organization programs. Though it isn't the most advanced task management tool out there, its simple interface enables several valuable features that help keep you organized. Labels and color-coded entries allow you to easily categorize tasks. In addition, you can further sort your assignments under specific project titles to keep your tasks further organized.
There are also options to track due dates and set priority levels for each task to encourage more efficient time management. Todoist also shows you which goals you should complete day-to-day and which you should finish down the line.
With its ease of use and wide availability on most systems, Todoist remains popular among task tracking apps. But its simplicity can become a burden: You can't make a list of subtasks, which can make complex, multi-step projects harder to track.
Key features:
Labels and color-coded entries
Due dates and priority levels
Day-to-day and long-term task views, though no real distinction between tasks and subtasks
Price: Todoist offers a free plan, a Pro version that costs $3 per month, and a Business version that costs $5 per month.
2 Any.do
Any.do stands out for its streamlined mobile app. The app's sleek interface allows you to add tasks manually or with voice commands. You can set Any.do to trigger reminders based on the time and your physical location. Any.do also helps you plan your day by recommending which items on your to-do list you should complete first. Once you've finished all your tasks, a quick shake of your phone clears away the old list.
However, Any.do is primarily a mobile-based system. While it does have a web-based version, it's really designed primarily as an app.
Key features:
Add tasks manually or via voice command
Comprehensive reminder system with time- and location-based notifications
Shake phone to clear completed tasks, but can be difficult to use via web browser
Price: Any.do makes its basic version available for free. Its premium version costs $5.99 per month, $4.49 per month if billed every 6 months, or $2.99 per month if billed annually.
3 Fellow
Fellow is more specialized than many other platforms when it comes to task management. Its unique features are geared toward helping project managers plan more productive meetings. For example, advanced meeting agenda creation tools allow you to ensure all key meeting tasks get addressed. And before the meeting, your whole team can add their talking points to ensure their checklists are part of your meetings. You can also assign meeting action items during the course of your meeting.
Beyond meetings, Fellow's Streams feature doubles as a collaborative notepad. You can use it to create task lists to which you and others on your team can contribute. The Streams tool also has numerous applications for taking meeting notes, setting objectives and key results, and so much more.
Key features:
Compile task lists for meetings into one comprehensive document
Collaborate on written task lists outside meetings
Set meeting action items during meetings, though no audio recording of meetings
Price: Fellow is free for teams of up to 10 people. Larger teams pay $5 per user per month.

Stay on top of it all
Never lose track of your action items by having them all in one place with Fellow!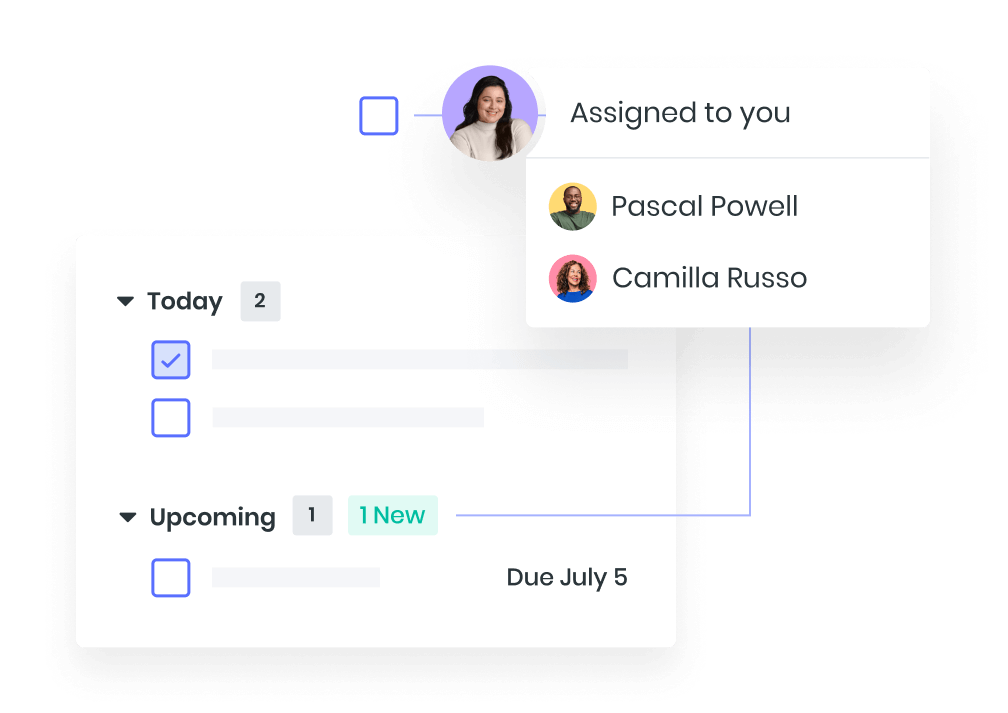 4 TickTick
TickTick is a task list app for phones and web browsers that helps you organize projects and boost productivity. You can easily add tasks and sort them by their due dates, with several added categorization options to help you keep track of your tasks. It comes with convenient email integrations that allow you to add new assignments right from your inbox. However, while TickTick offers a variety of features, even its premium plan doesn't include options common in other task tracking apps.
Key features:
Easily add tasks manually from your phone or web browser
Sort tasks by due date or other categories
Integrations that allow you to add tasks directly from your inbox
Price: TickTick offers a free plan, and its premium features cost $2.79 per month or $27.99 per year.
5 Microsoft To Do
Microsoft To Do boasts many features common in the most widely used task organization tools. The interface is uncluttered and easy to understand, letting you add new tasks to your list with ease. There are also prioritization and other sorting options to help you quickly refer back to your most pressing tasks.
Where Microsoft To Do shines most is its integration with Outlook and other Microsoft programs. For example, Outlook email users can add new tasks directly from their inboxes. Meanwhile, Windows customers may create new items in To Do using Cortana voice commands or typing them directly in the start menu.
Microsoft To Do also offers deep customization options for your lists, enabling you to view your task list however you please. That said, the program handles solely the basic features of task management programs. It lacks some key aspects of other project management tools. For example, there's no advanced task prioritization, just the ability to star essential list items.
Key features:
Simple interface with basic prioritization functions
Integrates with Microsoft Outlook for quick adding of tasks right from inbox
Some customization available
Price: Microsoft To Do is free.
6 OmniFocus
The main goal of OmniFocus is flexibility across all organizational needs. It does this through in-depth prioritization, advanced task filtering, and other sorting and viewing options, as the name implies. It's well known for its three project types and six view options. Higher-priced tiers come with an even greater number of view options.
Additionally, OmniFocus integrates across all Apple devices, so you can quickly add new tasks from one device for it to appear on your others. This benefit is also OmniFocus's primary drawback: Sync support for non-Apple devices is not a priority.
Key features:
Advanced tools for task prioritization and filtering
Three project types and six view options, with more available in Premium
Easy task sync across all Apple devices, but not as robust for non-Apple devices
Price: OmniFocus offers a free 14-day trial. Thereafter, you'll pay $9.99 per month or $99.99 per year.
7 Bear
Bear is among the more straightforward note-taking apps available for Mac and iOS, with a simple, uncluttered interface. It provides many basic features common in similar list apps, including checklist creation, task descriptions, and extensive notetaking options.
Bear's rich text editor offers a diverse range of font options and other ways to customize your task lists to your preferences. It also includes a focus mode that helps you concentrate on your work without outside distractions. However, Bear locks some of the task list collaboration features available with other platforms.
Key features:
Simple, uncrowded interface
Checklists, task descriptions, and diverse font library
Focus mode for distraction-free work, but lack of collaboration features
Price: Bear's basic features are free. Premium features cost $1.49 per month or $14.99 per year.
8 Google Keep
Google products are an everyday presence for many professionals in some shape or form, and task-tracking tools are no exception. Google Keep is among the most straightforward options for a task management app, offering fast note-taking and options to embed images or audio for greater detail. From there, you can transform any note you've taken into a checklist with the ability to color-code and organize each item.
Google Keep also offers the ability to set custom reminders that you can set to alert you based on the time or your physical location. It can even accommodate you if you prefer writing with pen and paper. That's thanks to its option to scan physical notes and transfer them onto a digital medium.
While Keep does offer lots of options, its feature list is still limited compared to its competitors. After all, Google developed it as a simple note taking app, not an advanced productivity app. As a result, if you're looking for a heavy-duty task management platform, you might be better off with other options.
Key features:
Syncs across all Google products for easy task list access and sharing.
Scans physical handwriting and transfers online if you prefer creating pen-and-paper task lists
Custom reminders based on time or location, though it has fewer similarly advanced features
Price: Google Keep is free with any Gmail or Google Drive account.
9 Habitica
If winning a game motivates you, Habitica is the right option. This platform "gamifies" your to do list by connecting your progress to a role playing game (RPG)-like interface. You create an avatar for yourself and then set several goals you'd like to achieve. Each time an item is marked off, your avatar gets a reward. If an item is ignored or otherwise incomplete, the character loses health. Level up together with other members of your team, which helps motivate everyone to get rewarded. Keep in mind, though, that Habitica is geared toward short-term goals.
Key Features:
Video-game like setup unlike most other task tracking tools
Allows tasks to be completed collaboratively
Clear visual indicators of task progress, but imperfect layout for tracking long-term tasks
Price: Habitica is free to start, with a paid version available for $5 per month.
Don't let your workload get the better of you
With so many options available to keep track of tasks, getting back on top of your work is well within your reach. Even if you haven't had much trouble managing tasks, the programs on this list can likely help you with other work needs. For example, Fellow is a reliable task tracking and assigning app that also excels at streamlining your meetings. With its convenient templates to help you set meeting objectives and collaborate on notes, Fellow is a task management app that checks all your boxes.