Online team meetings might occasionally be challenging in ways unlike in-person meetings, but creating great meeting agendas is certainly not one of them. If anything, online meeting agendas are easier to make, share, and use than any other way to plan meetings. Below, learn how to use an online meeting agenda and hold the best possible virtual meetings.
What is an online meeting agenda?
An online meeting agenda is a list of talking points, grouped into sections, that you'll go through at a virtual meeting. It's basically your meeting outline – how you'll get from start to finish, and how each of your team members will play a role. You'll share your online meeting agenda with your team before your meeting and use it in all kinds of ways during the meeting.

Run efficient meetings, come to a decision, and get back to work
Level up your meeting habits to boost engagement and productivity with a collaborative meeting agenda. Try a tool like Fellow!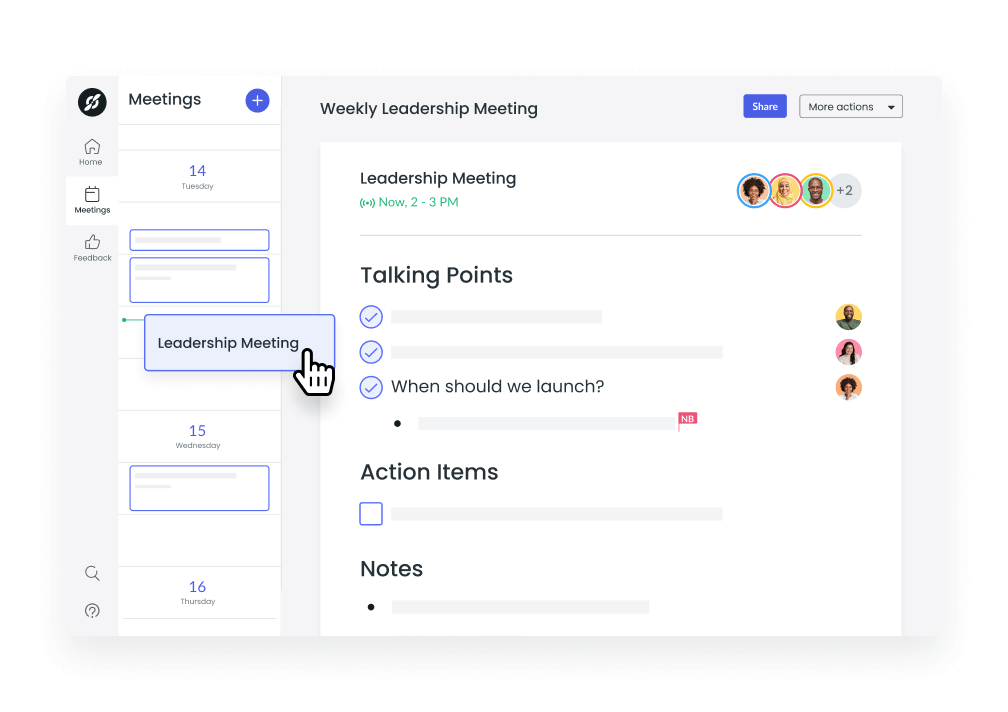 8 ways to use an online meeting agenda
Here's how to make the most of your online meeting agenda.
1Build your agenda from a template
Creating an agenda before your meeting is important – and so is creating your agenda as efficiently as possible. After all, meetings, though key to a great team, can run long, so you need to save time where you can. That's why you're best off starting from a virtual meeting agenda template. And with Fellow, you'll get access to agenda templates for pretty much any type of meeting.
With these templates – some of which are the work of meeting experts and business leaders – you can spend less time planning your meetings. After that, during your meeting, you'll hit all the marks thanks to your clear agenda. You might also find ways to change these templates to your liking as you use them more, and all Fellow templates are fully edible.
Once you've found an online meeting agenda template that you love, you can set it as the template for all similar future meetings. You can also take any agenda you've created and set it as a template. This can increase your productivity when you're planning your meeting and lead to better meetings overall.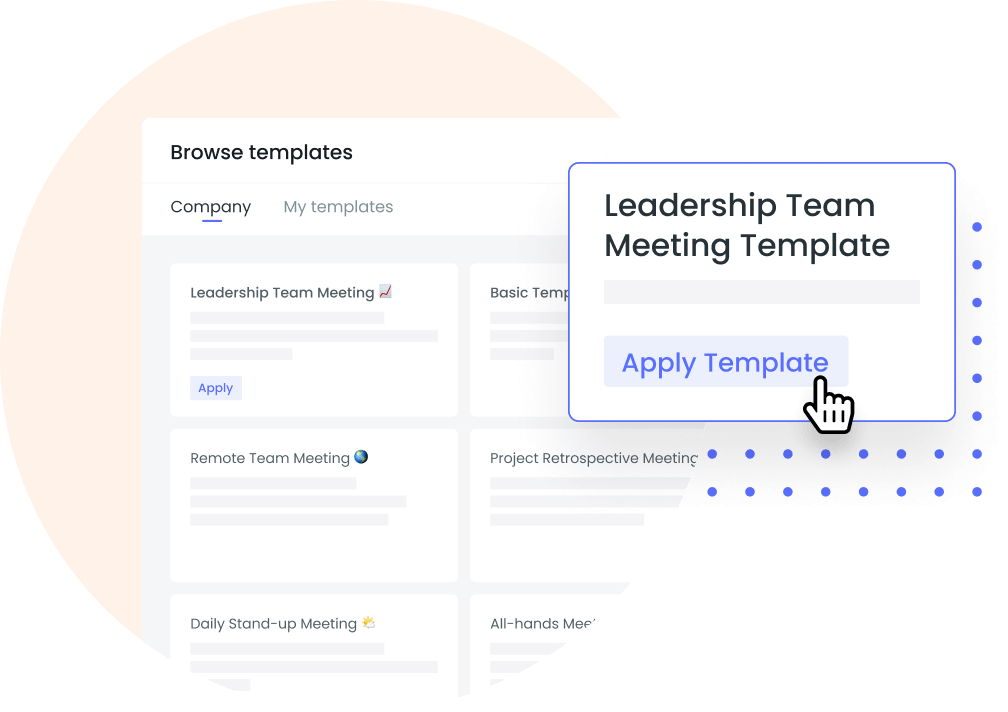 2Take notes in real-time
The moment you hear something worth adding to your meeting notes, jot it down. This is especially easy if your meeting agenda includes space to take notes like when you use Fellow. With Fellow, you can write your meeting notes when they happen, in the part of the meeting where they happened. The result is clearer meeting notes than you'd have without a great online meeting agenda.
3Set aside enough time for each topic
We get it – you have plenty to do, so you're trying to rush through your meeting agenda. But slow down – that can cause more problems than it solves. In your online meeting agenda, note when the meeting starts and how long to spend on each topic. You'll leave nothing off the table and cut down your meeting time – talk about efficient!
4Give your team members roles
Your agenda should pair talking points with the people leading your discussion on them. You should also choose someone to be the meeting leader (that can be you) and the meeting facilitator (that can also be you). This way, your agenda gives everyone a way to be engaged while showing who's steering the ship – and who can get it back on track.
5Use meeting minutes software when required
Some types of online meetings, such as board meetings, require meeting minutes, which are much more in-depth than regular notes. They're not quite the kind of thing you can fully write out directly on your online meeting agenda. Instead, you should just use your agenda just as an outline and use meeting minutes tools for the heavy lifting. With this combo, you can focus on guiding the meeting instead of typing out each and every little moment.
6Be clear about your key takeaways
It's easy to get lost in the weeds when you're taking notes. You might worry that a little thing your manager just said might actually be a key point. There's an easy way to solve this problem: At the end of each section in your online meeting agenda, jot down a few key takeaways.
These are the ideas or meeting action items your manager would probably share first with anyone who missed the meeting. When you see them after the meeting, everything you need to know and do might just come flooding back to you.
7Assign meeting action items
The work doesn't stop when your team meetings end. If anything, you probably figured out during your meeting that there are still certain tasks waiting to be done. You probably assigned these tasks to people too. So be clear about that in your online meeting agenda. Add space for every action item you came up with, then make it clear who's doing the work. You should check in on these tasks at your next online meeting – or sooner if they're more urgent.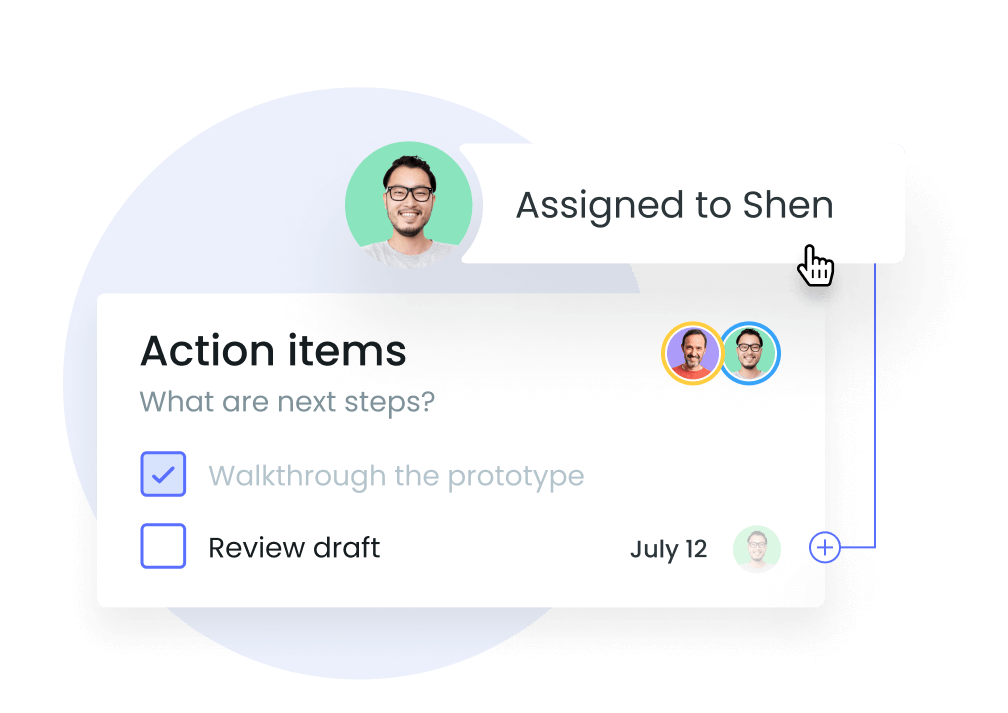 8Share your meeting notes with the team
Fun fact: As long as everyone can access the same online meeting agenda, everyone can take notes in the same place. This is a great way to keep everyone on exactly the same page about key takeaways, action items, and the next meeting. Say when your next meeting will be at the end of your agenda, and everyone is more likely to show up next time. And when it comes time to plan that meeting, just use your current agenda as a template and build from there.
Create better online meeting agendas with Fellow
Online meeting agendas are easy to create, use, and share when you use the right meeting management software. With Fellow's meeting management tools, your whole team can collaborate on meeting agendas and notes from across the screen. You can build your online agenda from all kinds of templates or save your typical agendas as your own personal templates. It's the easiest way to plan and structure all your best meetings.