Have you always wondered how you could create a more comfortable work environment? It all comes down to taking into account what your employees or teammates need to feel appreciated and valued at work. It's important that they feel irreplicable and as such, are treated with respect. You need to provide your valued employees with the tools they need to succeed, in addition to perks that make working for your organization pleasurable. Simple additions like natural lighting, comfortable seating, free snacks, and noise-canceling headphones will make a huge difference when it comes to boosting morale and creating a comfortable work environment.
Why is a comfortable work environment important?
Creating a comfortable work environment is imperative. Not only because it creates a more positive environment overall, but also because it boosts morale and aids in building a more positive company culture. When your teammates feel valued and appreciated, they'll be much more inclined to contribute to your organization's greater mission. In turn, you'll have a more cohesive team that is happy to show up to work every day.

Create a comfortable work environment
Boost company morale and company culture by fostering trust in regular one-on-ones. Try a tool like Fellow today!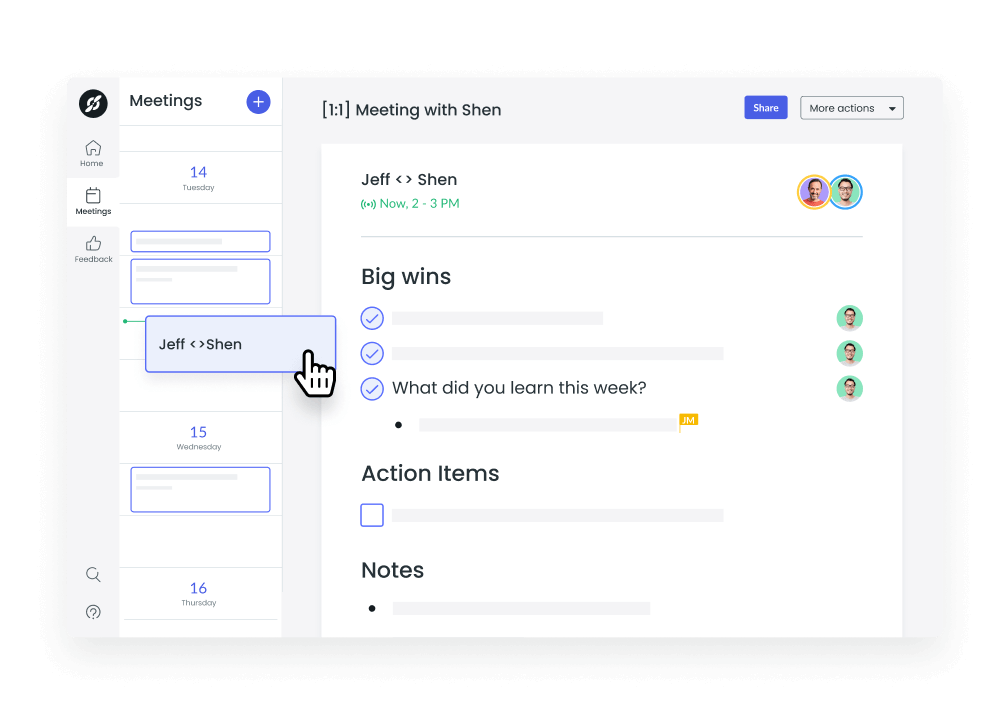 Our 12 best tips for creating a comfortable work environment
1 Provide comfortable seating
You can't expect your teammates to do their best work if they aren't comfortable. Nothing is worse than sitting through a lengthy meeting in an uncomfortable seat. It makes it hard to focus, and your teammates will be less inclined to participate with a positive mindset. A quick and easy way to combat this issue is providing comfortable seating. If you're hosting a meeting in an in-person environment, make sure to equip your conference room with comfortable chairs. If your team works remotely, consider providing a stipend that can be used freely to purchase comfortable office furniture, like an ergonomic chair.
2 Have standing desks
No one wants to be sitting all day. Unfortunately, sitting for hours on end has become a reality for most office workers. As a result, neck, back, and hip pain is becoming more common. Using standing desks is a great way to protect your posture and even increase efficiency. If you work remotely, providing a stipend that allows your teammates to purchase items like standing desks is both a gesture of good faith and an added incentive.
3 Ensure the office is an appropriate temperature
Does your team work in an office? You don't want your teammates to be overheating on a warm day or freezing in their cubicles. To create a positive workspace, you should take everyone's temperature preferences into consideration. Keeping things at a neutral temperature that's not too hot or too cold is ideal.
4 Use calming office decor and colors
It can be difficult to do your best work in a chaotic environment. In addition to having a welcoming culture, your office should exude positivity and relaxation through your decor. Warm colors, calming plants, and neutral decor are all great tools that can be used to create a calming, neutral environment. Modern offices with natural light will encourage employees to do their best work.
5 Place office spaces by windows for daylight
You definitely don't want to be in a dark and dingy cubicle that's placed directly underneath a dreary fluorescent light. Natural light is proven to boast a variety of benefits including exuding positivity, boosting your mood or team morale, and creating a more positive work environment. Additionally, research suggests that employees who work best in natural light have a reduced level of stress compared to those who don't. These individuals are reported to feel less stressed at work and even more satisfied with their jobs. The addition of a window in the workplace will help reduce the effects and intensity of stress levels—even just one window goes a long way.
6 Ensure there's good lighting
Nothing sucks your energy quite like a dark and dreary office—whereas appropriate lighting will do just the opposite. Appropriate lighting without glare or shadows can reduce eye fatigue and headaches, and can help to prevent or decrease workplace incidents by increasing the visibility of safety hazards. When choosing which lighting is best for your workplace, cool blue or cool white lights are better for waking up, working, and concentrating. Both fluorescent and LED bulbs emit light in the blue and white spectrum, making them ideal for creating a comfortable work environment.
7 Encourage a more relaxed dress code
Gone are the days of strict dress codes and unformattable clothing. More and more workplaces are beginning to embrace principles and codes that favor more progressive policies (like relaxed dress codes). Business casual is taking on a new meaning, embracing slacks and sneakers and eliminating the need for pant suits or dresses. Instead of opting for a dress code, you can encourage your employees or teammates to wear what makes them most comfortable. As a result, you'll have created a more positive work environment in addition to increasing positivity and boosting morale.
8 Provide technology
Companies that provide technology for their employees are more apt to generate positive outcomes. If your teammates don't have the tools they need to succeed technologically, it may become extremely difficult for them to do their job. Creating a positive, comfortable work environment is all about empowering your teammates, and they'll be much more inclined to do their best work if they have the right tools. Consider noise-canceling headphones for Zoom meetings or ergonomic laptop stands to help with posture. Creating a comfortable environment will incentivise employees to work and will in turn increase efficiency and revenue.
9 Have designated meeting rooms
Having designated meeting rooms is extremely important for a variety of reasons. First, having these rooms helps heighten psychological safety amongst your teammates. If your meetings are kept confidential and are conducted in a proper meeting room, your teammates will feel more inclined to participate openly and honestly.
10 Provide lots of charging stations
Nothing is more frustrating than a battery that's about to die at any moment! Even more so if you're in the middle of deep work or are collaborating with your teammates on an exciting project. A quick fix is to install numerous charging stations throughout the office. This way, teammates can move freely and work where they feel most comfortable or inspired.
11 Have a break room
Are you struggling to create a positive work environment that aligns with your company culture? One of the most fundamental things you can do for your team is create a break room. This space should be a comfortable, serene oasis where they can unplug from work and enjoy some downtime. Think comfortable seating, fun games, snacks, and appliances that make cooking or heating up a meal a breeze. You could even provide your employees with meal kit boxes so they can prepare their own meals together with their colleagues. Oh, and don't forget the coffee! An espresso machine with varying flavors and syrups is sure to be a hit in any office space! 
12 Have food and drinks for employees
Nothing incentivises a hard-working team quite like a secret stash of snacks. Employees put in long hours, fatigue can easily set in. A great way to energize your team and show them how much you appreciate their hard work is by providing them with complimentary drinks and snacks. When doing so, remember to take everyone's preferences and dietary restrictions into consideration. It's important that you remain inclusive with your approach so you have something that everybody on your team enjoys and appreciates.
It's time to create a positive work environment!
Now that you've learnt the basics, it's time to get to work creating a comfortable, positive work environment that boosts productivity, morale, and company culture! Start out with the small things and introduce a lax dress code. From there, you can move some healthy snacks into the office and equip everyone on your team with equipment and tools that help them do their best work. After all, happiness and comfort in the workplace are said to boost productivity!