If your team members only interact with each other in the break room or during meetings, they're likely missing out on precious team bonding time. Team outings can solve that problem. Going out with the whole team can help everyone build and strengthen relationships while developing their skills – and plus, it's just plain fun. Below are 20 team outing ideas and a few reasons you'll want to make them regular events.
20 team outing ideas
Below are 20 team outing ideas to get everyone engaged and participating – and, if you do it right, laughing and having a blast.
1Virtual escape room
Escape rooms combine mystery, excitement, and critical thinking. Of course, if most of your team works from home, it can be difficult to get everyone together for an in-person escape room. In that case, there are virtual escape rooms that allow your team to have fun over Zoom meetings or apps.
In The Grimm Escape, for example, your team joins a Zoom call along with a game master. This special character guides your team through the puzzle based on their decisions. After a while, you might forget you're solving a puzzle from home instead of in person.

Run delightful meetings
Increase meeting engagement and productivity with a collaborative agenda that the whole team can contribute to. Try using a tool like Fellow!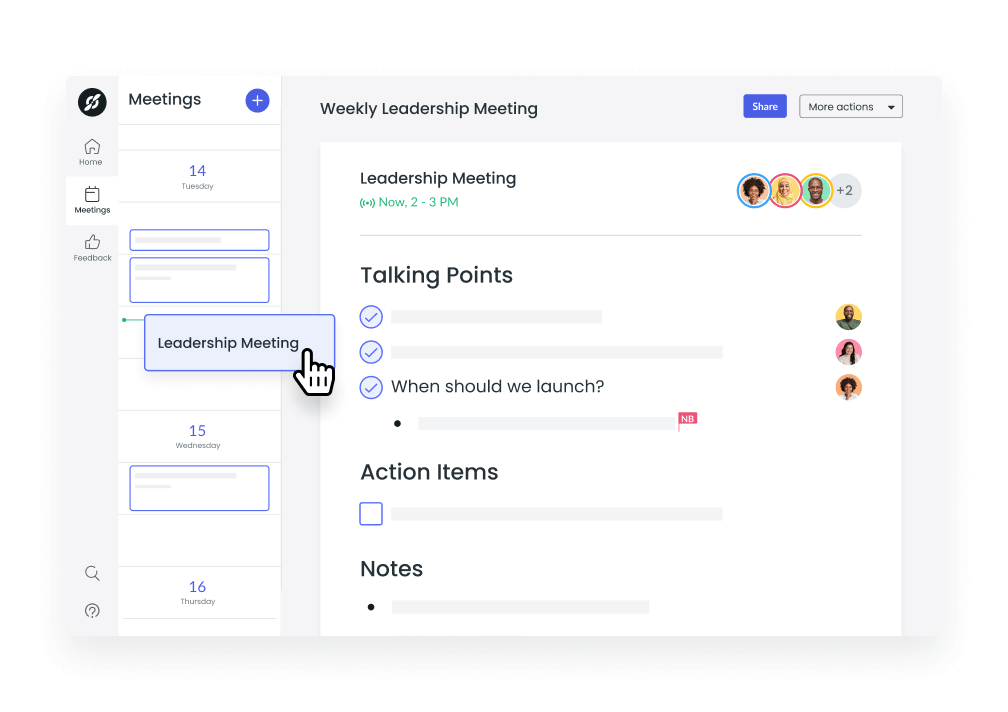 2Beer making
Maybe your team members enjoy blowing steam over a few drinks after work. You can turn that happy hour into a team-building activity – namely, invite your team out for a few hours of beer-making. You'll start with a pot of boiling water and eventually pour your pre-fermented drinks into a glass. You and your team members will take on the beer-making process together, helping you build collaboration and teamwork skills.
3Cook-off
Delicious smells, flying sauces, clanking pots – hosting a cook-off can give your team a chance to try out some new dishes they'll never forget. And they'll also never forget the creativity, leadership, and collaboration they learn in the process.
Divide your employees into teams and assign them dishes to make or let the teams decide what they'll cook. To add an extra twist, have each team use a certain ingredient in everything they make. You can have a panel of judges taste each of the dishes and let every team vote on a winner. At the end of the contest, everyone can sit down and enjoy each other's meals while chatting even more about their exciting experience.
4Cooking class
If your team isn't quite ready to put their cooking skills to the test, taking a class can still be a delicious meal for everyone. You can easily find in-person and remote options so your whole team can join in on the fun.
You can hire a professional chef for a few hours to teach your team some cooking methods and give them some ideas. A few employees just might practice what they learned to create dishes that become favorites at office events. That's the kind of thing that leads to better relationships among team members, not to mention the trust ideal for great work.
5Go-karting
A few zooming laps around a go-kart track can be just the adrenaline rush your team needs to get engaged after a slower period. Taking your team to a racetrack can introduce some healthy competition you can bring back to the office too. Make sure everyone follows the safety instructions, and you're all off to have a great time. Or if your team is virtual, set everyone up with live remote access to a racing game.
6Scavenger hunt
It's a game we all loved as kids: running around looking for random items or clues to piece a puzzle together. Adults too can still have lots of fun searching for pieces to puzzles and riddles – in fact, scavenger hunts are common team-building games. You can enjoy them either in person or virtually.
You can focus the items to find on your company so you educate your team on your company values while everyone has fun. The scavenger hunt team that finds the most items within the time limit wins – but really, so does your organization.
7Comedy show
A little laughter can lighten up the mood after a busy day or week of work. Seriously – research has shown that laughter can improve well-being and bring people together. So find a comedy show that's coming to town, and invite your team out for a night of laughter and bonding. For virtual teams, you can host a "Netflix party" for a popular comedy special (but keep it relatively PG). The vibe will be entirely different, for the better, when you're all back at work.
8Volunteering
A day of service can be a unique yet rewarding approach to bringing your team together. You can help organize food at a pantry, make care packages, or grab some garbage bags and clean up an outdoor area. You can make the day mean even more if your team works with the local community. Those are the kind of bonds that could easily connect you with people who need what you provide.
9Karaoke
Who on your team has been hiding their spectacular vocal abilities? Getting your team for some virtual or in-person karaoke can help everyone get more comfortable around each other. You'll quickly find out who's best at scrambling lyrics and whose over-the-top performance makes up for their pitchy tone. Expect lots of watercooler talk or Slack chats about your karaoke night on the next workday.
10Bowling
Bowling is a classic activity that can encourage casual competition – great for sales teams – as everyone tries to land a strike. You can also introduce some quirky challenges, such as bowling left-handed or using new tricks, to challenge even expert bowlers. (There might be one hiding on your team!) Bringing a few pizzas and sodas to the table adds to the fun too. You can always bring any remote team members in on the fun via your favorite video chat app.
11Laser tag
If you think your team would enjoy some fast-paced action, gather everyone for a few hours of laser tag. No, it's not just for kids – for adults, it can encourage strategic planning and teamwork. Simply divide your local team members into teams, and get the fun started! Plus, some laser tag rooms are in bowling alleys, so you can plan two team outings in one go.
12Art class
Help your team members tap into their creative sides with an art class outing. Pottery and painting are on the table, as are less common options like photography and woodworking. Both virtual and in-person options abound as well. You can choose a class with a theme for team alignment or go more freeform so everyone can see out their own creative visions.
13Museum visit
Taking your local team members to a museum lets them learn about something together. All that new knowledge makes for great conversation-starters that can help build team bonds. Plus, many museums offer guided tours with activities and presentations for large groups, so this idea is a natural fit for your next team outing. A stop at the gift shop on your way out can give everyone a token of their new favorite work trip.
14U-pick farming
Strawberries, peaches, blueberries, and cherries are just a few of the fresh fruits your local team members can bring home from a pick-your-own farm. "U-pick" farming allows your team to enjoy the outdoors while chatting and gathering produce they can use for pies, smoothies, and jams. It can help everyone feel more positive about your organization – what other companies are giving their team members literal fruits of their labor?
15Lunch with other teams
If your organization is home to several teams, you can host a virtual or face-to-face lunch that brings everyone together. And that's seriously great for cross-functional collaboration. After all, your organization's project management, sales, and design teams might not interact much during the workweek. Bringing everyone together for lunch can help you all see who keeps the gears grinding. It can also make for a naturally collaborative, healthy company culture.
16BBQ in the park
During the warmer months of the year, take your local employees outside for some BBQ at the park. Ask the grillmaster of your team to fire up the coals and get the burgers and hotdogs cooking. Keep in mind that some of your employees might want vegetarian or vegan options too. While the food is on the grill, employees can play games and just chat it up. They'll almost certainly bring the good vibes back to the office, which is great for team communication.
17Indoor skydiving
If your team loves to seek thrills at work, they might love it outside work too. Indoor skydiving, for example, can be the perfect way to get that thrill without the, you know, dangers of real skydiving. Everyone can support each other as they suit up and conquer their fears – just because it's indoors doesn't mean it's not scary! This experience can help your team build bonds and trust that last for years to come.
18Development conference or workshop
Learning and training can happen outside your workplace too. You can take the whole team to a conference or workshop (virtual or in person) to encourage them to learn together. This way, they gain (or hone) a valuable skill while getting to know each other a bit more. At the end of the event, you can ask everyone to share what they learned and how they'll use it all in the future.
19Trivia
How much does your team know about pop culture, sports, history, or even your organization? With trivia, the topics are endless. Playing a few rounds can get everyone to put on their thinking caps. Everyone can play individually, or you can divide your employees into groups to encourage teamwork. You can host trivia night at a local restaurant or book an in-person or video conference room and bring food for everyone to enjoy.
20Midday snack
A team outing doesn't have to be an after-work occasion – not everyone has the extra time. Your employees can have a simple bonding experience over a midday snack. That could mean ice cream at a local shop or some donuts and coffee at the bakery down the street. A trip away from the office can give your employees a quick reset, and it's also a great virtual team outing idea. Just have everyone join Zoom at the same time with snacks and fun conversation topics ready to go.
Why should you plan team outings?
Below are some of the many ways team outings can benefit your employees.
1Getting to know each other
Team outings can create the perfect environment for your team members to learn more about each other. It's a lot easier to make real connections while you're all cooking, laughing, or making art together than when you're laser-focused on work. That's even more important when you've brought new members onto the team. The best team outing ideas go beyond typical introductions to help everyone feel like part of the team from the get-go.
2Changing up the environment
Team outings get your employees away from their desks and into settings that can spark creativity. This change of scenery can make everyone's daily schedules and workflows feel less tedious. It can also make your colleagues more than just team members. They can become people with whom you have memories to share.
3Building your team
One of the greatest benefits of team outings is the team-building they encourage. Just about any outing you choose can help your team members build meaningful bonds – and plenty of trust. Who knew escaping a room together could be so great for your work?
4Strengthening leadership skills
For many team-building exercises, your team members will have to choose group leaders for. These team members can practice quickly making the best decisions for their group. They can bring these leadership skills back to your organization. The more team outings you plan, the more everyone can rotate roles and practice both leadership and following directions.
5Boosting morale
Strengthening relationships between your team members can improve their morale and engagement. Team outings can do exactly that while giving everyone something to look forward to between long days of work. In turn, these activities can give your team a more positive view of your organization – you're a big part of their newest, most exciting memories.
How to plan a team outing
Now that you have a list of potential team outing ideas, planning your outing should be simple. Consider the following steps for planning an exciting and rewarding outing.
1Set your goals
Team outings are about having fun and developing useful work skills. Instead of just randomly choosing an activity, think about what the outing could do for your team.
For example, do your employees need a change of pace from a tedious project? Indoor skydiving can give the analytical parts of their brains a break and spark some exciting new energy they can bring to their work. Have tensions been a little high? Take your team to a comedy show where everyone can laugh and enjoy some time together.
2Plan out your budget
Between food, supplies, and the activity itself, a team outing can get pricey. To keep your team outings affordable, you should plan a budget for these activities. You can also check for coupons and group discounts to keep your team outing finances fully in the black.
3Find a time
A team outing isn't effective if most of your team can't attend. That's why you should always ask your team members about their availability. You should also double-check your organization's calendar so you don't double-book anything. And if you're planning an outdoor activity, don't forget to check the weather. A BBQ isn't much fun in the rain.
4Invite the right people
Choosing who to invite to your event is as important as planning the outing. Ask yourself: Will your budget allow everyone to go to the outing? Are you inviting your remote teams and your in-person folks, or just one of these groups? Does your team outing idea work both in-person and online? These answers can help you figure out who to invite.
5Get feedback for next time
You can always make your next team outing better than the last one. After things wrap up, ask everyone for their feedback. Did they enjoy what you all did? What changes would they make for the next outing? Getting your employees' feedback can help you plan better next time – and make your team-building events more enjoyable for everyone.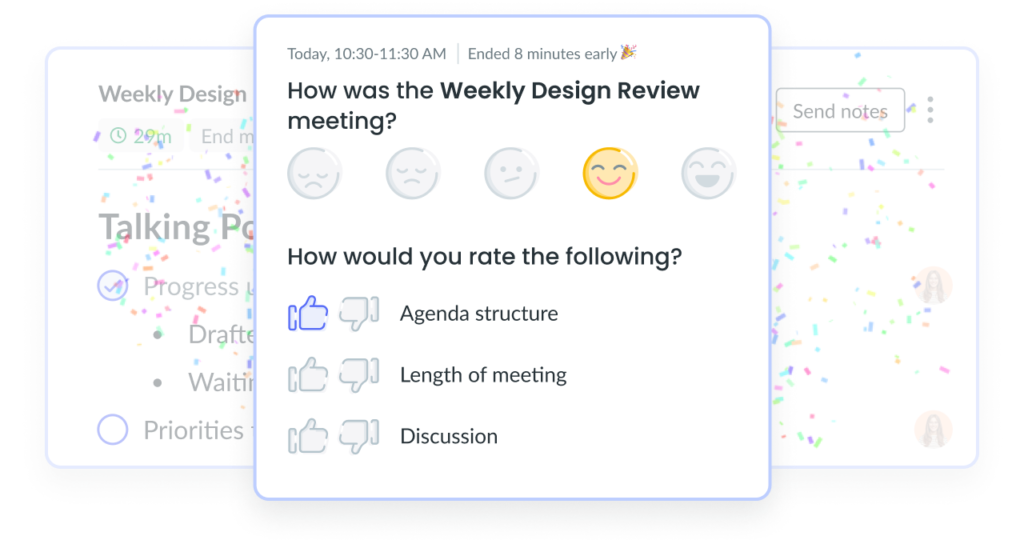 It's a great day for an outing!
Team outings can bring your team members together and help them develop useful work skills. If all goes right, your team will have a great time and do better work afterward. Speaking of afterward: When the event comes to an end, Fellow has several tools you can use to get feedback from everyone who went. Your team members can easily give you valuable insight into their experiences. That's how you come up with an even better team outing for next time.