As a manager, you're always on the lookout for ways to cut down on time-consuming tasks. With the day-to-day comes recurring tasks that take up a lot of time – organizing meetings, scanning documents, making social media posts, assigning work. When you automate these manual tasks, you save your team valuable time. Below, you'll learn all about task automation, which tasks to automate, and how task automation software can improve your workflow.
What is task automation?
Task automation is when you make a manual process automatic. You'll need some sort of software or tool to complete the task you used to do yourself.
When you automate a previously manual task, employee productivity and team efficiency typically increase. So if you're looking to reduce the burnout that comes from tedious tasks and find great tools that work wonders for your team, keep reading.
Deb Lee, Digital Productivity Consultant, has this to say about using tools in the workplace: "Productivity for me means regularly working on the right things at the right time. Sometimes we need to do that with a little help from apps and other tech tools. And coffee."
Examples of manual tasks that can be automated
Below are some common manual tasks you can easily automate.

Foster a productive work environment
Level up your meeting habits to boost engagement and productivity with a collaborative meeting agenda. Try a tool like Fellow!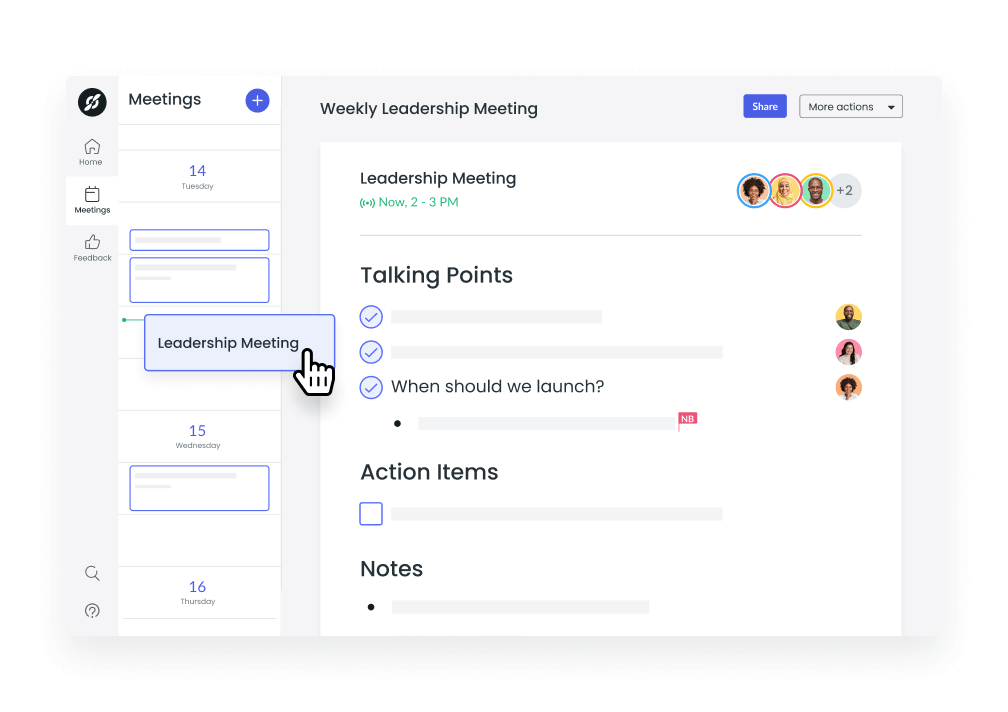 Managerial tasks
Getting everything organized can be totally overwhelming. Staying on top of timesheets, processing PTO requests, getting payroll out on time – these managerial tasks are both abundant and, well, not the most inspiring.
Another example: For workflow automation of customer service tickets, you can use a tool that automatically creates tickets from customer messages. This way, you don't have to think twice about getting them ready for your team.
Team tasks
A team task or collaborative task involves any kind of communication or – you guessed it – teamwork. You can automate team tasks through tools that get a time-off request in the right hands and schedule and send follow-up emails. Pre-planned reminders that notify you a day before a big deadline are a great example of this kind of automation too.
Data tasks
Properly managing your data and information is key to you and your team's success. Your team members should have no trouble recording and accessing this data. For example, an automated process for your expense reports means you can record your spending in at least two places at once. When you streamline your data collection, you all but eliminate the very tedious but necessary process of recordkeeping.
File management tasks
Think of all the documents you come into contact with every day. You're sharing files, creating documents, and managing them daily, so automating this process is a game-changer. File management tools can save online forms as documents or create custom versions for documents you commonly use.
7 great task automation tools
Some sharp-minded folks have noticed which business processes can quickly become redundant, and they've created automation tools to make life easier. Below are seven such task automation tools that can improve your team's workflow.
1Fellow
Fellow is your team's hub for meeting agendas, action items, and feedback. It can automate the assigning of tasks that pop up in meetings in real-time, and that's how you inspire effective teamwork. It also automatically brings any incomplete action items into your next meeting to keep everyone accountable.
Main benefits:
Assign action items as they come up during meetings
Easily bring incomplete action items to your next meeting
Automatically keep team accountable
Price: Teams of at most 10 people can use Fellow for free. Plans for larger teams start at $6 per user per month.
2ClickUp
ClickUp is a cloud-based project management and collaboration tool that can help you stay on top of your people and projects. It gathers your tasks, documents, communications, and goals all in one place to make you more efficient. You can assign tasks and check their statuses, and you can set up alerts to better manage assignments. Plus, you can create custom automations or work with dozens of pre-built automations to get started.
Main benefits:
Multiple task automation types in one software platform
Assign tasks and check statuses
Set custom automations or use dozens of ready-to-go ones
Price: It's free to get started with a personal ClickUp plan. Business plans start at $12 per user per month.
3Jira
Jira offers a host of work management tools that encourage cross-functional collaboration. You can plan, report, assign, manage, and track work while seeing actionable insights. It also lets you automatically assign tasks to specific team members. You can only put one team member on an issue.
Main benefits:
Report, plan, manage, assign, and track work
View actionable insights about your workflows
Auto-assign certain tasks to certain team members
Price: Teams of up to 10 people can use Jira for free. Larger plans start at $7.50 per user per month.
4Zoho Flow
You can connect your applications with Zoho Flow – no coding necessary. Just load up the app to streamline your processes and communications while cutting down on information overload. Namely, when you do something in one app, Zoho Flow can make it happen in another app too – the very definition of task automation. It can cut down on things getting lost in translation when bouncing around from app to app. You can design your own automations or use pre-built ones.
Main benefits:
No coding skills needed to connect your apps
Set workflows that enter data into several apps at once
Design your own flows or use pre-built flows
Price: Zoho Flow starts at $10 per organization per month.
5Tallyfy
Tallyfy lets you keep an eye on all your processes in real-time. The dashboard shows you everything that you're managing, so you can keep track of that new team member you're onboarding or progress on your projects. Tallyfy is simple and integrates well with existing apps too. You won't need coding or flowcharts to use it well.
Main benefits:
Easy to use for real-time task tracking
Comprehensive dashboard with all tasks you're managing
Integrates well with your other apps
Price: Plans start at $5 per team member per month.
6Project Manager
ProjectManager is a cloud-based project management software that lets you create custom workflows and automate task approval. You don't need coding experience to build your workflows, and all your planning, tracking, and reporting happen in one tool. You can see everyone's tasks and rearrange schedules and resources with ease. Gantt charts are also available so you can see your whole timeline from start to finish.
Main benefits:
Custom workflows to automate task approval
Plan, track, and report from one interface
View and rearrange tasks and resources
Price: You can start ProjectManager with a free trial. Paid plans start at $20.50 per user per month.
7Wrike
Wrike allows you to manage and navigate a bunch of projects at once. You can create custom workflows to expedite your processes, and you can move tasks around in your timeline in just seconds. You can also create interactive Gantt charts that let you extend your timeline the moment that becomes necessary.
Main benefits:
Create custom workflows to speed things up
Quickly move tasks around
Build interactive Gantt charts
Price: Wrike has a free plan, and its paid plans start at $9.80 per user per month.
Tips on how to automate tasks
Every team can benefit from task automation, but no two task automation approaches are quite the same. That's why you have to find what works best for you and your team. Below, you'll learn where to start with task automation so you can be more efficient and productive without any dips in quality.
Evaluate your working process
First, examine your workflow and review all the steps you'll take to get where you're going. To make things a little easier, consider starting with the result first and then going backward from there. Ask yourself: Which steps can you automate? Where can you save time on manual work so you can get to your destination more quickly?
Now, put every step into two categories — either: yes to automation or no to automation. If a task falls into one of the manual task categories above, it's probably a yes. Otherwise, don't try to automate it – some things go better when you actually run through them from start to finish.
Choose a tool that works for you
Finally, choose the automation platform that's best for your needs. Try to stick to one – sure, you have lots of choices, but there can always be too much of a good thing. Too many tools can lead to miscommunication – and less productivity and efficiency. For example, if you need to streamline your social media management, you may choose an Instagram automation solution or other Instagram tools to help you do so.
Save your team time
Don't get sucked into working harder yet not smarter. With so many tools available for task automation, the world is your oyster. Examine your team's workflow, see which manual tasks you can easily automate, and find software that works for you. For example, when you use Fellow to automate your meeting action items, your team can feel confident in their next steps. Your meetings will flow more smoothly than ever before.