One of the most simple, yet effective ways to turn goals into achievements is planning them out in advance. Action plans create an opportunity for personal growth because they set out a means to achieve short- and long-term goals. Whatever the time frame you're working with, it's important to learn how to make a plan so you can prioritize the steps that need to be taken to achieve your goals. Goal setting helps you take a hold of outcomes that you can control and ones which are beneficial and rewarding to you. There are a few particular tips and tricks that are essential when considering how to make a plan as it relates to goal setting. Check them out below.
Why is creating a plan to achieve your goals important?
Creating a plan to achieve your goals is important because doing so shapes a non-tangible plan into actionable tasks that help you work towards achieving your goals. More times than not, your goals can be broken down into steps that can be used to work towards your achievements. When you have actionable steps to take, achieving your goals becomes more realistic and realizable. A recent article by Forbes shares:
"A Harvard Business Study found that the 3% of graduates from their MBA who had their goals written down, ended up earning ten times as much as the other 97% put together, just ten years after graduation."
These statistics go to show that when you put some thought and effort into how you're going to achieve your goals, they become much more attainable and ultimately boost your chances at succeeding.

Stay on track
Create a plan that includes regular check-ins with stakeholders to ensure you're on the right track. Try a tool like Fellow to take notes of discussion, have an overview of action items, and more!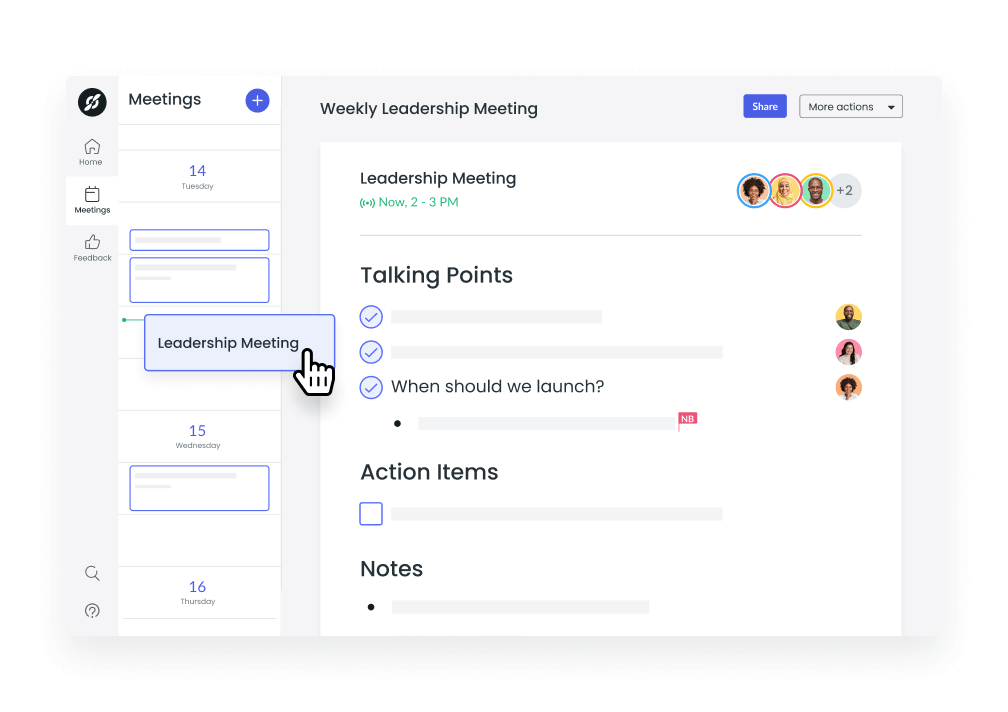 How to create a plan to achieve your goals
1Write your goals
First and foremost, write your goals down. The article by Forbes recommends writing out your goals as a creative and inspirational process. The article shares:
"Once you have your goals articulated, take some time to turn them into a creative and artistic visual. Though it might sound juvenile, sit with color markers, crayons or paint and write them out in a way you might if you were back in school. This activates a different part of your brain, and as it will be wildly different to your working style, will help cement your goals in your mind. The creative process will also help you see in terms of what is possible and not get stuck in rational thinking. Do not put pressure on yourself to create a masterpiece, just create something visibly striking and enjoy the creative process as you go."
Sometimes, thinking outside of the box can help you articulate your goals in a way that feels encouraging. Consider writing your goals out in a less conventional way to see what goals come up and how you feel you may be able to achieve them.
2Prioritize your goals
Understanding which goals are of the utmost priority is important because different goals require different types of planning. In this case, you'll initially want to identify what you would like to accomplish first, in terms of importance. Creating lists is a great way to map out your different priorities and their timelines. Your action plan becomes significantly more actionable when you prioritize your responsibilities and goals, and assign specific timelines to them. By organizing which goals you want to achieve, you can subsequently decipher the steps required to get there. If you're working in a group, this prioritization is especially critical in ensuring accountability across the team.
3Set and celebrate small milestones within your larger goal
As we've mentioned, each goal can be broken down into smaller pieces. It's important to celebrate each step that brings you closer to achieving your larger goal because doing so can further encourage and motivate you to complete the next necessary task. A recent article by the Harvard Business Review says:
"Goals that include only the end result such as "get a new job" can lead to quickly losing motivation and feeling defeated. It's okay to want an end goal, but I've found for my coaching clients that defining and celebrating the steps that get you there is critical for success.

For example, if you are looking for a new position, your steps could include contacting a certain number of people in your network each week, updating parts of your LinkedIn profile, or doing other concrete activities that put you in contention for new opportunities. Make these shorter targets your aim so that each week you can celebrate completing something where you had control of the outcomes. This improves your sense of agency and allows you to feel successful along the way, instead of feeling like you've failed when you haven't reached your final desired result yet."
4Arrange progress deadlines
Assigning specific deadlines for yourself is going to keep you organized and on track to achieving your goals. This process is especially useful when you're working on several simultaneous tasks and need to be smart with the way in which you spend your time. Not only do progress deadlines help with time management, but they also help you hold yourself responsible for what you've set out to do. Breaking down bigger goals and assigning them dates is going to ensure you stay on top of everything and on schedule to achieving your goals.
5Tell others about your goal
Tell other people about your goal; doing so will provide you with support in working towards your achievements. When others are aware of what you'd like to accomplish, there's no doubt that they're going to do what they can to help you get there. One-on-one goal setting with your boss is a great way to make known what you're working towards so you can ask for their guidance and support. Here's an effective one-on-one goal setting template from Fellow that you can try for yourself!
6Surround yourself with people who motivate you
You are who you surround yourself with. This is true inside and outside of the office, so be intentional with who you choose to spend your time with. You want to be around other people who are ambitious, organized, and supportive, as these are the types of qualities which influence your own behaviors and attitudes. If for some reason you feel as if there are particular individuals around you who are negatively impacting your motivation, be careful to take time and space away from them so you can protect your drive to achieve your goals. Our time is far too valuable to be spent around anyone who impedes our growth or success.
7Track progress
It's extremely important to keep track of your progress as you work towards achieving your goals. With Fellow, you can track your goals with the Objectives tool. Here, you can record, define, and track the progress of your objectives and key results (OKRs) so you never feel lost as to what has been done and what still needs to be accomplished. Tracking your progress with a tool like Fellow is also perfect for reviewing your progress and achievements with your boss during one-on-ones or during your team meetings.
8Determine what resources you need
Not only do you have to plan what you'll do to achieve a particular goal, but you also need to determine what kinds of resources are required to find success. Think about if the goal that has been set requires particular technologies, resources, or money. This determination of resources is what differentiates your action plan from a wishlist. Identifying the necessary resources to achieve your goal will enable you to make informed decisions about how to implement each step required to realize your goals. Make a list of the resources you anticipate needing to realize your goals, then share this list with your boss or the colleagues with whom you're collaborating.
9Refine your goal
Once you've created your goal and the steps required to achieve it, it's almost guaranteed that you'll need to refine and redefine your goal as you move forward. This agility and ability to keep an open mindset regarding how to meet your goals is what will enable you to achieve long-term success over and again throughout your career. No effective plan is static, and it's important to think about any challenges or obstacles you may face along the way so you can put together mitigation and backup plans. Your plan should be dynamic and have the ability to evolve with you as circumstances shift. Regularly review your plan to make the necessary changes as you go along. 
10Set realistic expectations
Lastly, be realistic with yourself. If your goal isn't attainable, it's going to discourage you from working on it. As such, it's so important to break down your goals into smaller, tangible actions. Being realistic holds you accountable because you know that you're capable of these tasks. Not only do the smaller tasks that collate to establish your goal need to be realistic, but your timeline and your resources list also need to be realistic and feasible. If you start goal setting with unrealistic expectations, you'll struggle to keep your motivation and you may face greater challenges to meet your goals in the long run. It's much more effective and much easier to simply be realistic with yourself.
Parting advice
Watch your personal growth thrive as you implement these 10 ways to make a plan to achieve your goals. Small changes can make significant differences in your productivity and effectiveness when it comes to short- and long-term goals. Be sure to put things on paper, prioritize your goals, and celebrate each step that brings you closer to achieving your them. Arrange progress deadlines and be sure to share the goals you have in mind with your boss or your colleagues. Surround yourself with people who inspire you, track your progress, identify the resources you need, keep redefining your goal, and be realistic with yourself, and you're all set! If you found this article helpful, be sure to share it with a friend or a colleague. It's always a pleasure seeing you on the Fellow Blog! We'll see you next time.